Disclaimer:    We're supported by our readers. We earn a commission from product purchases using affiliate links on our site. Learn more about the affiliate program.
Although the TOTO brand is not as popular in the United States as other toilet brands, it's famous globally for it's high-quality, modern design and innovative features. As a result, TOTO products are consistently listed on our top best toilets.
In this article, we reviewed and shared the 8 best TOTO toilets in the industry.
Comparison of the Best TOTO Toilets in 2023
TOTO Flush Technology Explained
TOTO toilets are known for their powerful flush technologies. Each model features one of their unique patented flush systems.
Review of the Top 8 TOTO Toilets (Rated & Ranked)
Our experts hand selected, collected facts and reviewed the best TOTO toilets on the market.
1.

TOTO Drake II

 – Editor's Choice
The TOTO Drake II excels at quality in its league by being one of the best TOTO toilets. This toilet has an elongated bowl made from vitreous china material and is available in five different colors. The brand glazes all but its ebony design with the TOTO proprietary protective finish – the CeFiONtect coating.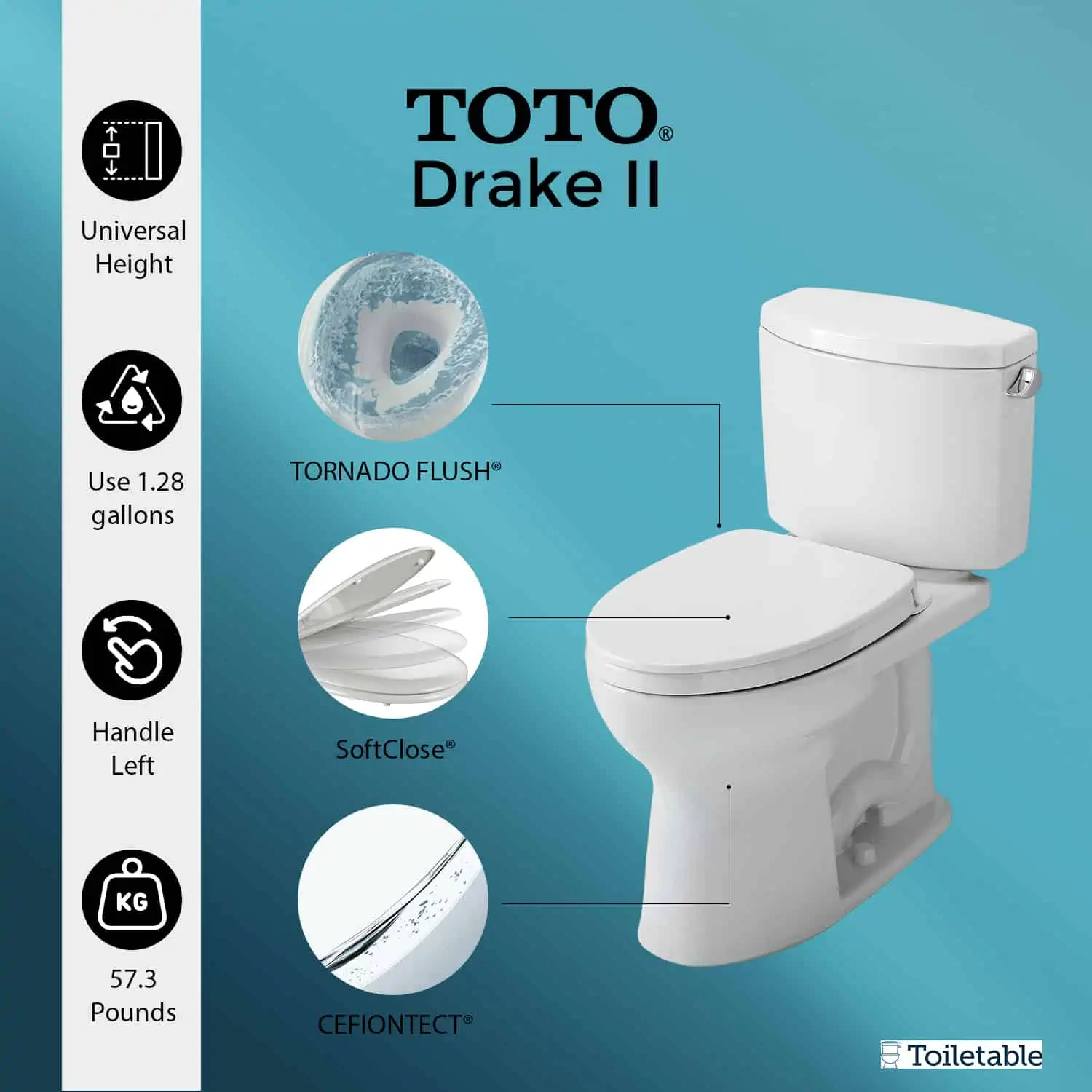 The TOTO Drake II is 16.1 inches tall without a seat, but can be upped to ADA compliance with a toilet seat to make it comfortable for the elderly and people with mobility difficulties. 
This Drake II toilet has a chrome left-hand trip lever that is really comfortable to use. However, it also features right-hand trip lever models, as well.
The TOTO Drake II toilet has the standard 12-inch rough-in fitting, and since the Drake II is a two-piece toilet, its installation is really easy and can be done with little to no reconstruction. 
This TOTO toilet has a flush valve, Tornado flush system, and a 2 ⅛-inch fully glazed trapway that makes flushing with this toilet easy and efficient. Since the TOTO Drake II uses a maximum of 1.28 gallons per flush, it's EPA WaterSense certified. This could save monthly water bill costs using this toilet. 
Other varieties of the TOTO Drake II toilet include:
Dual-flush models
Other single flow rating models
Round bowl models
Toilet + Washlet variations
Now, the Drake II toilet is somewhat not up-to-date with designs like the lack of a bolt-down lid or an insulated tank, but since its rough-in fitting is pretty standard, customers shouldn't have much problem setting it. However, it requires separate purchases of a wax ring and supply line. 
One negative, the TOTO Drake II has a relatively low water surface level in the bowl, about 7 ⅛" by 9 ⅛", which doesn't guard well against streaks or odors like the competitor Kohler Cimarron does. Since customers say it flushes really well, we love that feedback about this toilet. 
The TOTO Drake II shares similar features with the TOTO Entrada. The Entrada differs only in the flush system type. The Entrada uses the E-max flushing system instead of the G-max. 
Compared to the Drake I, the TOTO Drake II is more stylish, takes up less space, features the protective CeFiONtecT glaze, and consumes less water. 
---
---
Other Drake II Models
Our Final Take
The flush performance of the TOTO Drake II is a fan favorite. Many customers mentioned they no longer need plungers, since it never clogs. 
Customers also love the easy installation and comfort height of this toilet. However, a few customers mentioned the glaze coating isn't as effective as they'd thought, making cleaning a little difficult.
2.

TOTO Neorest 

– Most Technology
Say hello to the Rolls-Royce of toilets. With its cutting-edge technology and sleek style, the TOTO Neorest AH Dual Flush toilet will simply make you never want to use another toilet again.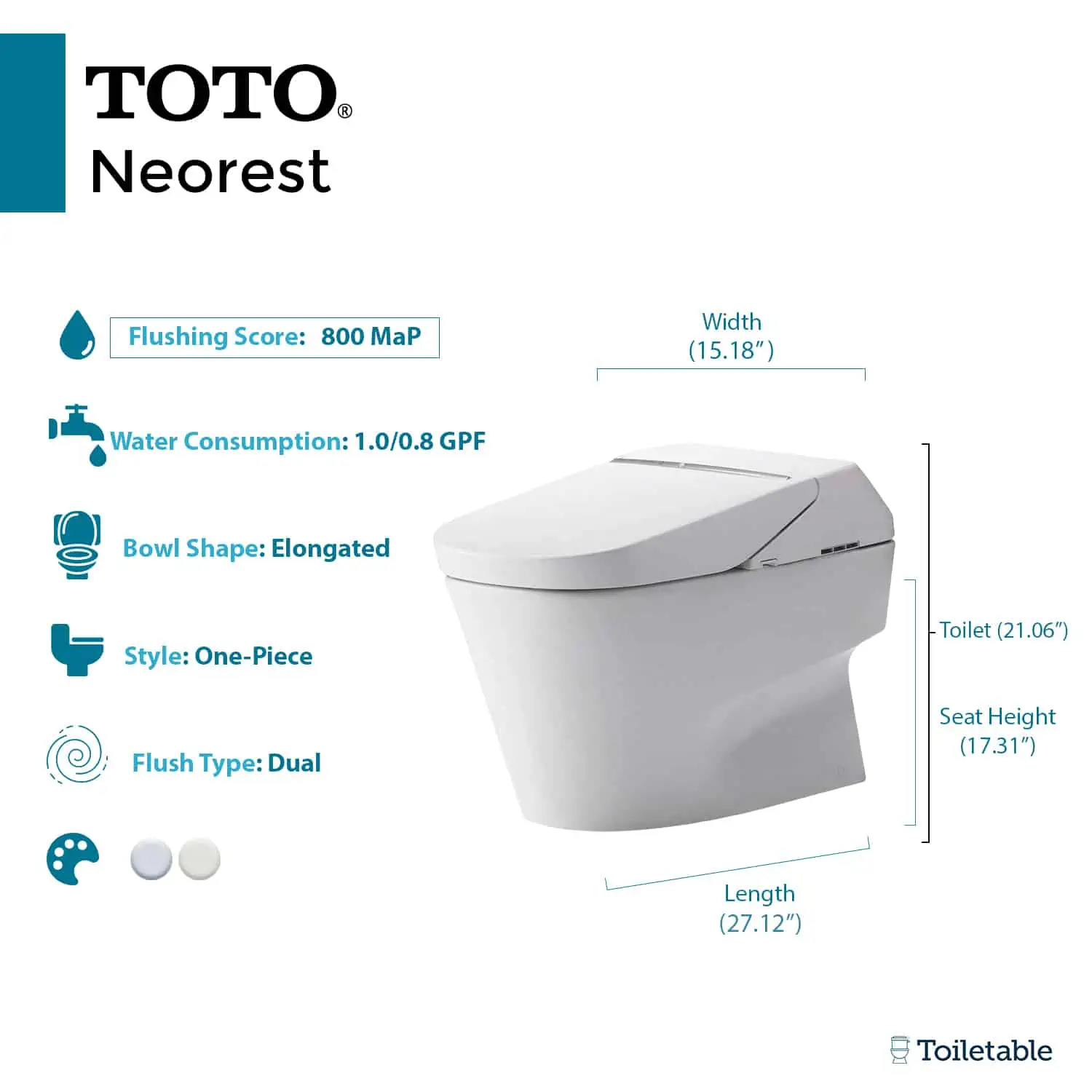 The TOTO Neorest has unparalleled flushing ability, flushing out and cleaning more in one flush than most toilets do in several attempts.
The Tornado Flush feature uses two strong nozzles in creating a powerful, 360-degree rinsing action to clean the bowl much more efficiently, using a mere 1.0 gallons per flush.
The flush can also be operated by sensor, making the experience even more sanitary and convenient.
The bowl is made of an exceptionally smooth Cefiontect ceramic that prevents particles from sticking to the bowl (which means less cleaning for you!)
Further, TOTO's Ewater+ system covers the bowl with electrolyzed water in order to constantly keep the bowl clean without the need for toxic cleaning chemicals.
These three sustainable features create an unmatched hygienic experience.
The style of this toilet is very sleek and modern. It's edgy, linear design blends seamlessly and accentuates any bathroom space. The design is impeccable, offering a heated seat with temperature control as well as a multitude of other remote control options such as the bidet pulsating spray and warm air dryer.
This toilet has a universal height of 21-1/6in, making it accessible for people of all ages and levels of mobility. It is also a very comfortable and convenient 27-1/8in long and 15-3/16in wide. It contains a night light, air deodorizer, and a SoftClose lid, which gently opens and closes, allowing for quiet nightly use with no disturbance to others.
The TOTO Neorest AH Dual Flush toilet wins our "Most Luxurious" award and will exceed expectations. It provides peak comfort with every use and, with its innovative and eco-friendly features, you will be left feeling incredibly cleansed and rejuvenated.
---
---
Other Neorest Models
Our Final Take
Users love the Neorest, as can be seen in the Amazon reviews where 80 percent of the ratings are five stars. Users find the toilet totally intuitive, from its simple flushing mechanism to excellent bidet features. Users also rave about the sleek, modern look of the Neorest. Some proudly state the toilet is the crown jewel of their bathroom. 
it's important to keep in mind that the NEOREST high-quality factors come with a high price. This unit is a fantastic investment piece and the price reflects that.
3.

TOTO Carlyle II

– Most Water Efficient
CHECK PRICE on BUILD                    CHECK PRICE on AMAZON
The TOTO Carlyle II impresses customers with its low water consumption, but excellent flush performance. 
The Carlyle II toilet uses the Double Cyclone flush system, also called the Tornado flush, like the TOTO Drake II toilet.
But this time, this TOTO Carlyle II toilet has a single flush system of 1.0 GPF, making it EPA WaterSense certified. 
The TOTO Carlyle II toilet has an elongated bowl that is comfortable to sit on and consumes less floor space through its one-piece design.
However, one-piece toilets are often much harder to move about since they are heavier, but the TOTO Carlyle II makes up for its flaws in more ways than one. 
This Carlyle toilet features the CeFioNtect protective glaze in all 5 color options, making it easy to clean, and its skirted base gives it a beautiful appeal.
This toilet is also available in three different rough-in options, though the 14 and 10-inch rough-in models come at additional costs. 
The TOTO Carlyle II toilet has a rimless bowl, just like the Drake II model.
We noticed during our research that many customers complained about its PVC rough-in construction, not because of a functional flaw, but because porcelain materials look better. However, PVC materials are better at chemical resistance than porcelain toilets, so most plumbing materials are made from PVC. 
The Carlyle II is like the Carolina II, but it is a one-piece toilet and has ADA certification. While the Carolina II is a two-piece toilet and not ADA compliant. 
This TOTO Carlyle II improves on the Carlyle toilet with less water consumption, more certifications, and a stylish design. It can be purchased in right or left trip lever designs.
The Carlyle II is also available in 1.28 GPF single flush systems and some of its models feature up to 8 trip lever material.
---
---
Other Carlyle II Models
Model Name
Model Number
Style
GPF
Bowl Shape
Major Differences
Resources
Carlyle II


MS614124CEFG#01
One-piece
1.28
Elongated
Modern design with
skirted base
Spec Sheet
Carlyle II


MS614124CUFG#01
One-piece
1.0
Elongated
Sleek one-piece design
featuring Tornado Flush
Spec Sheet
Carlyle II
MS614114CEFG#01
One-piece
1.28
Elongated
Skirted design. Features
Tornado Flush™ Flushing System
Spec Sheet
Our Final Take
Customers rave about the design and performance of this toilet. They love how it flushes efficiently and how easy it is to install – "The toilet looks good and the one-piece design is hassle-free."
4.

TOTO Vespin II

– Strongest Flush
CHECK PRICE on BUILD                     CHECK PRICE on AMAZON
The TOTO Vespin II is somewhat like the TOTO Drake II. The primary difference between the Vespin II and the Drake II is the base design and flushing system.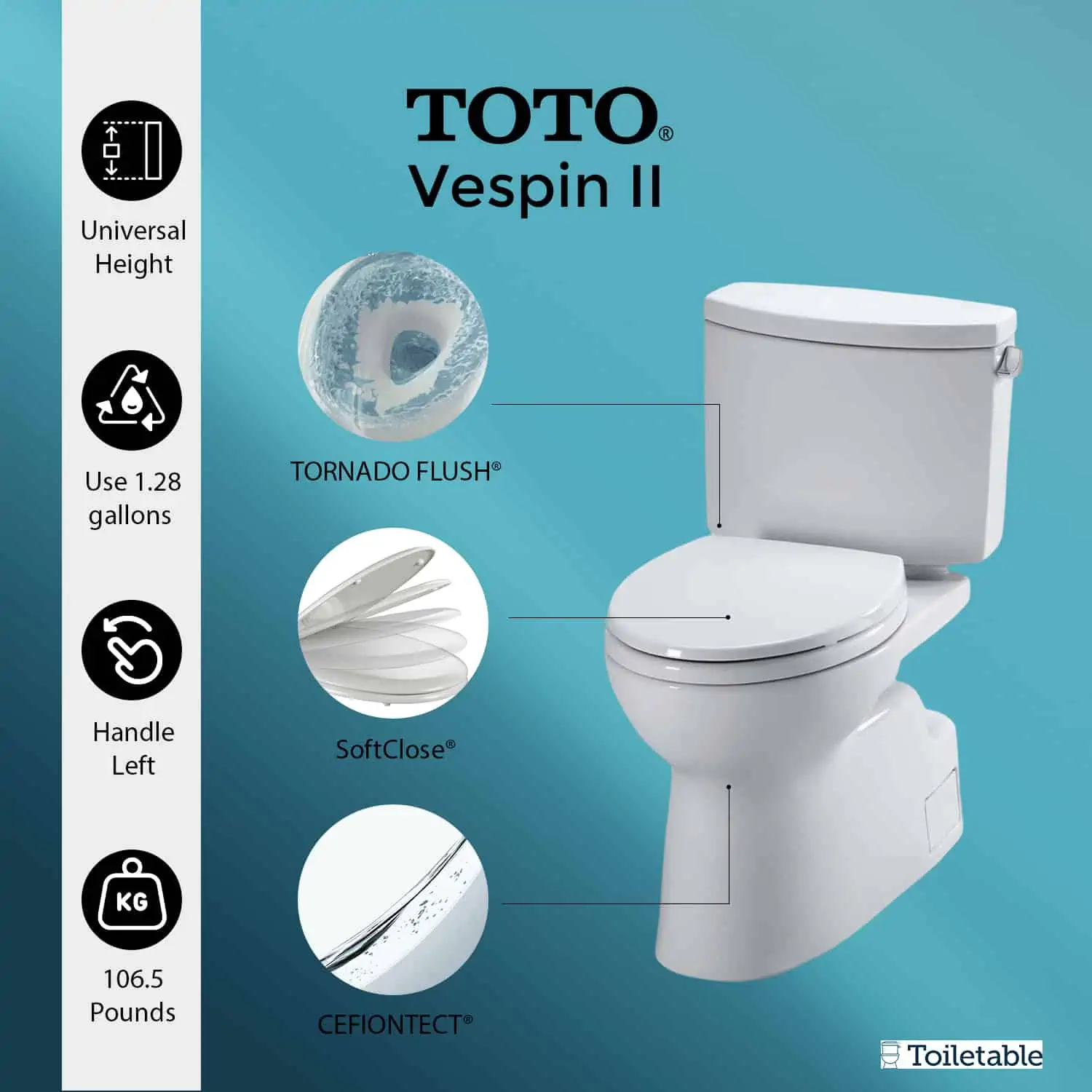 The Vespin II has a skirted base that makes it easy to clean, but lacks dual flush system that some Drake II models have available. However, the Vespin II is still water-efficient, since it uses 1.28 gallons per flush, meeting EPA WaterSense standards. 
The Vespin II toilet has an elongated bowl and measures about 16.1-inches in height without the seat. With a seat, it will meet ADA compliance standards. The design team coated its entirety with the CeFioNtect glaze, and it has a 2 ⅛-inch wide concealed trapway for enhanced performance of its Tornado flush.
Although the TOTO Vespin II is a standard 12-inch rough-in fitting, it can be purchased as a 10 or 14-inch rough-in toilet at an extra cost. It also comes in 5 bowl colors, 9 material trip lever colors and 2 trip lever positions.
According to some customers, its installation is not straightforward, since it requires a special mounting bracket and does not come with a seat, a supply line, or a wax ring. 
The Vespin II upgrades from the Vespin I being ADA compliant and now features the double cyclone flush system. It's a reworking of the G-max flush of the Vespin I, along with an improved CeFioNtect glaze. 
Torn between the Drake II and the Vespin II? We have reviewed both toilets more extensively in focused articles. Explore the designs and features of the TOTO Drake II toilet and the TOTO Vespin II toilet. 
---
---
Other Vespin II Models
Model Name
Model Number
Style
GPF
Bowl Shape
Major Differences
Resources
Vespin II
MS474124CEFG#01
Two-piece
1.28
Elongated
CEFIONTECT® Ceramic Glaze
- a highly smoothed surface
for easier cleaning
Spec Sheet
Vespin II
MS474124CUFG#01
Two-piece
1.0
Elongated
Tornado Flush™ flushing system,
ultra low consumption
Spec Sheet
Vespin II
CST474CUFG#01
Two-piece
1.0
Elongated
12" Uni-Fit rough-in. Optional 10"
or 14" Uni-fit rough-in
Spec Sheet
Our Final Take
The Vespin II has received tons of reviews on its space-saving style and design. It's Sanagloss finish, powerful flush, and skirted style are appreciated by customers, since they make the toilet easy to maintain. Many mentioned buying additional rough-in sizes or calling a plumber to move the waterline, but they all said it was worth it.
5.

TOTO Ultramax

– Review Champion
CHECK PRICE on HOME DEPOT                   CHECK PRICE on AMAZON
The TOTO UltraMax toilet is an old but still top-rated model of the TOTO brand. Customers love this toilet for its high power flush system. 
The TOTO UltraMax toilet uses the G-max flush system and has the CeFioNtect glaze in some of its models and utilizes a 2 ⅛-inch trapway. This combination allows for the entire bowl to be cleaned thoroughly during every flush.
The UltraMax is available in the elongated one-piece design that is comfortable to sit on and has a rounded front design that saves space. It has a height of 15.6 inches including the toilet seat. 
Both models come with a SoftClose seat, a very thoughtful inclusion since most modern toilets do not come with a seat, nor SoftClose, which never slams. 
Except for the CeFioNtecT glazed models, they are available in 4 colors for shoppers to make personalized selections.
All the TOTO UltraMax toilets feature a 12-inch rough-in fitting and do not adjust to fit any other sizes. However, since most bathrooms have a 12-inch configuration, this toilet has a common size, which purchasers can appreciate. 
It uses more water than most toilets on our list – 1.6 GPF, but puts it to good use, as there are no complaints about clogging. 
Let's compare the UltraMax and the Eco-UltraMax. While they bear a few similarities, they are quite different. The TOTO Eco-UltraMax uses less water than the UltraMax toilet and features the E-max flush system. 
And then, there is the UltraMax II – an upgrade of the TOTO UltraMax toilet, which is the next toilet in this review.
---
---
Other Ultramax Models
Our Final Take
Shoppers appreciate the powerful flush of this toilet. Especially how it eliminates clog issues and minimizes the need for cleaning. They noted how easy it was to install the toilet even with zero plumbing experience.
6.

TOTO Eco Soiree

– Runner Up
CHECK PRICE on HOME DEPOT                    CHECK PRICE on AMAZON
The TOTO Eco Soiree is another unique TOTO toilet that complements its design with efficiency.
The Eco Soiree toilet comes in a one-piece design with an elongated bowl toilet. It measures 17.3-inches, meeting ADA compliant standards thus positioning itself as a comfortable toilet for seniors and people with disabilities. 
The TOTO Eco Soiree comes in five different colors, and all except the black features the special CeFioNtecT glaze. It also has a skirted base making it easier to clean. 
The Eco Soiree toilet is EPA WaterSense certified, as it uses only 1.28 GPF and meets HET (high efficiency toilets) standards with its Tornado flush system. Its CeFioNtecT glaze extends to its 2 ⅛-inch concealed trapway to move waste expulsion further. 
The Eco Soiree is available in non-glazed models too. Also unlike the others toilets discussed in this article, the Eco Soiree toilet comes standard with a SlowClose seat.
The TOTO Eco Soiree uses the standard 12-inch rough-in and is available for purchase in the 10 and 14-inch rough-in sizes at an additional cost. Its also available in three different trip lever colors.
The Eco Soiree has a low water surface area of 7-⅞ inch by 9-13/16 inch. 
---
---
Our Final Take
Some users had an issue with the low water level of this toilet, but the majority stated that it was an efficient, powerful flush.  One customer has had this for over 2 years and has yet to clog it.  Buyers are also happy with the modern design of this toilet. " Looks great, flushes great, delivery easy."
7.

TOTO Supreme II
The TOTO Supreme II toilet pretty much takes a cue from all the best TOTO toilets on this list. It comes in a one-piece design and an elongated bowl. It also features a CeFioNtecT glaze from its bowl down to its trapway. 
The Supreme II toilet uses only 1.28 GPF in its Tornado flush system, passing EPA WaterSense certification standards and meets HET (high efficiency toilets) standards.
Since it has a seat height of about 17.2-inches, it is also ADA compliant and is a suitable toilet for seniors and persons with disabilities. 
This TOTO toilet comes with a SoftClose seat, which takes it steps ahead of most modern toilets, but it does not come with the bolts, nuts, screws and other installation hardware.
Some other model variations like the MS634114CEF, lacks a CeFioNtecT glaze.
The TOTO Supreme II also has the standard 12-inch rough-in fitting, suitable for most bathroom configurations. However, customers claim the flush isn't so effective – they have to hold down the lever while it flushes to make it work. 
Also, some customers report that sometimes "a single flush doesn't do the trick." But, from the product ratings and other reviews, it appears the TOTO Supreme II is making a lot of customers happy. 
In most aspects, the TOTO Supreme II is similar to the Ultramax II toilet.
The TOTO Supreme II is available in 4 color options and 7 Trip lever colors.
---
---
Other Supreme II Models
Model Name
Model Number
Style
GPF
Bowl Shape
Major Differences
Resources
Supreme II
MS634124CEFG#01
One-piece
1.28
Elongated
Tornado Flush™ flushing system
Spec Sheet
Supreme II
MS634114CEFG#11
One-piece
1.28
Elongated
CEFIONTECT™ Glaze prevents
debris from sticking to ceramic
surfaces, making them easier to clean
Spec Sheet
Our Summary
Customers confirm that this is a quality, water-saving toilet. "This is a good product and is very easy to clean!" They love its modern design and the thoughtful SlowClose seat inclusion. Although some customers had issues with leakages, most did not, with proper installation.
8. TOTO Ultramax II 
CHECK PRICE on AMAZON                     CHECK PRICE on WALMART
The TOTO UltraMax II improves on the TOTO UltraMax with its low water consumption and several other modifications. This toilet is a single flush piece with a water rating of 1.28 GPF that meets EPA WaterSense certification.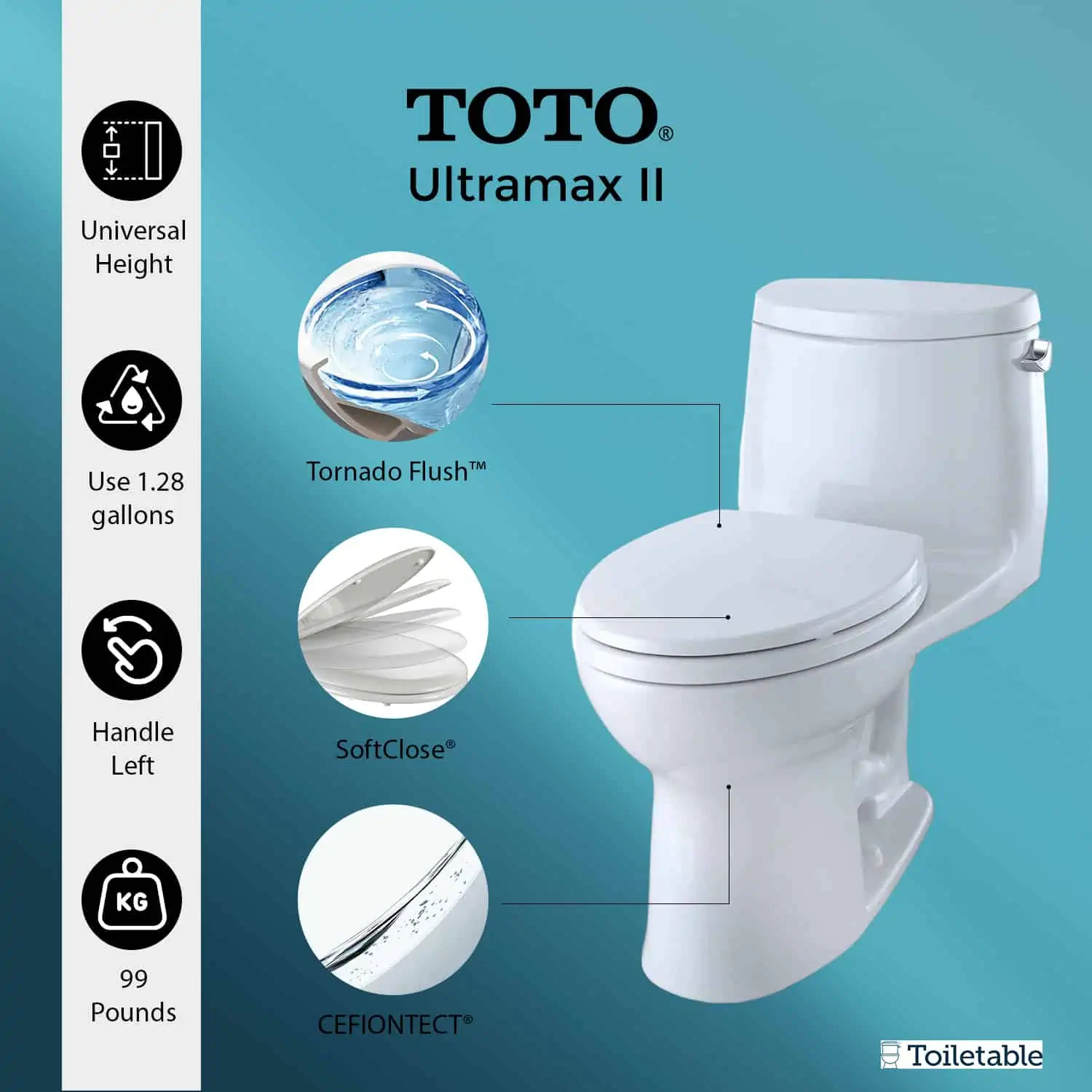 The UltraMax II supports its low water consumption with a Tornado flushing technology and a fully glazed 2 ⅛-inch trapway. 
The one-piece, elongated bowl toilet has a rim height of about 16.12-inches, making the toilet suitable for seniors and people with mobility limitations. 
The TOTO UltraMax II has a quiet flush system, and its tank fills up relatively fast, making it a suitable toilet for high-traffic restrooms. The UltraMax II toilet comes with a SlowClose seat like the UltraMax toilet and has the standard 12-inch rough-in fitting. 
Due to its one-piece design, its slightly harder to move around, but relatively easy to install. 
There are three toilets similar to the TOTO UltraMax II; Eco-UltraMax, Drake II, and the Vespin II. 
The UltraMax II is much lighter than the Eco-UltraMax and the Vespin II, at 75 pounds. It does not have a dual-flush system like the Drake II does.
The TOTO UltraMax II upgrades from the Ultramax with its Tornado flush system and EPA WaterSense certification. This UltraMax toilet is available in several different options: 
Washlet + Toilet options
Trip lever positioning options
Up to 9 trip lever colors
5 bowl color variations
Flush system varieties of 1.0 and 1.28 GPF
Compact round bowl options
No glaze models
---
---
Other Ultramax II Models
Our Final Take
Customers applaud the Ultramax II design. They love its easy installation, comfort, and powerful and efficient flush. However, a few customers mention the lid doesn't always sit perfectly on the seat, and the toilet requires more maintenance than they thought.
Buying Guide for the Perfect TOTO
Like the Kohler and American Standard toilets, the TOTO toilets feature unique designs that make them easy to clean and ensure their bowls are thoroughly cleaned with every flush. Below are some design features you can expect from a TOTO toilet.
Cefiontect
The CeFionTect is a smooth glaze used to cover the bowl of the toilets to keep particles from sticking to their surfaces. This glaze helps the TOTO flush system work better because it doesn't need much force or water to rinse or clear the bowl.
Skirted Design 
The skirted design of TOTO toilets has numerous benefits. The clean lines and geometrical precision makes the toilet look modern and beautiful. And because the skirted design paves the way to a concealed trapway, maintaining and cleaning the toilet is much easier.
LinearCeram
The LinearCeram is an especially thin construction technique that uses a unique ceramic to produce a sophisticated and elegant look that is also strong.
Water Standard Certifications
Another emulative feature of the TOTO brand is they do not rely on their innovative minds alone. The TOTO team considers and strives to meet all the necessary certifications to provide maximum satisfaction to all its customers. TOTO toilets feature the following certifications: 
LCA Transparency Report: This certification states that the toilet is made from eco-friendly materials and won't harm the environment. 
California Proposition 65: This certification assures buyers that the toilet is made from the safest, top-quality materials and does not contain chemicals that might cause health issues, like cancer, congenital disabilities, etc.
CalGreen: This standard addresses public health safety. It aims to reduce the negative impacts of production on people and the environment through effective designs in products from toilets to buildings. 
USGBC: Like CalGreen, USBGC aims to foster a healthy environment and improve the quality of life. 
Declare: This certification guarantees buyers that the product is made from materials that have been tested to be safe for human health and use.
General TOTO Features to Consider
A few things to consider before buying a TOTO toilet include: 
Toilet Types
High-efficiency toilets, otherwise called HETs, are the best sellers today. HETs are rising fast because they do not use much water but still perform very well. These toilets are EPA-WaterSense-certified. So, you should be on the lookout for toilets that do not go beyond a 1.6GPF water rating. 
ADA-compliant toilets are also another thing you should look out for. ADA compliance in toilets means the toilet has a height of at least 17-inches. This makes the toilet tall enough for easy, comfortable sitting and makes them good toilets for the elderly and people with disability. 
Most times, you can have a HET in an ADA-compliant height. So, you wouldn't have to make a compromise on quality. 
Finally, we have the flush systems. You've got the water efficiency covered, so you need a good flush for the low water use toilet. This is another factor of the HET (high-efficiency toilets). Gravity-assisted flush systems are more common than pressure-assisted flush systems because they are usually quieter. 
As both names imply, the gravity-assisted flush system uses gravity to drain the waste from the toilet bowl and into the sewage system. In contrast, pressure-assisted flush systems rely on water pressure to force the waste through the bowl and into the sewage system. 
Some modern toilets also feature dual-flush systems that allow them to use even less water without losing flush power. 
For more information on the dual-flush toilets, please check our guide.
The Design
In design, TOTO toilets explore styles in construction, their bowls, their mounting style, and several others.
Construction
The TOTO toilets come in two primary models: one-piece and two-piece designs. 
One-piece models mold their bowls with their tanks, while two-piece toilets have their bowls and tanks separately, which are then fused during installation. The one-piece toilets take up less space and are suitable for small bathrooms because they often have smaller rough-in fittings. Still, the two-piece toilets are more common in homes because they are cheaper and lighter. 
Both of these toilets could be either floor-mounted or wall-mounted.
As their names imply, floor-mounted toilets are installed on the floor, while wall-mounted toilets are fitted to the wall. Most customers with luxurious bathrooms prefer wall-mounted toilets because they look incredibly stylish. Plus, wall-mounted toilets, though less space-efficient, are easy to maintain. 
Bowl
The bowl shape of the toilet is another important factor to consider before buying a toilet. The two most common toilet bowl shapes are the round-front bowls and the elongated bowls. 
Round fronts are better for small bathrooms because they take up less space than the elongated bowl toilets. But because elongated bowl toilets have more sitting space than round front bowls, they are more comfortable. 
You should also note that because elongated bowl toilets are a few inches bigger than round-front bowl toilets, they have to be placed in positions that will not interfere with other bathroom fixtures, like the door or drawers.
Rough-In
It is important to take note of your bathroom's rough-in size to prepare for your new purchase. Older bathrooms often have rough-in widths that are not suitable for modern toilets' construction. 
The rough-in of a toilet is the space between the wall behind the toilet and the center of the waste pipe – that should be beneath the toilet's base. The most common rough-in length is 12-inches. But rough-in measurements can vary anywhere from 10 to 14 inches. 
The TOTO brand features all three rough-in measurements: 10, 12, and 14, with some of its models fitted with adaptations that allow them to fit more than one rough-in size. 
Other Features
Beyond its generic features, the TOTO brand also offers smart toilets. Smart toilets have functions like NightLight Illumination, which lets the toilet seat glow in the dark and makes it easy to locate even when the power is out. 
Some TOTO toilets come with remote controls for a totally hands-off experience. This includes foot warmers, automatic flush systems, and even sensors that notify their owners of leaks. 
However, these features may not always come cheap. Common practice is, "the higher the tech, the higher the price," so it is essential to determine what function you'd need in your bathroom. 
Remember, you spend a lot of time in the bathroom, specifically on the toilet, so it is worth the extra thought. 
Frequently Asked Questions
We answered the most asked questions by our readers about TOTO toilets. Feel free to send us a question and we will answer it!