Disclaimer: We're supported by our readers. We earn a commission from product purchases using affiliate links on our site. Learn more about the affiliate program.
Kohler toilets, a well-known toilet manufacturer, is no exception to quality product. Today we're looking at just one of Kohler's toilet models, the Highline.
Let's take a look to see what the Highline has to offer in our full review below. We'll also compare it to one of Kohler's other options, to see how it stacks up.
The Review of the Kohler Highline Toilet (Updated)
Our team took a close look at the features and benefits of the Highline toilet to create this full review.
"The Highline is high-class. The sleek model is both aesthetically pleasing and long-lasting."
Key Features
Flush Score:
Water Consumption: 1.28 
Bowl Shape:
Flushing System:
Flush Type: Single
Style: Two-Piece
Certifications: ADA,
Dimensions : Toilet (29.75″ x 18.13″ x 31.25″), (12″), (2.12″), (16.5″)
    CHECK PRICE on WALMART                      CHECK PRICE on AMAZON
Flushing Performance
The Highline uses Kohler's Class Five flushing technology to reduce the likelihood of clogs. The single-flush gravity system utilizes gravitational force for an extra-strong flushing siphon. Kohler optimizes siphon strength through its specially engineered tank, bowl, and trapway.
The Highline uses 1.28 gallons per flush, saving you about 20 percent on your annual water bill, when compared to traditional 1.6gpf models. The toilet is EPA WaterSense-certified and is eligible for consumer rebates in some municipalities.
Design
This vitreous china two-piece toilet looks and feels good from the get-go. At first glance, you'll notice the angular structure of the tank, which gives the model a fresh look. The toilet comes in white, biscuit, and black black.
The extra-comfortable elongated bowl helps disperse user body weight , elevating user experience. The Highline is a Comfort Height toilet, with a seat height of 16.5".  The toilet comes with a tank, tank cover, bowl, trip lever, and bolt cap accessory pack. A supply line and wax ring are not included but are needed for installation.
One of the best parts of this toilet is its easy installation process. Thanks to the three-bolt quick-connect installation, you won't need professional help! Simply install the floor-mount/floor outlet toilet according to Kohler's beginner-friendly instructions.
Recommended Accessories
If you want to deck out this affordable toilet with some luxurious accessories, Kohler has a wide array of compatible products that go great with the Highline. Consider upgrading to the Cachet Quiet Close toilet seat to avoid any unintentional slamming or the Purefresh elongated seat which comes with its own deodorizing system.
The Highline is also compatible with the C³-420 elongated bidet seat, perfect for those looking for a bidet alternative.
Color Options
White (0)
Biscuit (96)
Black Black™ (7)
Compatible Seats
K-4636 Cachet® Quiet-Close™
K-26132-CSP C³®-420
K-5588 Purefresh® Elongated Toilet Seat
Other Highline Models
What to Love
1.28 GPF and Class Five flushing technology
Comfort Height toilet with elongated bowl
Simple three-bolt quick connect installation
What to Keep in Mind
Supply line and wax ring not included
Not ADA compliant
Issues with shipping
Comparison – Kohler Highline vs. Wellworth
This unit is on the lower end of Kohler's line of toilets. While it's not their most basic model, it certainly lacks some of the luxury features that the pricier designs have incorporated.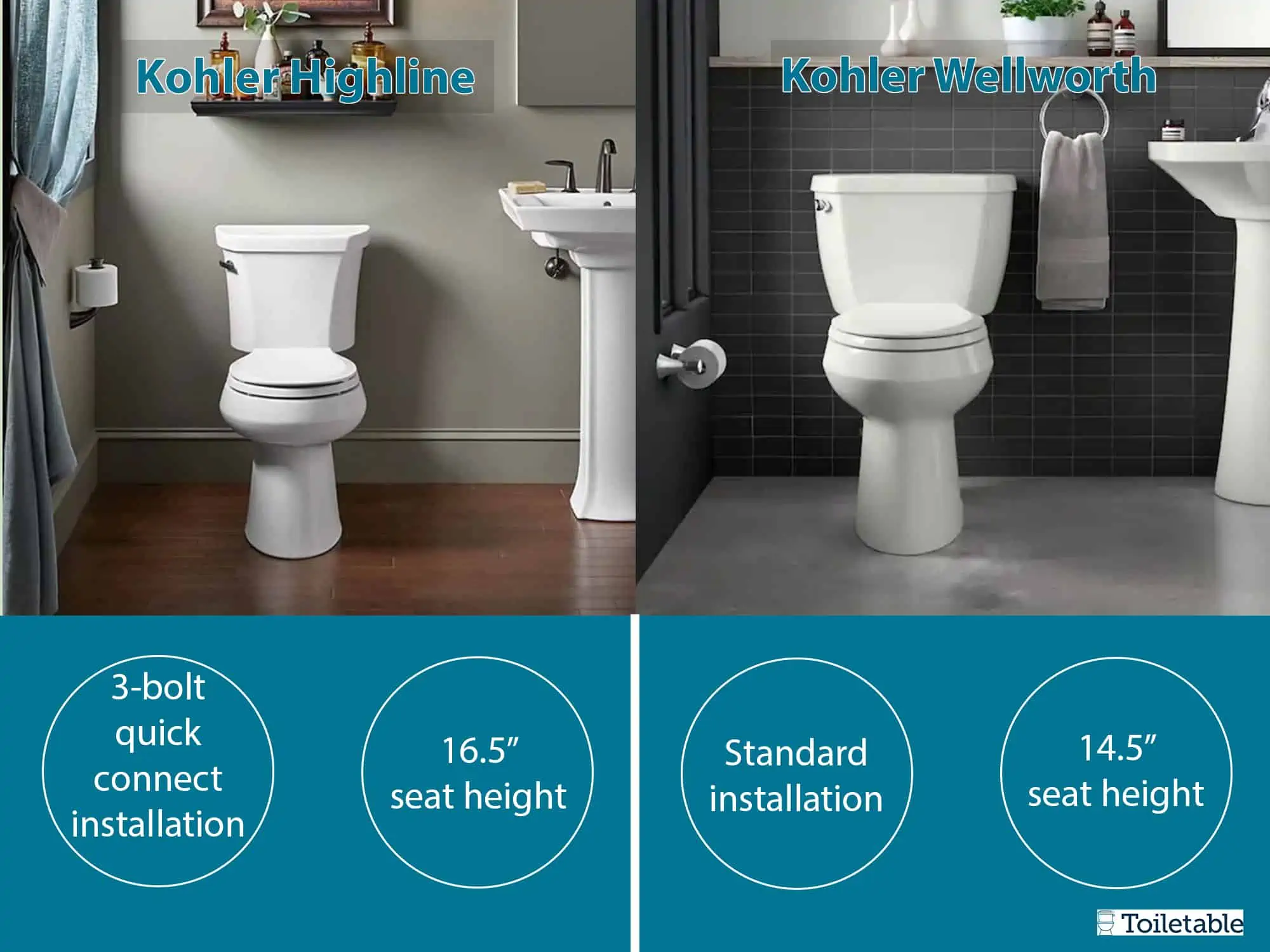 However, Kohler has engineered the Highline to still perform at a high level, even though it does so with more basic technologies. For instance, rather than the Revolution 360 flush system, it uses a more basic Class Five flush valve. This toilet also lacks the self-cleaning features and antimicrobial surface coatings that Kohler has made standard on their other models.
Let's compare the Highline to Kohler's most basic model, the Wellworth, to see how the two stack up.
| | |
| --- | --- |
| Wellworth | Highline |
| Available in 4 colors | Available in 3 colors |
| Two-piece toilet with elongated bowl | Two-piece toilet with elongated bowl |
| 1.28 gpf | 1.28 GPF |
| 14.5" seat height | 16.5" seat height |
| Standard installation | 3-bolt quick-connect installation |
| EPA, DOE certified | EPA, DOE, ADA certified |
| Average customer rating: 4.3/5 | 4.5/5 |
Summary of Recent Reviews
Users boast about the Highline's clog-free flushing performance, noting the toilet's reliable suction strength. Users also like the toilet's sleek look that blends into any bathroom aesthetic. The most common complaint is about the toilet's state upon delivery. Users report receiving the toilet broken in the mail and having to call Kohler's support center for another unit.