Your toilet is the household appliance that you are likely most intimately acquainted with. Some days, it's the first thing you see in the morning, and the last before you go to bed. Choosing a new toilet can be a big process, with results that affect literally every day. Even after narrowing down which manufacturer you'd like to purchase from, there are still usually 10-12 different models of toilets to choose from!
Kohler, the well-known appliance giant, is no exception to this. Today we're looking at just one of their toilet models, the Highline. Let's take a look to see what this toilet has to offer. We'll also compare it to one of Kohler's other options, to see how it stacks up.
Kohler Highline Specifications
Specification List:
Model

: Highline 

Manufacturer

: Kohler

Price Range

: Low to mid

Type

: Two-piece toilet with an elongated bowl

Seating Height

: Comfort (16.5")

Flush

: 1.28 gallons-per-flush

Installation: Three-bolt quick connect
Features: Class FiveⓇ flush technology, polished chrome finishes, economical price
Certifications: DOE – Energy Policy Act 1992, EPA WaterSense®
Warranty: Five-year limited (mechanical parts)
Pros and Cons
What We Liked:
Durable and dependable
Noticeably taller seat than most toilets
No-fuss installation
Water-conscious flush
Excellent price
Generous warranty
Comes in 3 color options- White, Biscuit, and BlackBlack™
What We Didn't Like:
Purchase does not include seat
Lacks self cleaning features
Flange bolts and flush valve seal need to be purchased separately before installation
Some users report frequent clogging
Kohler Highline – Features and Highlights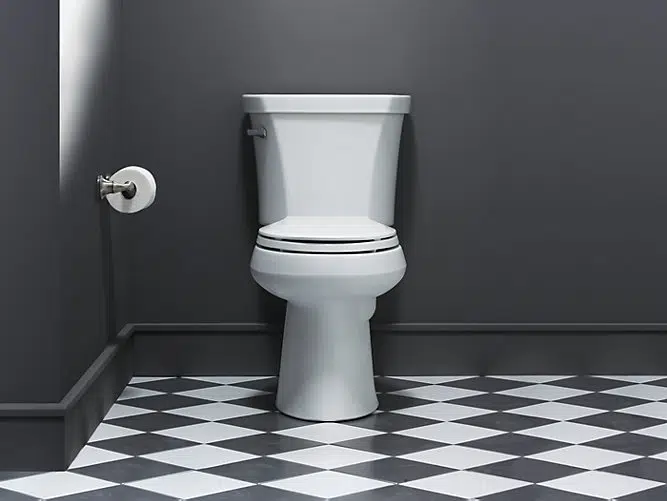 Comfort Height
Kohler has pioneered one of what is possibly the most convenient design feature of modern toilets: a chair level seat. The bowl sits at 16.5" above the floor, a large improvement over the standard 12" seat height. 4.5" may not seem to make that much of a difference, but users report that using the elevated seat leads to less leg-numbing and is easier for arthritic or aging knees. If you're on the shorter side, don't worry, you won't have to struggle to climb up onto the toilet though. Even users with children agree that the toilet is still a reasonable level for all heights.
Class FiveⓇ Flushing Technology
Kohler has patented their Class FiveⓇ flush system, which uses a large flush valve to swiftly deploy water into the bowl. The sheer force of the fast moving water allows the toilet to dispose of waste while using less water. This is one reason why the Highline received an EPA WaterSense® certification, as it manages to reduce flush volume to only 1.48 gallons per flush, rather than the standard 3 gallons.
Check out this promotional video by Kohler that demonstrates both the Class FiveⓇ's load capacity and rim washing capabilities:
As seen in the video, the Highline's flush technology is engineered to handle large loads of material, but some users do report that this toilet clogs more frequently than their old, 3 gallon-per-flush units. Individual usage and toilet habits vary, so it's a toss-up as to whether this is a universal issue or a personal one. Of course, a toilet that is completely impervious to clogs doesn't exist, so the occasional back-up is a risk taken with any purchase.
Certifications
As we mentioned above, it was awarded the Environmental Protection Agency's WaterSense® certification, which signifies that an appliance meets the EPA's specifications for environmentally-friendly water usage. It also conforms to standards set by the DOE's Energy Policy Act of 1992 and the Americans with Disabilities Act.
Warranty
For a residential installation, the Highline is covered under the following limited warranty terms:
Mechanical Components- 5 Year
Vitreous China Material- Lifetime
And for a commercial installation, the following:
Mechanical Components- 3 Year
Vitreous China Material- 5 Year
Like most appliances, the warranty is voided in cases of improper cleaning or care, and does not cover damage done to the unit during installation. Customers who have utilized the warranty for broken mechanical parts reported that Kohler's warranty department has excellent customer service and sent out replacement parts quickly, at no cost to the customer.
Installation
This toilet installs using a standard 3 bolt system. It's designed to fit over a 12" rough in, which is commonly found in most residences. A 3 bolt installation is simple enough that it can be attempted on your own, as demonstrated in the video below, but it's always a good idea to seek professional help if you're not experienced or confident with toilet installation.
Comparison – Highline vs. Wellworth
This unit is on the lower end of Kohler's line of toilets. While it's not their most basic model, it certainly lacks some of the luxury features that the pricier designs have incorporated.
However, Kohler has engineered the Highline to still perform at a high level, even though it does so with more basic technologies. For instance, rather than Kohler's Revolution 360Ⓡ flush system, it uses a more basic Class FiveⓇ flush valve. This toilet also lacks the self-cleaning features and antimicrobial surface coatings that Kohler has made standard on their other models.
Let's compare the Highline to Kohler's most basic model, the Wellworth, to see how the two stack up.
| | |
| --- | --- |
| Wellworth | Highline |
| Available in 4 colors | Available in 3 colors |
| Two-piece toilet with elongated bowl | Two-piece toilet with elongated bowl |
| 1.28 gpf | 1.28 gpf |
| 14.5" seat height | 16.5" seat height |
| Standard installation | 3-bolt quick-connect installation |
| EPA, DOE certified | EPA, DOE, ADA certified |
| Average customer rating: 4.3/5 | 4.5/5 |
Summary
The Kohler Highline is a solid, practical choice for almost anyone needing a toilet, whether for residential or commercial purposes. It may not be the fanciest option, but as we're sure plenty of plumbers agree, sometimes the hassle of fiddling with high-tech luxuries just isn't worth it. There are also plenty of ways to upgrade your toilet, such as after-market seats, bidets, and seat covers or warmers, that allow you to build a customized bathroom experience, without the hefty price tag.
That being said, even though the Kohler Wellworth is largely the same, we do think it can be worth shelling out the extra few bucks for the elevated seat height. If you value comfort for your knees, legs, and back, this one-time investment could seriously pay off in the long run.