Having limited bathroom space doesn't mean you have limited toilet options. There are endless options of compact toilets on the market today, with various styles and features, giving you options of what is best for you.
Today we are going to look at the best and most popular compact toilets designed for smaller bathrooms, keep reading!
Our Top Compact Picks
Main Features and Factors
Here's a list of seven important factors when choosing a compact toilet for a small bathroom.
✓ Space and Size Dimensions
Since you want to buy a small toilet, you probably don't have a lot of space to spare. Before buying, it's essential to measure the space for your toilet properly, or you might end up with a too-big unit that you can't return. The most important measurement is a rough-in size, which is the length between the center of the toilet and the wall.
Additionally, you should consider the shape of the bowl. Oval and round bowls take up different amounts of space.   If your room is shallow, it may be a good idea to mark the toilet dimensions on the floor using tape so that your knees don't end up pressing against the wall while using the toilet.
Read More: How to measure toilet dimensions
✓ Water Consumption
Wasting water is bad for both the environment and your wallet. Look for an efficient toilet. Old toilets consume around four times more water than more modern models. New models might be expensive, but they make an excellent long-term investment. Federal law requires toilets to meet EPA standards for water-saving.
Take a look at our 1.28 vs 1.6 GPF guide.
✓ Flush Efficiency
Flush efficiency refers to how much water the toilet requires to clean the bowl after use.
There are two types of toilets when it comes to flushing efficiency. Some units have traps to prevent clogging while others have valves that allow for a powerful flush. Choose carefully based on the size and needs of your household.
✓ Ease of Cleaning
When choosing a small toilet, go for the models that are easy to clean. Your main indicators should be the material and design of the tank and bowl.
You may be interested in our toilet bowl cleaner reviews.
✓ Toilet Height
Toilet height is an important factor that affects both comfort and accessibility for both adults and children. Most modern toilets have a convenient height that is similar to sitting in a chair.
✓ Consider The Environment (and Your Wallet)
Buying a water-efficient toilet will affect the environment, as well as your wallet. The best option is Dual Flush, which allows you to use a light flush for liquid waste and a solid flush for solid waste. Also, it's good to consider using greywater for flushing. Some toilets come with a nice, long rubber hose, which allows you to do just that.
✓ Toilet Design
Toilets are something that we use every single day so it's important to consider the design. If you have a traditional bathroom, a two-piece unit will do the job. However, for modern bathrooms, a single-piece unit would be the perfect fit.
Reviews of the Best 14 Toilets For Small Bathrooms
Our experts reviewed and gathered facts of the top compact toilets for small bathrooms on the market.
1.
American Standard H2Option

– Editor's Choice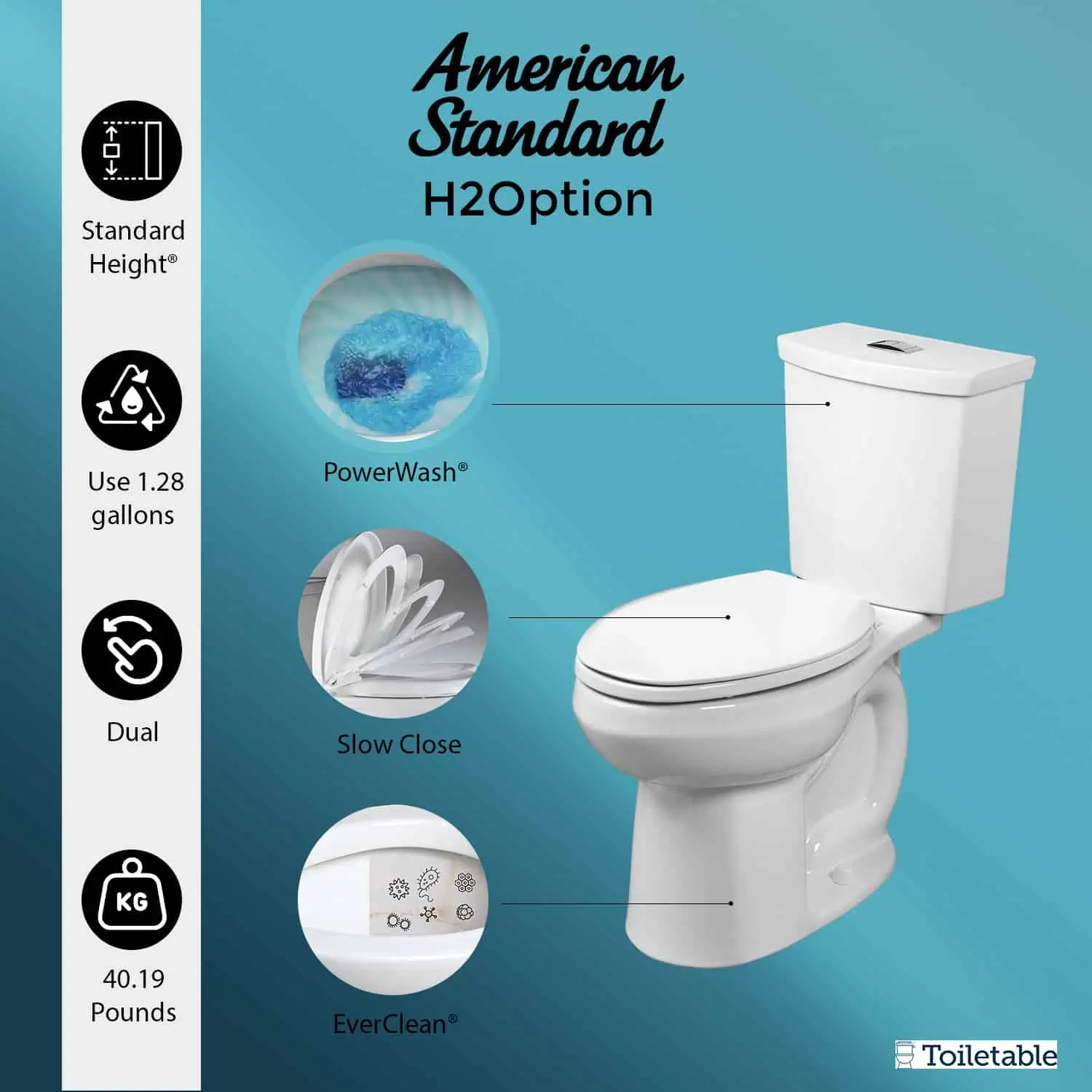 The H2Option toilet is not your regular compact facility. It is one of the most consistently highly rated on consumer review platforms and one of the best-selling models currently. 
With a quiet dual-flush system actuated by silver-plated buttons on the top of the tank, this toilet is more space-efficient than toilets with side-flush systems.
It is also available in the round and elongated form; the round front bowl is your guy if you need space over comfort – not that the round isn't comfortable. 
Still don't see why this toilet is our Editor's pick? Let's help you with that. 
Although the H2Option is a two-piece, it has a triangular body design that allows you to squeeze it into corners and maximize every inch of your bathroom. 
However, it uses the standard 12-inch rough, which we believe they could have done better with a smaller size or a UniFit adapter. Still, there are many other reasons you'd love this toilet. Check out this comprehensive review of the American Standard H2Option toilet here.
Other H2Option Models
Summary of Recent Reviews
Some buyers were hesitant to buy this water-efficient toilet but they are with their purchase.  Reviewers shared that the flush is powerful, yet quiet and that the tank refills quickly.  "Very happy with our purchase and plan to buy 2 more!"
2.
TOTO Entrada

– Review Champion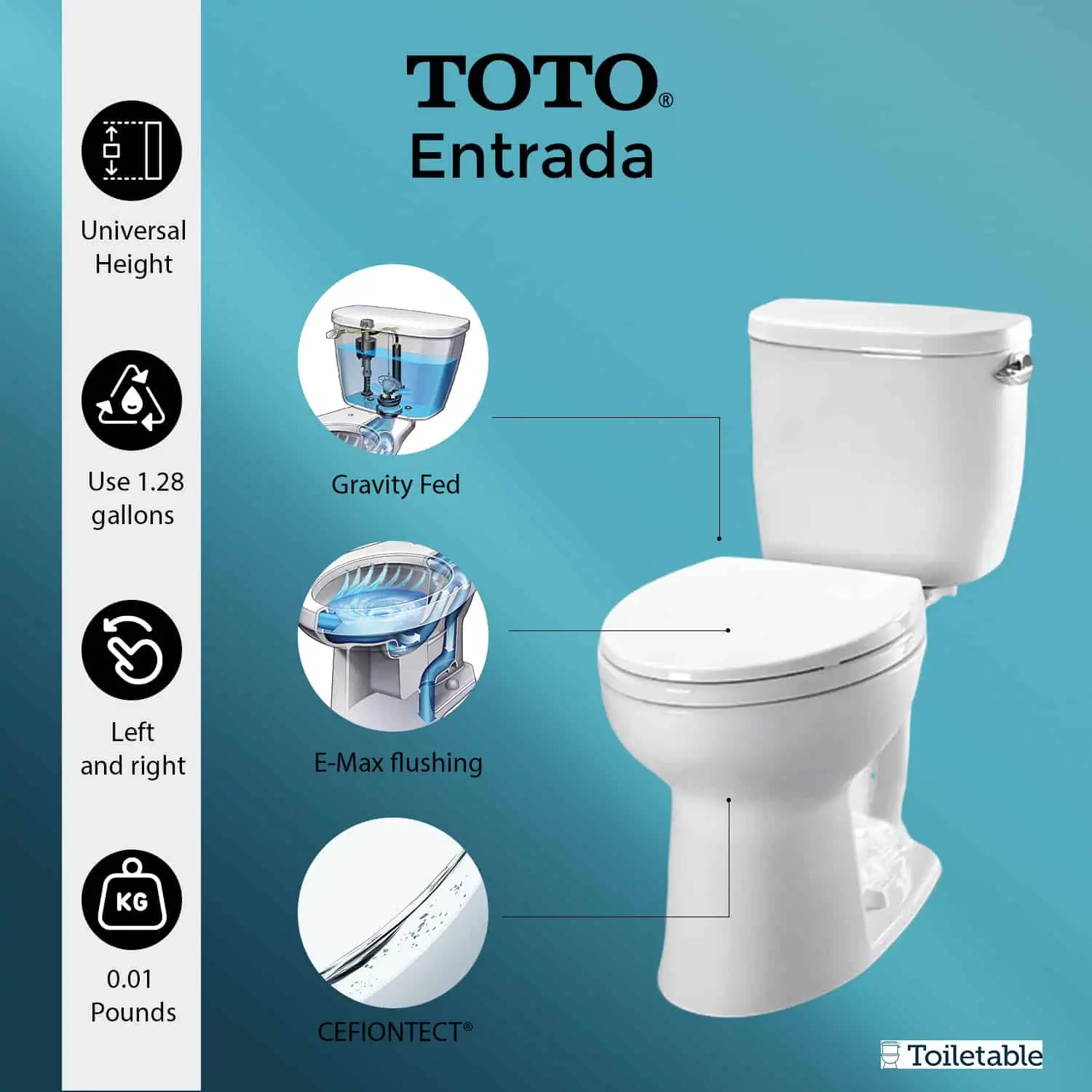 The TOTO Entrada is a toilet series specifically designed for small homes. Available in both the round- and elongated front, you can decide to tilt further to its comfort side or the space-saving side. 
The Entrada toilets also use the 12-inch rough-in, making them relatively easy to install and replace and even widely compatible since most bathrooms use the 12-inch rough-in. However, something compact would have been more suitable for small-sized bathrooms. 
Another interesting thing about this toilet is its 15 1/4-inch wide, fast-filling tank, which supplements its low water use and holding capacity. 
According to customers, the Entrada series is possibly the best affordable toilet on the TOTO brand and would have been totally perfect if its scouring power reached all corners.
Other Entrada Models
Summary of Recent Reviews
This is a powerful toilet according to customers.  The flush is reliable and powerful, leaving a clean bowl after use.  Several buyers mentioned that they replaced an older model with this toilet and noticed the water savings.  "Have used this model for six years and am very satisfied."
3.
Swiss Madison SM-1T257

– Most Water Efficient

The Swiss Madison SM-1T257, otherwise called the Sublime II, is one of the finest, most sought-after pieces in the Swiss Madison toilet series. It is a compact, one-piece that uses a top-mounted button-flush system.

We'd always pick a powerful, quiet flush anytime, so we appreciate the gravity dual-flush of this system, which allows you to save the noise, save the cost, and help the environment.

At the time of this write-up, we did not find any complaints about its space-managing features. Check this comprehensive review of the Swiss Madison Sublime II for more features.
Summary of Recent Reviews
This toilet performs well with its water-efficient, powerful flush that consistently cleans the bowl.  The design is perfect for a modern bathroom, especially if you're limited on space.  Multiple buyers even ordered this again for their additional bathrooms.
4.
American Standard Champion 4

– Strongest Flush
We'll start with this: Here is a one-piece toilet that allows you to choose between the 17.5-inches ADA-compliant height and the 15-inch natural seating height. 
Although it is no different from most toilets since it uses a 12-inch rough-in, it stands out from the rest by taking up just a little over 15-inches in width, making it suitable to squeeze into the little space between your wall and the bathtub. 
The American Standard Champion 4 has a very efficient yet quiet flush system that offers users a discrete, convenient toilet time. 
While we did not find any complaints about its space-managing features, we found several about its flush system.
Other Champion 4 Models
5.
Johnson Pumps Aqua Toilet

– Budget Friendly
Johnson Pumps are one of the world's leading manufacturers of toilets and pumps for marine use. Their Aqua Toilet is a non-electric toilet designed for convenient use at all times. 
This toilet saves space through its non-tank design and its variety of space-saving options, from aesthetic design to the standard elongated or round bowl options. 
Like the HocanFlo, the Aqua-T toilet has automatic backflow prevention for different onboard mounting positions and configurations: above or below the waterline.
This toilet also has a "whisper-quiet" flush which is actuated by a T-shaped hand pump at the side, an efficient feature but space-maximizing drawback. 
Again, like the HocanFlo, customers have complained about the pump being faulty with two pluses: the seat being very flimsy and the automatic backflow prevention not working as it should.[/su_expand]
Summary of Recent Reviews
Overall buyers are pleased with this purchase. Installation is a breeze and it comes with all necessary parts. Customers shared that it's easy to pump and operate. While some had issues with the durability over time, most reviewers were satisfied with their purchase. "Looks nice super easy install and operation."
6.
Kohler Santa Rosa

– Most Reviewed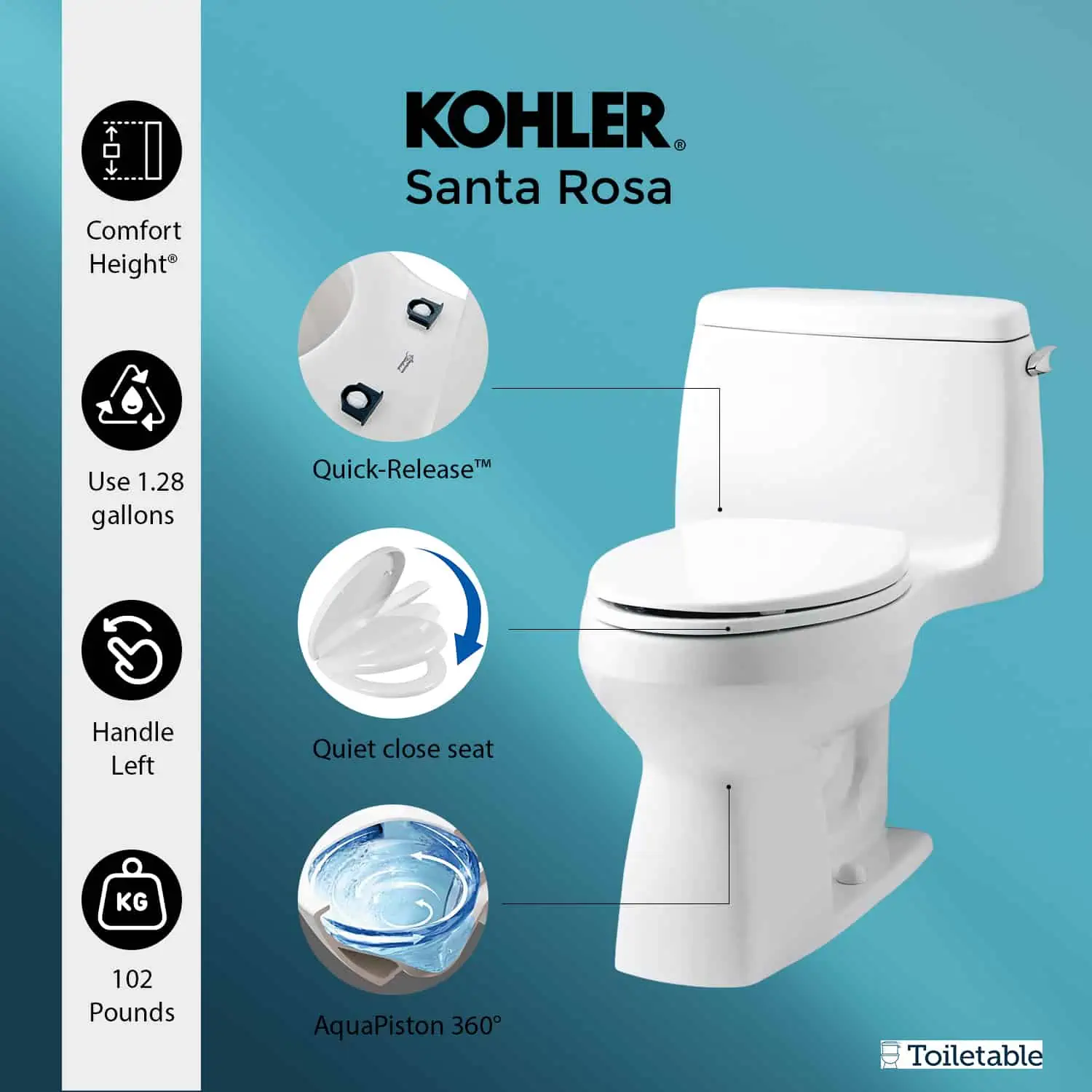 The Kohler Santa Rosa is a one-piece toilet that offers the exceptional qualities of the Kohler toilets to smaller-sized bathrooms. With a modified elongated bowl, a beautiful design, and various other appealing features, it's hard not to see why this toilet ranks as most reviewed. 
Although elongated bowl toilets are space-consuming, this one isn't because of its all-round integrated system. Its elongated bowl has a round front instead of an oval one for more leg space, and as a one-piece toilet, its tank-bowl merge takes up even less space than a two-piece. 
But here is where it had a close call: the side-trip flush lever. It probably would have been kicked off the compact toilet society if not for its ergonomic design. The Santa Rosa also uses the standard 12-inch rough-in.
Yes, the toilet has some very compact features, but we can't say it is that great with space efficiency. So, unless you see what we aren't, you should read more about its features.
Other Santa Rosa Models
Summary of Recent Reviews
According to reviewers, the Kohler name lives up to its reputation with this toilet. Several mentioned that installation is straightforward, but be sure to purchase the wax ring separately.  The height is comfortable for users, as is the included toilet seat.
7.
Galba Compact Toilet
TODAY'S DEAL on AMAZON     TODAY'S DEAL on WALMART
As you'd expect from our second-best compact toilet, the Galba toilet is one of the smallest toilets of all time. The size of this toilet will make you wonder, "exactly how small can a toilet be without compromising quality?" 
The answer? – Galba Small. Despite its pixie size, this toilet is a sturdy, one-piece, customer-centric toilet available in elongated form.
It also has a quiet dual-flush system operated by a chrome-flat button on the top of its slim-fitted tank and uses the standard 12-inch rough-in, which many customers have shared not-so-pleasant reviews about. 
The chrome lever button is also not all that, as there are also complaints about it oxidizing quickly and turning green. So, the team should probably also look into improving its quality and integrating a UniFit adapter like the TOTO Vespin II.
Summary of Recent Reviews
Buyers are happy with this compact toilet!  Several shared that this option saves water, and still has an efficient flush.  Beyond the reliable functionality, customers love the modern design of this affordable option.  One buyer shared that they had theirs for over two years and have yet to have a clog!
8.
TOTO UltraMax II 
It's never really the end of the road with the TOTO toilets. The TOTO Ultramax II toilet is another excellent compact toilet that can surprisingly make the most of the smallest bathrooms. 
We love that it does not compromise on quality either because, despite its relatively slim tank, it delivers a massive flush with its chrome trip lever. Check here for more information on its flush system. 
The TOTO Ultramax II is not your regularly-priced one-piece toilet; it costs a tad bit more than most. But for some customers, this might be a convenient sacrifice for a toilet that fits most bathroom configurations. As an elongated bowl measuring about 28.3 inches, this toilet might need more space than the round bowl types but is suitably classified as compact since it is relatively smaller than most.
Color Options:
Cotton (01)
Bone (03)
Colonial White (11)
Sedona Beige (12)
Ebony (51) (not available in CeFiONtect)
Other Ultramax Models
Summary of Recent Reviews
This compact toilet is easy for buyers to install.  Several shared that the flush is powerful, even with its water-saving design.  Many reported no clogging issues over time.  There was some mention of delivery issues but that's not the fault of the toilet design!
9.
HocanFlo 500W-MY
The HocanFlo 500W-MY is probably not a brand or toilet you've ever heard of since macerating toilets are not all that common. These toilets are often very bulky due to their unique flush mechanism. However, the HocanFlo made it to the list. 
This toilet is most renowned for its high versatility. Due to its ability to pump effluents upwards and sideways, this toilet is suitable for the most unusual spaces, including areas below water levels – that includes your basement.
It also has a non-return valve design, an important add-on to supplement its unique flush system. But one feature that could easily pass as most surprising about this toilet is its quiet flush. 
Its flush system has a dual-automatic flush design activated manually through a control system at the top of the lid. 
But despite all its amazing features, this toilet is not very popular amongst its customers, with many complaining about its pump system not working as it should.  
It is also a two-piece, elongated bowl toilet -two of the most common non-space-saving toilet qualities.
10.
Kohler San Souci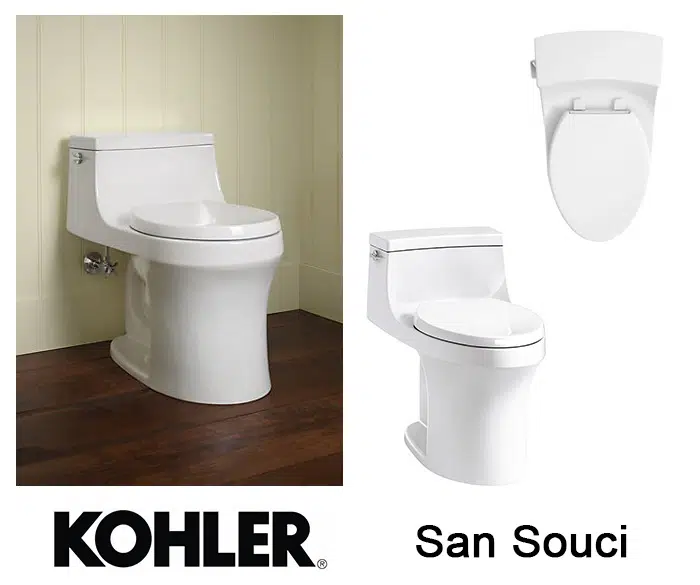 The Kohler San Souci is a compact-sized toilet that is great for smaller bathroom spaces and offers seamless installation. This toilet is available in two-bowl designs: the round- and the elongated structure, which are both great, but for space management, the round type is best. 
This San Souci is also a one-piece toilet which makes it again space-efficient. Its shorter tank also takes up less space to make your bathroom feel larger. 
The San Souci uses the relatively silent gravity flush system, making it extra-perfect for small-sized homes. Also, thanks to the entire toilet being just about 24.25 inches tall, you can maximize your bathroom area with over-the-toilet storage facilities for your bathroom essentials.
Now for it's not so exceptional qualities. First, because it uses the standard 12-inch rough-in, it is convenient for regular bathrooms but might not be so suitable for small-sized bathrooms.
Other San Souci Models
Summary of Recent Reviews
A sign of a good product is when buyers purchase multiple, which is the case with this toilet. Reviewers came back and bought this again for their additional bathrooms.  This has a modern design, adding to the decor of your bathroom, and of course, it's functional. The flush is powerful with no reports of regular clogging.
Compact Toilets For Small Bathrooms: Buying Guide
As you can see, there are a lot of compact toilets designed specifically for smaller bathrooms. However, in order to choose the ideal one for you, we've listed some top factors to take into consideration:
Dimensions
First off, you'll want to start by figuring out how compact you need the toilet to be. Not all compact toilets have the same size. Although a lot of them have similar dimensions, you'll want to measure your bathroom and find out exactly how much space you have. One way to measure the necessary space is by marking out the dimensions of the toilet you are planning to buy using tape on the floor.
However, keep in mind that you shouldn't try to squeeze the toilet in. Instead, be sure to leave a little bit of free space around the toilet. Finally, don't forget to measure the rough-in. Although the standard in most cases is 12 inches, make sure to confirm the right size for your bathroom so you don't buy a toilet that won't fit.
Are Compact Toilets Comfortable?
Another very important factor to consider when buying a compact toilet is comfort. Compact toilets can often lack comfort as they are smaller than traditional toilets. Therefore, if comfort is an important factor for you, there are a few details to consider. First, look for toilets that have a right height seat, which is usually a little taller. Secondly, any toilet that has a compact elongated bowl instead of a round bowl will also be more comfortable.
Which Rough-In Is Ideal For Smaller Bathrooms?
In order to understand which rough-in is ideal for a smaller bathroom, you need to know exactly what rough-in means. Most toilets will work on either 12 or 10-inch rough-in. Those numbers represent the distance between the wall and the center of the toilet. If you are looking to fit a toilet in a smaller bathroom, a 10-inch rough-in would be ideal. This way, you save up to 2 inches of space. Therefore, if you have a 12-inch rough-in, buying a compact toilet is a much better option than trying to fit a regular toilet in the bathroom.
What Is A Half Bathroom?
As the name suggests, a half bathroom is a bathroom that doesn't contain all the bathroom fixtures. This type of bathroom contains only a sink and a toilet, but not a shower or bathtub. Half bathrooms are usually quite small and thus, they are ideal for compact toilets. They are also generally located on the main level of the house and are mostly used by guests.
Can A Toilet Be Positioned In The Corner?
A lot of people who are trying to save up some space in the bathroom are wondering whether it is possible to position a toilet in the corner. Yes, it is possible to fit a toilet in the corner and what's more, some toilets are even designed with a more of a triangular shape that fits in the corner. However, that doesn't mean that it will save up some space.
But, if you have a toilet positioned in the corner, you don't have to worry about "knee space" between the toilet and the wall. Don't forget that most codes require that you have at least 30 inches of free space between the toilet and any sanitary fixture. Not only that but you must also have at least 15 inches of free space between the toilet and the sidewall.
Benefits of a Compact Toilet
Some people avoid buying a small toilet, thinking that it may lack features. However, these toilets are an excellent choice, especially for small spaces. They are easy to keep clean. Plus, they come in standard height which is great for adults and kids, while still taking up less space.
Installation Tips
Installing a compact toilet is usually simple. However, installation varies between models so always follow the user manual. Although some units might be more difficult than others, in general, it's an easy process.
• Make sure to cut off the water supply to the existing toilet and do a final measurement before beginning the installation.
• Note that there are differences between single-piece and two-piece models so some parts of the process will require checking the user manual.
• Once the toilet is installed, you can reattach the water line and turn it on but before using the toilet, flush it a few times. There could be some leaks, and it's better to notice them before use.
• Consider hiring a professional. Improper installation can lead to unit damage over time. As a result, you may spend more cash on servicing.
• Most compact toilets can be installed the same way as standard units. If you've already installed a larger toilet, installing a compact version won't be a problem.
Cleaning
Cleaning a compact toilet is as important as cleaning any type of toilet. However, some toilets have features that allow them to stay cleaner for longer. You should aim to clean it once a week. If you clean the unit frequently, you won't have to remove potential build-up, making your life simpler overall.
One-Piece vs. Two-Piece Toilets
Most toilets, regardless of their size, are made in either 1-piece or 2-piece designs. Two-piece toilets are a bit more affordable but more difficult to keep clean due to crevices, bolts, and hooks in the design. Single-piece toilets are virtually seamless making them easy to clean but they are more expensive and are also heavier, which can be an issue when installing.
Frequently Asked Questions
What Is Considered Small for a Bathroom?
Typically, if a bathroom is somewhere between 30 and 40 square feet, it is considered small. However, the actual dimensions of a small bathroom will vary depending on the size of the apartment or the home itself. Ultimately, a bathroom that has just enough room for a sink, toilet, and maybe a shower and/or tub would be considered a small space where a compact toilet might make the most sense.
Where Should I Position the Toilet?
Every fixture, including the toilet, must have at least 21 inches of floor space in front of it. Aside from that, you'll want to leave at least 30 inches of free space to use for the toilet itself. Basically, 15 inches from the center out on each side of the toilet must be clear. Finally, the swing of the bathroom door and any bathroom cabinet doors must not interfere with the person using the toilet. Overall, we recommend leaving a little extra space if possible to ensure the toilet is easily accessible and comfortable to use.
Final Verdict
Compact toilets are specifically designed for smaller bathrooms and thus, can sometimes be a bit more expensive. However, there are a number of toilets that offer a great quality-price ratio, such as the Horow HWMT-8733U and the Horow HWMT-8733 from our recommendations. Ultimately, keep in mind that there are a number of great options out there. Whichever you select, be sure to measure the space in your bathroom to ensure a great fit, and don't forget to use our tips to pick the perfect compact toilet for your small space.