Disclaimer: We're supported by our readers. We earn a commission from product purchases using affiliate links on our site. Learn more about the affiliate program.
If you're shopping for a new toilet and water efficiency with a powerful flush is on your must-have list, then we have a toilet for you!  The American Standard Champion 4 is a low-flow water-saving toilet that features an elongated bowl for extra user comfort. The "EverClean" glazed surface inhibits the growth of bacteria, mold and mildew, and the Champion 4 consumes only 1.6 gallons of water per flush.
The vitreous china construction can last up to 10 years. It also has a powerful flushing system, and is comfortable and easy to use by people of all ages and sizes, as well as people with disabilities. It's single-piece construction does not require frequent maintenance and the toilet cleans itself with every flush.
Review of the American Standard Champion 4 Toilet
Our team has fully reviewed and collected facts about the Champion 4 toilet, all right below!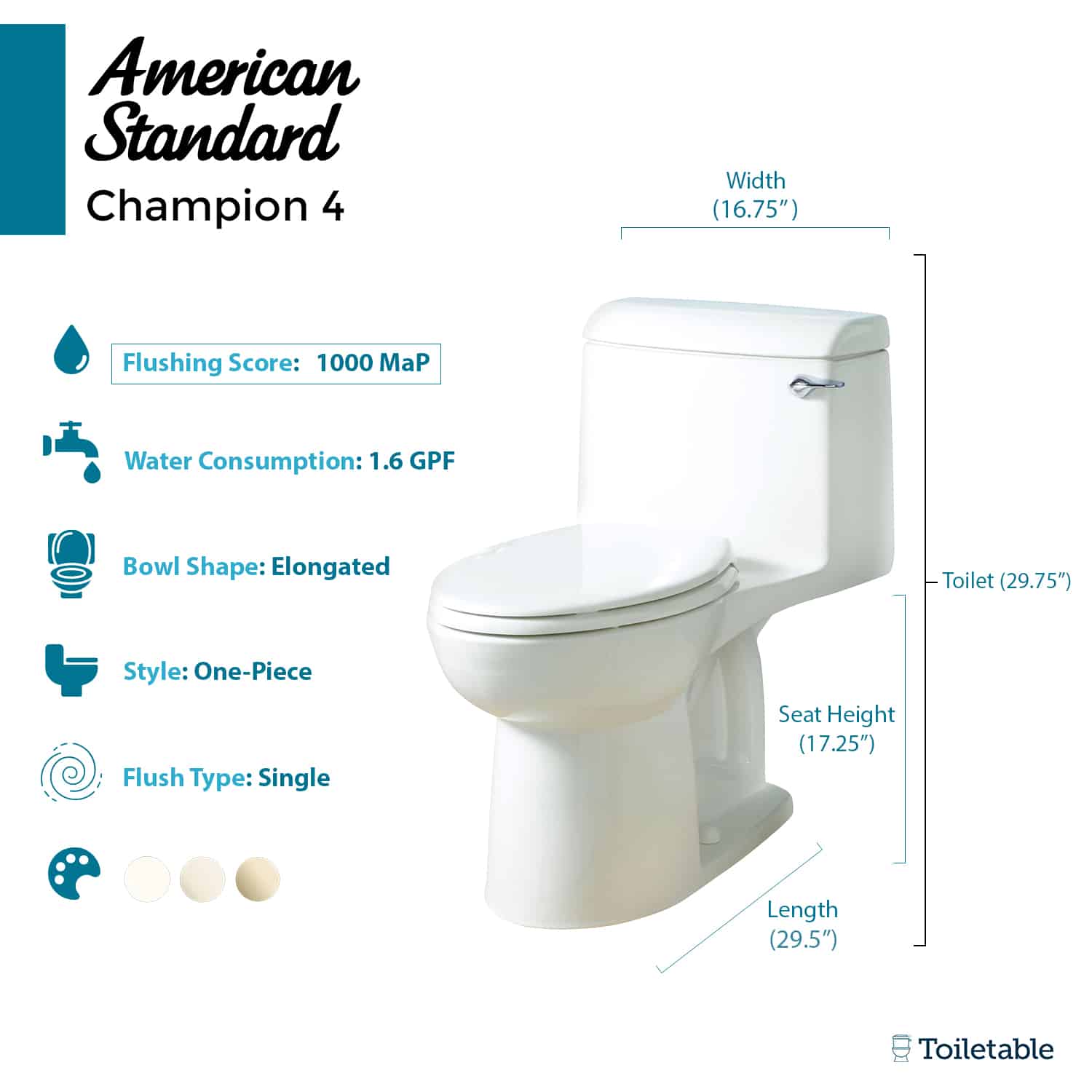 Key Features
Flush Score:
Water Consumption: 1.6
Bowl Shape:
Flushing System: Champion 4 Flushing System
Flush Type: Single
Style: One-Piece
Dimensions : Toilet (29.75″ x 16.75″ x 29.5″), Rough-inWhat is a Rough-in??Measurement between center of waste pipe and wall (12″), TrapwayWhat is a Trapway?S-shaped curved channel inside the base of the toilet. Waste travels from the bowl through the trapway, then out the bottom of the toilet. (2.37″), Seat HeightWhat is the Seat Height?The measurement from the floor to the top of the toilet seat. Standard height toilets measure between 15 - 17 inches, while chair height toilets measure 17 inches or more. (17.25″)
    CHECK PRICE on WALMART                CHECK PRICE on AMAZON 
Unique Features and Benefits
Here's a list of the top 8 features and benefits of the American Standard Champion 4 toilet.
4-Inch Flush Valve
Its wide 4-inch diameter flush valve is one of its best features because it provides plenty of space to flush away all waste. With this feature, you'll never worry about needing multiple flushes for one bathroom trip.
Water-Saving
While this toilet has a 1.6 gallons-per-flush rate, it doesn't meet EPA WaterSense standards, it still consumes far less water per flush than standard toilets. For example, older model toilets can consume up to 5 gallons per single flush.
EverClean Surface
Its smooth glazed EverClean surface prevents contaminants and bacteria from sticking to the toilet. Thanks to this glaze, your toilet will keep itself cleaner on its own. However, be careful which cleaner you use to avoid damaging the EverClean surface.
Vitreous China Construction
This toile is made from vitreous china – a strong and durable material that is proven to last at least 10 years, making it an excellent long-lasting investment for your bathroom.
Oval Bowl Design
It's elongated oval toilet bowl design offers a large sitting area that provides superior comfort for people of all sizes. As long as you don't have a compact bathroom, the elongated toilet bowl is a great option for you.
ADA Compliance
As an ADA compliant toilet, this toilet is easily used by people of all ages as well as people with disabilities. In particular, this comfort height is beneficial for those who have knee trouble when sitting and standing.
2-⅜-inch Trapway
The Champion 4's large 2-3/8″ (60 mm) inch trapway can move waste that is up to 75% larger than the capacity of standard toilets with 2-inch trapways. Especially when paired with it's powerful flush, the expanded trapway helps with removing all waste in one flush.
Warranty
Whereas most toilets today come with a 1-year warranty, the American Standard Champion 4 toilet comes with a 10-year warranty that covers the replacement of damaged or broken parts. This extended warranty offers extended confidence in this model, especially in comparison to other competitor warranties.
Other Champion 4 Models
Seat Options
Champion Slow Close Elongated #5325.010
/su_column]
Product Documentation
Positive Comments
ADA-compliant
EverClean antimicrobial surface
Right height elongated bowl
Powerful flushing system
2-3/8-inch, fully-glazed trap-way
Slow close seat
The Speed-Connect coupling system for tank and bowl
Negative Comments
This toilet isn't EPA WaterSense certified. Therefore, no eligibility for consumer rebates
Installation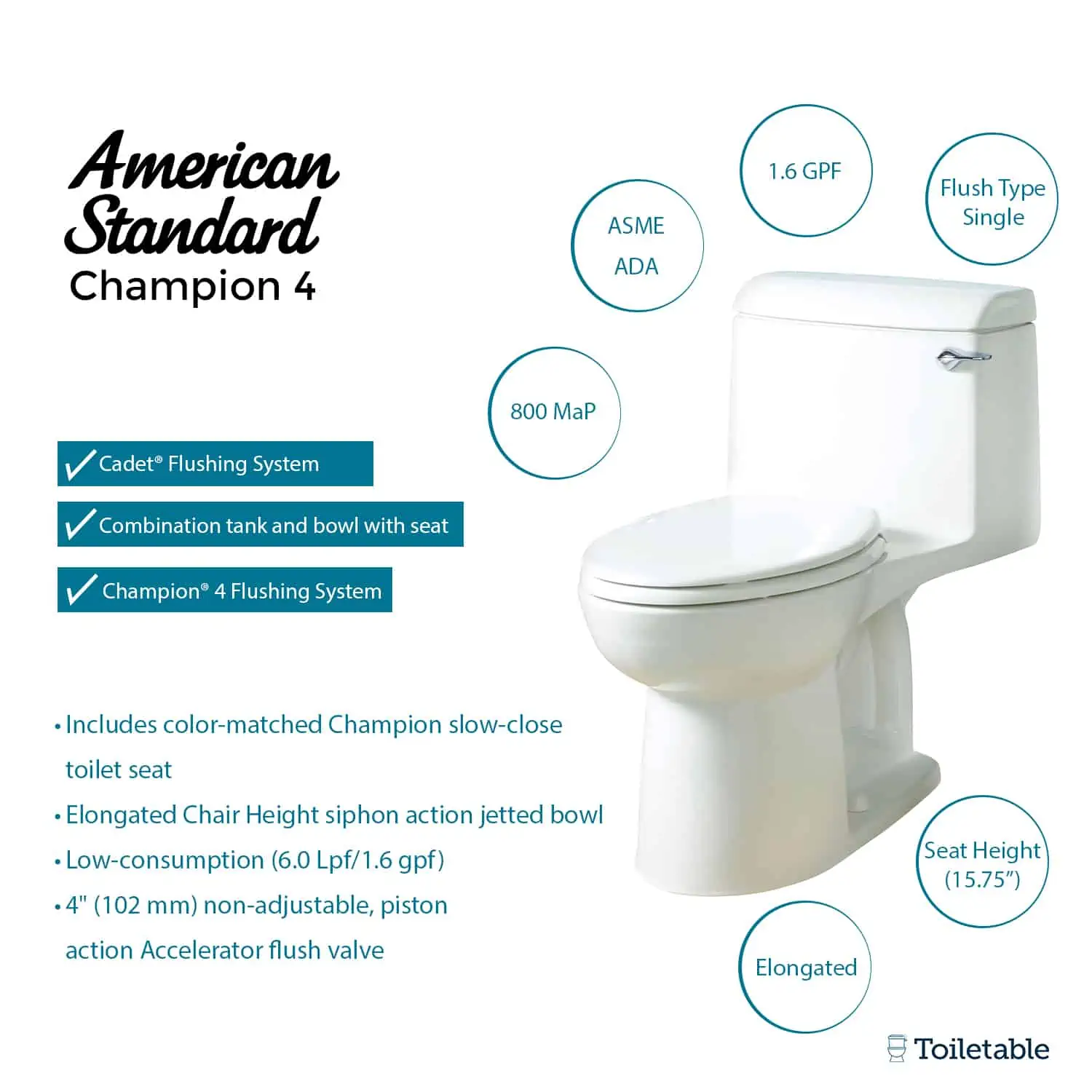 To start, just like the American Standard Cadet 3, this toilet requires a standard 12-inch rough-in for installation. Since the Champion 4 is a one-piece toilet that is heavier than two-piece toilets, you will want an extra pair of hands for its installation. However, the Speed Connect tank/bowl coupling system makes positioning of the tank very convenient, streamlining the installation process.
Here are the main steps to install the Champion 4:
To start, install the bolts in the flange.
Then, install the wax ring and add a sealant around the base.
Next, place the toilet in the correct position and make sure that the bolts enter the right holes.
After placing the toilet, use nuts and washers to secure it in place, ensuring that the toilet is not too tight.
Finally, press down on the flange and connect the water supply.
Overall Rating 4.3/5
This one-piece ADA-compliant toilet offers superior comfort, self-cleaning operation, and a powerful flushing system with siphon action for improved performance. Its glazed EverClean surface prevents the growth of microorganisms, such as mold, mildew, and odor-causing bacteria.
Even though the American Standard Champion 4 is not EPA WaterSense certified, it still saves on water compared to older models. We hope this review was helpful to you.