Disclaimer: We're supported by our readers. We earn a commission from product purchases using affiliate links on our site. Learn more about the affiliate program.
When it's time for a new toilet, a trusted brand, and water efficiency are likely high on your must-have list.
The popular Kohler Wellworth checks both of those boxes and then some.
This is an EPA WaterSense certified toilet, the dual flush allows you a choice between 1.1 or 1.6 gallon flush, depending on the flush need.
Let's have a look at the detailed review of the Wellworth's features.
The Full Review of the Kohler Wellworth Toilet
Our team reviewed and collected facts about the Wellworth to list specific details and features of this toilet.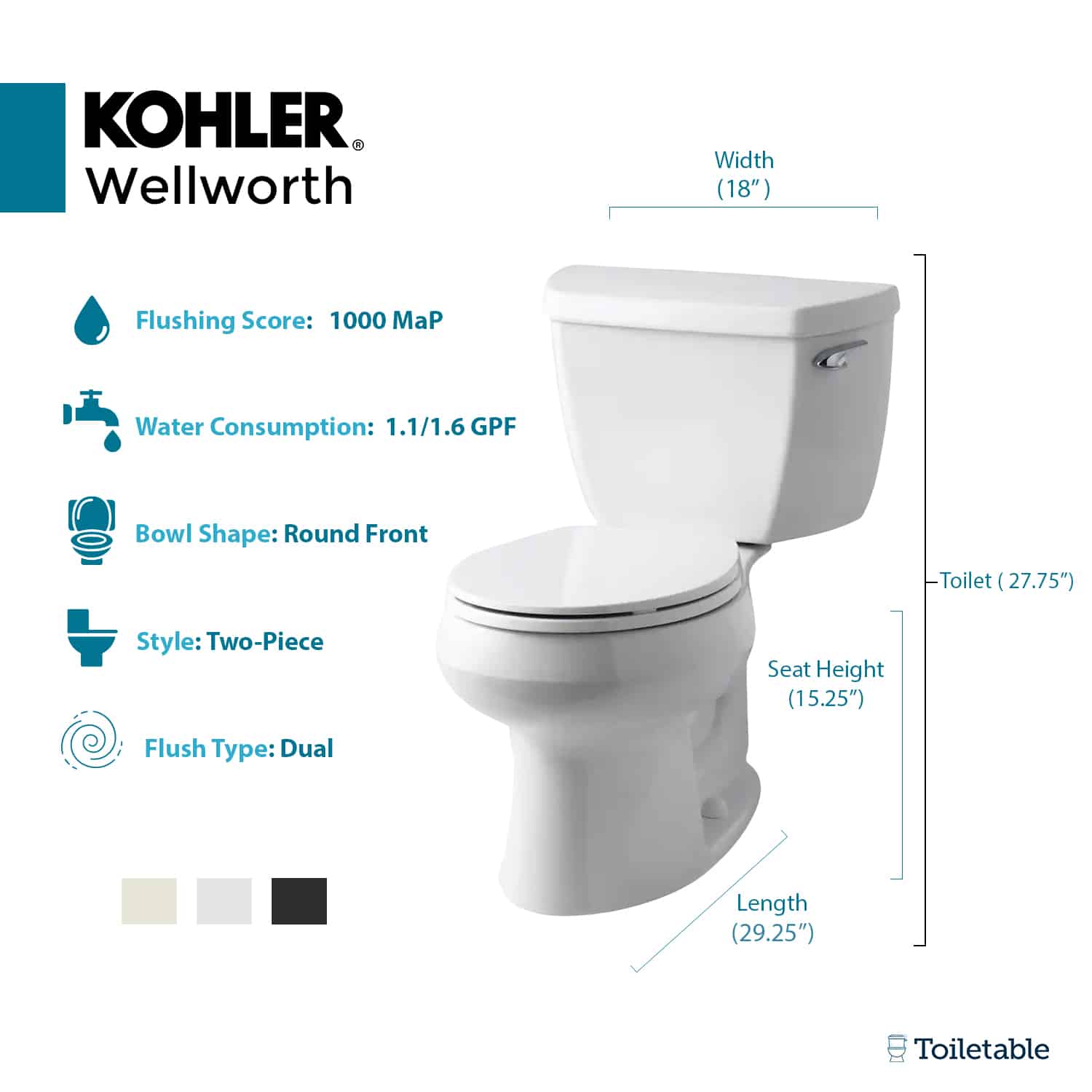 We have to say it – the Kohler Wellworth is well-worth the investment, thanks to its flushing strength."
Key Features
Flush Score:
Water Consumption: 1.1/1.6
Bowl Shape: Round Front
Flushing System:
Flush Type:
Style: Two-Piece
Certifications:
Dimensions : Toilet (27.75″ x 18″ x 29.25″), Rough-inWhat is a Rough-in?Measurement between center of waste pipe and wall (12″), TrapwayWhat is a Trapway?S-shaped curved channel inside the base of the toilet. Waste travels from the bowl through the trapway, then out the bottom of the toilet. (2.12″), Seat HeightWhat is the Seat Height?The measurement from the floor to the top of the toilet seat. Standard height toilets measure between 15 - 17 inches, while chair height toilets measure 17 inches or more. (14.5″)
This two-piece toilet has a funky look that can be your bathroom's new staple piece!
Flush Power
The Wellworth uses Kohler's Class Five technology, a premier flushing mechanism that uses high-speed water flow to ensure reliable performance.
The system, along with the toilet's large flush valve, successfully removes bulk waste, significantly reducing chances of clogs.
The toilet uses the power of gravity, in addition to its precision-engineered tank, bowl, and trapway, to significantly increase suction strength. This means waste is effortlessly removed in a matter of seconds.
The Wellworth uses 1.28 gallons per flush, saving you thousands of gallons and hundreds of dollars a year on your water bill (when compared to traditional 1.6 GPF models).
Great Design
The toilet is available in white, biscuit, almond, and black black. The toilet requires a standard 12" rough-in and does not come with a seat or supply line; a round-front bowl, tank, tank cover, standard left-hand trip lever, bolt cap accessory pack, and tank accessory pack are included.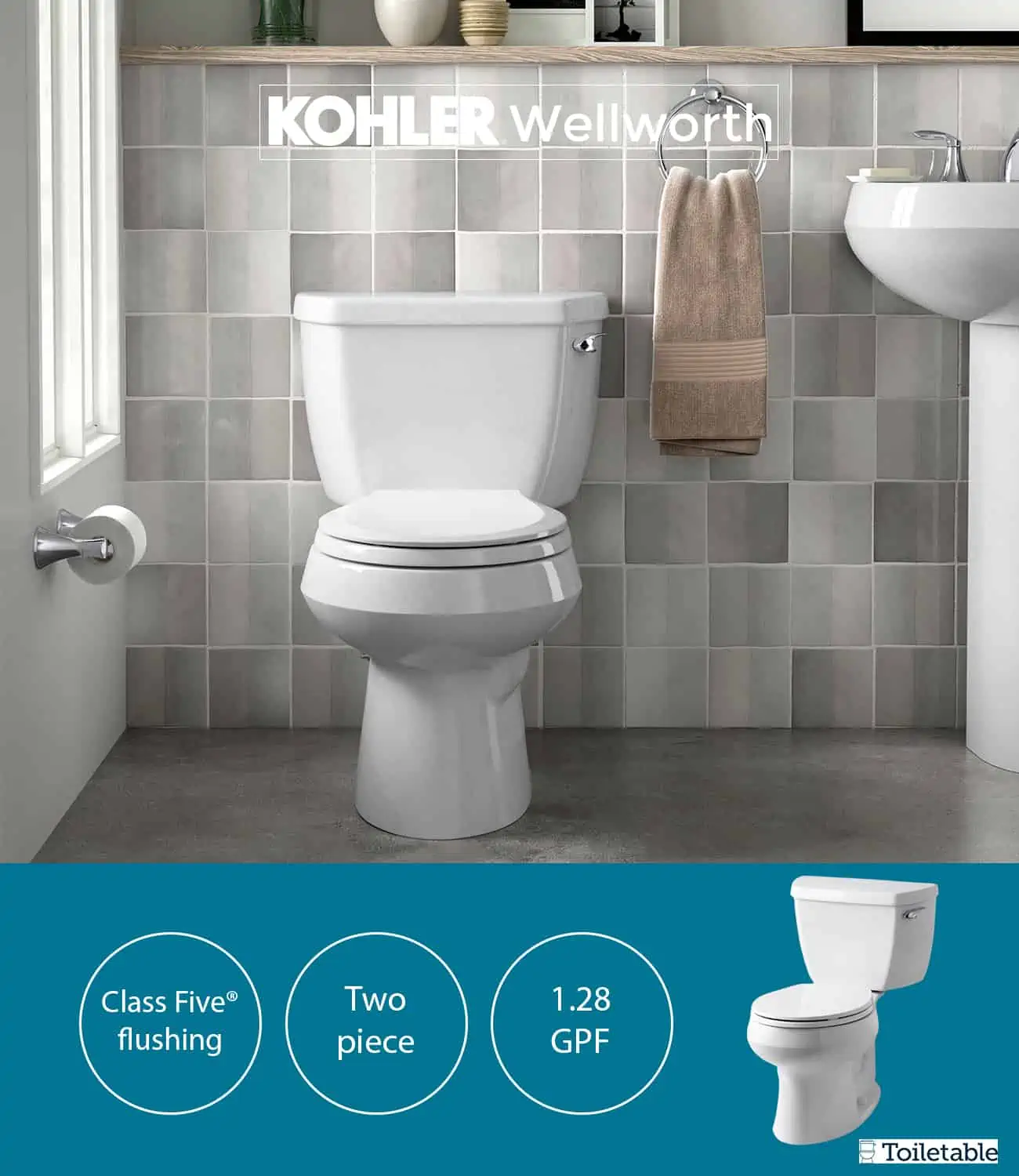 The Wellworth has a seat height of 14.5" and comes with a round bowl, meaning the toilet is not ADA compliant. Users that have difficulty sitting and standing up may have trouble using this toilet.
Optional Accessories
With the money you save by purchasing the Wellworth, take a look at the awesome Kohler seats you can buy to elevate your bathroom experience. The Cachet Quiet-Close seat eliminated unintentional seat slamming while the Purefresh seat comes with its own deodorizer.
Comparison
The Wellworth is one of Kohler's cheapest models. It's a simple toilet that gets the job done but doesn't sacrifice flushing performance in any way. If you're on a budget and need a sturdy find, the Wellworth is one of the best options on the market.
Other Kohler models, like the Cimarron or Tresham, are a bit more eye-catching due to their intricate design. They are also ADA compliant, making them more comfortable to sit on. That being said, purchasing a toilet requires knowing your priorities. For low-cost durability, the Wellworth is the way to go. For additional features, looking into more costly models might provide you with the comfort you're searching for.
Color Options
White (0)
Biscuit (96)
Black Black™ (7)
Other Wellworth Models
The Best Parts
Class Five flushing technology delivers reliable, strong performance
1.28 GPF
Affordable price
What to Keep in Mind
Does not come with a seat
Not ADA compliant
Compatible Seats
K-4639 Cachet® Quiet-Close™
K-5589 Purefresh®
K-76923 Puretide® Quiet-Close™
Other Model Comparisons
✓ Wellworth K-3987-96
The 2-piece design of the K-3987-96 is simple yet convenient. This particular product weighs about 86.3 pounds and is made out of china. It is available in biscuit, black, almond, and white color, and should easily blend in any bathroom style. With a round toilet bowl that helps save space, this Wellworth toilet also features a powerful gravity flush.
✓ Wellworth K-3978-0
This model features Class Five technology that provides an extremely powerful yet quiet flush. Further, this model is easy to install with its classic 3-bolt installation. Compared to other models, this option will be more comfortable for taller individuals thanks to its elongated toilet bowl shape. Finally, one potential downside is that this model is currently only available in one standard color.
✓ Wellworth K-3989-47
If a right-height toilet is essential to you, the K-3989-47 might be a perfect choice. It makes a comfortable, powerful, and reliable option. Due to the dual flush technology, you get the benefits of both a partial and full flush. Finally, this model is extremely easy to install, weighing in at only 70 pounds.
Summary of Reviews
Users like the Wellworth because it's an affordable unit that gets the job done. The toilet's Class Five flushing technology is a big hit, as is the cost-saving 1.28 GPF.
The most common complaint are about the toilet's height. Because it stands at a bit over 14 inches, the toilet is not ADA complaint, making it difficult for some users to sit and stand up.
Users also don't like that the toilet does not come with a seat, adding onto the toilet's overall price.