Disclaimer: We're supported by our readers. We earn a commission from product purchases using affiliate links on our site. Learn more about the affiliate program.
Welcome to another extended toilet review of another trusted Kohler model called the Adair.
We cover all the bases in this review looking at the flush performance, type of flush, our thoughts on the design and we've included useful information such as other Kohler Adair models to choose, product spec sheets and links to the manufactures listing.
Also, don't forget to check out the positives and negatives we spotted and the extra buying options we've added all right below!
Kohler Adair Toilet Extended Review of 2023
We took a close look at the features and benefits of the Adair toilet in this review.
"The Adair is a solid unit that showcases some of Kohler's best attributes in action, such as suction strength and leak-free design."
Key Features
Flush Score:
Water Consumption: 1.28
Bowl Shape:
Flushing System:AquaPiston®
Flush Type: Single
Style: One-Piece
Certifications: ADA, WaterSense, CEC
Dimensions :

Toilet – 28.56″ x 16.31″ x 28.43″
– 12″
– 2.12″
– 16.5″
AquaPiston canister increases water flow for excellent suction strength
1.28 gpf
ADA compliant
Fantastic color selection
On the expensive side for a non-smart toilet
CHECK PRICE on HOME DEPOT
CHECK PRICE on AMAZON
We at Toiletable are big fans of Kohler. The company is known for well-built models that prioritize user experience. The Adair is no different.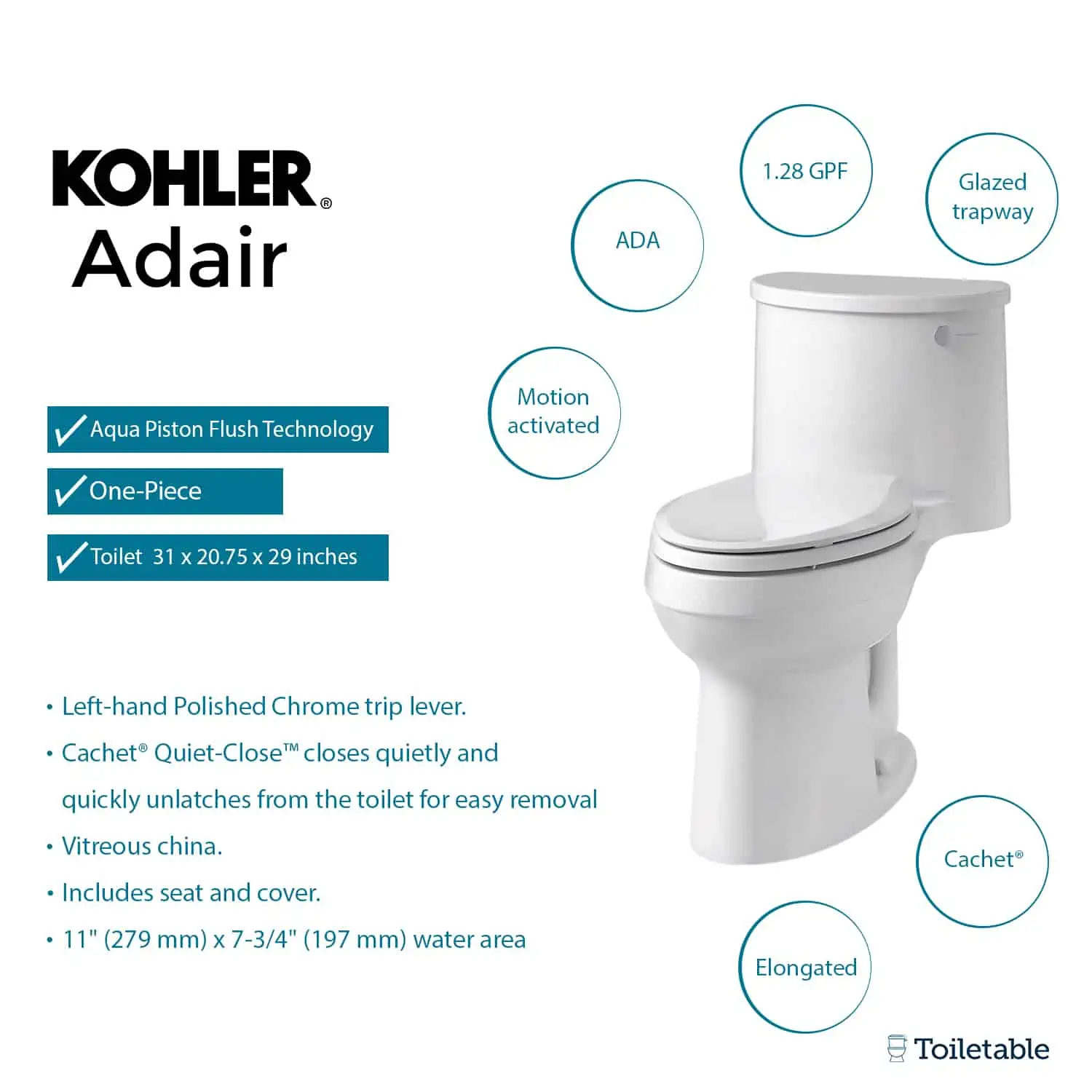 Flushing Performance
One of the most impressive parts of the Adair is its AquaPiston canister which increases water flow and streams across every side of the bowl. The high-quality canister withstands the test of time through its durable non-deteriorating material. The canister also has a low actuation force making flushing as simple as can be.
The Adair also has a 3:2 flush valve ratio that optimizes flush performance and a reliable canister design has 90% less exposed seal material than traditional three-inch flappers, reducing chance of leakage.
This unit utilizes 1.28 gallons per flush, saving you thousands of gallons a year, when compared to traditional 1.6 gallons per flush units.
Smart Design
This one-piece ADA-compliant unit has a Comfort Height of 16.5" and a comfortable elongated bowl. Comfort Height toilets simulate a standard chair-like setting, allowing users to easily sit and stand up.
We've reviewed hundreds of toilets and one of the most frustrating parts is when an excellent toilet does not come with a matching toilet seat. Well, with the Adair this problem ceases to exist thanks to the inclusion of the Cachet Quiet-Close elongated seat. The Quiet-Close seat resists wear-and-tear by preventing annoying seat clanging.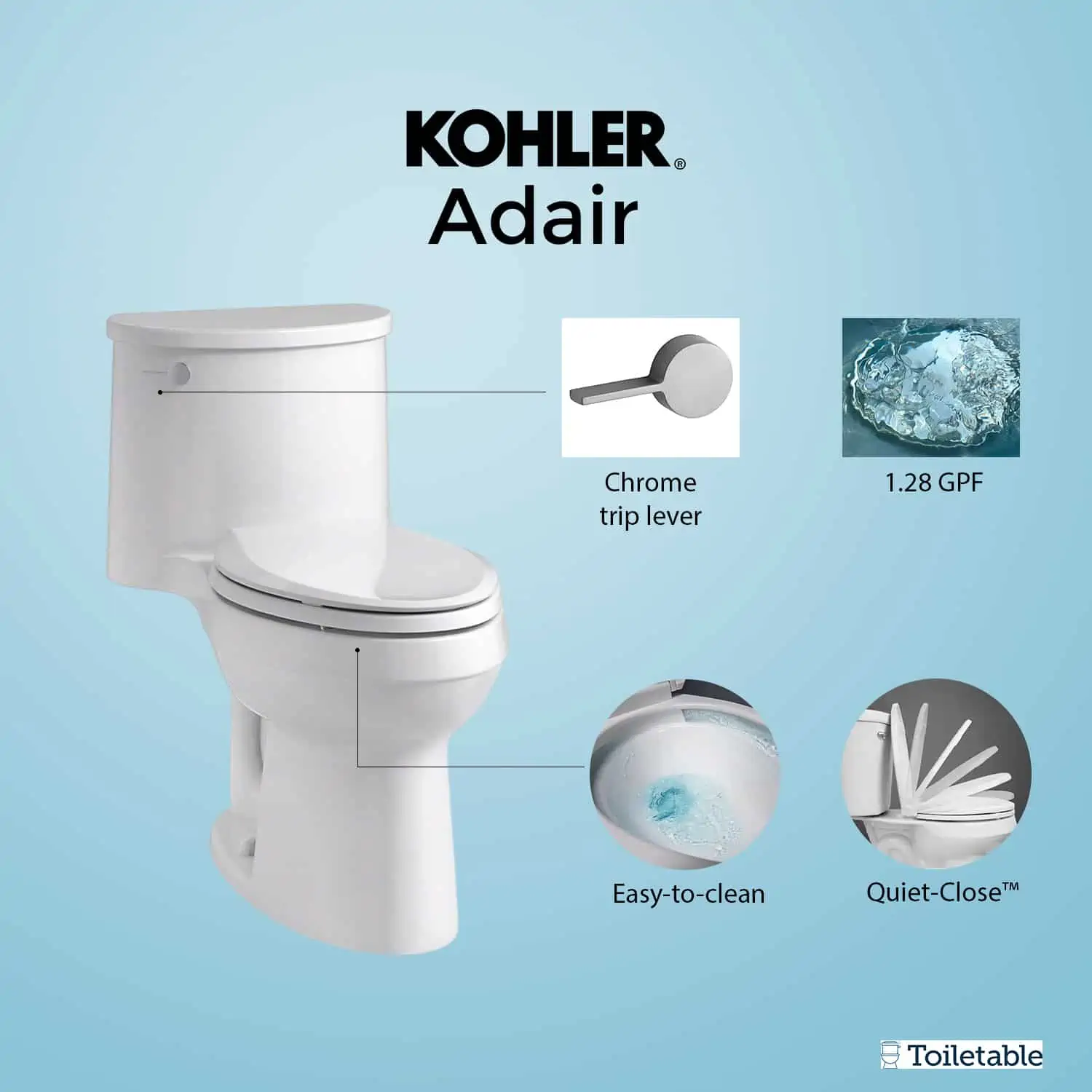 The toilet is available in white, biscuit, almond, dune, ice grey, sandbar, mexican sand, cashmere, thunder grey, and black black. In addition to a seat, the toilet comes with a tank, bowl, bolt cap accessory pack, tank accessory pack, and tank cover. A left-hand chrome polished trip lever is included as well.
This toilet uses a standard 2 ⅛" trapway. The concealed trapway simplifies cleaning by eliminating potential spots that may harbor bacteria and grime. The toilet's curved tank is sleek, soft, and glossy. The tank lid is stable enough to put things on.
If you are looking for a more luxurious seat, the Adair is compatible with the Nightlight Quiet-Close elongated seat, which lights up the bowl so you don't have to turn on the lights on your nighttime bathroom trips.
If you're looking for a bidet-like situation, try the elongated cleansing toilet. It's a removable bidet seat that provides a spa-like experience for the fraction of a smart toilet.
Color Options
White (0)
Biscuit (96)
Dune (NY)
Ice Grey (95)
Black Black (7)
Seat Options
K-75796 Cachet® Nightlight Quiet-Close™
K-8298 C³®-155
Other Adair Models
Summary of Customer Reviews
Not many reviews are available for the Adair. The positive ones tend to focus on the Adair's effective flushing mechanism and durability. Some users note that they wished the toilet was higher. Another complaint is that the toilet is a bit pricey for a non-smart toilet. However, the Adair does come with a Quiet-Close seat which is a plus.