Disclaimer: We're supported by our readers. We earn a commission from product purchases using affiliate links on our site. Learn more about the program
Traditional toilets are 15-inches high, but what if you're looking for a taller option to accommodate a disability of tall family members? Comfort height toilets are the answer! These are
typically 17-19 inches high
and are becoming a
popular toilet choice
in homes because of the increased comfort (it's not just a clever name!).
Keep reading to learn more about the features of comfort height toilets are check out some of our top choices!
Top Comfort Height Picks
Decision Factors
While purchasing a comfort height toilet, it is a good idea to look for a model that is ADA compliant. The standard ADA requirement for seat heights is 17 to 19 inches from the floor to the top of the toilet seat.
Additionally, if you are an environmental-friendly person, opt for an eco-friendly product to help reduce water consumption. Further, if the model is EPA WaterSense certified, you could be eligible for rebates on your water bills.
When making your choice, pick a toilet that will fit perfectly with the rest of your bathroom aesthetically. It's also important to consider the material, flushing mechanism, and whether it's a single or two-piece model, which impacts installation.
Ultimately, models with additional height can be used by both residential and commercial users. 
Reviews of the 3 Best Comfort Height Toilets for Easy Sitting (Tall)
Our experts reviewed and gathered facts for the top tall comfort height toilets for easy sitting.
1.
Kohler San Souci

 – Editor's Choice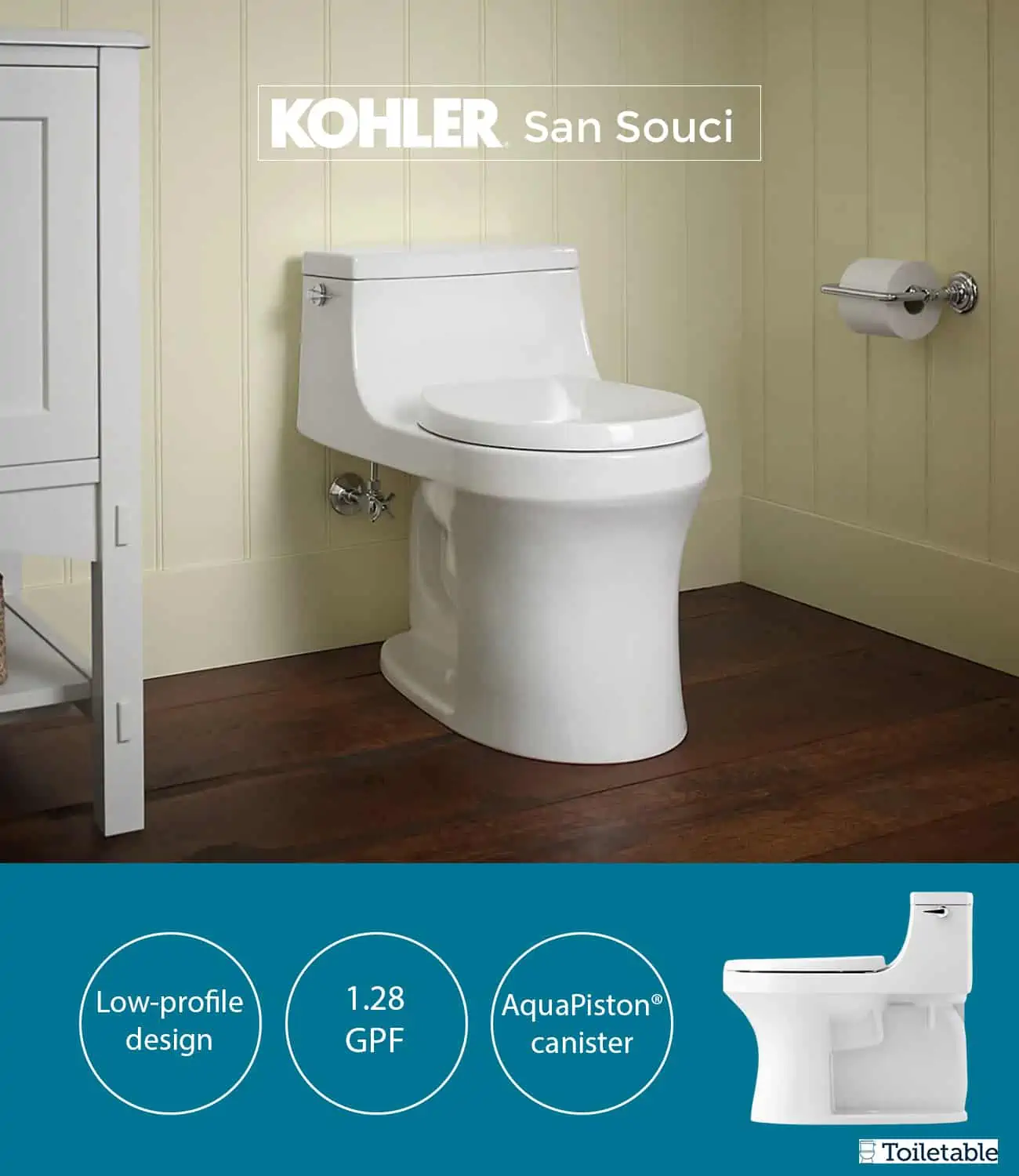 Features
Flush Score:
Water Consumption: 1.28
Bowl Shape:
Flushing System:
Flush Type: Single
Style: One-Piece
Dimensions (sourced from manual): Toilet (27.87″ x 16.37″ x 25.32″), (12″), (2.12″), (17.25″)
The rim is 16.5 inches tall, which makes this model very comfortable. Due to its height, you won't experience back pain or numbness in the legs after prolonged usage. This toilet is also ADA-compliant, which makes it good for disabled people, tall persons, or the elderly.
Another great feature of this unit is its flush technology. It delivers excellent performance while only using 1.28 gallons of water per flush, which makes it a good long-term investment. Finally, due to its sleek and elegant design, this toilet is an ideal choice for most modern bathrooms.
Product Documentation
Spec Sheet (PDF)
Product Install Guide (PDF)
Positive Comments
High-performance flush
Modern design
Comfortable height
Summary of Recent Reviews
Customers love the height of this toilet, sharing that the height adds extra comfort and is a huge convenience for those with mobility issues. Multiple customers commented that they received stellar customer service and any issues they had were resolved quickly. While this is a higher-priced toilet option, the consensus is that it's worth the price – "Expensive but well worth the purchase price."
2.
Kohler Highline Comfort Height Toilet

 – Review Champion
Key Features
Flush Score:
Water Consumption: 1.28 
Bowl Shape:
Flushing System:
Flush Type: Single
Style: Two-Piece
Dimensions (sourced from manual): Toilet (29.75″ x 18.12″ x 31.25″), (12″), (2.12″), (17.25″)
One great feature about this toilet is that it's EPA WaterSense certified, which means that it consumes 20% less water than standard toilets. It also provides a powerful flush thanks to the canister flush valve, and, due to its special coating, effectively removes all waste with no residue.
Style-wise, this toilet has a sleek and modern design and promises durability with its construction from strong and durable vitreous china.
Product Documentation
Spec Sheet (PDF)
Product Install Guide (PDF)
Positive Comments
Water-efficient
Good price
Powerful flush
Easy to install
Negative Comments
Might arrive without a flush valve
Summary of Recent Reviews
Users love the height of this ADA-compliant toilet! Customers like the dual flush option and several reviewers mention that they haven't had any clogging issues.  Even with this water-efficient option, this packs a powerful flush – "flushes using very little water and never leaves anything in the bowl."
3.
DeerValley DV-1F026 Comfort Height Toilet
Features
Water Consumption: 0.8/1.28
Bowl Shape:
Flushing System:
Flush Type:
Style: One-Piece
Certification: WaterSense
Dimensions (sourced from manual): Toilet (28.75″ x 14″ x 28″), (12″), (2″), (17″)
This toilet has a beautiful, modern design – it's stylish, elegant, and sleek, which makes it a good fit for any bathroom. Further, its glazed surface is self-cleaning, which simplifies maintenance. The toilet is designed so that all of its parts are easy to reach for cleaning.
This model is dual-flush, and unlike most toilets, the half flush option consumes only 0.8 gallons of water per flush. Although it only needs a minimal amount of water, the flush is still powerful enough to get the job done. Finally, it's worth mentioning that the package includes all the necessary parts for the installation of this toilet.
Product Documentation
Spec Sheet (JPG)
Install Guide (PDF)
Positive Comments
Beautiful design
Package includes all the necessary parts
Water-efficient
Summary of Recent Reviews
Buyers love the looks of this toilet, several saying this performs as good as or better than some more prominent brands.  Instructions and installation were pretty straightforward, even for buyers with little plumbing experience.  Customers appreciate the sleek, modern design, with some customers even purchasing multiple for use in their homes.
Our Buyer Guide
In this section, we provide you with many topics to help make the proper choice when choosing your next comfort height toilet for your home.
Comfort Height Labels
Simply put, a comfort height toilet is a toilet that follows ADA standards. These types of toilets are known for their comfort height, which is 17 inches or higher. Thanks to their elevated height, these toilets are great options for disabled persons, tall persons, and the elderly.
You can find comfort height toilets in a variety of sizes – 17 inches, 19 inches, or even higher. No matter the final size, if the toilet is "comfort height", it'll be comfortable and easy to use.
Eco-Friendly
Many comfort height toilets are eco-friendly, but not all. If you want to reduce monthly bills and still have a toilet with a powerful flush, look for models that include eco-friendly features. For example, any toilet with EPA WaterSense certification is a great environmentally-conscious choice.
Toilets with EPA WaterSense certification meet standards set in the US and Canada to save water and encourage water efficiency. Those toilets also have a lower gallon-per-flush rate to directly lower your monthly bills without compromising the performance.
Flushing Capabilities
No matter which comfort height toilet you intend to buy, always consider its flush capabilities. There are a few key types to consider: 
Dual-Flush Feature
This feature allows you to choose between two flush options depending on whether the waste is solid or liquid. By using the lower consumption flush option for liquid waste, you'll see a big difference in your water consumption over time. 
Gravity Flush
This flush option is seen in most traditional toilets. As the name suggests, it uses gravity and water weight to make enough pressure to execute the flush. Among all the flushing systems, the Gravity Flush has been around the longest.
Pressure-Assisted Flush
While similar to the Gravity Flush, this option offers a higher flow rate, making it more effective than gravity flush systems. However, pressure-assisted flushes can be quite loud, so if you want a quiet toilet, this option might not be ideal for you.
Tornado Flush (or Double Cyclone)
This option is a flushing system made by TOTO company. Thanks to advanced technology, this system offers an incredibly efficient flush that removes all waste in a single flush while only consuming 1.28 gallons per flush.
Things to Avoid
These are some of the things that you should avoid when buying a comfort height toilet.
Non-Standard Replacement Parts
Some people prefer toilets that defy the ordinary, from custom seats to unique construction parts. However, you should always think about the cost of replacing those parts before deciding to invest in a new and unique component
Slamming Lid
One way to improve the user experience is using a SoftClose toilet seat. These seats minimize accidental slamming of the toilet seat, which can be disruptive particularly at night. Additionally,  slamming the lid many times can lead to cracking or breaking, which SoftClose toilet seats help avoid
Toilet Size
Particularly for comfort height toilets with an elongated bowl, be sure to measure the space and ensure you'll have enough room when using the toilet. The added height provides a lot more comfortable but may require more space in your bathroom than previous toilets, particularly if this is your first comfort height toilet purchase. 
Low-Quality Construction
While it's possible to buy a toilet for less than $100, be extremely cautious of any toilet with too low of a price. A toilet is something that you will be using for years, so it's smart to invest in a high-quality unit. If you choose a cheap or low-quality option, you may end up spending more on repairs and replacement parts in the long run.
Hard to Clean Construction
Two-piece models have a separate bowl and tank, and often have many nooks and crannies that can be difficult to clean. If you are a busy person who can't spend much time cleaning the toilet, it's a nice idea to buy a one-piece unit which minimizes tricky cleaning areas
Toilet Height Model Comparisons
Kohler K-3999-0 vs. American Standard 221DA004.020
Unlike Kohler's toilet, this American Standard unit doesn't have as efficient of a flush. However, the American Standard unit is much more affordable and would be a good choice if you want to buy a toilet on the budget. Even with a less efficient flush, this toilet also uses a special coating to minimize any residue build-up. While not as stylish, the American Standard does have a dual-flush and features the same water consumption rate as the Kohler K-3999-0.
DeerValley DV-1F026 Dual Flush vs. American Standard Cadet PRO
These two units have some similarities, but they are still quite different. For example, while the DeerValley has a nice, smooth surface that prevents waste from sticking, but Cadet PRO does an even better job thanks to its EverClean surface. Further, unlike DeerValley, the Cadet PRO comes with a 5-year warranty, which means that you can install and use it without any fear. Finally, the Cadet PRO is CALGreen compliant and meets EPA WaterSense criteria, but is also more expensive than the DeerValley model.
Convenient Height Store Toilet vs. Woodbridge T-0019
Both of these models offer a powerful, efficient flush that consumes only 1.28 gallons of water. However, the Woodbridge toilet also has a specific design that targets effortless cleaning and maintenance. Due to its powerful siphon flush, you will never have problems with clogging or leaking. Finally, when you buy a Woodbridge toilet, everything that you need will come in a package, so there are no additional costs. Without these additional features, it's hard for the Convenient Height Store Toilet to compare, although it does offer an extended 20 inch height seat for those looking for even more comfort.
Conclusion
Buying a comfort height toilet is an ideal choice for tall persons, disabled persons, and the elderly. However, if you live in a family with kids, make sure that the toilet is not too tall, because it might be uncomfortable for them to use. If you are looking for a new comfort height toilet today, we hope these recommendations help inform your decision.