Disclaimer: We're supported by our readers. We earn a commission from product purchases using affiliate links on our site. Learn more about the affiliate program.
If you are looking for a new Kohler toilet, we have you covered in this extended review of the Kohler Persuade.
The Persuade is a two-piece toilet with a sleek design. We dove into the key features along with more attention to the flushing power of this toilet in the description below.
Also, make sure to look at the different color and seat options we listed for you.
Kohler Persuade Toilet (Complete Review) of 2023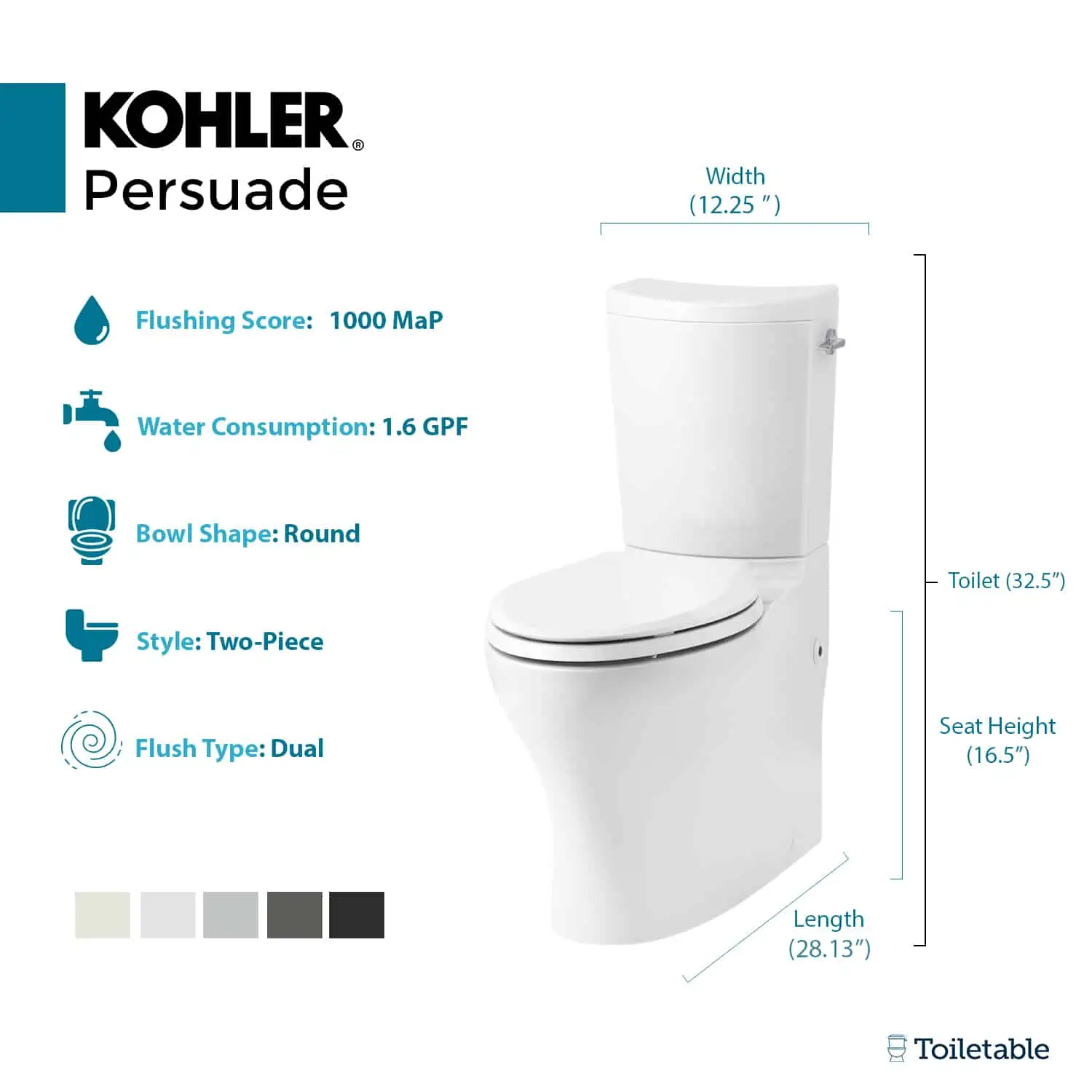 "The Persuade may persuade you to buy it after you see its sleek, compact design that fits in the smallest of spaces." 
Key Features
Flush Score:
Water Consumption: 1.0/1.6
Bowl Shape:
Flushing System:AquaPiston
Flush Type: Dual
Style: Two-Piece
Certifications: WaterSense, CEC
Dimensions :

Toilet – 28.125″ x 12.25″ x 32.5″
– 12″
– 2.12″
– 16.5″
Dual-flush that offers 1 and 1.6 gpf
Compact size ideal for small spaces
Good color selection
No seat included
Not ADA-compliant
CHECK PRICE on LOWE'S
CHECK PRICE on AMAZON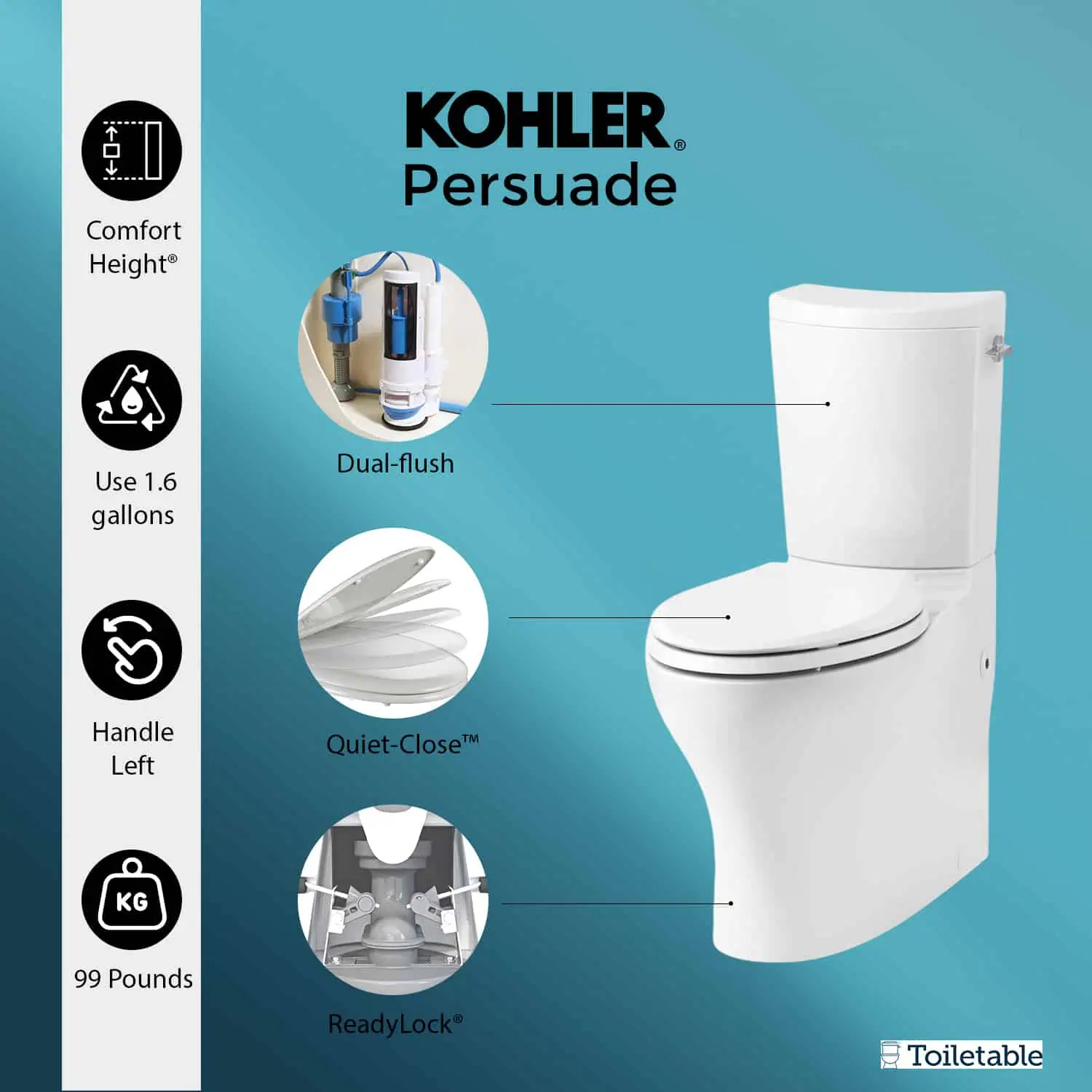 If you're looking for a contemporary-design two-piece unit, this toilet is for you.
Flushing Power
A good dual-flush toilet goes a long way.
The Persuade has a top-mount two-button flush that gives you the option of 1.0 or 1.6 gallons per flush. Dual-flush toilets are fantastic for saving water and money on your annual water bill. In fact, this dual-flush system meets strict EPA flushing guidelines and is even eligible for rebates in some municipalities.
Smart Design
The Persuade is the definition of a modern-looking toilet. Its tight tank looks like it sucks itself in while the bowl is glossy and sleek. The Persuade would fit seamlessly into a contemporary all-white, angular bathroom. The toilet is sleek and compact, but even in its compactness is very comfortable.
The Persuade has a height of 16.5" and comes with an elongated bowl. Although the toilet isn't ADA-compliant, it still offers some support and makes sitting and standing up relatively comfortable.
The 16.5" height qualifies as Comfort Height, meaning it's chair-like. It should be comfortable for all users, regardless of ability. Taller toilets are a bit more difficult for smaller children to operate.  However, if you know your toilet won't be used by many and you like the chair-height, the Persuade is here for you.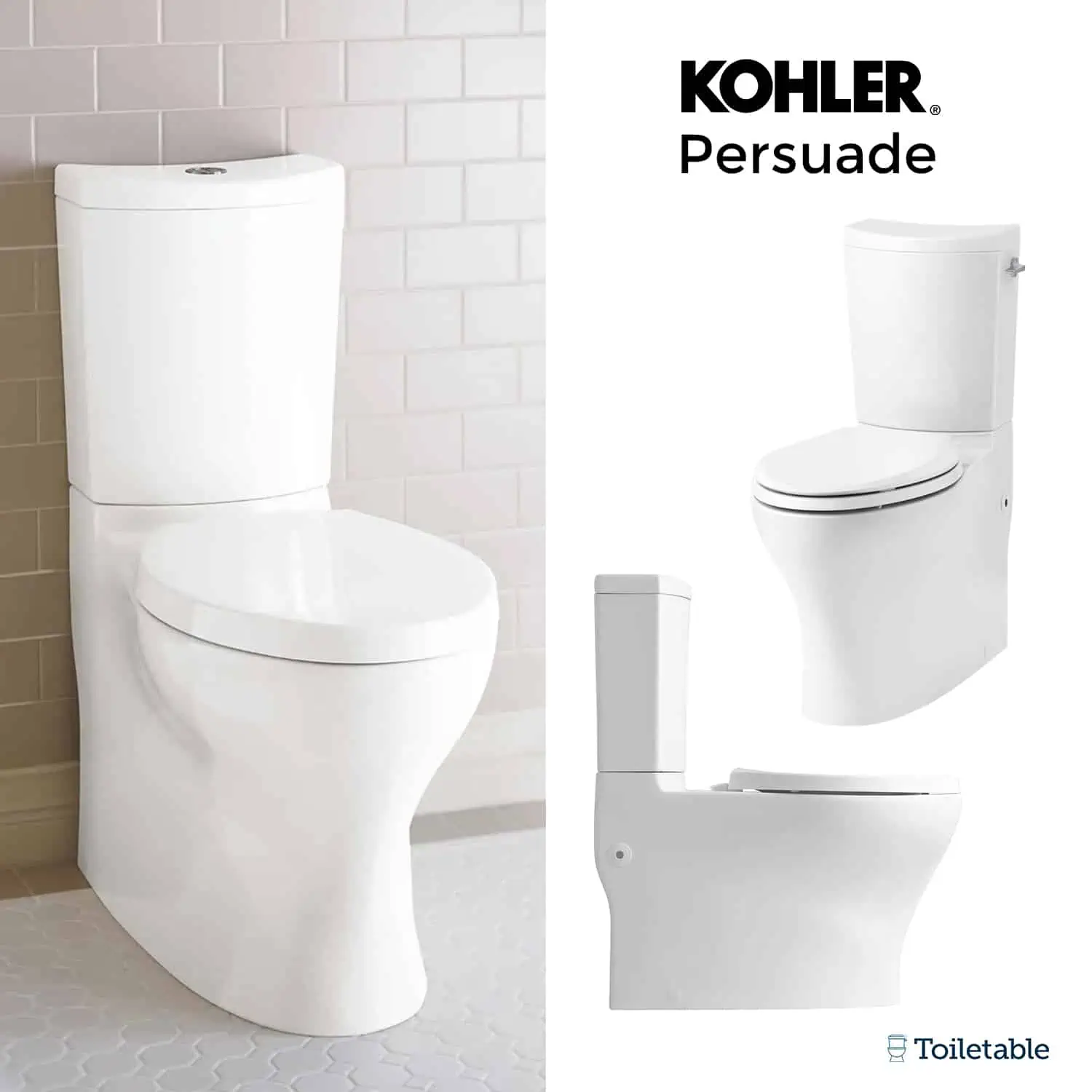 One major plus for modern-looking toilets like the Persuade is the toilet's skirted trapway. If you take a look at the model, you'll notice no small nooks or crannies for nasty dirt to gravitate towards. This means your toilet's exterior cleaning will be "easy peasy lemon squeezy". Just take a wet cloth with mild soap, give the porcelain the occasional wipe down, and you're good to go.
The Persuade comes in white, biscuit, almond, dune, ice grey, and black black. It consists of a skirted trapway bowl, toilet tank, dual flush push buttons, ReadyLock installation system, tank accessory pack, and tank cover. A toilet seat is not included.
The toilet is compatible with other Kohler products, such as the Cachet Quiet-Close elongated toilet seat, the Purefresh (deodorized) elongated toilet seat, and a dual flush actuator.
One downside to the Persuade is the price. While the Persuade is moderately priced, its lack of ADA compliance and premier Kohler flushing technology makes it a bit hard to justify. We think the Persuade is an all around good toilet. It gets the job done and it's ideal for small spaces. But other Kohler toilets like the Highline and Cimarron might be a better bargain.
Color Options
White (0)
Biscuit (96)
Dune (NY)
Ice (95) Grey
Black Black (7)
Seat Options
K-5588 Purefresh Elongated toilet seat
K-4008 Reveal Quiet-Close™ elongated toilet seat
K-4636 Cachet Quiet-Close™ elongated toilet seat
Other Persuade Models
Summary of Customer Reviews
Users state the toilet is easy to install and feels great to sit on, thanks to its height. One user praises the toilet for its infrequent clogging over the course of eight years. The one negative complaint available is about the toilet's state upon delivery, an issue that was resolved with a call to Kohler's customer service.