Disclaimer: We're supported by our readers. We earn a commission from product purchases using affiliate links on our site. Learn more about the affiliate program.
Today, we're taking a look at a toilet that checks off many boxes..the Kohler Corbelle.
Kohler is well known for designing and manufacturing top-of-the-line sinks, toilets, bathtubs, and showers, as well as other household appliances.
The unit we're examining today, the Corbelle, lies in the middle ground of Kohler's extensive range of toilets. While not as technology heavy as their luxury lines, the Corbelle has more features and a more elegant design than Kohler's budget model.
Keep reading as we take a deeper dive into the Corbelle's specific features and standout details.
The Kohler Corbelle Toilet Full Review (2023)
We took a close look at the facts and features of the Corbelle toilet to include in our review.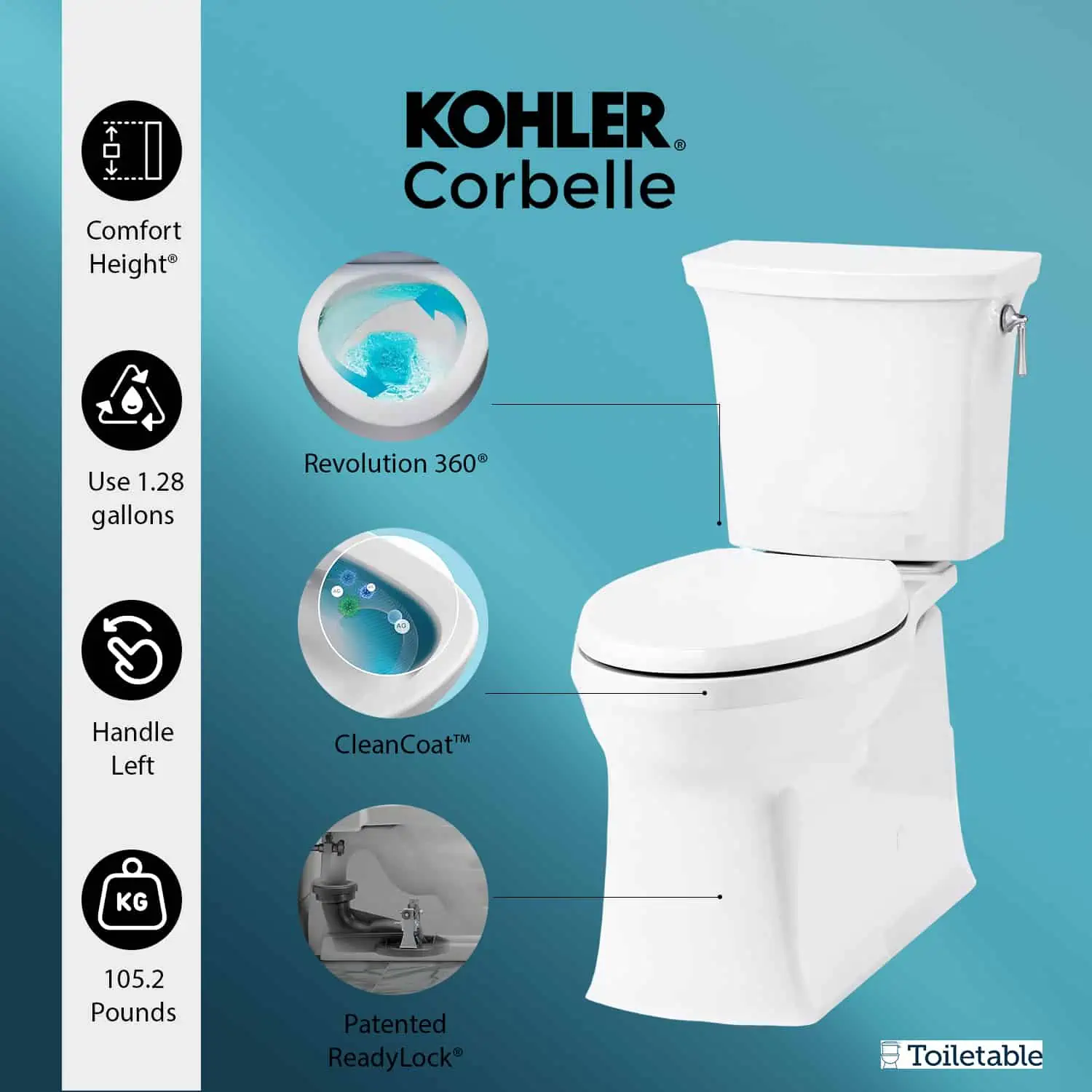 "The Corbelle is a no-frills toilet. It's a solid choice if you're looking for a sturdy, low-priced model that's easy to use."
Key Features
Flush Score:
Water Consumption: 1.28
Bowl Shape:
Flushing System: Revolution 360 flushing technology
Flush Type: Single
Style: Two-Piece
Certifications: ADA, WaterSense, CEC
Dimensions :

Toilet – 29.38″ x 16.5″ x 31.31″
– 12″
– 2.12″
– 17.5″
1.28 gallons per flush
CleanCoat surface treatment
ReadyLock installation
Seat and supply line not included
CHECK PRICE on HOME DEPOT
CHECK PRICE on AMAZON
We at Toiletable are experts when it comes to all things toilets – so trust us when we say the Corbelle is worth the look. This two-piece unit features some of Kohler's best features, such as its flushing and glaze technology.
Flushing
In its precision-engineered tank, bowl, and trapway, the Corbelle harnesses the power of gravity to create an extra-strong siphon during flushing thanks to Revolution 360 flushing technology.
The high-quality AquaPiston canister further increases efficiency by letting water flow in through every side of the bowl.
This toilet's light-touch canister requires a lower actuation force than a flapper. The canister's design has 90% less exposed seal material than traditional three-inch flapper, reducing chance of leakage.
The toilet's flush valve also has a 3:2 ratio that further optimizes flush performance through the power of gravity.
At 1.28 gallons per flush, this unit saves you thousands of gallons a year, when compared to traditional 1.6gpf units. Qualifying for EPA WaterSense, this model helps the environment while cutting your water bills each month. The Corbelle's trapway is a bit over two inches, increasing water flow for easy waste removal.
Smart Design
We've been reviewing Kohler toilets for years and each time we see a toilet with this feature we get excited. The Corbelle has Kohler premium CleanCoat surface treatment which inhibits the growth of water scale and mineral stains. This helps cut down on cleaning by preventing potential stains from lingering.
You can even upgrade this feature through the K-5709 Corbelle model which comes with the ContinousClean XT system, an automated cleaning solution dispenser that cleans your bowl with every flush.
The Corbelle's skirted trapway also simplifies cleaning as it eliminates any nooks and crannies that dirt and grime gravitate towards.
The Corbelle is ADA-compliant, with its 16.5" bowl height and elongated bowl shape. The chair-like height makes sitting and standing up hassle-free while the bowl shape helps disperse user body weight for a more comfortable experience.
The toilet is available in white, biscuit, dune, ice grey, and black black; it comes with a  left-hand polished chrome trip lever. A seat and supply line must be purchased separately. The toilet is compatible with the Kohler Quiet-Close elongated toilet seat and elongated bidet toilet seat with remote control.
The toilet has a standard 12" rough-in but we noticed that a 10" rough-in kit is also available, making the Corbelle a fantastic fit even for small bathrooms.
A 14" rough-in kit is available as well.
Our experience with this Kohler collection is that installation is very simple.
The Corbelle uses the patented ReadyLock installation system which saves time and stress by eliminating the need for drilling. The unit can be floor-mounted without professional help.
Overall the Corbelle is an affordable model that we love. But don't just take it from us.
Check out the toilet's Amazon reviews and you'll see how much others enjoy the toilet's easy maintenance and powerful flushing system.
Color Options
White (0)
Biscuit (96)
Dune (NY)
Ice Grey (95)
Black Black(7)
Seat Options
K-4008 Reveal® Quiet-Close™
K-4108 C³®-230 bidet
Other Corbelle Models
Final Verdict
The most common positive features that are mentioned about the Corbelle are the toilet's reliable flushing performance and manageable upkeep. Users note that the toilet is affordable yet in no way sacrifices in quality.
The glaze holds up over long periods of time and the flushing mechanism doesn't lose power. The most common complaint is that the toilet does not come with a seat, resulting in yet another additional purchase.