The best toilets are a long-term investment for the average consumer. So, to make sure you buy the right one, researching what's on the market is a must.
The Toiletable website is the perfect place to start. Let's first talk about the best flushing toilets. Flushing toilets are mainly attached to the central sewage system of your residence. All flushing toilets should ideally remove solid waste with a single flush without being overly noisy.
Flushing power, dual flush or single flush, gallons per flush – these are parameters that define the actual performance of a flushing toilet. The EPA WaterSense requirement of 1.28 gallons of water per flush has required manufacturers to bring some remarkable alterations to the design of their models. There are so many things to learn about and consider. So, how do you choose a toilet? Keep reading!
Best Flushing Toilets – Type of Systems
Although most of the flushing systems use gravity, you should keep in mind that there are some significant differences. Today we will go through the nine most popular types of flushing systems you can find.
★

Single Flush (Siphon)
Single-flush systems are the most common flushing systems on the market. Unlike the dual-flush systems, these systems offer only one flushing option.
Most toilets that use these systems have a trip lever handle instead of a button. The handle is typically mounted on the front part of the tank or on the side and is connected to a flapper with a lift chain.
Therefore, when you push the handle down, the flapper lifts off the flush valve, allowing the water to flow inside the toilet bowl. 
★

Dual Flush
Dual flush technology is getting more popular every day. Dual flushing toilets are quite water-saving as well. They allow you to choose between the full and partial flush.
Partial flushes are used for liquid waste and consume less water. Full flushes on the other side are meant to be used for solid waste. Toilets with 1.6 GPF full toilet flush often have a 1.1 GPF partial flush.
★

Pressure-Assisted
This flushing toilet type is also very common nowadays and is even more powerful. Inside the water tank, there is a tank that creates high pressure.
A little downside to these systems is the noise. Since they are air-pressurized, they often tend to be very loud.  Many of these toilets are dual flush.
★

Tower Style Flush
These flushing systems are mostly present in Kohler toilets. The tower-style flush system has a flush handle connected to a canister flapper. The flapper is normally located in the center of the water tank.
The tower-style flush system allows water to flow inside the toilet bowl in a 360-degree motion. This way, the flushes are much faster and stronger.
Aside from that, they are also more effective when it comes to removing the waste as the water covers the entire inside of the bowl. If you want a powerful and effective tower-style flush system, look for Kohler models that feature the Class Five technology. 
★

Flapper-Flush Valve Toilet
Flapper flush valve toilets are very similar to ballcock ones. However, instead of using a ball, this system consists of a flapper. As it is filled with air, it floats inside the water tank until the flush is triggered with the trip lever handle. Then, the chain pulls the flapper out of its seat, allowing water to flow into the toilet bowl.
Once the level of the water in the toilet tank drops, the flapper will get back into its position, allowing the water tank to refill and prepare for the next flush. 
★

Double Vortex Flush
While the tower-style system is mostly used by Kohler, the double vortex flushing system is used by American Standard. This system is also extremely effective and powerful. It features two nozzles that are positioned at the top of the bowl. The nozzles face sideways, causing the water to create a whirlpool when it enters the bowl.
In order to improve the effectiveness of the flushes, new American Standard toilets also feature a much bigger flush valve. The Champion 4 is the perfect example, as it has a 4-inch flush valve.
★

Ballcock Flush
The ballcock flushing toilet systems are also very common nowadays. It utilizes a plunger, that fills the tank of the toilet, and a ballcock, a simple-designed floating ball. Plus, the ballcock is also attached to a rod that moves and activates the plunger. That allows the water to empty and fill the toilet tank. 
★

Double Cyclone Tornado Flush
One of the newest technologies the TOTO company has invented. This system is well-known for being water-saving and consuming only 1.28 GPF.
These flushing toilets are basically a combination of pressure-assisted and gravity toilets. But instead of rim holes, this flushing system uses two nozzles.
★

Washdown Toilet
These flushing toilets are rarely seen in the US. Most of them are actually seen in Europe, and people often mistake them for the regular siphon systems. Although they are quite similar, the washdown toilets have a much bigger trapway. This allows water and waste to escape easier. All this system needs is gravitational water flow. It is much simpler as it doesn't feature parts such as the floating ball and complicated valves. 
Flushing Toilet Comparisons
10 Best Flushing Toilet Reviews (Specs and Facts)
Our experts reviewed and gathered facts about the 10 best flushing toilets on the market.
1. American Standard Champion 4
Specification List:
Toilet Dimensions: 17.75″ x 29.75″ x 29.5″
Water Consumption (GPF): 1.6
Bowl Shape: Elongated
Flushing System: Champion® 4 Flushing System
Seat Height: 17.25″
Style: One-Piece
Rough-in size: 12″
Trapway size: 2.37″
The American Standard Champion 4 is a mighty waste-eating beast, featuring the largest accelerator flush valve (4-inches) of all toilets. It is a gravity flush-type toilet with a siphoning bowl that jets the waste through the spacious waterway at a cyclonic speed.
The fully glazed siphon trapway measures 2 3/8 inches, which is also the largest in its class. It claims to remove 70% more solid waste than any other toilet on the same level.
Its special EverClean glaze coating on the toilet surface blocks the growth of sticky stains and odor-causing bacteria around the seat.
People of every height and body weight experience optimal comfort on the ADA-height compliant seat.
Read our in-depth article on the American Standard Champion 4. The Champion is one of the best flushing toilets on the market, so please read more!
Last Updated: January 6, 2022
Overall Rating – 4.5 of 5 Stars
Buyers were happy with their purchase of this stylish toilet.  The powerful flush lends itself to minimal bowl cleaning.  Customers mention the comfortable seat height and are happy that it comes with a seat.  "It's a quality, efficient, and clean toilet bowl!"
Positive Feedback
ADA compliant
Easy to maintain
EverClean surface
Excellent flushing power
Negative Feedback
Noise while flushing
Little Heavy
2. Toto Ultramax II
Specification List:
Toilet Dimensions: 28.37″ x 16.5″ x 28.75″
Water Consumption (GPF): 1.28
Bowl Shape: Elongated
Flushing System: Tornado Flush
Seat Height: 17.25″
Style: One-Piece
Rough-in size: 12″
Trapway size: 2.12″
The next flushing toilet on our list is a WaterSense certified (water-saving flushing toilet) model from Toto. The 1.28 GPF water intake doesn't hinder the cleaning ability of the system.
The ceramic toilet bowl coated with Toto's exclusive Sana Gloss inhibits the build-up of bacteria and microbes that cause toilet stink. As a result, what you get at the end of every flush is a hygienic, crystal-clean toilet.
There's nothing that can't glide through the 2 1/8 inch trap way. Therefore, clogging is something you're rarely like to face with Toto Ultramax II flushing toilet.
The Ultramax hold our number 2 pick for the best flushing toilet. Please read our in-depth review article on the Toto Ultramax II
Last Updated: January 6, 2022
Overall Rating – 4.4 of 5 Stars
Buyers like the performance of this elongated toilet.  The flush is powerful and efficient, according to users.  Customers are especially impressed by the flush has it is a water-saving system.   The modern one-piece toilet is a stylish addition to any bathroom, plus it includes a soft-close seat.
Positive Feedback
Sana Gloss coating
Very efficient
Large Glazed Trap way
Elongated Bowl and Universal Height (aka ADA Compliant Height)
Negative Feedback
When it flushes, the water only swirls around the bowl once
A bit pricey
3. Toto Drake II
Specification List:
Toilet Dimensions: 28.75″ x 16.5″ x 29.44″
Water Consumption (GPF): 1.28
Bowl Shape: Elongated
Flushing System: Tornado Flush
Seat Height: 17.25″
Style: Two-Piece
Certifications: ADA, WaterSense
Rough-in size: 12″
Trapway size: 2.12″
The TOTO Drake II's double cyclone flushing system is the lifeline of this wonderful water-efficient model. The two nozzles jet down the water in the toilet bowl at exhilarating speed for flawless flushing action around the rim and bowl wall.
Special credit goes to the 1.28 gallons per flush maximum flushing rate that helps save precious water. It also saves you a ton of time cleaning and maintaining this toilet thanks to the Sana Gloss coating on the bowl.
This gloss coating prevents stain build-up and the development of bacteria and fungi, ensuring indelible sanitation in your bathroom all day long.
Last Updated: January 6, 2022
Overall Rating – 4.4 of 5 Stars
Users mention that this one has a powerful flush.  While some noticed that this is louder than some toilets, the efficient flush makes up for it.  Customers are happy with the modern design of this toilet, plus the comfort of the elongated seat and comfort height.
Positive Feedback
Extremely powerful flushing system
Elongated bowl – comfortable design
Variable flushing
Negative Feedback
Doesn't come along with a seat
4. American Standard

H2Option
Specification List:
Toilet Dimensions: 29.75″ x 15″ x 31.5″
Water Consumption (GPF): 0.92/1.28
Bowl Shape: Elongated
Flushing System: Dual Flush
Seat Height: 17.25″
Style: Two-Piece
Rough-in size: 12″
Trapway size: 2″
American Standard siphonic dual flush type models are some of the best flushing toilets on the market when it comes to engaging the most impactful flushing technology in modern, well-furnished bathrooms.
In this American Standard model, the primary flushing (or full flush) rate is 1.6 GPF, whereas, the secondary flushing (or half flushing) capacity is 1.0 gallons of water per flush.
While the latter flush option can steadily eliminate liquid waste with a single flush, opting for the full flush mode will wipe off stains from the most obscure corner of the bowl.
It does all this without going overboard with water consumption.
Last Updated: January 6, 2022
Overall Rating – 4.4 of 5 Stars
Several users mention the powerful flush of this toilet.  Those that had clogging issues in the past no longer experience clogs with this toilet, plus it uses less water than older toilets.  Note that this doesn't include a seat so purchase one separately before installation.  "Excellent Performance, Attractive Design, and Great Value."
Positive Feedback
Water-saving
Modern design
Quite powerful flushing system
Easy install
Negative Feedback
Not the most comfortable option
5. Toto Promenade II Toilet
Specification List:
Toilet Dimensions: 28.5″ x 17.75″ x 31.25″
Water Consumption (GPF): 1.28
Bowl Shape: Elongated
Flushing System: Tornado Flush
Seat Height: 17.25″
Style: Two-Piece
Rough-in size: 12″
Trapway size: 2.12″
With this flushing toilet, you most certainly won't have any cleaning or maintenance problems. The glaze itself prevents the debris and dirt from staying on the toilet bowl.
It is slightly heavier than other toilets in its class and weighs about 91.5 pounds. To reduce the frequency of cleanings, even more, the toilet features the tornado flushing system. With this feature, you won't have to flush multiple times to remove all the waste.
The Promenade II comes in four different color options, complementing all bathroom types. It is available in cotton and colonial white, sedona beige, and bone color. To enhance the design, the TOTO has added the chrome left-hand lever. This strongest flushing toilet meets California's CEC and EPA WaterSense standards. It also meets the calgreen requirements and is ADA compliant. This model is quite water-effective and consumes only 1.28 gallons per flush. Not to forget that the Promenade II has a comfortable chair height seating.
Last Updated: January 6, 2022
Overall Rating – 4.2 of 5 Stars
Buyers were pleasantly surprised by the powerful flush that comes with this water-saving toilet.  That powerful flush leads to less cleaning and less clogging. Several reviews mention that the simple design is a great addition to their bathrooms.
Positive Feedback
Cefiontect smooth glaze
ADA compliant
Meets EPA WaterSense standards
Negative Feedback
Not the most comfortable option
6. Kohler K-3493-0 Highline Classic
Specification List:
Toilet Dimensions: 30.12″ x 21.25″ x 31.25″
Water Consumption (GPF): 1.6
Bowl Shape: Elongated
Flushing System: Pressure Lite® Flush
Seat Height: 17.25″
Style: Two-Piece
Rough-in size: 12″
Trapway size: 2.25″
Kohler is well-known all over the world for its high-quality products. Among the most popular options is the K-3493-0 flushing toilet. It is a very effective yet powerful toilet. The Kohler K3493 is made of china and thus is quite durable. Therefore, you most likely won't experience any cracks. As it is a floor-mounted flushing toilet, the installation process shouldn't give you any difficulties.
Due to the comfort height seat, it feels as if you were sitting on a standard chair. That is why it is a good choice for the elderly and people with movement disabilities. Although it is a two-piece flushing toilet it is very easy to use.
It may not be the most water-effective option but it still does quite a great job. The Kohler K3493 consumes 1.6 gallons per flush. Still, the toilet tends to be a little noisy since it has a pressure-assisted flush system.
You may be interested in reading our in-depth review of Kohler Highline.
Last Updated: January 6, 2022
Overall Rating – 4.4 of 5 Stars
Another toilet with a powerful flush, according to buyers – "Since installing this fabulous flushing machine, no clogs or even the possibility of a clog."  Some users did have a problem with the flushing mechanisms, most were pleased with this model's performance.
Positive Feedback
Very durable
Quite powerful flushing system
Comfort chair height seating
7. Johnson Pumps – 80-47229-01 Aqua Toilet
Specification List:
Toilet Dimensions: 17″ x 17″ x 20″
Water Consumption: 0.6 GPF
Bowl Shape: Elongated
Seating Height: 16″
Style: One-Piece
The best combination of a compact and extremely durable design. The dimensions of the Johnson Pumps – 80-47229-01 are 17" x 17" x 20". Therefore, it should be able to easily fit in absolutely any bathroom. It offers an ergonomically designed piston hand-powered pump. This pump can be mounted for either right-hand or left-hand use. The Johnson Pumps Aqua is suitable for any type of marine toilet room.
It is far from ordinary, well-known as one of the most reliable, hygienic, and quiet toilets on the market. The whole system weighs only about 26 pounds. The AquaT is very simple to install, maintain and keep clean. All the parts are fully corrosion resistant and very durable. The AquaT compact flushing toilet has a 16-inch seating height. Although it is not uncomfortable, if comfort is your number one factor, you may want to consider a different model.
Last Updated: January 6, 2022
Overall Rating – 4 of 5 Stars
Buyers seem to agree that this one is easy to install and performs well.  Some buyers mentioned that this model starts leaking over time, but with proper installation, you shouldn't have any issues.  " Works great and better than any of the more expensive brands."
Positive Feedback
Quite lightweight
Easy to install
Affordable
8. American Standard Baby Devoro FloWise
Specification List:
Toilet Dimensions: 25″ x 17.25″ x 24″
Water Consumption (GPF): 1.28
Bowl Shape: Round Front
Flushing System: Power Flush
Seat Height: 11″
Style: Two-Piece
Rough-in size: 10″
Trapway size: 2.12″
As it has a 10.25-inch seat, kids and small people will be able to easily access this flushing toilet, making it a great choice for healthcare facilities for kids. The Devoro also meets EPA WaterSense criteria. When it comes to durability, the Baby Devoro FloWise does a pretty good job. It is made of china which makes it quite long-lasting.
Let's not overlook how powerful and efficient this toilet is. It offers a clean and strong flush, consuming only 1.28 GPF. Since it is round-shaped, this might not be the most comfortable model but, taking into account that this is a toilet for kids, this shouldn't be much of a problem. Also, the Baby Devoro has a 2-1/8-inch glazed trapway. Moreover, it comes along with 2 bolt caps that match the color of the toilet.
Last Updated: January 6, 2022
Overall Rating – 4.2 of 5 Stars
Customers like this stylish toilet that packs a powerful flush.  Users that have had this toilet for some time have yet to experience clogging.  Installation is easy and several buyers mention that it's a perfect size for kids because of the lower height.  "Installed easily, durable for commercial use."
Positive Feedback
Durable and long-lasting
Very efficient
Powerful flushing system
9. Kohler Wellworth
Specification List:
Toilet Dimensions: 30″ x 19.5″ x 28.25″
Water Consumption (GPF): 1.28
Bowl Shape: Elongated
Flushing System: Class Five® flushing technology
Seat Height: 15.5″
Style: Two-Piece
Rough-in size: 12″
Trapway size: 2.12″
This is a powerful flushing toilet that offers a comfortable, but modern design. It consumes only 1.28 GPF and is considered a low-consumption toilet. With such water consumption, you save approximately 16,000 gallons a year. The K-3575-0 Wellworth has a classic design of two pieces and is made out of china. A little downside is that this product is available only in white.
The flushes on this system are extremely powerful. It uses a precision-engineered tank and the force of gravity to flush. Plus it has a wide trapway and it creates a strong siphon during flushing action. The K-3573-0 is also quite easy to install due to the standard 12-inch rough-in.
Also, it features the DryLock install system which is quite foolproof and fast. The DryLock prevents any leakage that could appear during the installation process.
Read our in-depth article on the Kohler Wellworth
Last Updated: January 6, 2022
Overall Rating – 3.9 of 5 Stars
Customers like the style and performance of this toilet.  Note that this one doesn't include a seat so be sure to purchase separately before installing.  "We liked the Kohler Wellworth toilets so much that we recently purchased a 3rd one for our upstairs bath."
Positive Feedback
DryLock install system
Easy to install
Powerful and efficient flushes
10. Toto Eco Soiree Toilet
Specification List:
Toilet Dimensions: 28.13″ x 14″ x 27.75″
Water Consumption (GPF): 1.28
Bowl Shape: Elongated
Flushing System: Tornado Flush
Seat Height: 17.37″
Style: One-Piece
Rough-in size: 12″
Trapway size: 2.12″
With its unique design, the Eco Soiree definitely stands out from the crowd. This strong flushing toilet is made of ceramic and weighs about 90 pounds. Since it is made of such a high-quality material, the durability is definitely not questionable. The Eco Soiree dimensions are 28.13" x 14" x 27.75". It has a classic 12-inch rough-in and is very simple to install. Plus, this product meets EPA WaterSense criteria.
We should mention that the Eco Soiree is ADA compliant. Its ergonomic, right height design provides you maximum comfort. The Eco Soiree also comes along with a soft-close seat made out of high-impact plastic.  This TOTO toilet is available in a few different color options: Sedona beige, bone, colonial white, and cotton white.
Read our ultimate review on the TOTO Eco Soiree
Last Updated: January 6, 2022
Overall Rating – 3.9 of 5 Stars
The flush is powerful with this one.  While some buyers mention that it's louder than other toilets that they've had, the benefits of the flush outweigh the noise.  "Very sleek looking. Highly recommend!"
Positive Feedback
Comes in various colors
EPA WaterSense certification
Highly durable
Buying Notes
✓ Flushing Mechanism
There are two basic categories of flushing toilets. Gravity flush toilets are known for their quiet operation and are mainly utilized in A-list models. The flushing system rinses off the solid and liquid waste residue from the bowl by pumping out water and air from within the central pipe.
While premium fixtures can actuate cleaning large amounts of waste faster, more often than not, their budget counterparts fail to provide satisfactory output. Pressure assist flushing toilets belong to the expensive category of flushing toilets.
The technology used in these models requires a complex arrangement of components to adapt to specific household water pressure. A tiny water tank releases water and air in the bowl with great force to siphon off the dropping quickly.
✓ What is MaP?
If you're researching online to buy a new toilet, you might come across the term "MaP," which isn't commonly known to the average person. Derived from "Maximum Performance," the term MaP measures toilet efficiency and flush performance. It also tells us how many grams of solid waste a flushing toilet can handle per flush, on a scale from 0 to 1000 grams. Even if you're curious about the MaP score for your current toilet, you can easily perform the MaP test at home, which we will discuss further later.
Toilet Flush Tests (Used by Engineers)
When manufacturers create new toilet models, engineers come into play to test what works and what doesn't. Over the years, engineers have developed a strategy to test the new toilets with something that's very similar to a  typical flush.
Basically, engineers take 20 pieces of sponge soaked in water and 8 paper wads to simulate toilet paper. Then, engineers flush all of these items to evaluate how effectively the new toilet can flush the materials. During this test flush, the toilet needs to be able to remove at least 22 pieces of either sponge or paper. If it removes at least 22 pieces, the toilet is considered a successful model, ready for the market.
For another testing component, engineers also use soybean paste. They take 50 gram pieces of soybean paste, encased in a latex membrane, and flush five units with the toilet (250 grams total). The toilet must be able to flush at least 5 pieces of soybean paste, or 250 grams total, to be considered successful.
For high-end toilets that need to satisfy certain requirements, instead of putting 250 grams, engineers will test up to 000 grams at a time. If the toilet passes, it gets the highest MaP score of 1000, which only the most modern and effective toilets typically achieve. 
Flushing Becoming Less Efficient..Why?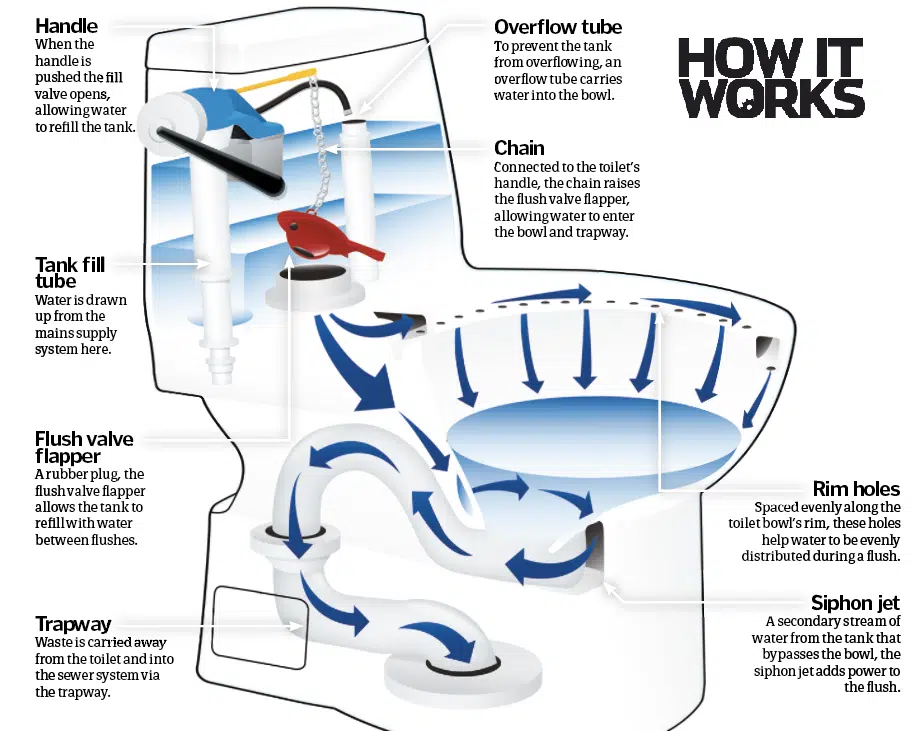 If you've noticed that you need to flush twice to remove all solid waste with your toilet, you may need to investigate why your toilet is flushing less efficiently than before. 
To start, check if your toilet is clogged. Simply pour a gallon of water and flush. If the toilet doesn't flush efficiently, it's probably clogged. In that case, you should use a plunger or a snake to clear the block. 
If your toilet is not clogged but still isn't flushing efficiently, remove the tank cover and check if the water level is even with the line on the inside of the tank. If it's not, you should adjust the tank float assembly according to the instructions from your manual to make sure the water is at the correct level.
Another detail to check is whether the flush holes around the rim are in a good condition. The holes can get clogged sometimes, which significantly affects the flush efficiency. However, you can use an object like a bobby pin or a coat hanger to unclog the holes. Finally, after clearing any blocks, flush to see if anything has changed.
We also advise you to clean the toilet with bleach. However, you need to first cut off the water supply for the toilet by turning the valve counterclockwise. You will find the valve near the tank. Then, pour in a few liters of bleach and let it sit for 15 minutes. After, turn the water supply back on and flush the toilet. The bleach should clean the drain pipes and make the flush more efficient moving forward.
The Most Powerful Toilet In The World
Best Flushing Toilet – Buying Factors
Here are six main factors to keep in mind when choosing the best flushing toilet.
1. Height of the Toilet
Toilet seat height should play a big role when choosing a proper toilet. To get maximum comfort, always look for comfort height toilets. Especially if you have some sort of movement disability, these are the right choice. Most comfort toilets have a height of about 17 inches. Standard models, on the other hand, are about fifteen inches tall.
2. Water Consumption
Water usage is a very important factor that must be considered while buying a flushing toilet. Research has shown that toilets consume 30% of all the water in a household. That is why it's crucial to look for a water-saving toilet. How do you know what toilets are water-saving? Just look for models that have EPA WaterSense certification or those that use about 1.28 GPF.
3. Easy Cleaning
This is a must if you don't want to spend too much time cleaning your toilet. Some modern flushing toilets feature an antibacterial smooth glaze. This coating prevents the bacteria and dirt from building up on your toilet. One of the best coatings out there is Cefiontect.
4. Quiet Closing Toilet Lid
If a toilet lid closes too fast it tends to make a loud banging noise. A quiet closing lid slows down the process, preventing a slamming lid.
5. Materials Used
The most frequently used material for flushing toilets is vitreous china. Porcelain is also common. Others are made of ceramic, china, or plastic. Some tests have shown, the most long-lasting materials are ceramic and porcelain. The more durable the materials are, the bigger the price of the toilet. 
6. Physical Design
The physical design should bring comfort to your knees, back, and hips. Round-shaped toilets are widespread as household toilets as they fit into small to medium bathrooms easily. If you have sufficient room for a bigger bathroom fixture, an elongated flushing toilet will serve you the best.
Those who don't mind shelling out some extra cash can also consider high-end models. Higher-end models offer custom options like customized height, flushing mechanism, etc.
Coming to the mechanical design, components like trap way size, rim design, and flush valve demand special attention. For faster and effective flushing, the larger the trap way size, the better.
Frequently Asked Questions
What Do I Do if Water Doesn't Stop Flowing After Flushing?
There are 2 possible approaches to this, and both are quite simple. It could be that the flapper isn't fitting to the flush valve opening properly. If that isn't the case, you should check the level of water in your tank. If it is too high, it could be the cause of your problem.
How Much GPF is Desirable?
If your only goal is to save water, then go for the 1.28 GPF toilets. Still, if it is flushing power and performance you are looking for, look for the 1.6 gallons of water per flush model. It doesn't necessarily mean that all 1.6 models are more powerful than all 1.28 models. What's more, there are a lot of 1.28 GPF flushing toilets that offer the same flushing performance. However, anything above 1.6 GPF is not desirable and should be avoided.
Summing Up
As long as you have a basic idea as to how these flushing toilets function and what technologies could maximize the sanitation in your toilet, you have the knowledge needed to find the best flushing toilet. The rest is left up to your judgment.
Browse the web, visit hardware stores, check out a couple of products, compare their features, and decide for yourself about your next bathroom fixture.