Disclaimer:    We're supported by our readers. We earn a commission from product purchases using affiliate links on our site. Learn more about the affiliate program.
In this review, we focused on flush strength. There are several ways to define flush performance, such as MaP score, flush type (dual flush or single flush) and gallons per flush (GPF).
The EPA WaterSense certification designates toilets using 1.28 GPF vs. older models using 1.6 GPF. This has encouraged manufacturers to bring some remarkable water-saving innovations to the design of their flush systems.
Comparisons of Top-Rated Flushing Toilets
Types of Flush Systems
Although most of the flushing systems use gravity, you should keep in mind that there are some significant differences. Today we will go through the 9 most popular types of flushing systems.
Review of the 10 Best Toilets with a Strong Flush (Updated)
Our experts reviewed and gathered facts of the top performance flush toilets on the market.
CHECK PRICE on WALMART                     CHECK PRICE on AMAZON
The American Standard Champion 4 is a mighty waste-eating beast, featuring an accelerator flush valve of 4 inches, the largest of all toilets!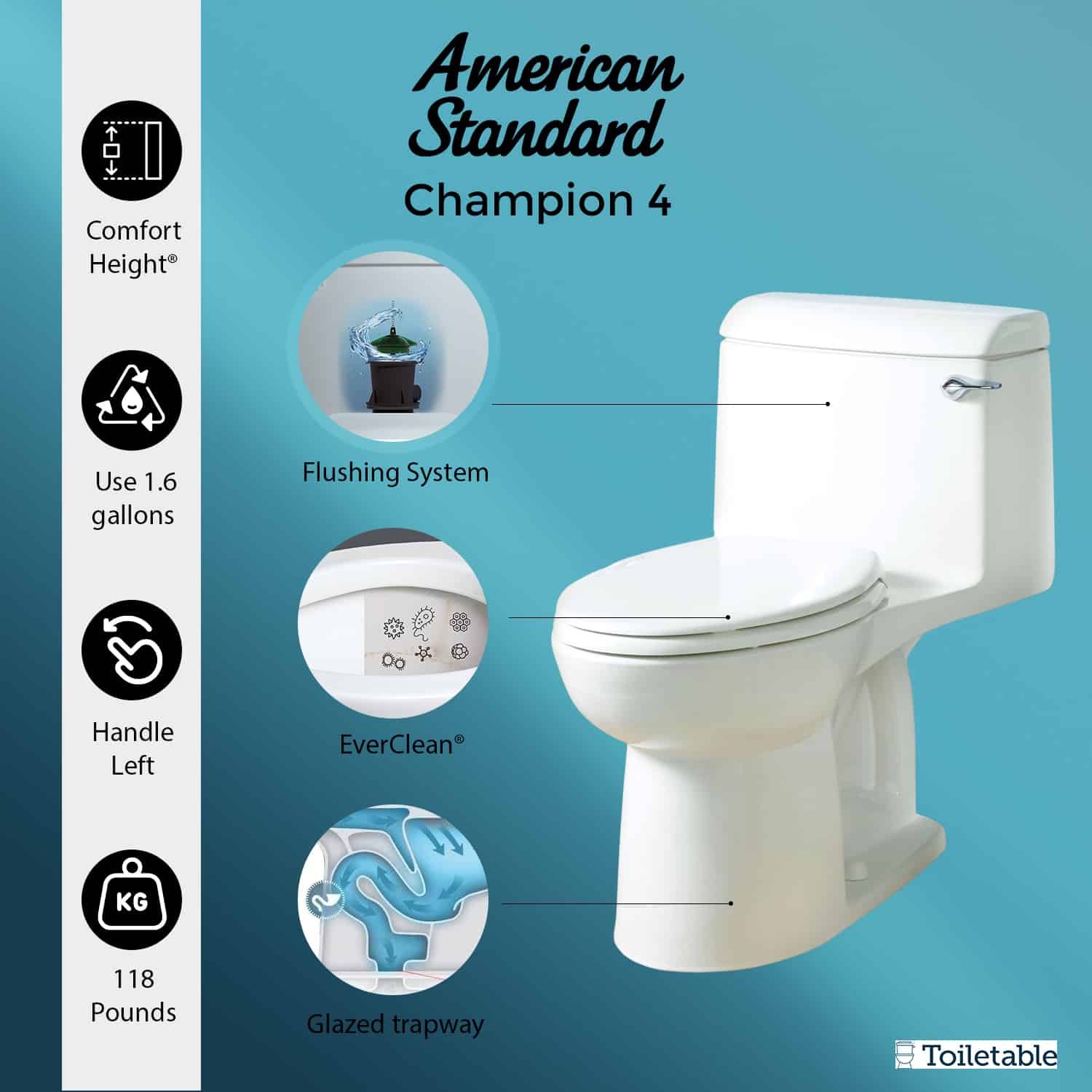 It's a gravity flush-type toilet with a siphon-action bowl that jets waste through the spacious waterway at a cyclonic speed, ensuring a clean, powerful flush.
The fully glazed siphon trapway measures 2 3/8 inches, which is also the largest in its class. It claims to remove 70% more solid waste than any other toilet on the same level.
Its special EverClean glaze coating on the toilet surface blocks the growth of sticky stains and odor-causing bacteria, protecting the toilet's vitreous china material. This glaze, along with the one-piece style, makes this toilet one of the most durable and reliable out there.
Although it is not EPA-compliant, the American Standard Champion 4 still saves water compared to standard toilets. At 1.6 gallons per flush, you'll be amazed at how powerful each flush is while staying water-wise.
The Champion 4 is available in 3 different colors and two different heights; comfort and normal height. People of every age, height and body weight will be comfortable on the ADA-height compliant height, which makes sitting down and standing up easier. The elongated seat provides added comfort. A sleek one-piece design makes for easy cleaning and installation, which comes alongside a slow-close, slam-proof toilet seat.
With a high customer rating, reviewers rave about the Champion 4's flushing system and high-quality material!
Taking all of this into account, we've concluded that the Champion 4, with its virtually clog-free flushing system, is our favorite flush on the market!
So please read our in-depth review of the Champion 4 here and see if you agree with us.
---
---
Other Champion 4 Models
Our final Take
Taking all of this into account, we've concluded that the Champion 4, with its reliability and virtually clog-free flushing system, is our favorite flush on the market! 
CHECK PRICE on WALMART                    CHECK PRICE on AMAZON
Kohler is well-known all over the world for its high-quality products. Among the most popular options is the Kohler K-3999 Highline flushing toilet, both effective and powerful.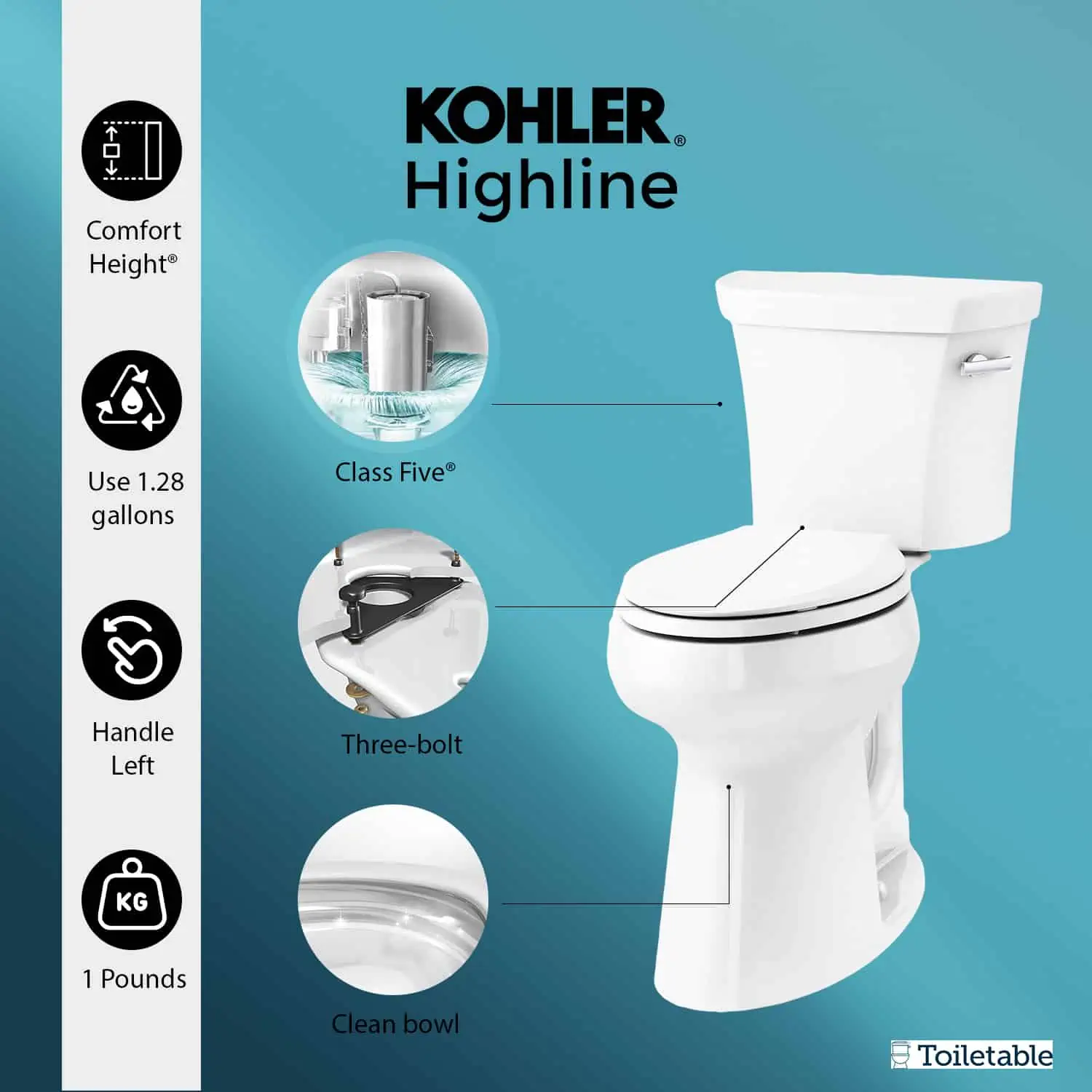 The Highline is made of high-quality china, making it durable and crack resistant. As it is a floor-mounted flushing toilet, the installation process is simple with users rarely facing any difficulties.
The Kohler Highline's reasonable price did not come at the expense of its performance, and we love this toilet for its powerful flushing system and affordable cost.
The Class Five flushing technology allows for a virtually clog-free flush, making the Kohler Highline one of the top flushing toilets on the market.
The flushing system uses the force of gravity and a precision-engineered design to create a strong siphon during flushing, which we found prevents both clogging and streak marks on the bowl. 
It may not be the most water-efficient option, but it still falls within EPA guidelines and saves gallons more than a normal toilet.
In fact, the Highline consumes only 1.28 gallons per flush, compared to a normal 3.5 gallons per flush toilet. That's up to 16,000 gallons of water saved every year!
Still, we noticed that the Highline does tend to be a little noisy.
The Kohler Highline is a two-piece flushing toilet, making it slightly more difficult to clean, but still much lighter than a one-piece toilet. We found that its lighter weight makes installation easier, especially if you have trouble lifting heavy items. In addition, its three-bolt quick-connect technology also simplifies the installation process.
Due to the comfort height seat, it is a good choice for the elderly and people with movement disabilities. The elongated bowl also adds room and comfort.
The Highline is available in two colors, biscuit or black, and three different finishes, with the option for a round or elongated bowl.
Unfortunately, the seat and supply line are sold separately.
---
---
Other Highline Models
Our Final Take
Another toilet with a powerful flush, according to buyers – "Since installing this fabulous flushing machine, no clogs or even the possibility of a clog".
Some users did have a problem with the flushing mechanisms, most were pleased with this model's performance. Installation is straightforward but be sure to purchase the seat separately.
CHECK PRICE on LOWES                 CHECK PRICE on AMAZON
American Standard siphonic dual flush models are some of the best flushing toilets on the market when it comes to engaging the most impactful flushing technology in modern bathrooms.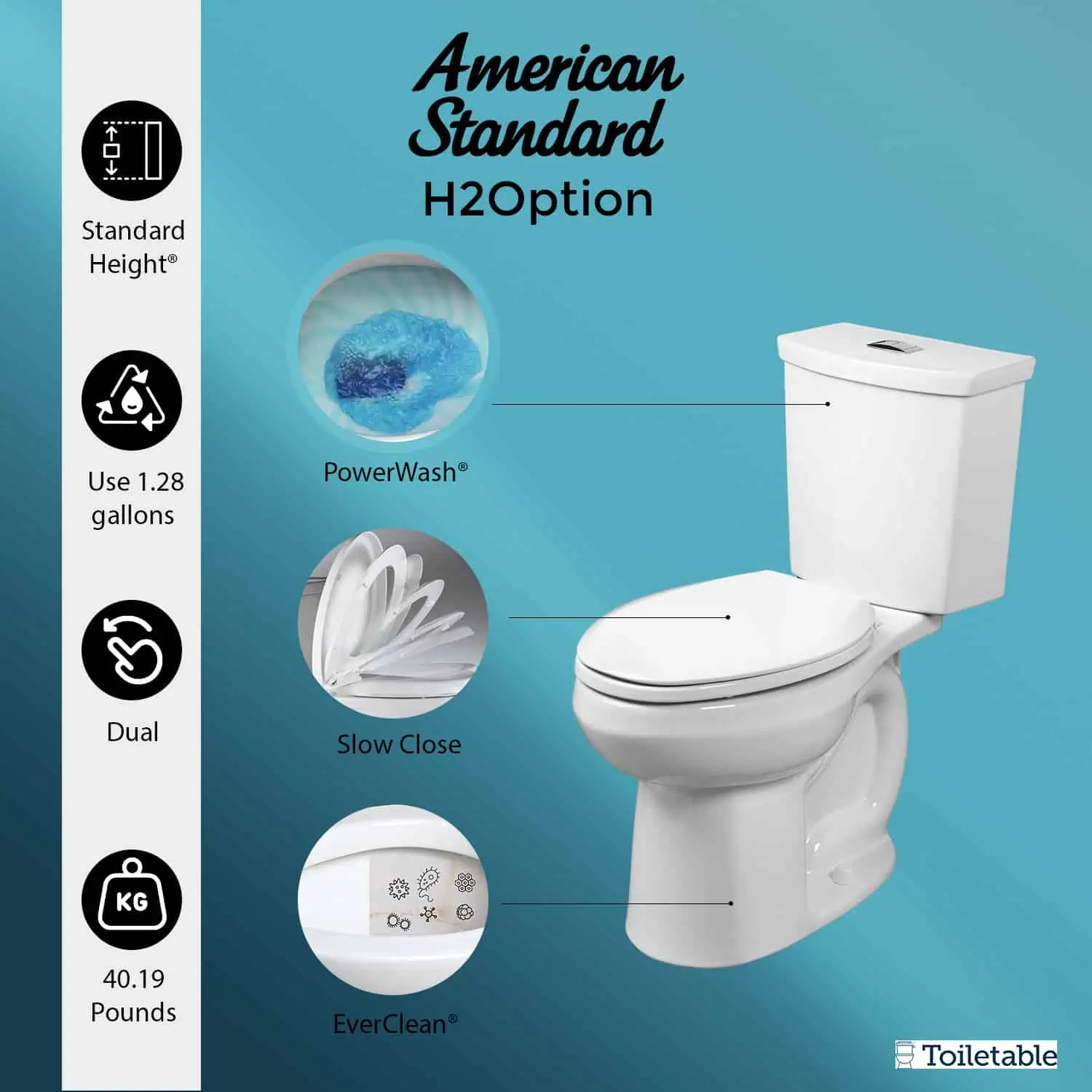 The two-piece style makes this a versatile toilet, with a sleek design that would fit both contemporary or classically furnished bathrooms.
The H2Option's PowerWash rim and siphon jet bowl technology provide optimal flushing performance while still saving a substantial amount of water.
It is both EPA WaterSense certified and meets MaP premium criteria thanks to its water efficiency. The H2Option's name speaks for itself – this really is one of the most water-conscious toilets out there.
In this dual-flush American Standard model, the primary flushing (or full flush) rate is 1.28 GPF, whereas the secondary flushing (or half flushing) capacity is 0.92 GPF.
While the weaker flush option can steadily eliminate liquid waste with a single flush, we found that the full flush mode will wipe off stains from even the most obscure curves of the bowl.
The ability to choose your water usage per flush will undoubtedly save money on your water bill without sacrificing cleanliness. 
The American Standard H2Option is equipped with an EverClean surface, which prevents the growth of bacteria, mold, and mildew on the surface. In addition, the toilet's powerful flushing system ensures a clear flush, which we found reduces how often the toilet needs to be cleaned. The 2 inch trapway helps effectively clear the bowl with every flush and prevent clogging.
The H2Option comes in three different finishes and has a limited 5-year warranty on all mechanical parts. There is an option for a round bowl or an elongated bowl, as well as two different options for the height of the toilet. We found installation to be relatively easy and loved the classic white color of the toilet. Unfortunately, the seat is sold separately. 
The H2Option comes in two different models. The model above is not ADA-compliant, but the other one is. Both of the models have a dual flush option and are available in three different finishes. Additionally, both are highly efficient, consuming only 1.28 gallons of water per flush.
---
---
Other H2Option Models

Our Final Take
The H2Option wowed us with its flushing efficiency and water-wise usage. The best feature on this toilet is definitely its dual-flush! This compact and stylish piece will bring your bathroom together and handle anything that gets flushed.
CHECK PRICE on WALMART                    CHECK PRICE on AMAZON 
The Kohler Wellworth toilet is a powerful flushing toilet with Class Five flushing technology that offers a comfortable, but modern design. Kohler toilets are known to be high-calibre, and the Wellworth Classic is no exception.
The Wellworth Classic's flushing system impressed us with its power and efficiency. It uses a precision-engineered tank and the force of gravity to flush.
It has a wide trapway and creates a strong siphon during flushing action to prevent clogging, and a canister flush valve further optimizes flushing performance.
The Wellworth Classic consumes only 1.28 GPF and is considered a low-consumption toilet. Compared to normal toilets, this level of water consumption saves you approximately 16,000 gallons a year!
The Wellworth has a classic two-piece design with an elongated bowl for added comfort. It is made out of durable china and is available in four finishes, with the seat and supply line sold separately.
This model is unfortunately not ADA compliant, however, and would be better suited in homes without those needs.
The Wellworth Classic is also quite easy to install due to the standard 12-inch rough-in. Additionally, it features the DryLock install system, which we found to be foolproof and fast, preventing any leakages that could occur during the installation process. It coordinates with other products in Kohler's Wellworth collection for a streamlined bathroom design.
---
---
Other Wellworth Models
Our Final Thought
We love the quiet and quick, yet powerful flush on this model. Be aware that this is a lower toilet, which may be uncomfortable for some users. However, those suited for a toilet this size will find it a comfy sit – and relish the less frequent toilet cleans.
The next toilet on our list is a WaterSense certified and ADA-compliant model from TOTO, the Ultramax ll. The Ultramax II was a close runner-up in our list, with plenty of attractive flushing and design features.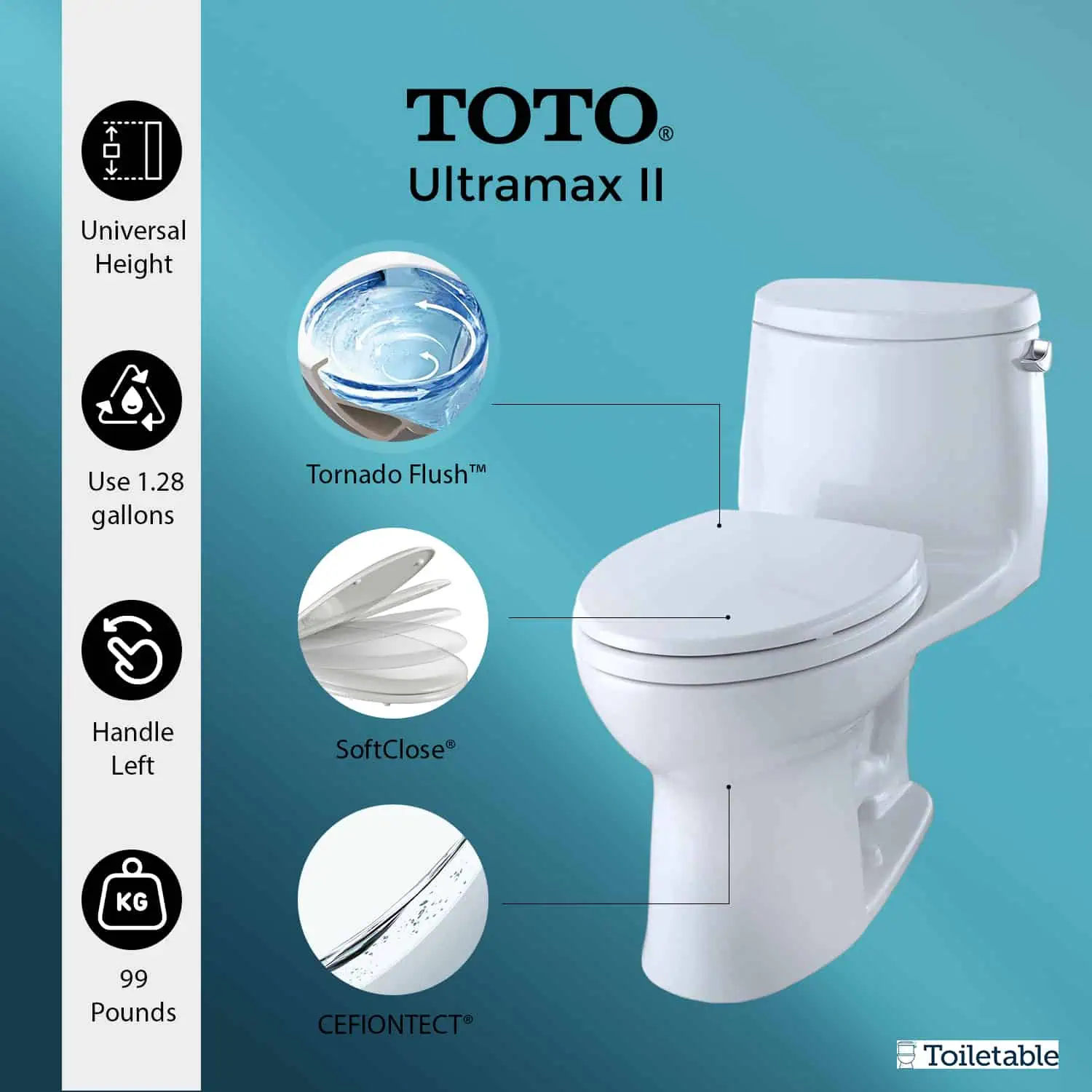 The ceramic toilet bowl, coated with TOTO's own Cefiontect, inhibits the build-up of bacteria and microbes that cause odor. As a result, you get a fresh-smelling, hygienic, crystal-clean toilet after each flush.
The exclusive Cefiontect glaze prevents dirt and dust from sticking to the ceramic surface, which we found made it much easier to clean compared to other toilets. 
Despite using only 1.28 gallons of water per flush, the Ultramax ll has one of the best flushing systems on the market. The Tornado Flush flushing system fills the bowl quickly and empties it forcefully, effectively removing all streaks and waste from the bowl.
We found that the toilet refills quickly and quietly within a matter of seconds, and with a large 2 1/8 inch, computer-designed trapway, clogging is something you're rarely like to face.
We love the TOTO Ultramax ll's streamlined, modern look. It is a one-piece toilet with an elongated bowl, and is available in a number of different colors, including several white tones, beige, and ebony. With the option for a right or left hand trip lever, this toilet can be completely customized to suit your bathroom. 
The trip lever comes in ten different finishes (note: there is an up-charge for some of the finishes). The Ultramax ll has a slow-close seat, which prevents slamming, and the Universal Height feature allows people of all ages to enjoy a comfortable toilet experience.
Having reviewed many toilets, we found this one to be easier than most to install, requiring just a few necessary parts.
---
---
Other Ultramax II Models
Our Final Thought
A standout quality of the Ultramax is its water efficiency. We were amazed by the forceful flush, water-efficiency, and self-cleaning (thanks, Sanagloss!) features of this toilet. A toilet for all bathrooms, users love how well the stylish design suits a wide range of homes.
CHECK PRICE on BUILD                  CHECK PRICE on AMAZON
A popular and thoroughly reviewed toilet, the TOTO Drake ll is an impressive toilet with a beautiful design and powerful flushing system.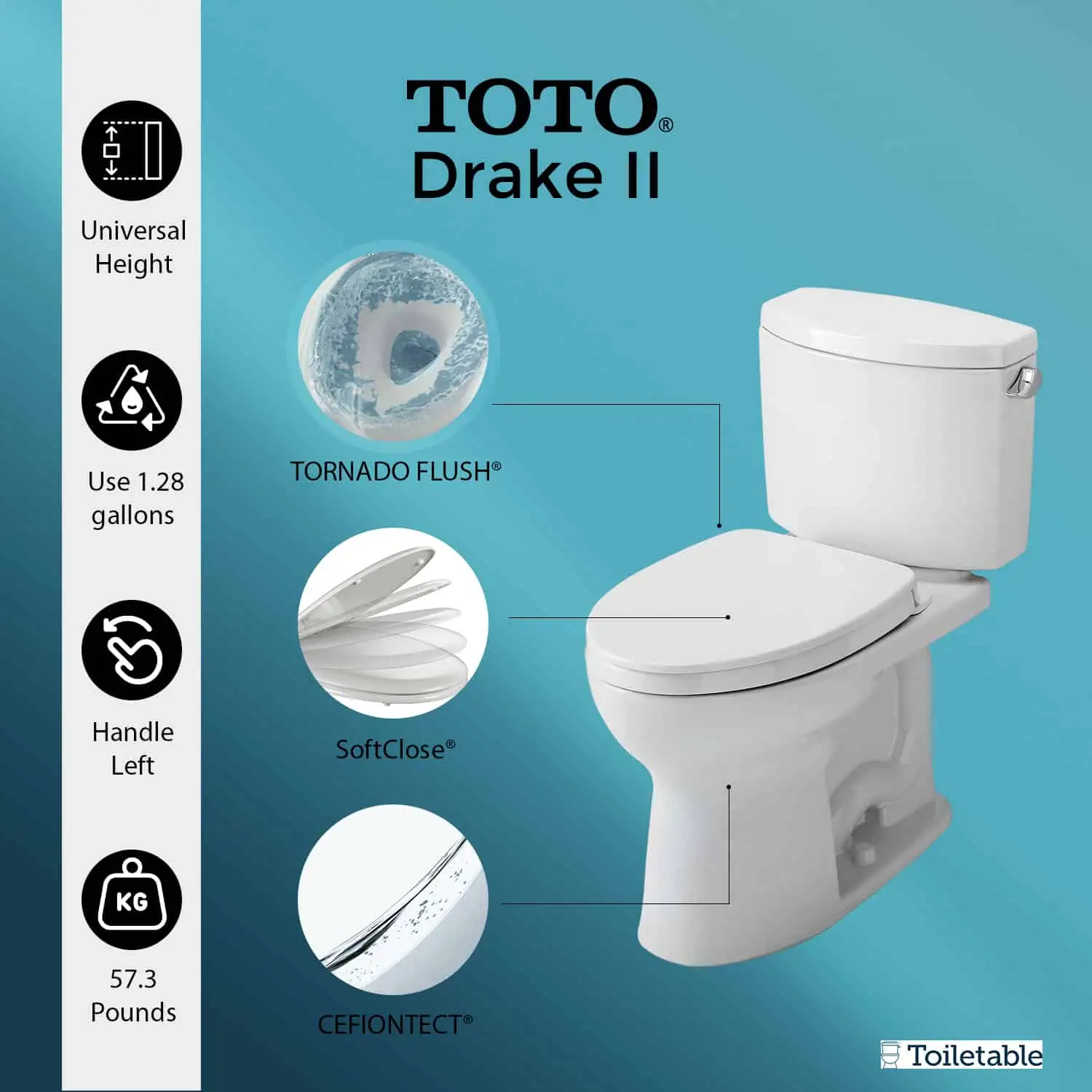 The amount of reviews allow us to get a solid sense of user happiness, and the Drake II doesn't disappoint. It is an EPA WaterSense certified and ADA compliant toilet, suitable for a variety of height and comfort needs.
The TOTO Drake II's double cyclone flushing system is the lifeline of this wonderful, highly water-efficient model.
The two nozzles jet down the water in the toilet bowl at exhilarating speed for flawless flushing action, especially around the rim and bowl wall.
Some reviewers did note that the flush tends to be louder than other toilets, but felt that the power makes up for that.
The fully-glazed trapway is computer designed to prevent clogs, which the TOTO Drake ll proved to be excellent at doing in our flushing tests. 
Special credit goes to the 1.28 gallons per flush maximum flushing rate! This low consumption level helps save water, benefiting the environment and reducing your water bill.
In addition, we found that this toilet helps you save time cleaning and maintaining it thanks to the SanaGloss coating on the bowl. This gloss coating prevents stain build-up and the growth of bacteria and fungi, ensuring that your toilet stays clean and sparkling. The powerful flushing action around the toilet's rim and bowl wall keeps it clean longer than toilets with less powerful flushing systems.
Of all of the many toilets we've reviewed, this one offers the most options when it comes to color, coming in five different finishes!
In addition, there is an option for a right hand or left hand trip lever, which comes in nine different finishes (note: there is an up-charge for some of the finishes).
The elongated bowl adds comfort and the universal height features makes sure that people of all ages will find it easy to use.
The wax ring, seat, and supply have to be purchased separately, but otherwise, installation is easy.
---
---
Other Drake II Models
Our Final Take
When it comes to the Drake II, the only thing flooding will be compliments. Really, we love this toilet. We can't stop boasting about the efficiency, the reliability, the easy installation and cleaning, which is why there are so many reviews. TOTO has hit a home run with the Drake II!
"The NEOREST is a luxury toilet at its finest. A regular trip to the bathroom turns into a spa moment, thanks to this decked-out unit."
CHECK PRICE on LOWES                   CHECK PRICE on AMAZON
This automated unit feels both futuristic and intuitive to use thanks to its wide array of features.
Flushing Power
If you know TOTO, you're familiar with their classic Tornado Flush siphon jet flushing system. The Neorest is a testament to this system's quality, which only seems to be improving. The ultra high-efficiency design uses dual-nozzle bowl cleaning to create a centrifugal force to wash away any waste load.
The toilet's dual flush lets you choose between .8 and 1 gallons per flush, an astonishingly low amount without sacrificing any flushing power. We are really impressed at the water-saving capability of the Neorest!
To help the flushing process, the Washlet sprays before every flush to loosen up any debris that is sticking to the toilet bowl. The TOTO NEOREST also has automated flushing, so you can have a hands-free experience.
Bidet 
The bidet seat has an array of settings and lets you choose between rear cleanse, soft rear cleanse, front cleanse, oscillating, and pulsating spray. You can also choose between different water pressure and temperatures. This is one of the most elaborate bidet designs we've seen in a while! Most units only come with three options when it comes to settings. 
The best part? The bidet comes with two user memory functions so you can have your customizable settings appear at the press of one button. One thing to keep in mind is that the NEOREST requires a 120V GFCI outlet to work. 
Additional Features
The NEOREST has a multifunction remote control which lets you customize your bathroom experience to the fullest extent. The remote allows you to adjust your seat temperature, turn on the bidet, and set an energy saver timer. The toilet also comes with a gentle nightlight so you don't have to turn on your overhead light when going to the bathroom at midnight. 
The EWATER+ feature automatically sprays your toilet with electrolyzed water to keep your bowl fresh, eliminating the need for intensive scrubbing. The toilet also has an automated open/close lid to prevent lingering bacteria from spreading into the air. Don't forget the automatic air purification system that removes odors after every flush. 
The model is ADA-compliant with a universal height of 17 5/16th", with its seat. The toilet has CEFIONTECT glaze which eliminates the likelihood of dirt buildup on the outside of the bowl. The glaze, along with the toilet's skirted design – which removes potential areas for dirt accumulation, will save you hours of cleaning time. 
This toilet seems to have it all, and unfortunately it does come at a cost. The Neorest is on the pricey side, but we have to acknowledge this marvel and how badly we all want to try it.
The NEOREST is only available in cotton white or sedona beige.
---
---
Other Neorest Models
Our Final Take
When customers agree to the TOTO Neorest's price tag, they are getting the luxury loo they expect. The Neorest's sleek look upgrades the appearance of any bathroom, and will make your trip to the toilet as hassle-free as can be. Our favourite features are the forceful flush, automatic features, and of course that remote!
CHECK PRICE on LOWES                 CHECK PRICE on AMAZON
A toilet designed for cleanliness, the TOTO Promenade ll features TOTO's renowned, ultra-powerful Tornado Flush flushing system and is both EPA-certified and ADA-compliant.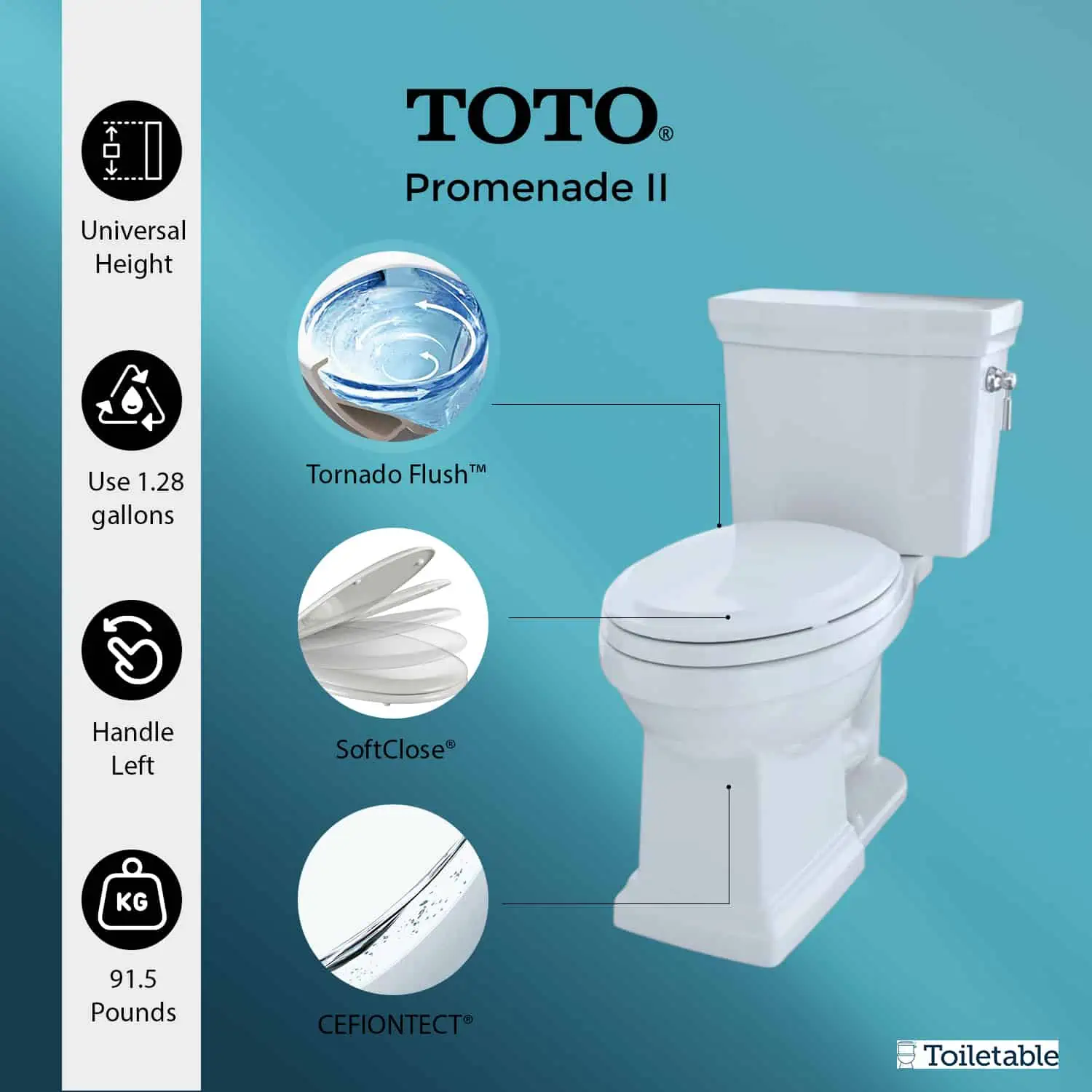 With this toilet, you certainly won't have any cleaning or maintenance problems. One of our favorite TOTO features, the Cefiontect ceramic glaze, prevents debris and waste from sticking to the toilet bowl and ceramic parts of the toilet. You won't need to waste time with frequent cleans when it comes to the Promenade II.
To reduce the frequency of cleanings even more, the toilet uses the Tornado Flush flushing system. With this streamlined and systematic flushing system, you won't have to waste water flushing multiple times to remove waste from the bowl and likely needing to clean afterwards.
This model is quite water efficient, consuming only 1.28 gallons per flush, potentially saving you hundreds or even thousands of dollars each year in water bills! 
The Promenade II comes in four different color options – cotton and colonial white, sedona beige, and bone – complementing all bathroom types.
The trip lever comes in four different finishes, and there is an option for a right or left hand trip lever (note: some finishes have an up-charge). The Promenade II is slightly heavier than other toilets in its class and weighs about 91.5 pounds.
If you can lift it, installation should be easy, as it is a two-piece toilet.
---
---
Other Promenade II Models
Our Final Take
The Promenade II boasts a flush to be reckoned with. We saw multiple users buying a second, and sometimes even a third Promenade II after their first purchase! And we can see why – the easy cleaning and maintenance make this model a breezy bathroom addition.
CHECK PRICE on HOME DEPOT                 CHECK PRICE on AMAZON
The American Standard Baby Devoro is a powerful toilet with an excellent flushing system. Since it has a 10.25-inch seat, kids and smaller adults will be able to easily access this flushing toilet. This makes it a great choice for healthcare or daycare facilities for kids. 
Let's not overlook how powerful and efficient this toilet is. Size is the only thing about it that's small – the flushing power is massive. It offers a clean and strong flush, consuming only 1.28 GPF and meeting EPA WaterSense criteria.
The strong siphon flushing action ensures a clean bowl after each flush. The Baby Devoro has a 2-1/8-inch glazed trapway, which we found prevents clogs.
The MaP score is 500 grams at 1.28 GPF, not the highest score possible, but still excellent! 
Since it has a round-shape, this might not be the most comfortable model, but, taking into account that it is a toilet meant for kids, this shouldn't be much of a problem.
When it comes to durability, the Baby Devoro FloWise does a great job. It is made of long-lasting high-quality china that we found to be easy to clean.
The Baby Devoro two-piece toilet comes in one color, white, and also includes two bolt caps that match the color of the toilet.
The seat is unfortunately not included, but installation shouldn't be too difficult, especially considering the smaller size and lower weight.
---
---
Our Final Take
The Baby Devoro is incredibly unique – it's a challenge to find a small, child-friendly toilet with a stable build and efficient flush. We agree with parents that the Baby Devoro deserves high praise for its performance. It's one of the best choices for kids, and totally usable for adults if you don't mind the squat!
CHECK PRICE on HOME DEPOT                CHECK PRICE on AMAZON
With its unique design, the Eco Soiree definitely stands out from the crowd. This strong flushing toilet is durable and efficient, meeting both EPA WaterSense criteria and ADA regulations.
This toilet features one of our favorite TOTO technologies: the Cefiontect ceramic glaze. This glaze keeps the ceramic pieces of the toilet free from dust and dirt, reducing how often you will need to clean it and protecting your toilet.
Additionally, the TOTO Eco Soiree comes with TOTO's renowned powerful Tornado flushing system, which uses gravity and centrifugal force to eliminate all waste from the bowl quickly and without clogs. We were impressed by how well it kept the bowl clean, further reducing how often it needed cleaning!
The TOTO Eco Soiree is made of ceramic and weighs about 90 pounds. Since it is made of such a high-quality material, it is quite durable. It is a one-piece toilet with an elongated bowl, and its ergonomic, universal height design provides you maximum comfort.
The Eco Soiree also comes along with a soft-close seat made out of high-impact plastic. Characteristic of TOTO, the Eco Soiree comes in five colours
It has a classic 12-inch rough-in and is very simple to install.
---
---
Our Final Take
The Eco Soiree is a piece of porcelain to be reckoned with. This toilet's weight makes it sturdy and its flushing power makes it one of the most efficient toilets on the market. This heavy one-piece can be a challenge to install securely, and we recommend calling a plumber if you feel your Soiree will be in safer hands that way. We admire this toilet's beautiful aesthetic design and forceful flush above all else.
If you know Toiletable, you know we love Woodbridge.
Flushability
The T-0001-MB uses a fully glazed siphon flushing system to get rid of waste in a matter of seconds. The toilet uses 1.28 gallons per flush, which saves you 20 percent on water and cost, when compared to a standard 1.6 gpf model. This unit also has an unbeatable MaP score of 1,000 grams, which means no quality is compromised through its eco-friendly flush.
What's great about this unit is that even amidst its powerful strength, the flushing sound is minimal. The fully glazed trapway also eliminates the chance of clogging and leaks.
If you've seen the T-0001-MB, you've definitely noticed the matte black button on top of the toilet tank. Just give it a press and have your worries flushed away.
Design & Style
This unit is another modern remix of a classic toilet. The cool angular tank, laid against the beautiful, wide roundness of the trapway creates a wonderful harmonious design. You can even change the toilet's button to one of five different colors, from brown to silver, and shiny black.
In addition to looking good, the toilet also has a convenient height of 16.5." This fits most users, alleviating joint pain during sitting or standing. The unit also comes with a soft-closing seat which helps prevent unwanted slamming.
The toilet is also ridiculously easy to clean. The skirted trapway eliminates any grime build-up. The one-piece toilet connects seamlessly from the tank to the bowl, so you don't have to scrub any ridges.
---
---
Our Final Take
Users boast about this toilet for its cool look and relatively affordable price. Users find the toilet's small details, like its matte black button and soft-closing seat to be a lovely surprise. The toilet has over 1,200 ratings and averages 4.4 stars. While there aren't many complaints, those that exist talk about the toilet's difficult installation process, due to its size and shape. Keep this in mind if you plan on installing your toilet by yourself.
HOROW is one of our favorites at Toiletable.
Flushability
This unit is eco-friendly and cost-effective thanks to its dual-flush mechanism. You can choose .8 or 1.28 gallons per flush, depending on your waste size. Another bonus? The toilet has a MaP score of 1,000 grams – the highest one available! This means that the toilet has amazing suction strength with each flush, thanks to its siphon mechanism.
The toilet's fully glazed trapway eliminates the chance of clogs and leaks. To flush the toilet, you can just press the chrome push button on top of the toilet tank.
Design & Style
The T0338W is a beautiful unit, as seen in its clean-cut angular tank and its skirted trapway. We love a skirted trapway because it's so easy to clean. No dirt or grime gets stuck in any annoying nook or crannies. Just wipe the toilet every so often with mild soap and water and you're good to go!
As we said before, this toilet isn't here for any fancy gimmicks or tricks. What you see is what you get. And for this price, we'll take it! One of the best features of this toilet is its chair-like ADA-accessible height of 17.3." Taller toilets are preferable amongst those with mobility issues as they help take off joint pressure.
This toilet is relatively easy to install as there are two big opening holes on the side for easy access. This toilet has a warranty for defects of up to a year and a one-year limited warranty on its flushing mechanism and soft-closing toilet seat.
---
---
Our Final Take
With an average 4.5-star rating, this HOROW is a true fan favorite. Users love the toilet's unbeatable price as well as its simple yet sophisticated look. Positive comments also talk about the toilet's comfortable ADA height and easy-to-clean exterior, thanks to its skirted trapway. The most common complaint – and we have to say, there aren't many – is that sometimes the toilet fractures due to shaky transport. Fortunately, one call to customer service will fix this right away.
✓ Flushing Mechanism
There are two basic categories of flushing toilets. Gravity flush toilets are known for their quiet operation and are mainly utilized in premier models. The flushing system rinses off the solid and liquid waste residue from the bowl by pumping out water and air from within the central pipe.
While premium fixtures can facilitate cleaning large amounts of waste more quickly, their budget counterparts typically fail to provide satisfactory output. Pressure assist flushing toilets belong to the expensive category of flushing toilets.
The technology used in these models requires a complex arrangement of components to adapt to specific household water pressure. A tiny water tank releases water and air in the bowl with great force to siphon off the dropping quickly.
✓ What is MaP?
If you're researching online to buy a new toilet, you might come across the term "MaP", which isn't commonly known to the average person. Derived from "Maximum Performance", the term MaP measures toilet efficiency and flush performance. It also tells us how many grams of solid waste a flushing toilet can handle per flush, on a scale from 0 to 1000 grams. Even if you're curious about the MaP score for your current toilet, you can easily perform the MaP test at home, which we will discuss further later.
Read our full guide describing MaP in detail here.
Toilet Flush Tests (Used by Engineers)
When manufacturers create new toilet models, engineers are tasked with determining what works and what doesn't. Over the years, engineers have developed a strategy to test the new toilets with something that's very similar to a  typical flush.
Basically, engineers take 20 pieces of sponge soaked in water and 8 paper wads to simulate toilet paper. Then, engineers flush all of these items to evaluate how effectively the new toilet can flush the materials. During this test flush, the toilet needs to be able to remove at least 22 pieces of either sponge or paper. If it removes at least 22 pieces, the toilet is considered a successful model, ready for the market.
For another testing component, engineers also use soybean paste. They take 50 gram pieces of soybean paste, encased in a latex membrane, and flush five units with the toilet (250 grams total). The toilet must be able to flush at least 5 pieces of soybean paste, or 250 grams total, to be considered successful.
For high-end toilets that need to satisfy certain requirements, instead of putting 250 grams, engineers will test up to 1000 grams at a time. If the toilet passes, it gets the highest MaP score of 1000, which only the most modern and effective toilets typically achieve. 
Flushing Becoming Less Efficient…Why?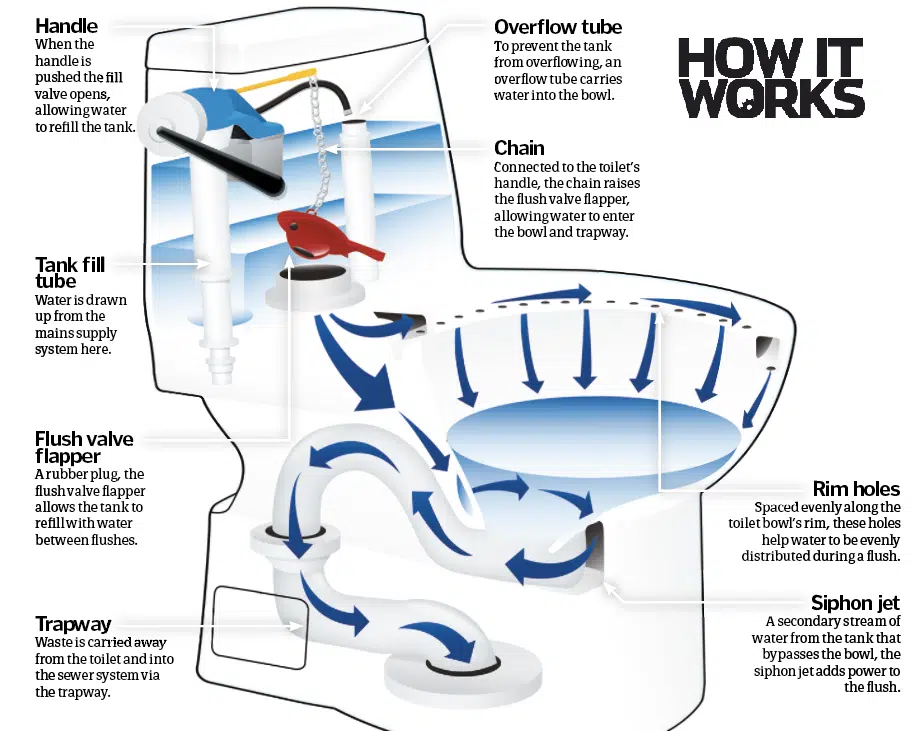 If you've noticed that you need to flush twice to remove all solid waste with your toilet, you may need to investigate why your toilet is flushing less efficiently than before. 
To start, check if your toilet is clogged. Simply pour a gallon of water and flush. If the toilet doesn't flush efficiently, it's probably clogged. In that case, you should use a plunger or a snake to clear the block. 
If your toilet is not clogged but still isn't flushing efficiently, remove the tank cover and check if the water level is even with the line on the inside of the tank. If it's not, you should adjust the tank float assembly according to the instructions from your manual to make sure the water is at the correct level.
Another detail to check is whether the flush holes around the rim are in a good condition. The holes can get clogged sometimes, which significantly affects the flush efficiency. However, you can use an object like a bobby pin or a coat hanger to unclog the holes. Finally, after clearing any blocks, flush to see if anything has changed.
We also advise you to clean the toilet with bleach. However, you need to first cut off the water supply for the toilet by turning the valve counterclockwise. You will find the valve near the tank. Then, pour in a few liters of bleach and let it sit for 15 minutes. Afterwards, turn the water supply back on and flush the toilet. The bleach should clean the drain pipes and make the flush more efficient moving forward.
Buying Factors to Consider
Here are six main factors to keep in mind when choosing the best flushing toilet.
1. Height of the Toilet
Toilet seat height should play a big role when choosing a proper toilet. To get maximum comfort, always look for comfort height toilets. If you you have someone in your household with a movement disability of some kind, these are the right choice. Most comfort toilets have a height of about 17 inches, while standard models are about fifteen inches tall. Of course, if you have a very short person in your household, the 15 inch toilet might be more comfortable for them. 
2. Water Consumption
Water usage is a very important factor that must be considered while buying a flushing toilet. Research has shown that toilets consume 30% of all the water use in a household. That is why it's crucial to look for a water-saving toilet. How do you know which toilets are water-saving? Just look for models that have EPA WaterSense certification or those that use about 1.28 GPF.
3. Easy Cleaning
This is a must if you want to reduce the time spent cleaning your toilet. Some modern flushing toilets feature an antibacterial smooth glaze which prevents the bacteria and dirt from building up on your toilet. 
4. Quiet Closing Toilet Lid
If a toilet lid closes too fast it tends to make a loud banging noise. A quiet closing lid slows down the process, preventing a slamming lid.
5. Materials Used
The most frequently used material for flushing toilets is vitreous china. Porcelain is also common. Others are made of ceramic, china, or plastic. Some tests have shown, the most durable materials are ceramic and porcelain, which makes them more expensive as well. 
6. Physical Design
The physical design should bring comfort to your knees, back, and hips. Round-shaped toilets are widespread as household toilets as they fit into small to medium bathrooms easily. If you have sufficient room for a bigger bathroom fixture, an elongated flushing toilet will serve you the best.
Those who don't mind shelling out some extra cash can also consider high-end models. Higher-end models offer custom options like customized height, flushing mechanism, bidet function, heated seat, etc.
Coming to the mechanical design, components like trap-way size, rim design, and flush valve demand special attention. For faster and effective flushing, the larger the trap-way size, the better.
Frequently Asked Questions
Our team of experts answered the most asked questions by our readers about flushing toilets. Feel free to send us a question and we will answer for you!