Disclaimer: We're supported by our readers. We earn a commission from product purchases using affiliate links on our site. Learn more about the affiliate program.
Looking for a new Kohler toilet? Don't look no further than the Kohler Reach toilet.
This toilet is a basic but dependable one-pice toilet. We covered the bases with a detailed design and flushing description and what I actually thought of this toilet.
Also, I listed a bunch of helpful material for you to make your personal judgement on the Kohler Reach toilet.
Full Review of the Kohler Reach Toilet in 2023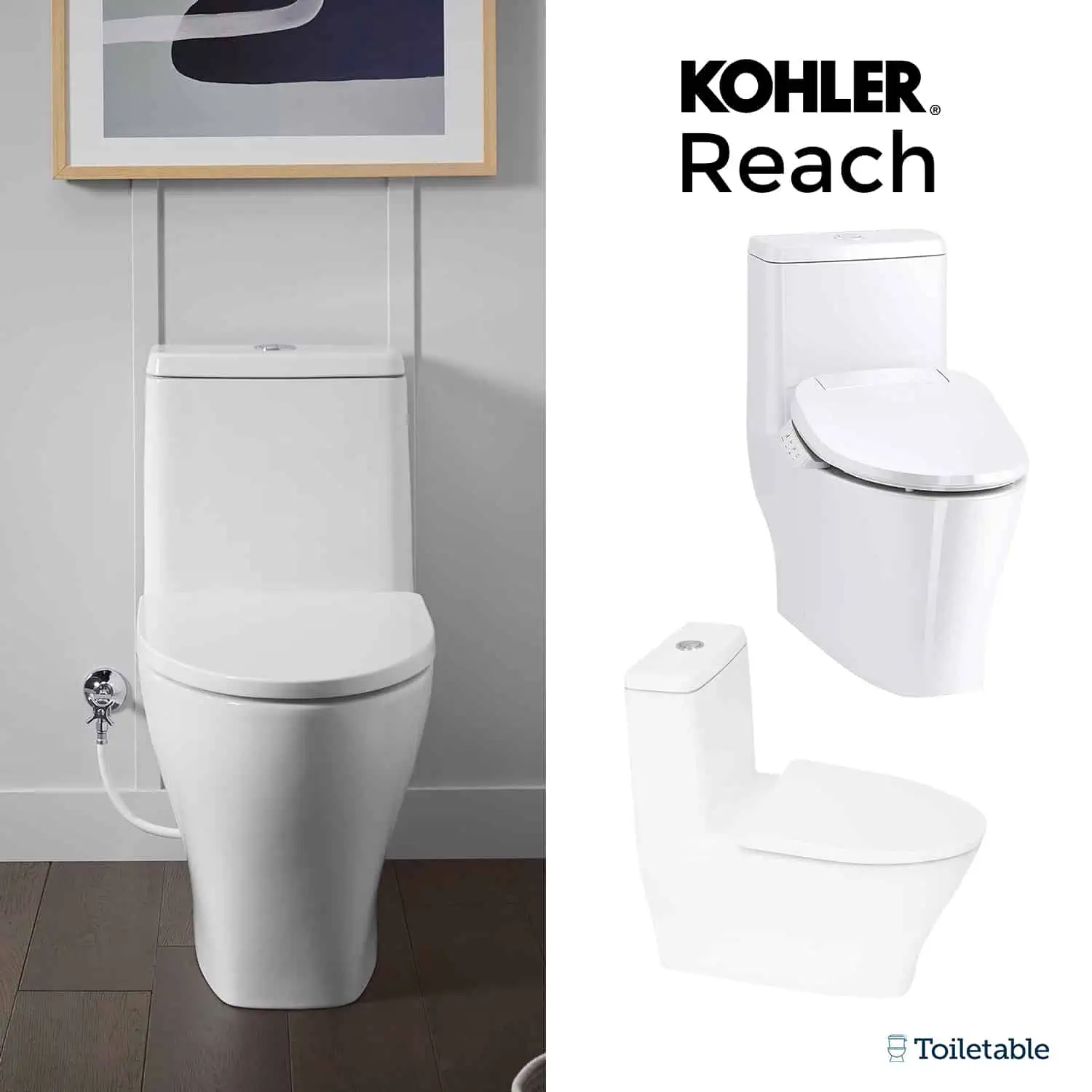 "We like the Kohler Reach because of its comfortable bowl shape and angular tank. There's nothing better than a toilet that's both user-friendly and easy to clean."
Key Features
Flush Score:
Water Consumption: 0.8/1.28
Bowl Shape:
Flush Type: Dual
Style: One-Piece
Certifications: WaterSense, CEC
Dimensions :

Toilet – 28.93″ x 14.43″ x 28.43″
– 12″
– 2.12″
– 15.5″
Dual flushing system (.8/1.28 gpf)
Comes with Quiet-Close seat
One-piece design is easy to clean
Not ADA compliant
No color variety
CHECK PRICE on LOWE'S
CHECK PRICE on AMAZON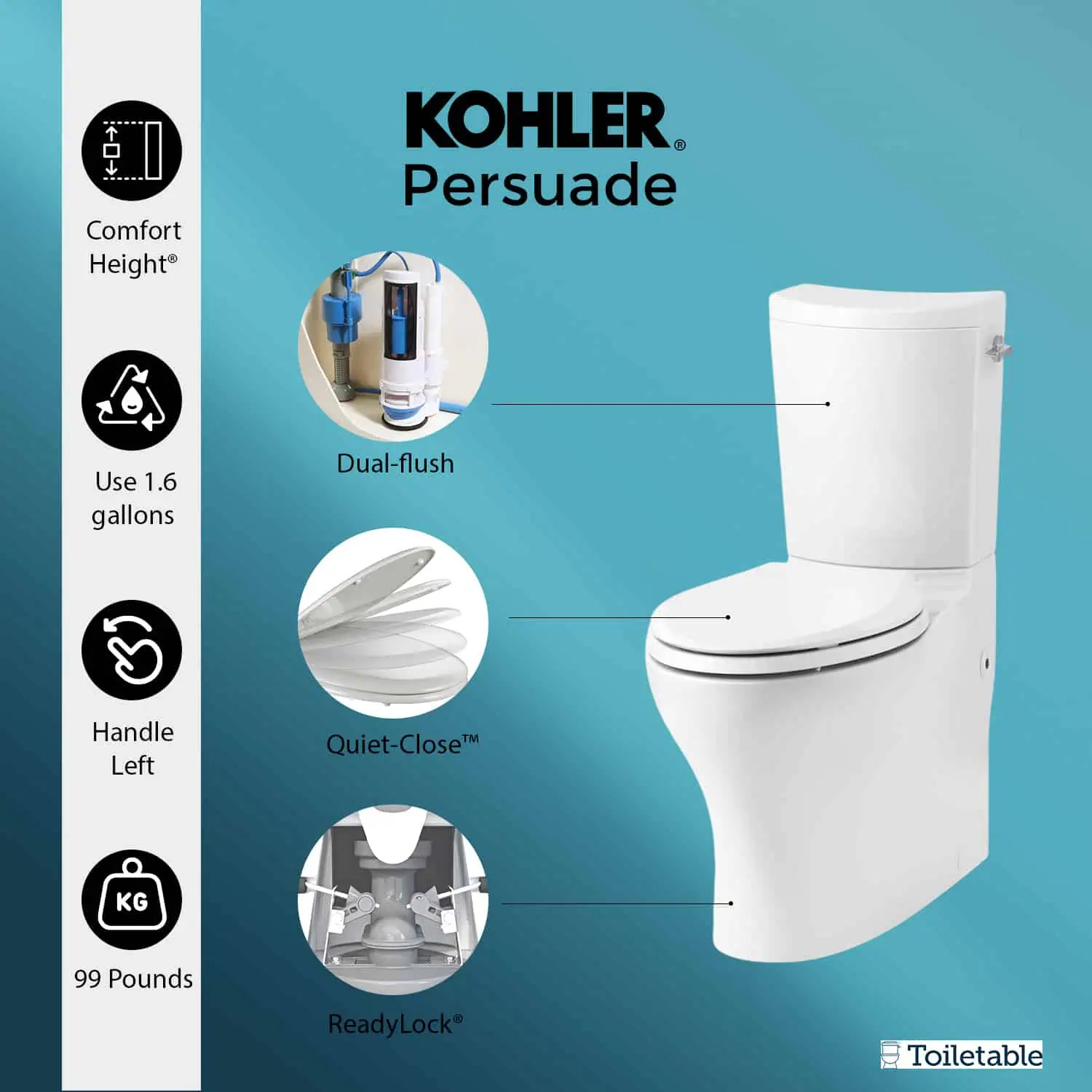 This one-piece toilet is a solid choice that over-delivers on the basics.
Flushing Power
You won't see a traditional lever on the Kohler Reach because the toilet has a shiny chrome-plated top-mount dual-flush actuator with two options – 0.8 or 1.28 gallons per flush. Dual-flush toilets are great because not all waste loads are created equal. Why waste more water than you need to on small loads? The Reach takes care of that problem by letting you be in control of your own water usage.
This toilet is WaterSense certified meaning it meets EPA flushing guidelines by using at least 20 percent less water than traditional 1.6-gallon units. The toilet also has a MaP score of 1,000 grams – the highest grade possible.
Smart Design
We've reviewed hundreds of toilets. At the end of the day, all we really want is a hassle-free experience. The Kohler Reach is a good example of how simple can sometimes mean better. The toilet's skirted trapway eliminates any annoying hiding spots for bacteria and grime.
The Reach's seamlessly connected tank and bowl further simplify the cleaning process. Just gently wipe down the model with mild soap and water and you're good to go. No more endless scrubbing!
The Reach is not ADA-compliant. This is important to note if you know your toilet will be used by those in need of extra assistance. The reach is 15.5" – a standard height that will be suitable for most adults and children. The higher the chair, the easier it is for adults to sit on and stand up from. If you're looking for an entirely accessible model, this model may not be for you.
The toilet does have a compact elongated bowl that offers an extra layer of comfort during sitting while occupying the same space as a round-front bowl. Elongated bowls tend to be more comfortable because they disperse user body weight.
The Reach comes with a Reach Quiet-Close elongated seat. The Quiet-Close seat reduces seat-slamming so you don't have to hear the annoying clanging noise each time you leave the bathroom. For toilets in this price range, toilet seats tend to be included. However, it's always nice to see a company go beyond the average seat by including one with extra perks.
The toilet only comes in white. A standard 12-inch rough-in is required for installation and a supply line is not included.
Other Reach Models
Summary of Customer Reviews
While there aren't that many reviews for this particular model, the reviews available show that users love how easy the model is to clean. Users also love the dual-flush options and noticed savings on their annual water bills. The most common complaint is the lack of ADA compliance. Some users find the 15.5" height too low for comfortable sitting.