Disclaimer:    We're supported by our readers. We earn a commission from product purchases using affiliate links on our site. Learn more about the affiliate program.
Macerating toilets allow you to install a toilet anywhere in your home, without expensive plumbing changes.  Installing these toilets opens up possibilities when wanting to add an additional bathroom to your home, giving the flexibility of the toilet's location.
Below we've explained how macerating toilets function and how they can match your needs. We've also included our top choices for you to choose!
Our Top Picks
Upflush Toilets Explained
Basically, macerating toilets offer all the same features as a standard toilet, including an effective strong water pressure flush. However, the only difference is where the waste goes after you flush.
With the traditional toilet, waste goes down the installed pipes within your bathroom. In comparison, a macerating system discharges waste into a special pump behind the unit.
Then, the pump moves waste up the PVC piping to the existing stack, which saves you from all the necessary piping that you would need with a standard toilet.
Luckily, these units have become very popular during the past decade because they allow people to install a toilet anywhere they want without the expense of building a new bathroom.
Comparison of Top Rated Macerating Toilets on the Market 
Flush System
Macerator Pump and Smart Flush Control
Very quiet, fast flushing cycle; low water use
The Macerator Process
If you walk into a bathroom with a macerating toilet, you most likely won't even notice a difference. Visually, macerating toilets only differ from the back, where you may notice either the pump housing or an extension pipe. The main differences are internally in how the toilet actually disposes waste.
When you flush, waste first goes into a macerator which grinds it using special blades. This step in the process is why these units were first called "grinder toilets."
Then, the pump moves the waste up the PVC piping for full disposal, leaving the tank completely empty for the next use.
Review of the Best 6 Upflush Toilets with Macerators (Ranked)
Our team of experts reviewed and listed facts for the top toilets that utilize a macerating feature.
1.

Liberty Pumps ASCENT II

– Editor's Choice
"The Liberty Pumps ASCENT II is an all-around winner, from its reliable macerator system to elongated seat option. With its simple installation process, the ASCENT II let's you have a working half-bathroom in no time!"
Key Features
Flush Score:
Water Consumption:  1.28
Bowl Shape:
Flushing System: Macerating Toilet System
Installation Method: Floor Mounted
Wattage: 920 Watts
Dimensions:

Toilet – 29.62″ x 18.25″ x 32.25″
CHECK PRICE on HOME DEPOT                      CHECK PRICE on AMAZON
When we're looking for the optimal macerating toilet, we want a model that combines powerful flushing, easy installation, and common sense functionality all in one. With the Liberty Pumps ASCENT II, we get all of that and more. The Liberty Pumps' efficient macerating system and compact design provides fantastic, dependable performance every step of the way.
Flushing Power
The Liberty Pumps ASCENT II uses a sustainable and cost-effective 1.28 gallons per flush, utilizing advanced RazorCut technology to break down any potential clogs that might prevent smooth flushing; the toilet's stainless-steel blades cut through even the most difficult clogs.
The toilet is also EPA WaterSense certified, guaranteed to reduce your water bill as well.
Functionality
Another great feature of the ASCENT II are its display functions. The toilet vividly shows when the toilet is on, has low battery, or is in an alarmed condition through its clear LED display. The toilet also possesses a manual by-pass and alarm silencing functions through its touchpad buttons, so you don't have to panic during an emergency!
The ASCENT III is the new and improved version of the ASCENT I model, showcasing greater flushing efficiency and pumping waste up to 25' high and 150' horizontally.
The ASCENT II has an ADA compliant bowl height making it an accessible, comfortable fit for all users. The toilet also has round or elongated styles available so you can pick and choose what best works for you, just like in traditional toilet set-ups. The ASCENT II is only available in white and comes with a slow-close toilet seat, installed flush valve kit, tank, bowl, and macerator. A 9-volt battery also comes with the toilet, allowing you to install everything in one day without additional hurdles.
The modular toilet design is clean and compact, perfect for any temporary or tight bathroom environment. The model's CleanConnect seal system also takes away any unappealing behind-the-scenes mechanisms by covering the rubber couplers from view. The toilet's piping is also concealed by the rear existing discharge and vent connectors, reducing any disruption to your bathroom's aesthetic.
---
Information Outside the Manual
Toilet only comes with right-side lever
Ports on both sides of the macerator
Battery life of 3.5 hours in case of power outage
No other models available in the collection
Seat Options
Slow-close toilet seat included with complete system
Product Documentation
Pros and Cons
RazorCut technology reduces chances of clogs
CleanConnect system provides the toilet with a clean, compact look
Common sense LED display for all necessary functions
A bit on the pricer side when it comes to upflush toilets
---
Our Final Take
The ASCENT II's ratings are overwhelmingly positive with users praising the toilet's easy installation and reliable flushing mechanism. Even those who have never installed a toilet before found that the ASCENT II's installation guide and parts can be put together without professional help. The few negative reviews note that occasionally waste sticks inside the toilet and needs to be cleaned manually.
2.

Silent Venus Macerating Toilet

– Most Water Efficient
"An eco-friendly toilet doesn't have to break the bank or be hard to come by. The Silent Venus Macerating is one of our favorites for its compact design, flushing power, and low water usage."
Key Features
Water Consumption:  0.39
Bowl Shape:
Power: 0.8 HP
Vertical Discharge: 19ft
Horizontal Discharge: 196 ft
Dimensions: 22″ x 20″ x 17″
CHECK PRICE on WALMART                       CHECK PRICE on AMAZON
We're always on the lookout for a water efficient toilet, both to save money and have a more sustainable bathroom fixture. The Silent Venus is fantastic for this very reason. The toilet comes in both a one-piece and two-piece set-up, both of which deliver great flushing results without unnecessary water waste.
Flushing
The Silent Venus  only uses .32 gallons per flush, making it one of the most water-efficient toilets on the market. Compared to the other toilets on this list, such as the Saniflo 023 Sani compact which uses 1 to 1.28 gallons per flush, the Silent Venus is an all around all-star.
The Silent Venus comes in either a one-piece or two-piece model. The vertical and horizontal discharge are greater for the two-piece unit, with 19' and 196' respectively. The one-piece unit is louder than the two-piece, with a noise level of 45 to 60 dBs, because of its greater motor speed.
While we don't love the noise level on this unit, it's also a small price to pay for such unbeatable water efficiency. The flushing sound is also fairly short, making it nowhere close to being a dealbreaker.
Additional Features
The Silent Venus macerating toilet comes with pneumatic flush button or dual flush button features. A motion activated light is included as well. To make the toilet more inclined to your personal preferences, an additional toilet night light can be purchased as well.
The Silent Venus macerating toilet is floor mounted and requires 110 volts. It is only available in a round shape and in the color white.
---
Facts Outside the Manual
Supports 1,000 pounds of 450kg of weight
Requires a minimum water supply of 20 PSI
Compatible with the Silent Venus bidet toilet seat, bidet attachment, and toilet nightlight
No older models available
Pros and Cons
Its unique .32 gallon per flush that saves money and water
Easy beginner-friendly installation
Motion activated light included with purchase
---
Our Final Take
Customers love the Silent Venus because of its low cost and water saving flushing power. With its easy installation, customers boast about being able to install the model without any professional help. Negative reviews tend to focus on the toilet's noise level upon flush. Contrary to its name, the Silent Venus can be a bit rowdy when flushing is activated.
3.

Saniflo 023 Sanicompact

– Review Champion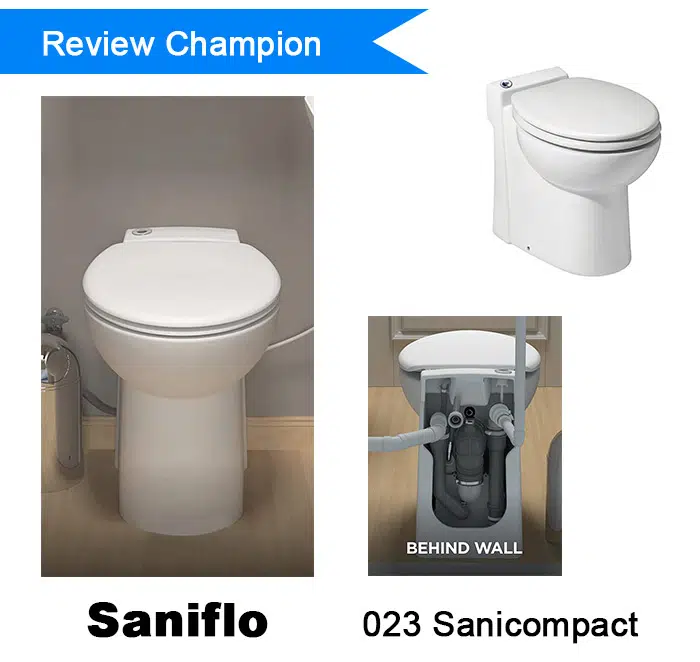 "Whether you're in the market for a standard macerating toilet or a comfort model, the Saniflo 023 Sanicompact toilet is a great choice for all. With its strong sink connection and powerful flush, the Saniflo 023 turns any difficult space into a fully functional bathroom."
Key Features
Water Consumption:  1.28
Bowl Shape:
Flushing System: Gravity Flush Toilets
Flush Type: Dual
Installation Method: Floor Mounted
Special Features: Easy to Install, Quiet, Adjustable
Dimensions: 18.5″ x 14.5″ x 21.5″
CHECK PRICE on LOWE'S                       CHECK PRICE on AMAZON
We know from experience that when space is limited, we want to maximize every appliance we can to make sure all our needs are met. Don't let the Saniflo 023 Sanicompact's size fool you. Within this 62 pound fixture, you'll be able to take care of business with ease and comfort, without sacrificing space.
Sink Connection
The Saniflo 023 Sanicompact discharges gray water (household wastewater) through a sink connection via a 1.25" hose that is connected in the back of the toilet. The toilet also has a non-return valve on the discharge elbow assembly that is included in the system, to avoid any leakage issues.
Flushability & Comfort Options
The toilet uses 1 to 1.28 gallons per flush, a standard amount of water across macerating toilets. The model's activated timer and solenoid valve allow each flush to be effective with the simple push of a button.
The Saniflo 023 Sanicompact has a pumping distance of 9' vertically and 120' horizontally. The discharge pipe is only 1" and the dual-flush tankless system saves you space without sacrificing suction power.
The Saniflo Sanicompact also comes in a comfort model that is about two inches longer in width. The Comfort model is wall hung and can be installed to a maximum height 19 ¾" . The Comfort model only weighs about eight more pounds and harbors all the same capabilities as the residential model, including flushing power, noise, sink connections, and macerator strength.
The Saniflo 023 Sanicompact is only available in white and is the new model of the Sanicompact 48, with the same specs. The toilet is made of plastic and includes a soft-close toilet seat.
---
Facts Outside the Manual
Toilet does not need to be vented to a vent stack
Cannot be connected to the shower
Does not fit standard toilet seat
2 year warranty
Seat Options
Soft-close toilet seat included
Product Documentation
Pros and Cons
Gray water discharges through sink connection
Comfort option available
Tankless system makes the toilet ideal for right spaces
Occasional difficulties with larger waste loads
---
Our Final Take
The Saniflo 023 Sanicompact has mostly positive reviews because of its quick and efficient flushing mechanism along with its sleek and compact design. The most common complaint about the system is the toilet's occasional difficulties with flushing large waste loads. Some users note they reserve the toilet only for liquid waste to avoid leakage and greater plumbing issues.
4.

Five Oceans TMC Marine Electric Toilet

– Budget Friendly
"Reasonably priced and reliable, the Five Oceans TMC Marine Electric Toilet is superb when you're in a pinch and need a bathroom set-up fast."
Key Features
Amperage: 18 Amps at 12 Volts DC
Fuse Size: 30 Amps at 12 Volts DC
Diameter: 0.75″ Inlet | 1.5″ Discharge
Features: Slow Closing Lid
Dimensions: 17.5″ x 14.18″ x 13.87″
CHECK PRICE on WALMART                      CHECK PRICE on AMAZON
Macerating toilets are meant to solve your bathroom needs in temporary or limited environments. When installing an upflush toilet, we want it done as soon and economically as possible. The Five Oceans TMC Marine Electric Toilet is a fantastic choice for a budget-friendly toilet that takes care of all your bathroom needs.
Smart Flush Control Panel
One of the best features of the Five Oceans TMC Marine Electric Toilet is its convenient smart flush control panel. The panel switch has a protector to avoid any leakage or flooding. The TMC Marine Electric Toilet also has an easy push button that helps you get rid of all your waste with just one click. The toilet also has a self-priming flush that rinses the bowl after usage.
Other models, such as the TMC Marine FO720 and TMC Marine FO1560 do not have the smart flush control system in place.
The TMC Marine Electric toilet has a dual-function pump that takes away the need for hand pumps or dry-bowl valves. The toilet comes with a small bowl and a slow-close lid. It's important to note that the TMC Marine Electric Toilet is made with limited spaces in mind, such as boats and RVS. The seat is smaller and lower than other upflush toilets, such as the Saniflo 023 Sanicompact, standing at 13 29/32".
The TMC Marine Electric Toilet is made of vitreous china bowl and is only available in white. The toilet is designed to be used with fresh and sweater.
---
Facts Outside the Manual
Pre-wired
Can be rotated 90 degrees
Does not require vented loop
No extra pump required to discard of waste in lake
Cannot be supplied with pressurized water
Seat Options
Product Documentation
Pros and Cons
Smart flush control system prevents leaks or clogs
Unbeatable budget-friendly price
Bowl height is lower than most standard height toilets
---
Our Final Take
The TMC Marine Electric toilet has an overwhelming amount of positive reviews with users praising the toilet's smart flush control system, compact structure, and easy to clean china bowl. Users frequently express positive experiences with the toilet on boat settings. The main complaint about the toilet is about the toilet's low height, compared to other standard toilets.
5.

Thetford Marine Nano ECO Macerating Toilet

– Runner Up
"Tiny but mighty, the Thetford Marine Nano ECO packs a true punch with every flush. We love the toilet's simple installation and tiny size that can fit anywhere you need."
Key Features
Port Sizes: 0.75″ water intake, 1.5″ waste discharge
Features: Very quiet, fast flushing cycle; low water use
Dimensions: 17.5″ x 14.6″ x 11.6″
CHECK PRICE on WALMART                             CHECK PRICE on AMAZON
Confined spaces require innovative solutions. We like the Thetford Marine Nano ECO's low height and small size as it converts even the most complicated environments into easy bathroom set ups.
The Thetford Marine Nano ECO stands at 11.6" but can be installed on a raised platform if required. Despite its small stature, the toilet has a strong maceration system that takes care of all waste loads. The Nano ECO's flush system is quiet and fast, utilizing .1 to .7 gallons per flush, without splashing. The toilet's high pressure jet nozzle cleans the bowl without wasting water.
The toilet comes with a standard rocker switch, bowl, plastic seat, and lid. Unfortunately, the Thetford Marine Nano ECO does not have a soft closing seat like its Compass counterpart. The Easy Fit model does not come with this seat either.
The Marine Nano ECO is made of vitreous china bowl and runs on a 12V DC. It is only available in white.
To install the toilet, you will need to purchase an installation kit. The Freshwater ECO installation kit uses onboard freshwater, along with the boat's freshwater pump to flush whereas the Raw Water ECO kit needs externally drawn water and a dedicated pump which comes with the purchase.
---
Facts Outside the Manual
Installation kit not included
Internal pump located in back of toilet
Two year warranty
Seat Option
Product Documentation
Pros and Cons
Small, compact design that fits even in the tightest of spaces
Compatible with freshwater and raw water
Eco-friendly flushing mechanism
An installation kit included
A soft closing seat included
---
Our Final Take
Reviews available for the Thetford Marine Nano ECO are positive with users praising the toilet's compact size and quiet flushing. The toilet's height is a personal preference, with some stating it's perfect for their bathroom setting and others wishing it was a bit taller.
6. Jabsco 37010 Electric Marine Toilet – Most Compact
"What's fantastic about the Jabsco 37010 is that you can pick and choose the seat style that best works for you. The Jabsco 37010 shows that even upflush toilets can be accessible."
Key Features
Water Consumption: 0.5 GPF
Inlet: 0.75 inches
Outlet: 1 inch
Volts: 12
Fuse Size: 25 amp
Maximum Current: 16 amp
Dimensions: 17.75″ x 13.87″ x 14″
CHECK PRICE on WALMART                        CHECK PRICE on AMAZON
Finding a macerating toilet that you can customize to your liking is hard to come by.
The Jabsco 37010 Electric Marine Toilet is a great choice because it  comes in three different sizes: a compact size, regular bowl, or regular bowl with a soft close lid. The compact bowl is perfect for cramped spaces, such as a boat, whereas the regular size is great for residential environments.
The compact model has a length of 19 3/4″ and height of 13 3/16" compared to the household model which has a length of 21 3/4″ and height of 14 5/8″.  Based on the amount of power you're looking for, the toilet also comes with 12 or 24 volts.
This toilet's flexible design makes it compatible with an overboard or holding tank discharge. The Jabsco 37010 also has a built-in preventer guard that reduces risk of flooding or waste return. The toilet uses corrosion resistant materials and is compatible with sea, river, or lake water.
The Jabsco models, Jabsco 37045 and 3745, have a single button flush actuator with a dual function water level control switch, compared to the Jabsco 37010's flexible impeller flush pump. All three models get rid of waste effectively though the former two models have quieter flushing noise levels and are more expensive.
The Jabsco 37020 Electric Marine Toilet is ceramic built and only available in white. It comes with the bowl, seat, lid, and control switch.
---
Facts Outside the Manual 
Can be mounted 3 feet above waterline with the right plumbing
Not designed for motorhome fresh water system
No elongated seat option available
Not suitable for pressurized water systems
Hose not included
Pros and Cons
Choice of toilet size and seat type
Compatible with sea, river, and lake water
Backflow preventer allows you to flush with ease
Seat Options
37010-4192 Regular Bowl 12V, Soft Close Seat/Lid
37010-4194 Regular Bowl 24V, Soft Close Seat/Lid
---
Our Final Take
The Jabsco 37020 Electric Marine Toilet is a crowd favorite with reviews boasting about the toilet's easy installation and comfortable, adaptable size that saves room in a boat cabin. Users also love that the toilet is self-priming and has a strong suction system. The few negative reviews state that after a few years of usage, minor leakage occurred, but was quickly resolved.
Buyers Guide – 4 Main Benefits
Below are six of the top benefits to selecting a macerating toilet:
1. Macerating Process
Once the wastewater flows inside the chamber, the grinding and cutting starts. It usually lasts from 15 seconds to about a minute. After this process is done, the solid waste is just a slurry liquefied mix. At this point, the drain pump starts pumping the waste automatically. It is quite powerful and it pushes the waste upwards to the drain line.
2. Full Bathroom Extensions
Another good thing about the upflush system is that it also allows you to add a sink and shower if you want. Once you have installed the toilet, you can add various fixtures to create a full bathroom at a relatively low cost.
3. Flexibility of Location
Because macerating toilets don't require pre-installed plumbing, these units allow you to install a bathroom literally anywhere in the house.
If you have some empty space in the house, such as the basement, you can simply turn it into a bathroom at a relatively low price.
Then, not only will you have the benefit of access to another bathroom, but you can also directly increase the value of the house for future return on your investment. Be sure to check out installing a toilet in a basement article for more information.
4. System Design
First things first, upflush toilets look almost exactly like standard gravity toilets. They have a tank portion on the back and a bowl sitting on a pedestal.  Instead of sitting on a sewage drain, they have a wide pipe coming straight out of them. The pipe itself is usually quite short and goes immediately into the chamber.
The maceration chamber and the pipe are the only visible differences. Unlike gravity toilets, these need electricity to flush. Most of the time, the wire is barely visible and is located behind the toilet.
Macerating Installation Methods
As these toilets are not installed over the drain line, you don't have to break up the floor. They still need to be bolted down just like the conventional ones. Now, there are two possible methods:
The standard method is installing the maceration chamber behind the bowl. In this method, all you need to do is connect the drain on the back to the macerating unit. The downside to this method is that the maceration chamber will detract from the looks of your bathroom.
This method is much more desirable if you want your toilet to blend in with your bathroom decor. In order to install your toilet using this method, you will need to extend the pipe going from the macerating unit into the back of the toilet. You must do this before enclosing the wall. Still, you need to make sure you can always access the maceration unit. In order to be able to access the maceration chamber leave an access panel.
Some Downsides
Although macerating units have many benefits, we do want to mention two disadvantages to keep in mind. To start, upflush toilets can be a bit noisy, mainly due to the pump and grinding process.
You may want to install your toilet away from noise-sensitive parts of your home if possible. The second downside is that macerating toilets can be more expensive, particularly if you buy from popular brands like SaniFlo. However, even with a higher upfront cost, upflush toilets will save you lots of money in the long term.
Frequently Asked Questions
Do Macerating Toilets Smell?
Although the waste is first collected in the tank behind the unit, these toilets usually don't smell any. more than a standard toilet. However, if you do notice a lingering smell, it is probably due to limescale buildup, which you should be able to resolve with a regular cleaning routine.
Can I Pour Bleach Down the Macerating Toilet?
Pouring bleach down the upflush toilet won't damage it right away. However, if you do it frequently, it might damage the rubber parts and cause leakage. Instead, clean the toilet with a toilet cleaner and descaler.
Simply pour 1.5-2 liters down the bowl and turn on the pump for a few seconds. Then, turn it off and wait around two hours before use, making sure not to flush during that time. By using a more gentle cleanser, you'll still have a clean toilet without concern for long-term damage.
How Far Can a Macerating Toilet Pump?
Since the pump works for ~15 seconds, it can move waste 5 meters vertically or even 100 meters horizontally. However, the distance will be shorter if it has to go both vertically and horizontally. You'll want to keep your distance in mind when you choose where to install your toilet.
Final Thoughts
Macerating toilets are ideal when standard toilets are not an option. Many have a similar design to the standard ones, aside from the macerating chamber behind them.
The Liberty Pumps unit the most powerful and water-efficient macerating toilet on this list. It is also stylish and will blend in any bathroom decor.
Furthermore, the pump of this unit is also very powerful. If you are looking for something comfortable, definitely take a look at the Liberty Pumps ASCENTII-ESW.