Disclaimer: We're supported by our readers. We earn a commission from product purchases using affiliate links on our site. Learn more about the program
TOTO is a Japanese brand well-known for durable, powerful, and high-quality toilets. One of the best models TOTO has to offer is the Promenade II. It is an extremely efficient, powerful, and durable toilet.
Aside from great performance, this toilet is also comfortable and stylish and its design will fit with nearly any bathroom decor.
The Review of the TOTO Promenade II Toilet (Updated)
Our experts gathered facts in this review of the Promenade II toilet.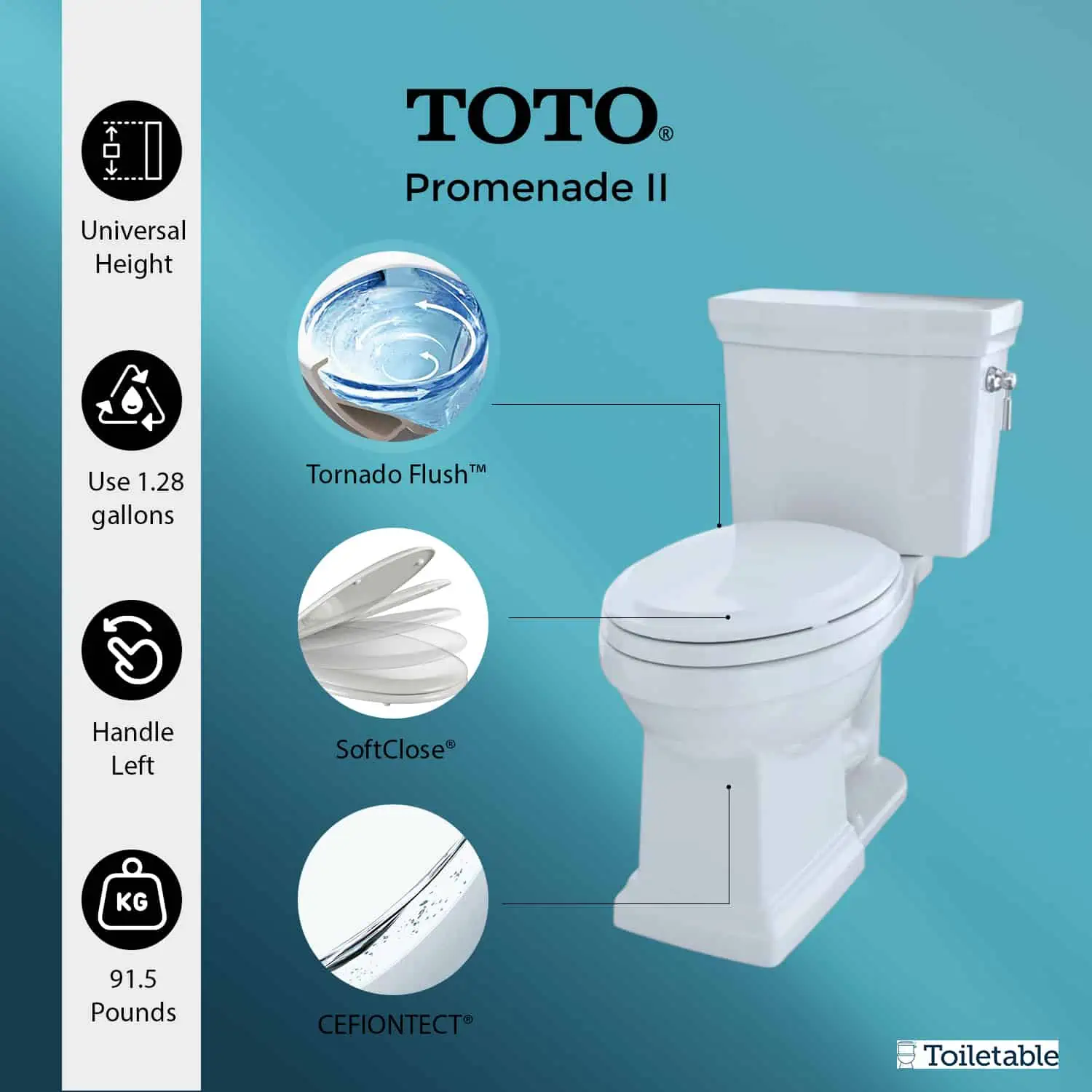 Key Features
Flush Score:
Water Consumption: 1.28
Bowl Shape:
Flushing System:
Flush Type: Single
Style: Two-Piece
Certification: ADA, WaterSense, CALGreen
Dimensions (sourced from manual): Toilet (28.5″ x 17.75″ x 31.25″), Rough-inWhat is a Rough-in?Measurement between center of waste pipe and wall (12″), TrapwayWhat is a Trapway?S-shaped curved channel inside the base of the toilet. Waste travels from the bowl through the trapway, then out the bottom of the toilet. (2.12″), Seat HeightWhat is the Seat Height?The measurement from the floor to the top of the toilet seat. Standard height toilets measure between 15 - 17 inches, while chair height toilets measure 17 inches or more. (17.25″)
Let's review the four top features of the Promenade II.
Comfortable And Beautiful Design
Firstly, the universal-height seat of this toilet is very comfortable and ADA-compliant, making it ideal for the elderly and those with limited mobility.
The elongated bowl adds extra comfort for users.
The TOTO Promenade II is made of durable, long-lasting vitreous china, making it a great investment for years to come.
The two-piece version comes in five colors: cotton, colonial white, sedona beige, ebony and bone, and unlike many competitor models, the TOTO Promenade II comes with soft-close seat technology which prevents the seat from slamming.
Powerful Flushing System
The TOTO Promenade II is among the most powerful toilets in its class.
Its Tornado Flush technology uses three jets that create a whirlpool effect.
Further, the centrifugal force created with each flush removes all waste in just one flush, leaving you with a perfectly clean bowl.
Water Conservation
Low water consumption of only 1.28 GPF makes this toilet environmentally friendly, eligible for EPA WaterSense certification.
Furthermore, the Promenade II has the CALGreen certification for water efficiency and is CEC-compliant.
Especially if you currently have an older toilet, upgrading to Promenade II would be a great choice to save on both your water consumption and water bills.
Simple Maintenance
Finally, due to the CEFIONTECT glaze, maintaining the Promenade II is a piece of cake.
This special glaze prevents dirt and bacteria from attaching to the toilet surface, minimizing how often you'll need to deep clean the toilet. Plus, the toilet always stays odor-free.
To realize minimize cleaning needs, we recommend selecting a one-piece option from those available.
One-piece toilets have no seam where bacteria can get trapped. Instead, they offer a seamless finish that's easy to clean.
Different Promenade Models
The Promenade II series includes both two-piece and one-piece models. The CST404CEFG#12 model offers a two-piece construction and weighs 91.5 pounds.
Aside from the seam, the two-piece and one-piece models look very similar. However, the MS814224CUFG#01 model is special as it consumes only 1 gallon-per-flush.
Another differentiator to note is that one-piece models weigh more than two-piece.
The Promenade II one-piece model weighs 103 pounds. Finally, the two-piece model, unfortunately, doesn't come with a seat.
Pro and Cons
Positive Comments (sourced from reviews)
Magnificent design
Easy to maintain
EPA WaterSense certified
Easy to install
ADA certification
Negative Comments (sourced from reviews)
Summary of Recent Reviews
Customers are raving about this one!  The Cefiontect glaze and powerful flush leave you with a clean toilet after each use.  Buyers state that this toilet resolved clogging issues experienced with their previous toilets, luckily due to the efficient flush.
Along with a strong performance, users liked the looks of this model and the easy installation.
A Few Words In The End
Overall, the TOTO Promenade II offers great performance, comfort, and efficiency. This series of toilets offer both one-piece and two-piece models. Furthermore, the MS814224CUFG#01 model consumes only 1 gallon-per-flush for even greater water efficiency. This toilet is quite simple to keep clean due to the CEFIONTECT smooth glaze. When it comes to certifications, the Promenade II is EPA WaterSense and CALGreen certified and is both ADA and CEC-compliant.
Ultimately, if you're looking for a water-efficient, comfortable, and effective toilet, the Promenade II could be a great option for you.