Disclaimer: We're supported by our readers. We earn a commission from product purchases using affiliate links on our site. Learn more about the affiliate program.
Toilets are one of the unsung heroes of every household. Whether your toilet is in a powder room close to your home office or in a hallway bath near your baby's nursery, the disturbing sound of a toilet flushing is never music to anyone's ears.
There are several reasons why some toilets tend to be louder than others. Sometimes it's just a simple problem with a potentially simple solution. Still, other times, there's just no easy fix.
Our Top Picks
Comparison of the Top-Rated Quiet Flush Toilets in 2023
Common Toilet Noises
We've all heard noises coming from the toilet at one time or another. Whether they occur immediately after flushing or out of the blue, these sounds can be disturbing. 
But the good news is that most toilet noises are brief, temporary, and nothing to worry about.
So before calling a costly plumber, or worse, taking matters into your own hands, being able to identify the sound is helpful.
Banging Noise
One of the more annoying, and potentially serious noises coming from a toilet is the sound of banging. Sometimes the banging sounds we hear are simply loose bolts or screws. Other times, however, a loud  "water hammer" noise might actually be the water inside your pipes hitting the valve.
This is normally due to high pressure inside of the pipes. While this might seem like a small problem, it could actually be indicative of a larger issue. 
Tips
1 – Start by examining and tightening all bolts on the unit. Check the screws holding your seat and lid in place as well 
2 – If the problem persists, there might be a more serious problem, and calling a professional plumber would be a wise move. 
Loud Echoes
The sound of water hitting pipes or porcelain can create a loud echo in your toilet when flushing. Obstructions that cause an increase in water pressure are another cause for an amplified echo.
When a pipe or valve is restricted by a clog or obstruction, the water will trickle slowly, rather than flowing smoothly. 
Tips
1- Eliminate obstructions by plunging the toilet
2 – Snake the trapway
3 – Clean or replace  valves 
4 -Place a brick inside of a large tank to displace some of the volume.
Gurgling Sound
One cause of these noises can be water filling up a large toilet tank.  As the water fills the formerly empty space, it gurgles loudly, with the remaining air in the cistern amplifying the sound. 
Because of the variety of causes, gurgling or bubbling sounds can be difficult to diagnose. One of the most common issues that can cause this noise is a blockage in the sewer drain, the toilet itself, or in a vent stack.  
Tips
1 –  If the toilet is clogged, plunging the toilet might do the job.
2 – Install a quiet fill valve.  These flush valves fill the toilet tank below the waterline, minimizing any gurgling.  
3-  If nothing works, it's probably a more serious problem, requiring professional help. Until the problem is resolved, it's best to refrain from using the toilet.
Loud Flush or Tank Refill
Restricted, tight, or stiff valves can impact water pressure, causing a loud flush or tank refill sound.  Water may also make noise when it is forced to trickle into the tank too slowly because of a restricted or closed water supply valve.
Tips
1- Replace the valve 
2- Alter the water pressure by partially lowering the water supply.   
The 7 Best Quiet Flush Toilets Reviewed in 2023 (Ranked)
Our team of experts took a close look and reviewed the top quiet flush toilets on the market. 
CHECK PRICE on FAUCET                    CHECK PRICE on AMAZON
Cleanliness
Many higher-end toilets today feature special coatings that prevent waste from adhering.
Usually, the inside of the bowl is coated to prevent skid marks. Often, the exterior also receives the same treatment, making it very easy and quick to clean.
Unfortunately, there are no such coatings on the Wellworth. It's still finished in a high gloss, so waste won't stick too easily. However, it does seem that you'll need to clean this toilet more often than others that we've used.
We noticed that at first, the water level in the bowl was too low, which was causing this problem to appear worse than it really is.
There's an adjustment in the tank so you can change the standing water level in the bowl. Once we made the proper adjustments, the problem was minimized, though still existed.
Even with the water level set correctly, the lack of a special coating on the bowl meant that we had to clean the bowl regularly to prevent it from becoming a nasty mess.
Leak Issues We Noticed
Usually, when we experience leaks on a toilet, it's involving the internals, a supply line, or a fitting. But with the Wellworth, we had an entirely different experience.
When the toilet arrived, we noticed a tiny hairline crack in the tank. It only took a few months for this to start slowly leaking a small dribble of water.
Through our research, we also discovered that similar issues had occurred with other Wellworth toilets. Worse, some of them seem to arrive in good condition but then develop cracks that lead to leaks with regular use.
If the china on your toilet cracks and begins to leak, the entire toilet will need to be replaced.
---
---
Other Wellworth Models
Our Final Take
This is a great dual flush toilet if you're looking for one with a handle versus buttons that you commonly see.  Customers mention seeing fewer clogs and a powerful flush with this toilet.  One buyer sums it up nicely – "This toilet is amazing! Flushes very quickly with very little water. I have installed two of them. Good value."
If water efficiency and cost savings are your concern, the low-flow, long-lasting Niagara Stealth, voted best in class,  is the toilet for you. 
Most pressure-assisted toilets are not well-known for being quiet, but the Niagara Stealth, with  0.8 GPF water consumption,  is not only easy on the ears, it's the most efficient toilet in its class.
---
Color Options
Product Documentation
---
What Reviewer Say
Packing a powerful flush, using less water and energy, performance is optimal,  flushes are efficient, and cleaning is a breeze with this super-quiet toilet!  Customers like the higher seat,  ideal for older customers and those with physical limitations. 
CHECK PRICE on HOME DEPOT                    CHECK PRICE on AMAZON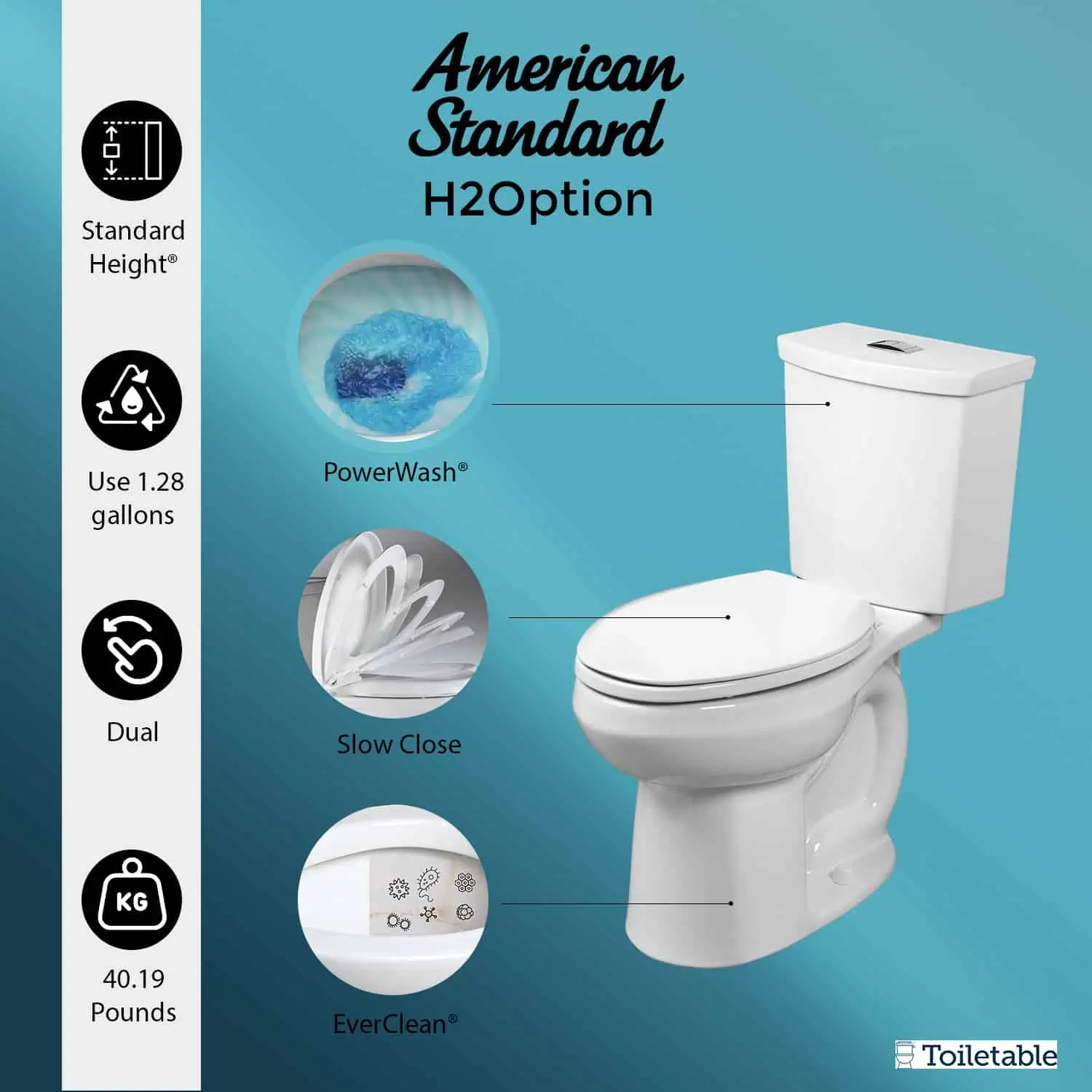 With a name that's synonymous with durability in toilets, the American Standard H2Option offers the best bang for its buck. And as dual flush systems grow in popularity, demand for the  budget-friendly, ever-sturdy, EPA WaterSense certified American Standard H2Option keeps growing stronger every year. 
Highly-efficient, allowing users to choose between a 0.92 GPF and 1.28 GPF flush, the American Standard H2Option's pressurized PowerWash rim keeps the bowl clean flush after flush. 
Weighing in at a sturdy 91 pounds of vitreous china, this American Standard toilet is made to last for years to come.
---
---
Other H2Option Models
Our Final Take
The best value for the price, customers love this American-made toilet for its easy installation and dual-flush capability, making it powerful but still very efficient.  Customers love the cost-savings of the American Standard H2Option and the confidence of owning the American Standard brand.
CHECK PRICE on FAUCET DEPOT                    CHECK PRICE on AMAZON
One of Kohler's most comfortable toilets, the oblong-shaped Santa Rosa toilet, with its  17-inch right-height seat is a customer favorite. Perfect for customers over 6 feet tall, the higher seat height,  long-lasting and durable construction, and EPA WaterSense certification, the Santa Rosa is not only quiet and comfortable, but cost-efficient.
---
---
Other Santa Rosa Models
Our Final Take
Customers love the modern design and comfort of the Santa Rosa. Easy-to-install, this elegantly-styled toilet is quiet and beautiful at an affordable price.
CHECK PRICE on WALMART                    CHECK PRICE on AMAZON
Extremely quiet and powerful, the luxurious, sleek, and modern T-0001 Woodbridge has a design that blends beautifully into any bathroom decor. Simple to maintain,  the comfortable height design is ideal for older users and customers with physical limitations.  
A skirted and fully glazed trapway allows waste to go down completely in only one flush.  Simple wipe-and-go cleaning makes it the easiest toilet to maintain on the market, perfect for the oldest and youngest users. A 12-inch rough-in makes for easy installation and its EPA WaterSense criteria saves water.
---
Color Option Button Color Options

Matte Black
Brushed Nickel
Brushed Gold
Oil Rubbed Bronze

---

Other Woodbridge T Models

  Our Final Take

Buyers love the sleek look and modern design of the Woodbridge T-0001-CH. The powerful flush makes this toilet easy to clean and the dual flush system saves water, making it a cost-friendly choice.s!

Key Features

  Flush Score:
Water Consumption: 1.28
 Bowl Shape:
 
Flushing System:
Flush Type: Single
Style: One-Piece
Certification: IAPMO(cUPC)
Dimensions:

Toilet – 28.37″ x 16.5″ x 28.75″
– 2.12″
(12″)
– 17.25″

Soft-close seat included with purchase
Extremely durable and long-lasting
Flush uses minimal water but it still effective
A powerful flush keeps the bowl clean, minimizing cleaning

Expensive option for a toilet
Installation was challenging for some, consider hiring a professional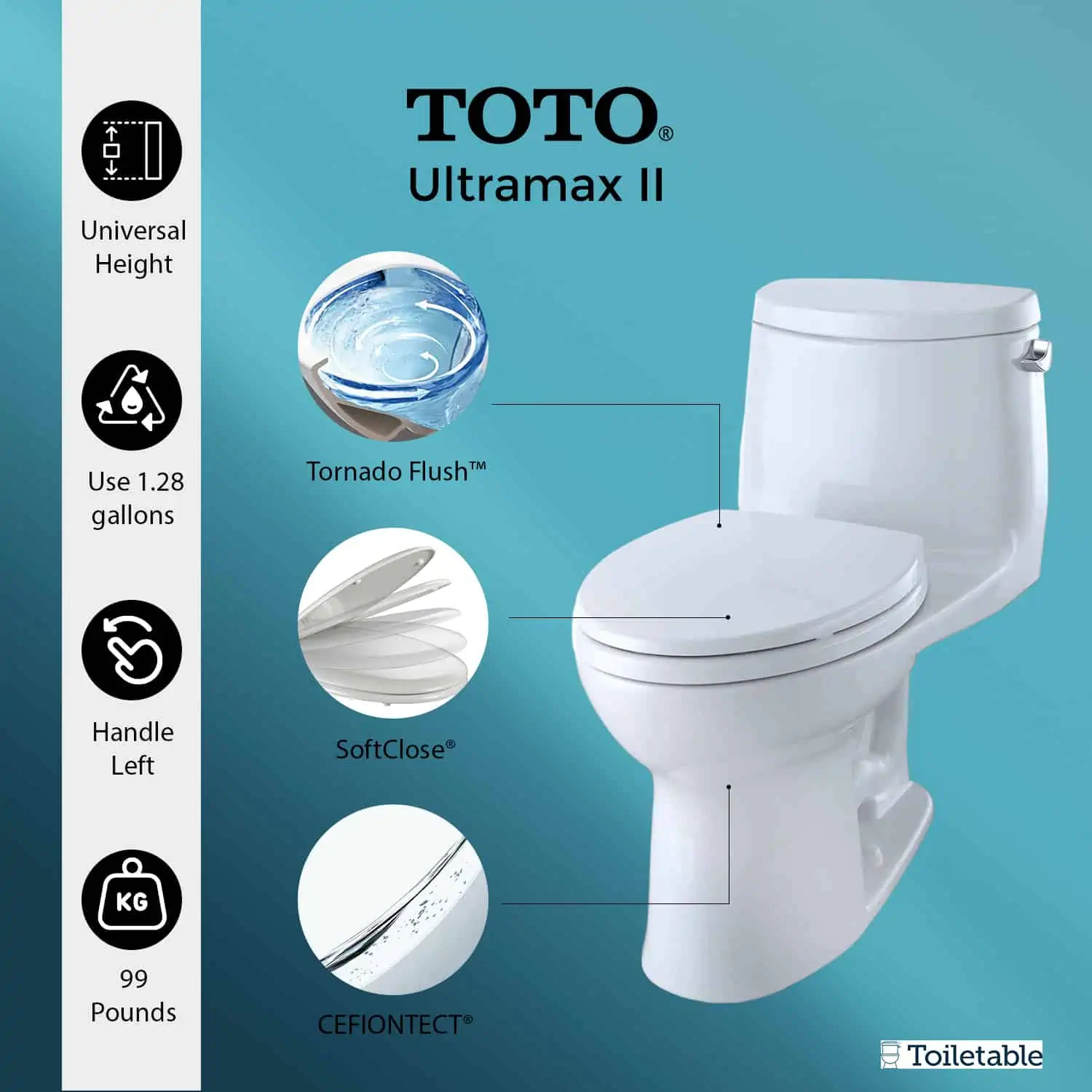 The TOTO UltraMax II offers a lot of useful features as well as great efficiency and performance. Its one-piece construction allows you to clean and maintain the bowl with ease.
Furthermore, it features the CEFIONTECT glaze, making the bowl lubricious enough that particles won't get attached to the bowl and develop bacteria. The TOTO UltraMax II is highly efficient, consuming only 1.28 GPF.
This system is a bit lighter than the previous one and weighs only 99 pounds.
Another cool thing about the UltraMax II is that it comes with a soft-close seat. The UltraMax II is made out of extremely durable and long-lasting china.
The elongated shape, as well as the universal height, offer great comfort.
Plus, the UltraMax II is EPA WaterSense certified, ADA-compliant, CEC, and CALGreen compliant.
Read our full review of the TOTO UltraMax II here.
---
---
Other UltraMax II Models
Our Final Take
Always a good sign when customers come back and purchase a second one, which is the case with this toilet.  While a couple of reviewers mention clogging issues, most are happy with the powerful flush of this toilet.  The one-piece design offers a sleek, modern look that customers love.
CHECK PRICE on WALMART                     CHECK PRICE on AMAZON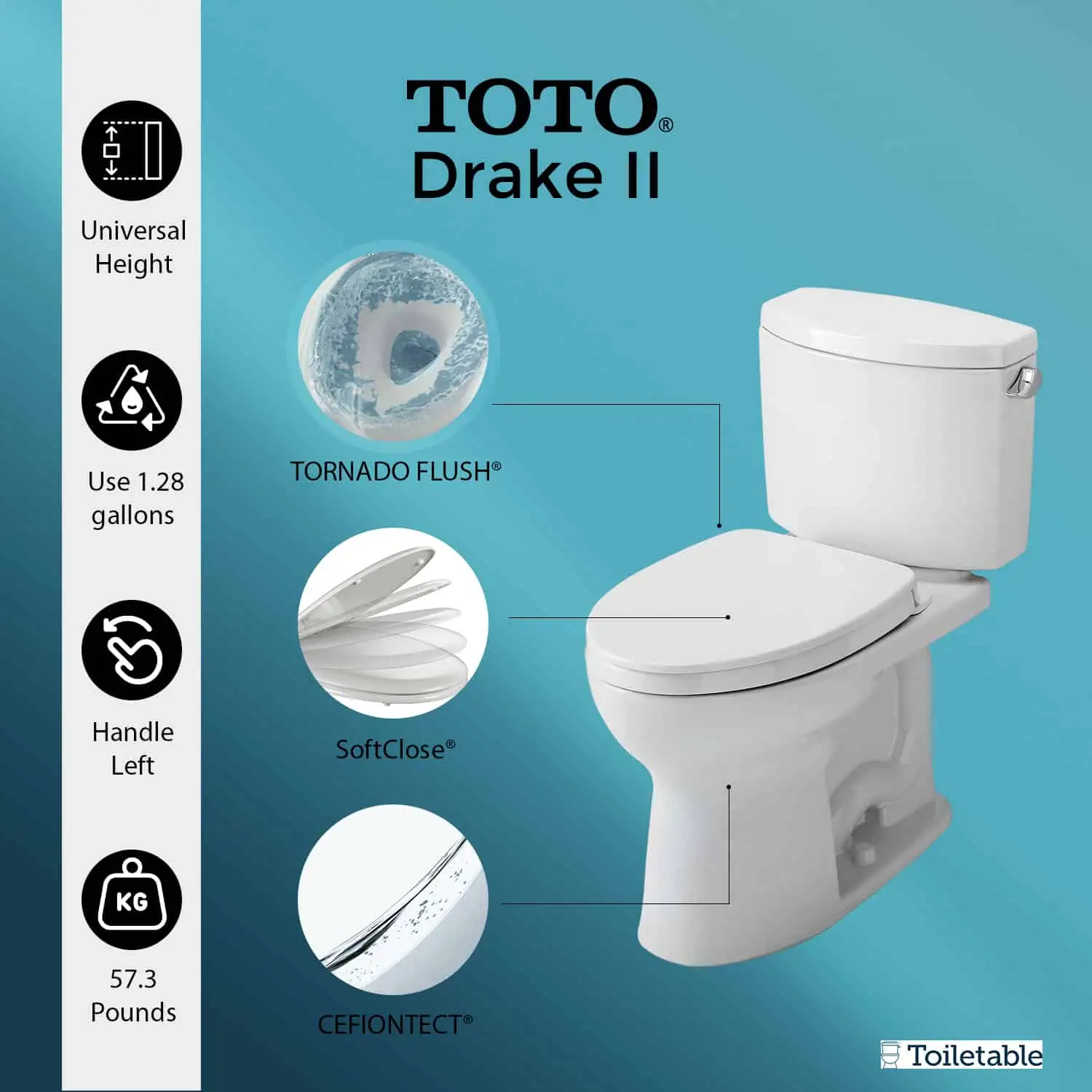 The TOTO Drake II is just about one of the most stylish TOTO toilets from this series. Although this toilet is known for being very quiet, it manages to provide powerful flushes.
The Drake II uses gravity flush technology and consumes only 1.28 GPF. The TOTO Drake II is also ADA-compliant, and the elongated shape of the toilet makes it very comfortable.
The trapway is wide, fully glazed, and computer design.
This toilet has a 12-inch rough-in, making it easy to set up and install.
Plus, it weighs only 94 pounds. The design of the Drake II is modern, minimalistic, and stylish. Just like the previous model, the Drake II is also available in four colors. Cotton white is the most popular option among buyers.
However, it is also available in sedona beige, colonial white, and bone. As this toilet is made out of vitreous china, it is very durable and long-lasting.
Read our in-depth review of TOTO Drake toilets.
---
---
Other Drake II Models
Our Final Take
One buyer was so please with this toilet that they penned a poem!  "With one gallon per flush, we're doing our part. Saving water for the drought." Customers like the water efficiency of this toilet and shared that it cuts down on their cleaning time.
Frequently Asked Questions
Final Verdict
Don't let a noisy toilet disrupt your sleep, threaten your privacy, or wake up your baby again! Noisy toilets are caused by common, fixable issues that you can easily identify and remedy. And if you don't deal with the hassle, or just want to start out with a low-noise toilet, there are plenty on the marketplace to choose from. Happy flushing!