Disclaimer: We're supported by our readers. We earn a commission from product purchases using affiliate links on our site. Learn more about the affiliate program.
Gerber is a popular toilet manufacturer known for affordable, high-quality toilets. If you're in the market for a toilet, it's likely that a Gerber model is on your list. We've tested and reviewed countless toilets and have identified our favorites produced by Gerber.
Check out our detailed reviews and buying guide below!
Our Top Picks
Why Choose a Gerber Toilet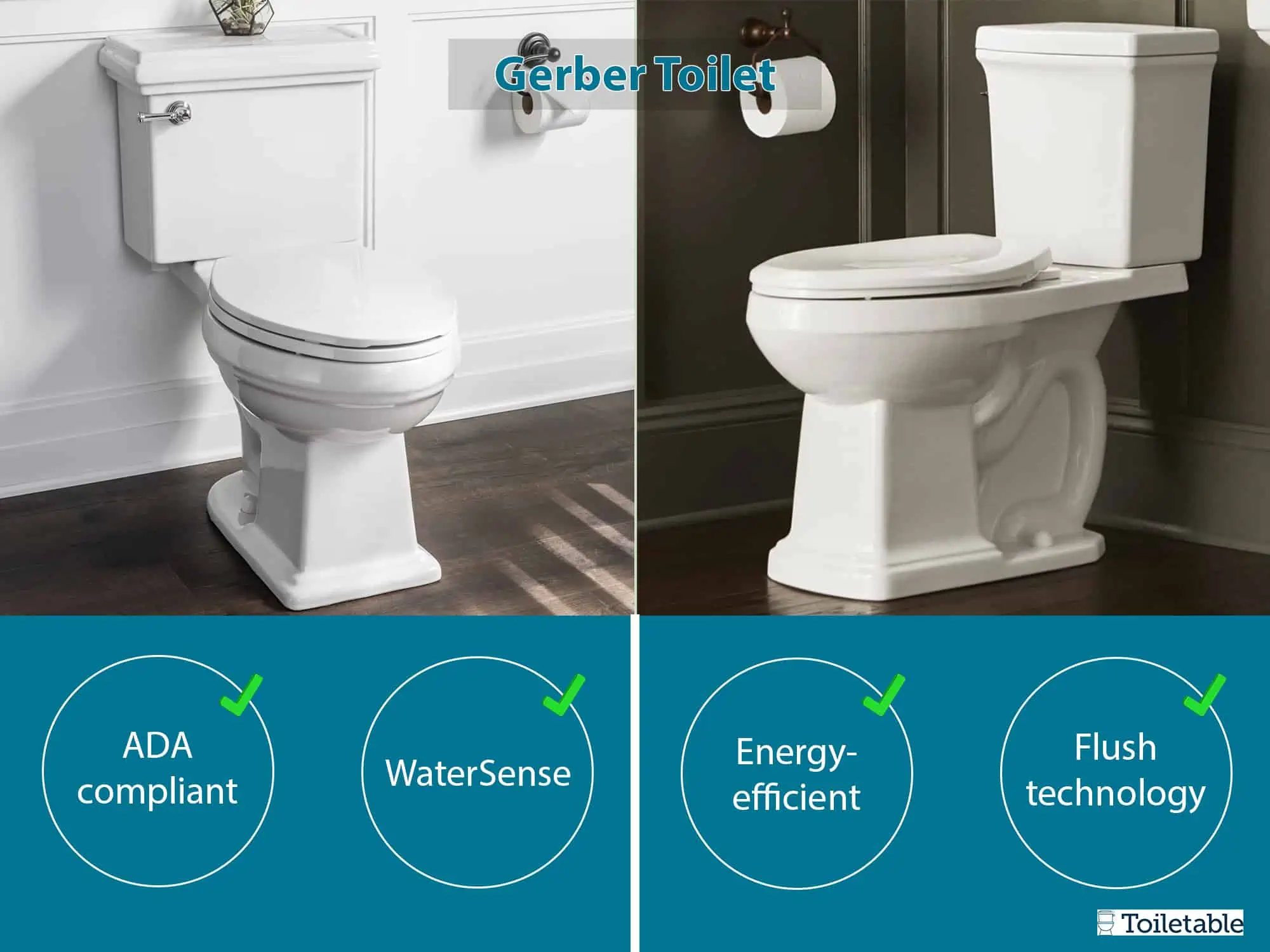 The biggest feature that sets Gerber toilets apart from other models is their flush technology. Most Gerber units have a dual-fed siphon jet that makes the flush fast and efficient.
They also have a 3-inch flush valve which provides an excellent and powerful water flow. These two features combined ensure a strong flush that helps the toilet more seamlessly remove all waste with each flush.
Plus, the flush valve is corrosion-resistant and very durable, reliable, and easy to replace.
Gerber is also an excellent choice if you have people with disabilities or accessibility concerns in your family. Most of their units are ADA-compliant, which requires a minimum seat height of 17 inches compared to standard units that offer a 15-inch height.
Furthermore, most Gerber units are energy-efficient and are WaterSense certified, with some toilets that even consume less than 1 gallon per flush.
Ultimately, you'll benefit from Gerber's strong flush technology without sacrificing an accessible or water-efficient toilet option.
Key Features
Beyond the benefits listed above, there are a few specific features that we love about Gerber toilets:
To start, most Gerber toilets have a FluidMaster flapper. This specific part of the valve stops water from running in the tank constantly, which helps prevent a weak flush. This flapper also helps the toilet remain quiet, which is a big plus.
Another great feature is that all of Gerber's toilets have an ErgoHeight bowl, which means that the bowl height is over 16.5 inches. As mentioned above, a taller toilet means it will be easier to access for everyone, and particularly those who may have trouble sitting and standing.
Finally, Gerber units have a glazed trapway, making the toilet's interior surface slippery. This feature allows the toilet to remain cleaner for longer and even prevents any residue from waste because it all easily slips away when flushed.
Review of the Best 5 Gerber Toilets on the Market (Updated)
1. Gerber Viper – Review Champion
"It's easy to fall in love with the Gerber Viper because of its comfortable design, flushing power, and easy installation. Once we saw the toilet's affordable price, this was a no-brainer top pick."
Throughout all our in-depth toilet reviews, we're always on the search for the best new find. The Gerber Viper is a versatile toilet that combines efficiency, affordability, smooth design, and accessibility all into one compact bathroom fixture. With its 16.5" ErgoHeight and elongated bowl, the Gerber Viper is a comfortable fit for all that doesn't break the bank and continues to impress. 
Flushing Power
The Gerber Viper has an efficient flushing mechanism, only using 1.28 gallons per flush, compared to the 1.6 gallons per flush of the Gerber Ultra Flush or the older Gerber Plumbing Viper GVP21552 model. The low gallon usage saves you money and water without sacrificing impact. What allows the toilet to have a reliable suction power is its extra-large dual fed siphon jets. The toilet's 3" flush valve quickly removes waste at the press of the color-matched metal lever. 
The Gerber Viper's large water surface area, combined with a glazed 2-inch trap  passageway, also helps eliminate waste without leaving streaks or stains. The toilet has a MaP score of 1,000 grams. 
Optional Additions
The Gerber Viper has fantastic optional features if you're looking for a more decked-out toilet. Unfortunately, the toilet does not come with a seat but you can purchase a slow close seat or a non-slow close one separately. However, great tank options are available to fit your bathroom needs and personal preferences. 
The toilet can be purchased with an insulated tank, tank with a right hand lever, insulated tank with lid locking device, or insulated tank with a right hand lever and lid locking device. We find the lid locking mechanism to be a great source of comfort as it provides an extra layer of protection against leakage. 
While the toilet's optional features may seem to be costly, the Gerber Viper's low cost provides you with more room in your budget to get exactly what you want. 
The Gerber Viper is made of vitreous china and is available in white, biscuit, and bone. 
The other Viper model, GHE2151909, has a smaller water surface area and relatively shorter height.
Information Outside the Manual
Flapper model
EPA compliant
No built in grinder
Biscuit and bone model cost more
Lid top is flat enough to hold small items
Our Take on the Reviews
The Gerber Viper has mostly positive reviews, with customers boasting about the toilet's reliable flushing, shiny glazed design, and price. The most common complaint about the toilet is the occasional leftover residue on the toilet's inside bowl. Nevertheless, this is a rare occurrence and most customers are satisfied with the toilet's efficient flush.
2. Gerber Maxwell – Most Compact
"With its hung design, ADA compliant features, and flushing power, the Gerber Maxwell is an all-around reliable toilet you can count on."
The Gerber Maxwell's unique wall hung back outlet design makes it one of our favorites because of its compact style and ADA features. This hanging toilet saves you space in the bathroom while remaining comfortable and easy to use. 
Design
If you're looking to conserve space, a wall-hung unit like the Gerber Maxwell is your best bet. The unit is ADA-certified, making it suitable for young children, the elderly, and people with disabilities. 
The toilet bowl reaches almost 16 inches which is elevated by the addition of a toilet seat that you can purchase separately. The elongated bowl disperses your body weight so you can sit comfortably without putting pressure on your knees. 
Flushing
The Gerber Maxwell is also WaterSense-certified, as the low-flow toilet uses 1.28 gallons per flush, which can reduce your monthly water bill by 20%. The toilet has the same extra-large dual fed siphon jets as other Gerber models, such as the Viper and Allerton, allowing for a quick, clean power bowl clearing after each flush. 
It's important to note that the Gerber Maxwell has a lower MaP Score than its stronger counterpart, the Gerber Viper, with a score of 600 grams. While the Viper is a relatively better competitor in this area, the Maxwell still delivers reliable flushing in an accessible setting. 
The Gerber Maxwell includes a 100% glazed, large trapway that eliminates the chance of clogging. Its 3" valve also provides a steady, powerful waterforce to ensure easy flushing. 
Optional Features
The Gerber Maxwell has accessories and other tank options that can be purchased separately, depending on your needs. The toilet can be bought with a slow close or non-slow close toilet seat and/or with a right hand lever tank.
The toilet comes in white, biscuit, and bone, with a matching lever.
Info Found Outside the Manual 
Pilot fill valve included
Biscuit and bone model cost more
Compact elongated bowl 
Lid top is flat enough to hold small items
Customer Review Buzz
Though little reviews are available, users tend to agree about the reliable performance and comfortable set-up of the Gerber Maxwell. Users also mention the toilet's easy installation process, which doesn't require professional help.
3. Gerber Allerton – Most Accessible
"An ADA toilet shouldn't sacrifice style for comfort. The Gerber Allerton is a perfect example that packs accessibility, powerful suction, and sleek design all in one."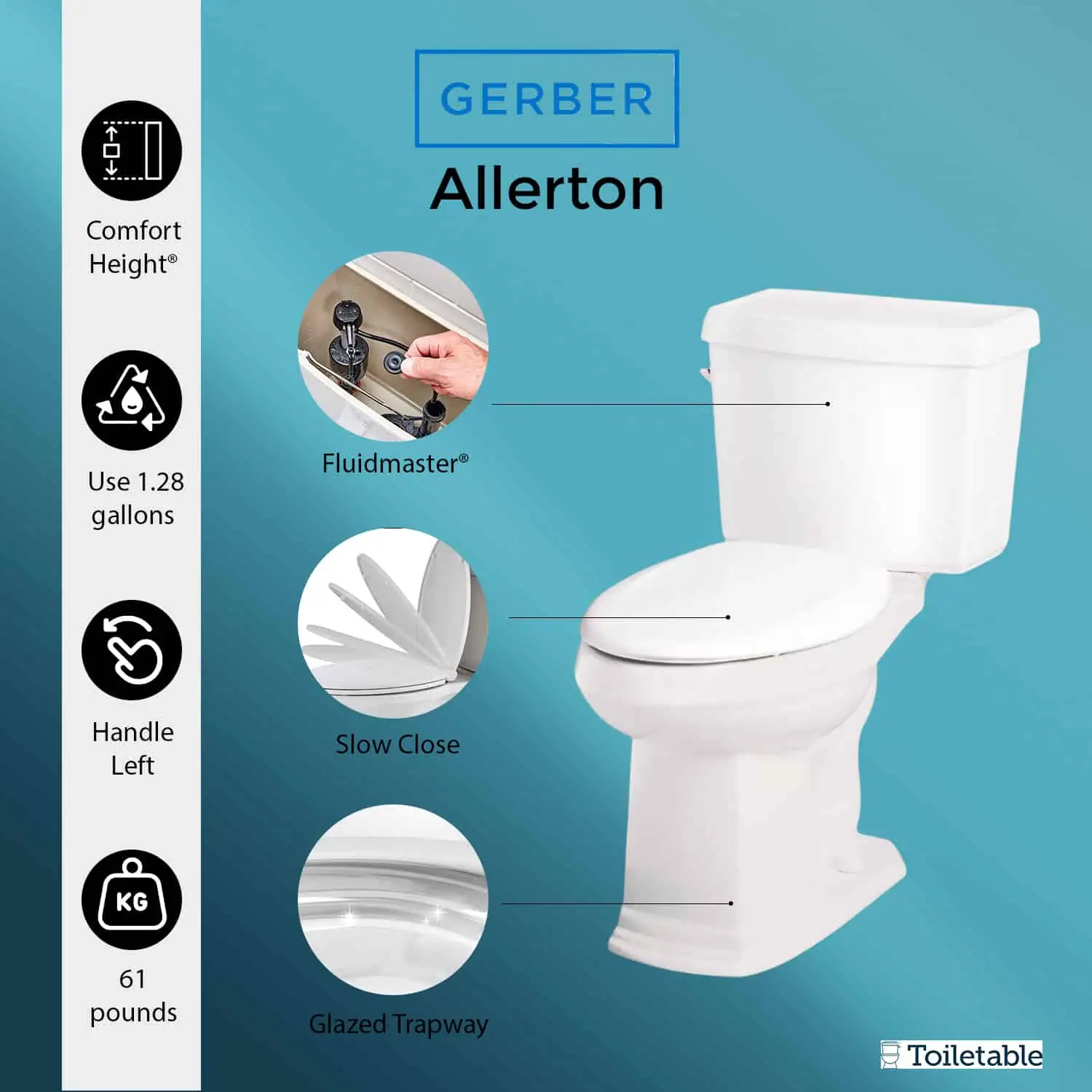 Our research shows Gerber toilets are known for their high quality and sturdy features. The Gerber Allerton kicks the standard up a notch with its tall ADA compliant height that allows all users to feel right at home. 
Height
We deem the Gerber Allerton as the most accessible Gerber toilet because of its fantastic 17" bowl height. While all ADA compliant toilets make standing and sitting easier, the Gerber Allerton's height remains on the taller side of the ADA spectrum.
The toilet's height is bound to increase with the purchase of a toilet seat, which must be bought separately. 
Flushing
Like most Gerber units, the Allerton features an elongated bowl and has WaterSense certification thanks to its 1.28 gallons per flush. The toilet has an impressive flushing performance with a MaP score of 1000, better than other models, like the Gerber Maxwell. 
The Gerber Allerton also has a Fluidmaster 400A fill valve which allows the toilet to have exceptionally fast refill rates. The valve's corrosion-resistant build provides the toilet with lifelong support. 
The Gerber Allerton is made of vitreous China and is available in white or biscuit color. It comes with a chrome metal tank level with a brass arm located on the toilet's right hand side. The toilet does not come with a seat, though a slow close or non-slow close Gerber toilet seat can be purchased separately. No other tank options are available. 
Facts Outside the Manual
Biscuit color costs extra
MaP score of 800 grams
No dual flush
Lid top is flat enough to hold small items
To read more about our comprehensive ranking of ADA toilets, click here.
Summary of Recent Reviews
In the few reviews that are available for the Gerber Allerton, users are happy with the toilet's consistent powerful clean flushing and dual fed siphon jets. Users are also happy with the toilet's large water surface that limits splashing.
4. Gerber Ultra Flush – Strongest Suction
"Just as the name suggests, the Gerber Ultra Flush has an unbeatable flushing power that removes any waste load without a trace."
The Gerber Ultra Flush is a solid two-piece elongated toilet that combines comfort and strength in one fixture. Just like the other Gerber models in this list, the Gerber Ultra Flush is easy to install thanks to its double nut, multipoint tank-to-bowl mounting system; you can install it yourself and have a fully functional and impressive toilet in no time. 
Flushing Power
The Gerber Ultra Flush uses at most 1.6 gallons per flush, which is more than toilets like the Maxwell and Allerton. However, the dual fed siphon jets quickly take away waste without a trace. Though the extra water may not seem ideal, keep in mind the Ultra Flush also has a MaP rating greater than 1,000 grams; this is thanks to the Sloan Flushmate pressure vessel located in the tank. 
The Sloan Flushmate pressure vessel is the Ultra Flush's secret weapon, releasing compressed air, along with water, down the bowl to collect any wasteload. Along with the 3" trapway, the Ultra Flush is able to remove waste efficiently, without splashing, while eliminating any potential stains or streaks. 
The Gerber Ultra Flush toilet includes a non-sweating insulated tank, tank cover, owl, and chrome metal tank lever. A toilet seat is not included. The Ultra Flush is made of vitreous china and comes in white.
Gathered Facts
Gerber 21-318 Ultra Flush 1.6GPF ADA has been discontinued
Standard bowl height
Six point tank to bowl mounting system
Lid top is flat enough to hold small items
Our Take on the Reviews
Customers love the toilet's incredible suction power and clean look. Though the Ultra Flush uses a bit more water than other Gerber models, the pressure valve drastically reduces chances of weak flushes or clogs. As with any other fixture requiring at-home installation, some users cracked or broke a piece of the toilet while tightening the parts. This was fixed immediately through the reordering of a new part.
5.
Gerber Avalanche Toilet
"Glossy and tightly built, the Gerber Avalanche shines in looks and flushing performance."
Last but certainly not least,  the Gerber Avalanche is a compact one-piece toilet that can fit into even the tightest of spaces, despite what its name suggests. With its elongated, secure bowl, and 17" ErgoHeight, the Gerber Avalanche is a worthy, comfortable addition to any bathroom, regardless of size. 
Flushing Power
The Gerber Avalanche is WaterSense certified, using 1.28 gallons per flush, notably less than the Gerber UltraFlush. The toilet also has a phenomenal MaP rating of over 1,000 grams. What makes the Gerber Avalanche especially reliable is its Fluidmaster 400A fill valve, that refills the toilet tank and bowl with the appropriate water level each time. Gone are the days of waiting for the water to come back!
The toilet also has extra-large dual fed siphon jets that thoroughly clean the bowl after every flush. With just the press of the color matched metal tank lever, your bowl will be cleared quietly and spotlessly. 
We are also so pleased that the Gerber Avalanche does come with a soft-close toilet seat, though this is also reflected in the toilet's comparatively higher price. There are no additional accessories or tank options for this model. The Gerber Avalanche is made of vitreous china, with a 100% glazed trapway, and comes in white.
Facts We Collected
Non-compact GERBER Avalanche CT G0020832 model available
Fluidmaster is corrosion-resistant
Lid top is flat enough to hold small items
Buyer's Guide – Finding the Perfect Toilet
If you are buying a toilet for the first time, it can be difficult to choose among many units on the market. Especially with so many available options, it's hard to know which one will meet your needs best. Luckily, we have prepared some very useful tips to help you out!
1. Bathroom Size
The first thing that you should consider when buying a new toilet is your bathroom size. For example, all the toilets on this list have elongated bowls. Although the elongated bowl is just a few inches longer, it does take up more space in the bathroom, which can make a big difference. Therefore, if your bathroom is not large, it's better to invest in a smaller, round bowl toilet. You can also look for a compact elongated bowl if you want both comfort and a space-saving bowl. Either way, it's important to keep your bathroom space in mind when selecting a new toilet.
2. Toilet Length and Height
The length and height of the toilet are also top factors to consider, even if your bathroom has plenty of extra space. For example, it can be very uncomfortable to sit on the toilet and not be able to put your feet flat on the ground. Also, note that young children can't sit all the way back on the toilet, and the long toilet may not allow them to fully sit on the seat. Therefore, if children will use the toilet, it could be better to go for a smaller size even if you have room to spare. All in all, it's helpful to think of who will be using the toilet and what dimensions will fit their needs, beyond the available space in your bathroom.
3. Color and Style
Of course, you should also consider the toilet color and overall look. Most units nowadays come in white, but depending on your bathroom style, some other colors might be more suitable. Remember, some toilets offer different color variants at different prices. For example, if you want a "Biscuit" color for your Gerber toilet, you might need to pay $100 more than the original price. However, if finding the right color and style is important to maintaining the overall look of your bathroom, it's worth shopping around to pick the option that will best fit your current space.
4. One-piece or Two-Piece
Another factor to consider is whether you want a one-piece or two-piece toilet, as the difference is significant between each option. For example, a one-piece unit is much harder to transport, while a two-piece unit is easier to move because you can move each piece separately. Also, if you break the one-piece toilet, you will need to replace the whole unit, instead of just the broken piece. However, one-piece units have a seamless look and are often easier to clean because they have no seams where dirt can gather.
5. Wall-Hung or Floor-Mounted Unit
These two options differ by how the toilet is actually installed in your bathroom. To start, wall-hung units have a seat that is above the floor, with the tank typically hidden behind the wall. They add a specific, modern feeling to a bathroom, and can sometimes let you pick the height you prefer. By comparison, floor-mounted units are installed directly on the floor in the bathroom with a visible tank behind the bowl. While they might not look as luxurious in comparison, floor-mounted units are typically more common and also more affordable.
6. Warranty
Finally, be sure to consider the warranty when buying a new unit. The truth is, most elongated-bowl toilets are durable and last long. However, if some tiny parts break, it's good to have a warranty to cover you, especially if you've recently purchased the toilet. While it's most common to see 1 or 2-year warranties, some of the units on this list come with 5 or even 10-year warranties for some parts.
Gerber's Elongated Bowl
As mentioned, most Gerber toilets have elongated bowls, likely because elongated bowl offer numerous benefits. To start, they are more comfortable than their round counterparts because they're larger and are more like sitting on a chair when using. Their additional size allows them to properly support thighs, which is good for those who like to sit on the toilet a bit longer. Additionally, due to the larger opening, there's overall more room while using the toilet. Furthermore, elongated bowl units are often easier to clean because they have larger dimensions and thus fewer small nooks and crannies to collect dirt.
Additionally, when it comes to clogging, choosing a unit with an elongated bowl is a good investment. Elongated bowls are able to hold more water and can handle more waste compared to smaller, standard units. Finally, elongated units typically have a sleek look, which makes them ideal for most modern bathrooms.
Bottom Line
If you want a toilet that works like a charm and still doesn't cost too much, buying a Gerber product is the best choice. Most of their units are durable, powerful, and very easy to install. While each have their own specific benefits, we hope this article helps break down the different options and how to pick the best toilet for your specific needs.