A shower and a toilet are the two things that should always be kept separately. If anything happens to that connection, you could start having problems with both systems.
Normally, when you flush the toilet, it transports the waste from your house to the sewer main. But, if there is something wrong with the main line, the water could come up through the drain in the shower.
Let's dive into the reasons and solutions below.
Toilet Backup Causes (Main Line)
If the main sewer line gets clogged, it could start backing up in all the smaller lines. Even the partial clogs can cause noticeable backups in all the sewer lines connected to your shower or your toilet. There are numerous things that could cause the clog.
Here are five causes why your toilet is backing up into your shower.
1. Tree Roots
As we all know trees need water, and during dry periods tree roots will try to reach your sewer line. Even a tree at your neighbor's house could reach your sewer line during the dry periods, especially if there is any type of leak or weakness in your pipes. After some time, the roots can break through the pipes, get into the sewer line and clog it up.
2. Hair
Our hair falls out while we are bathing. Although it happens quite slowly and we may not even notice it, after some time it could become an issue. The hair will start forming a net which will most likely catch other things that would, under normal conditions, drain properly. This can eventually slow down or even stop the drainage.
3. Flushed Objects
Many foreign objects are often the cause for clogs. Some of them are paper towels, children's toys, thick toilet paper, feminine hygiene products, etc. That is why water, biodegradable toilet paper, and waste are the only things that should be flushed down the toilet. Even the flushable wipes can sometimes clog up the toilet.
4. Pipe Scale
This mineral layer consists of magnesium and calcium. It naturally occurs in water and can form on literally any surface that meets water. This layer can eventually build up, as these elements are left behind in your pipes. If this happens it could be the cause of the blockage.
5. Grease
When allowed into the drainage systems, oils, fats, and grease can be pretty nasty. These substances are mostly washed off dirty dishes. If your systems are connected, they will travel into the same sewer line as your toilet and shower. If they eventually build up you could start seeing repercussions in all your drains.
Fix the Backup (Take Action)
Now that you have figured out the cause, it is time to fix it.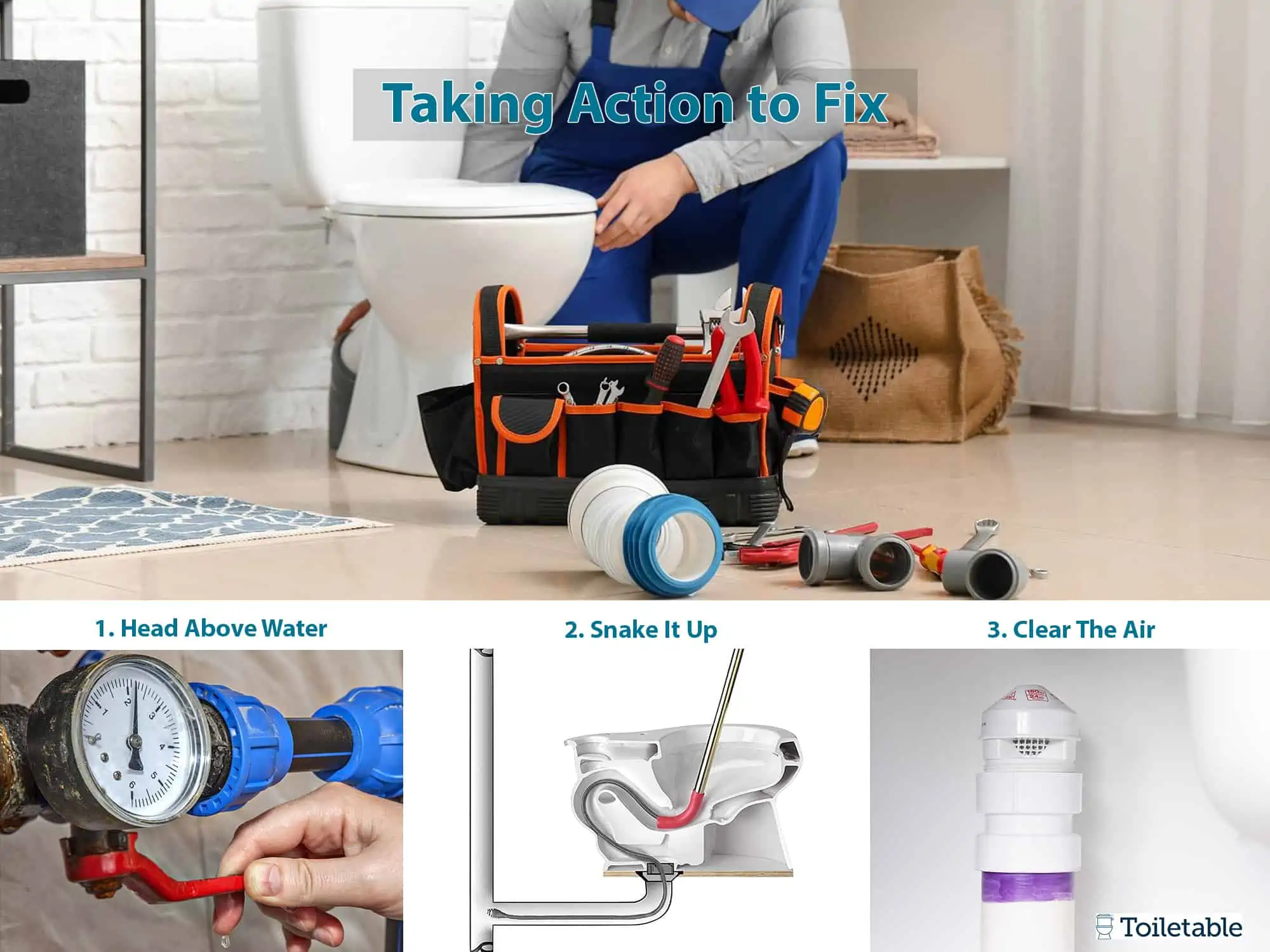 Now, the first thing that many people do when they find themselves in this situation is buy some harsh chemicals to break the clog. There are numerous chemical products promising to break down and clear up any type of clog.
However, there are no chemicals that can solve this type of issue. Instead of wasting time and money on useless products, try some of the methods listed below.
#1. Head Above Water
Before you start thinking about the ideal solution to your problem, you might want to shut off the main water supply. The main reason is that if the clog is large enough it could cause flooding. The shutoff is most likely in your garage, basement, or somewhere near the water heater.
#2. Snake It Up
A drain snake is a tool known for being quite effective when it comes to breaking down stubborn clogs. Therefore, if you have a drain snake, carefully lower it in the toilet as it could scratch the porcelain. Once it is inside the toilet start spinning it clockwise until you reach the clog. After you have reached the clog start spinning the snake counterclockwise and pull it out. You can try the same with the shower drain but, in order to do that, you must remove the drain cover first.
#3. Clear The Air
The reason your toilet backs up into the shower could also be a blocked vent pipe. The vent pipe is probably located over the bathroom. Therefore, grab a flashlight and check if there are any obstructions in the pipe. In case you find some clogs around the top, use a retrieval tool to pull them out. Still, if the clog is deeper down the pipe, you could use a garden hose and spray some water in it. A drain snake can also come in handy.
Bottom Line
If your toilet backs up into the shower there is some type of clog that is preventing both systems from working properly. As you can see numerous things can clog up the pipes. In order to solve this issue, figuring out what caused the clog is essential. After that, use some of the methods listed above to get rid of it. Still, if you don't feel comfortable fixing this problem on your own, you should hire a professional plumber.