Disclaimer: We're supported by our readers. We earn a commission from product purchases using affiliate links on our site. Learn more about the affiliate program.
Although relatively new, handheld bidet sprayers are slowly gaining popularity. They make using the toilet a much more hygienic experience, but that's not all. Since you will no longer need to buy toilet paper, a handheld bidet sprayer will save you space, money, and time making this toilet accessory a top consideration. Let's check out our best picks.
Our Top Picks
✓

Spray Pattern
Handheld bidet sprayers can have many different spray patterns. For example, the spray can be spread out for full coverage or can be thinner for a more powerful spray.
Some sprayers also come with a rotating nozzle, which allows you to choose between various spray patterns.
Review of the BEST 9 Handheld Bidet

Sprayers (Updated)
#1
Brondell PS-90 Bidet Sprayer

- Editor's Choice

"The Brondell Bidet Sprayer is the ideal choice for those looking for a budget-friendly bidet that's comfortable to use and easy to customize."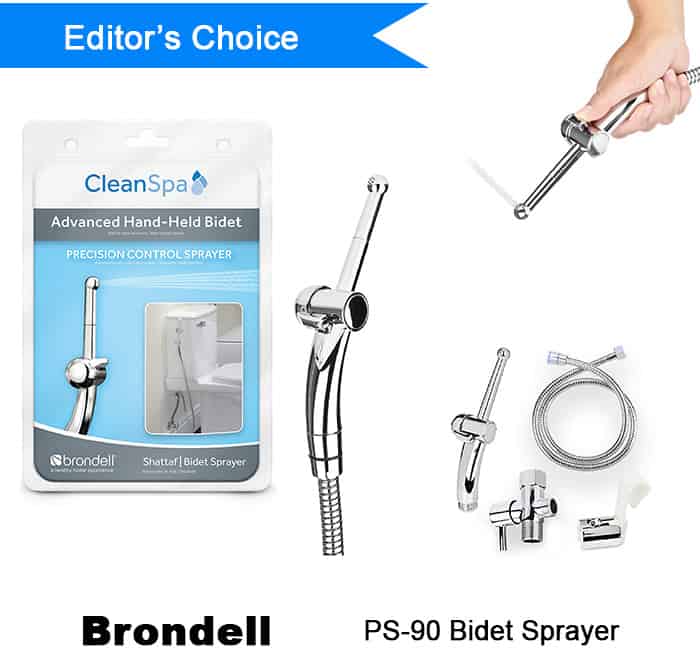 Key Features
Material: Metal
Hose Lenght: 50 inches
Warranty: 1 year
CHECK PRICE on AMAZON                    CHECK PRICE on WALMART
A simple but effective bidet sprayer, the Brondell PS-90 is one of the best choices on the market. 
Smart Design 
This bidet sprayer comes with a precision sprayer that can be controlled pressure and direction-wise. The simple thumb controls and the ergonomic handle make increasing pressure super easy - you won't even have to think twice! 
The bidet's durable metal hose comes with a patented woven core, brass valves, and ceramic seals; an accessible, attachable holster is also included. Even with its affordable price, you can consider the Brondell an investment piece because it's made to be used over long periods of time. 
The sprayer is very easy to install and comes with a plastic holder that you can mount on a wall or on a toilet tank. All parts that you need are included in the package, so you don't have to worry about having to buy add-ons.
Pros and Cons
Why It's Editor's Choice
Affordable price for durable product
Quality materials used for hose 
Adjustable pressure and direction
Where It Could Do Better
Vendor communication has been reportedly unreliable
Summary of Customer Reviews
The Brondell is a highly-ranked product, with over 85% of reviews giving the bidet four or more stars. Users boast about the product's durability and easy installation process. Many comment about how pleasantly surprised they are with the model's functionality, considering its low cost.
The most common complaints about the product are about the company's unreliable customer service, in regards to product questions and complaints.
#2
TRUSTMI Concealed Bidet Sprayer

- Runner Up

"Though it costs a bit more, the TRUSTMI is a fantastic choice if you're in the market for a wall-mounted unit that can be used for years to come."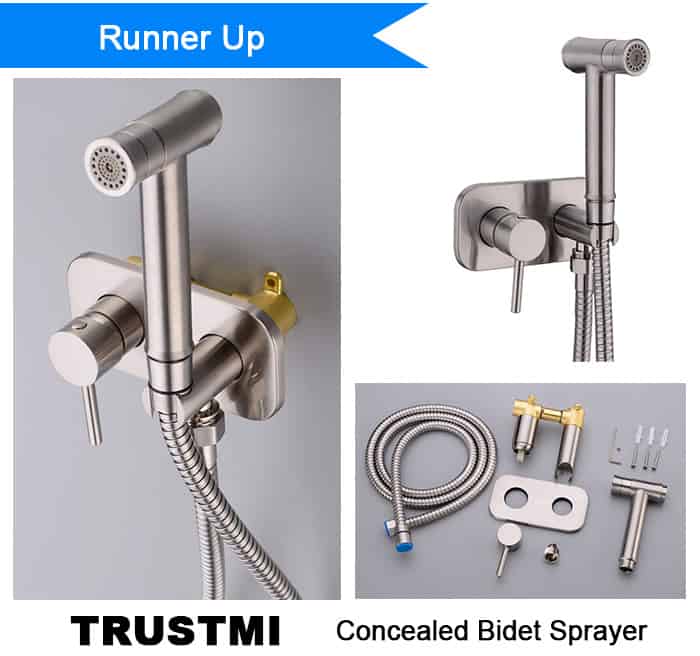 Key Features
Material: Brass
Hose Lenght: 47 inches
Warranty: 3 years on the ceramic cartridge 
   CHECK PRICE on WALMART                  CHECK PRICE on AMAZON  
This sleek product adds a modern twist on the traditional bidet set up.  
Quality Design 
The TRUSTMI lets you choose between soft and jet function flow, depending on your preference. The bidet is simple to use — just press the switch with your thumb and the water comes out.  
The unit is made of 304 stainless steel and comes in one of four finishes: brushed gold, brushed nickel, chrome, or matte black. Choose the color that best fits with your aesthetic or add a contrast piece for a fun design twist! 
One of TRUSTMI's most novel aspects is that it's wall-mounted. The unit weighs less than three pounds and can be installed in a matter of minutes. The bidet includes a mounting screw bag along with a specification sheet to make the installation process a breeze.
Pros and Cons
Why We Love It
Wall-mounted for easy access
Lightweight model with simple installation
Two pressure modes
The Downsides
Cannot adjust temperature
What Buyers Are Saying
Users love the TRUSTMI's sleek design and brushed finish options. Many have noted that they've been so happy with the product they ordered multiple for their home.
The most common complaint is the lack of temperature adjustment and the difficulties getting in touch with the seller. One review even mentions waiting over a month to get a replacement piece sent to him.
#3
RinseWorks Aquaus 360 Bidet Sprayer

- Review Champion

"The RinseWorks Aquaus is the real deal, putting comfort and accessibility at the forefront of its innovation."
Key Features
Material: Brass
Hose Lenght: 54 inches
Warranty: 5 years
The Aquaus is a bit pricier than other models on this list, yet its extra features make the splurge worth it.  
Design 
This model comes with some interesting innovative features, such as a rotatable switch. You can turn it from either side, for more comfortable use. Also, the package contains everything that you need for installation including a brass T-connector, ball valve, two spray heads, 5-inch extension, and tank clip.
The sprayer is made in the USA and has various certifications including an NSF/UPC certification which allows it to be used in countries in which a specific plumbing code is required. It's made from durable, high-quality materials, and also comes with a five-year warranty. 
The Aquaus has a reliable brass valve core that ensures your bidet will last a long time. The StayFlex high pressure hose is specifically designed for bidets, allowing it to be flexible even under intense pressure. Regardless of the intensity of the water flow, the hose's durable polymer material allows it to stay intact and avoid any potential leakages. 
The spray wand also extends between four and eleven inches, so you can use the bidet for more general cleaning situations (such as washing garments or bedpans) as well.
Pros and Cons
The Positives
High quality hose and spray materials
Extendable sprayer up to 11"
Two types of spray heads included
Our Take of the Reviews
We're not the only ones that absolutely love the Aquaus. Users rave about the sprayer's extendable reach and choice of spray head. Some users note that the difference in quality is apparent from the moment you pick up the model, as compared with cheaper bidets.
While many see this as a worthy investment, a common complaint is that the bidet is on the pricier side when put alongside other similar market picks.
#4
AIFUSI Bidet Sprayer

- Budget Friendly
Key Features
Material: Stainless Steel
Hose Lenght: 59 inches
Warranty: 1 year
The Aifusi sprayer has both manual and automatic spray modes. Automatic mode provides a constant stream of water so that you don't need to constantly hold the button. It's an ideal choice for the elderly and people with reduced mobility.
Another great thing is that this sprayer comes with a portable version that you can carry with you wherever you go. You can also choose between an ABS and a stainless steel sprayer head, but only the ABS has the automatic mode.
Summary of Recent Reviews
While some customers were unsatisfied with the durability of this option, most were pleased with this affordable bidet. Buyers state that this is a great replacement for toilet paper. Installation is straightforward and the water pressure is efficient for cleaning.
#5
SonTiy Handheld Bidet Sprayer
Key Features
Material: Solid Brass
Hose Lenght: 59 inches
Warranty: 5 years
   CHECK PRICE on WALMART                            CHECK PRICE on AMAZON  
This sprayer is made from solid brass and comes with a leak-free guarantee. You can choose from either 6.8-inch and 7.9-inch spray heads—both of which are long enough for both front and rear use.
Instead of a standard spring valve, this sprayer has ceramic disks inside, which provide better performance. According to the manufacturer, because of this design, the SonTiy sprayer can last up to 15 years. Also, unlike most bidets, this model has a T-valve that doesn't share a shut-off knob with the toilet tank. It means that you won't have to turn the valve off.
Pros and Cons
Positive Comments
Long spray head
High-quality materials
Summary of Recent Reviews
Some buyers were first-time bidet users and wish they hadn't waited so long!  Customers state that this one is worth the money as it feels like a durable, quality product.  Water pressure is adjustable to your preference.  You will need to be prepared with tools for installation so be sure to read the instructions before you start.  
#6
SmarterFresh Handheld Bidet Sprayer
Key Features
Material: Stainless Steel
Hose Lenght: 48 inches
Warranty: 1 year
    CHECK PRICE on WALMART                      CHECK PRICE on AMAZON 
SmarterFresh sprayer works like most traditional models. It comes with a self-controlled pressure lever that allows you to adjust the flow and comes with a long, 48-inch hose.
Since the company offers the option to order with minimal packaging, this is one of the most eco-friendly sprayers in the market.
You can also choose between three different versions: steel, brass, or chrome-plated. Also, the sprayer comes with all the necessary parts, and the manufacturer offers a 1-year warranty.
Pros and Cons
Positive Comments
The option of minimal packaging
Different style options
Negative Comments
Expected more spray patterns
Summary of Recent Reviews
Be sure to carefully follow the installation directions, and you'll be pleased with this bidet.  One reviewer has owned this for over 3 years and shared that it still performing as good as new.  Many commented on how well this was designed.  "Thank you, SmarterFresh, for a well-designed product, thoughtfully packaged, that gives me something I really needed!"
#7
Aqua Nexis Handheld Bidet Sprayer
Key Features
Material: Stainless Steel
Hose Lenght: /
Warranty: 3 years
What sets this model apart from traditional models is that it comes with a 360-degree rotatable spray head. It makes this sprayer very easy to use since you can quickly point the sprayer head in any direction and you won't have to worry about tangling the hose. The sprayer is made from durable, high-quality materials and comes with Aqua Nexis no-leak seals.
The installation requires only about 5 minutes and you can do it even with minimal DIY experience. You don't need any tools, and everything is explained well in the user manual. However, if you have any questions, you can always call their VIP customer service.
Pros and Cons
Positive Comments
360-degree rotatable sprayer head
High-quality materials
Negative Comments
Customer service is not always available
Summary of Recent Reviews
Buyers used terms such as "life-changing" when describing this bidet, so it's safe to say that this is a quality product.  "this gives me the clean feeling that toilet paper alone can't give me."  Installation is straightforward, and there is a switch to easily adjust the water flow."
#8
JoyWay Handheld Bidet Sprayer
Key Features
Material: Stainless steel
Hose Lenght: 47 inches
Warranty: 1 year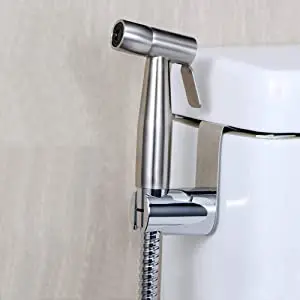 This sprayer comes with an angled sprayer head and closely spaced holes for maximum precision, allowing you to easily spray where you want, without getting everything else wet. It's one of the best cloth-diaper sprayers that you can find on the market.
It comes with an ABS, chrome-plated sprayer head, and an easy-to-use lever. Its push-switch control allows you to smoothly change the pressure. The valve is made with ceramic disks which ensure a completely leak-proof experience. It's an excellent choice if you prefer an ergonomic design.
Pros and Cons
Positive Comments
High-quality, durable materials
Easy installation
Negative Comments
Expensive
The lever is prone to cracking
Summary of Recent Reviews
Customers agree that this is a good bidet for the price.  Installation is easy with minimal tools required.  Users recommend reading the manual to understand how to extend the life of this bidet.  "Every household should have this. Impressive."
#9
SmarterFresh Faucet Bidet Sprayer
Key Features
Material: Stainless Steel
Hose Lenght: 86 inches
Warranty: 1 year
CHECK PRICE on WALMART                          CHECK PRICE on AMAZON    
This model is one of the best warm water bidet sprayers currently on the market. Since it attaches to the sink, the sprayer is very easy to install and requires no tools. However, you will need a removable aerator for your sink to be able to attach the hose.
The hose is 86 inches long, meaning that you can easily reach anything in the bathroom. We also like that the sprayer comes with both soft and powerful spray modes. The manufacturer offers a lifetime guarantee, which is excellent.
Pros and Cons
Positive Comments
Easy to install
Allows warm water
Negative Comments
Only suitable for sink with removable aerator
Summary of Recent Reviews
Customers like the simplicity of this easy-to-install bidet. Water pressure and temperature are effective and are easy to control.  Users were also pleased with how this looked when installed in their bathrooms.
Benefits of Handheld Sprayers
Did you know that there are several types of bidets on the market today? You can choose between travel bidets, bidet seat attachments, toilet seat combos, or even a handheld bidet sprayer. Each of these bidets helps improve your hygiene and also saves you from buying toilet paper. So, why should you choose the handheld bidet sprayer over the other types that we mentioned?
Bidet sprayers combine the mobility of a portable bidet with the performance and efficiency of a bidet seat. Let's take a look at the advantages that a handheld spray head provides:
It allows you to clean yourself from different positions and angles, which makes it convenient for both males and females.
You can aim the spray precisely which allows a more efficient water usage.
Bidet sprayers are also good for rinsing cloth diapers, as well as for cleaning pets or dirty shoes.
You can also use it to rinse the toilet after use.
Yes, portable bidets are also maneuverable, but they lack the power of a handheld bidet. Handheld sprayers have special attachments for increased pressure. These sprayers are also non-electric, which is great if you have no open outlets in the bathroom.
How They Work
How to Install
Installing a handheld bidet sprayer is quite simple. You can do it in a few simple steps. However, be sure to have the following parts:
T-valve
Plumber's tape
Bidet spray
Spanner or Wrench
Scissors
Let's install your Bidet Sprayer!
Turn off the water supply. You will find the water supply valve next to the toilet. Be sure to turn it off all the way.
Locate the fill valve and unscrew the water supply hose. Most likely, you will need a spanner to do it.
Attach the T-valve to the fill valve, but note that the washer should be inside the T-valve. Wrap plumber's tape around the threads, since it will help lubricate the connection. You might even do it to all connections to prevent leaking in the future.
Screw the water hose to the T-valve.
Connect the bidet to the T-valve. Then, turn on the water supply and check for possible leaks.
Sprayer is Leaking...Why?
If your bidet sprayer is leaking, here are a few tips that you should check.
Tight Connections
Although it sounds strange, tight connections can also cause leaking. If you notice that it's leaking near the T-valve, loosen the connections and see if the issue is solved.
Defective Nozzle
Over time, parts of the bidet will wear and stop working properly. The same goes for the nozzle. If it's leaking from the spray head, you can take it apart and try to solve the problem. In the worst-case scenario, you will need to buy a new spray head.
Snapped Hose
A snapped hose should be very easy to spot. If that's the problem, simply buy a new hose. They are usually affordable and easy to find.
Frequently Asked Questions
Should I Turn off the T-Valve After Each Use?
Yes! Even when you stop spraying, water is still going through the hose. This will create water buildup and cause pressure on the valve. Over time, the increased pressure will damage parts of the sprayer or cause them to wear faster.
How to Dry off After Using the Bidet?
You can still use toilet paper or wait a few minutes until you are dry. Some bidets also come with a heater which will definitely help with drying.
Final Thoughts
Choosing the right handheld bidet sprayer can be tricky, especially if it's your first time. However, you can't go wrong by choosing any model from the list. They are all made from high-quality materials and offer a good quality-to-price ratio. If you still want to shop on your own, be sure to check our buying guide.