Disclaimer: We're supported by our readers. We earn a commission from product purchases using affiliate links on our site. Learn more about the affiliate program.
To keep your RV toilet running smoothly, it's important to use the right type of toilet paper.  You'll want to find an efficient toilet paper that can still dissolve well enough for your RV waste tank.  We've done some testing for you to help you find the best RV toilet paper – keep reading below to discover our favorites!
Our Top Picks
Regular vs. RV Toilet Paper
The main difference between regular and RV toilet paper is how well it disintegrates in the septic tank once flushed.
Regular Toilet Paper

It tends to be more resistant to tearing and does not disintegrate as quickly as RV paper does when it comes in contact with liquids. This, of course, makes it more absorbent but not suitable for recreational vehicles or other motorhomes as the paper is slower to dissolve and will end up clogging your tank.

RV Toilet Paper

It's typically manufactured in 1 ply and begins to fall apart as soon as it comes in contact with water. It might be a bit inconvenient doing your business with this kind of paper but it's the price you pay for living in a natural setting away from plumbing and sewage systems.
Also, RV toilet paper is normally made from recycled paper and is never bleached using harsh chemicals such as chlorine, ammonia, or conventional bleach as these chemicals can harm the septic system.
Chemical-free top-rated toilet paper is hypoallergenic and eco-friendly too. With chemical-free paper, you can be sure that no family members are going to have an allergic reaction and that your waste tank will work effortlessly for years to come.
Choosing Eco-Friendly Toilet Paper
Eco-friendly toilet paper has several advantages over regular toilet paper. One such advantage is that eco-friendly and especially biodegradable toilet paper is much lighter on your septic system as it disintegrates much faster than its regular counterpart.
Toilet paper that is made from recyclable material is even better, as it decomposes faster than biodegradable toilet paper does. However, most recycled toilet paper is bleached white using either ammonia or chlorine, and that is not very friendly to your waste tank so be sure to read the label carefully.
Comparison of the Most Eco-Friendly Toilet Paper on the Market
Editor's Choice
Runner Up
Review Champion
Best Seller
Seventh Generation Bath Tissue
Cottonelle Ultra Clean Care
Quilted Northern Ultra Plush Toilet Paper
Presto Amazon Brand 24 Count
Editor's Choice
Seventh Generation Bath Tissue
Runner Up
Cottonelle Ultra Clean Care
Review Champion
Quilted Northern Ultra Plush Toilet Paper
Best Seller
Presto Amazon Brand 24 Count
Review of the Best Toilet Paper for RV's (Ranked & Rated) 
Here's a list of 10 different products aimed to improve your RV toilet experience.
1.
Seventh Generation Bath Tissue Recyclable

– Editor's Choice
CHECK PRICE on WALMART                          CHECK PRICE on AMAZON
Seventh Generation Bath Tissue is 2-ply and is made from recycled paper without using any chemicals such as fragrances, inks, or dyes.
It is fully compatible with RV and camping homes as the tissue is 100% septic safe and dissolves very fast.
Customers can choose from economy packs of 24, 34, or 48 rolls with each roll containing 240 highly absorbent sheets.
Seventh Generation RV toilet paper has been certified as ADC compliant thanks to the manufacturer's responsible ethics when it comes to sourcing paper.
No trees are cut for the production of these toilet paper rolls. Instead, large shipments of recycled paper are brought into the manufacturing plant. The paper is then sanitized, bleached, and made into new rolls of toilet paper.
Pros and Cons
Positive Comments
Made from recycled paper
2-ply
Economy pack
Septic safe
No chemicals, dyes, fragrances or inks
Negative Comments
Rough and tough
Very thin
Some rolls were reported to smell of mold
2.
Cottonelle Ultra Clean Care

– Runner Up
Cottonelle has upgraded its standard toilet paper rolls to be stronger, thanks to new and patented wavy texture imprinting. This prevents the toilet sheet from falling apart too fast upon contact with water. Customers love this toilet paper roll and have reported it to be very soft, strong, and absorbent.
The rolls are not very thick however because the sheets are super absorbent. One Cottonelle paper roll will equal two rolls of cheaper tissue from a different manufacturer. Moreover, customers can choose from two different variants of paper- fragranced or not.
The perfumed rolls are made using only natural ingredients such as biodegradable paper from naturally fallen trees and a chemical-free fragrance that dissipates very quickly.
Pros and Cons
Positive Comments
Much stronger toilet paper due to wavy texture imprinting
Absorbent and available in 1 or 2-ply sheets
Lasts a long time
RV compatible
Negative Comments
Leaves residue behind
Lots of counterfeit products on the market
Poor customer support and long shipping
3.
Quilted Northern Ultra Plush

– Review Champion
Quilted Northern toilet paper is smooth, silky, and very soft with a plush feeling. The 3- ply, high-quality toilet sheets provide great comfort and super cleaning power.
The paper is made under the close watch of Sustainable Forestry Initiative Workers and has been certified as eco-friendly and ADC compliant.
These rolls can be flushed down on most models of RV toilets and are septic safe with standard septic systems.
Plus, each roll has over 319 3-ply sheets meaning each roll will last much longer than standard 1-ply or 2-ply rolls.
Pros and Cons
Positive Comments
3 ply toilet paper
319 sheets on one roll
SFI and ADC compliant
Septic safe
Negative Comments
Do not fit in a standard roll holder
Might clog the tank if you have a narrow septic valve gate
Regular septic tank treatments are required to fully dissolve the toilet sheets
4.
Presto Amazon Brand 24 Count

– Best Seller
CHECK PRICE on WALMART                          CHECK PRICE on AMAZON
The Presto Company is an Amazon brand that is manufactured in the USA. The 2-ply sheets are lint-free and septic tank safe.
The toilet rolls are made from pulp that is sustainably sourced from managed forests and other controlled sources.
Plus, the rolls are really thick and long with each Presto roll accommodating 308 sheets of soft and thick toilet paper.
Pros and Cons
Positive Comments
Lint-free toilet paper
Septic safe as the sheets quickly dissolve
U.S. made
Made from sustainable pulp sources
308 sheets on one roll
Soft and thick with great absorption
PEFC certified
Negative Comments
Bleached paper
Paper disintegrates into rolled-up shreds of paper upon contact with water
No shipping discretion
5.
Aqua-Soft Toilet 1-Ply Tissue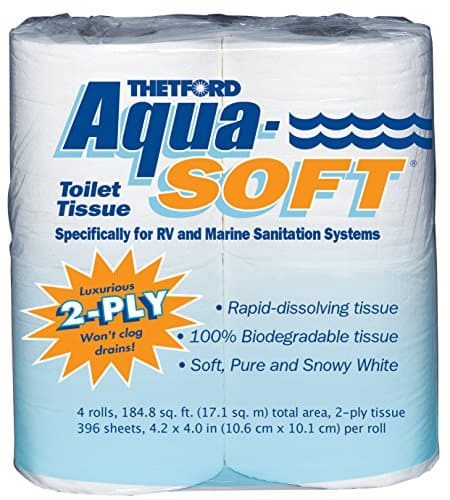 CHECK PRICE on WALMART                          CHECK PRICE on AMAZON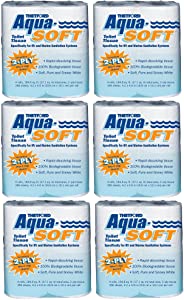 Thetford has specifically designed these rolls to work and be compatible with recreational vehicles, yachts, and boats.
This product is best used with marine and portable toilets as the 2-ply paper rolls are thick and soft, yet they are 100% septic safe and dissolve quickly. This helps prevent nasty clogs in the toilet that lead to the bathroom floor getting flooded. Flooded floors cause unpleasant cleaning sessions and possible mold, fungus, and mildew.
You can choose from several economy options of 4, 8, 14, or 24 packs of rolls. Each roll contains 396 sheets of 2-ply tissue. Many mobile sanitation companies and their workers specifically recommend using this toilet paper as it quickly dissolves after flushing and does not cause clogs in the tubes or the waste tank itself.
Pros and Cons
Positive Comments
Super white and very absorbent
Sanitation tank safe
Rapidly dissolves without causing nasty clogs
Thick and soft
Negative Comments
New rolls can be very frustrating as they are hard to get going
Expensive
Leaves particles behind
6.
Camco 1-ply Biodegradable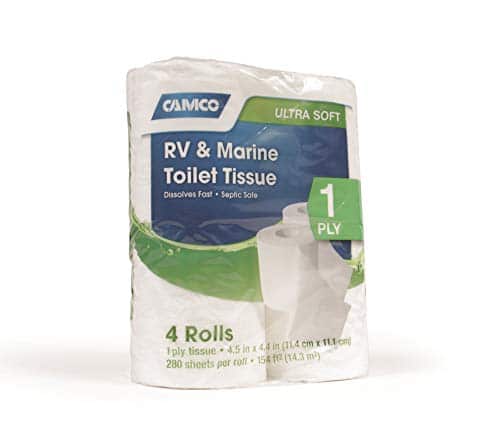 CHECK PRICE on WALMART                          CHECK PRICE on AMAZON
A cheap option for outdoor lovers, this Camco toilet paper is highly absorbent and has been designed to rapidly break down.
It is completely safe to use with different septic tanks and RV toilet models as the paper rolls were tested and ADC certified.
Plus, they are eco-friendly as they do not contain any perfume, dyes, or inks.
This tissue is manufactured from recyclable material.
Pros and Cons
Positive Comments
Safe to use with all RV toilet models
Biodegradable
Quickly breaks down upon contact with water
Does not contain chemicals
Negative Comments
The roll size is much smaller than a standard RV toilet paper roll is
Paper is rolled very loosely thus always falling on the ground
Some customers reported having clogged tank gates
7.
Valterra 4 pack 2-ply
CHECK PRICE on WALMART                          CHECK PRICE on AMAZON
Valterra is a very reasonably priced brand compared to other similar RV toilet paper rolls on the market.
The 2-ply sheet paper is soft and absorbent but it does break down a little too effortlessly.
The sheets have been tested in several independent laboratories across the US and they were found to break down almost immediately after contact with liquids thereby preventing any possible clogs in the sanitation tubing or the waste tank itself.
The tissue is biodegradable and is suitable to be used by individuals with sensitive skin. The sheets are 100% free from chemicals found in printing inks, dyes, and common fragrances that are often added by other manufacturers.
Pros and Cons
Positive Comments
Specifically designed to be used in RV and other mobile homes
Biodegradable
Soft and thick
100% chemical-free
Tested and ADC certified
Negative Comments
Rolls are much shorter than standard RV toilet paper rolls
Expensive
Not suitable for vacuum toilets
8.
Thetford RV and Marine 1 ply
This Thetford toilet paper has been specifically designed to be used in motor homes. It needs to be used quickly because otherwise it disintegrates leaving small clumps of white residue.
These rolls do a great job of gently absorbing liquid waste and could be a great option for an individual with sensitive skin. However, keep in mind that these rolls are not the cheapest you can find on the market and are definitely not the thickest either.
Also, the rolls are much smaller than regular Thetford rolls so be prepared to go through the pack much quicker.
Pros and Cons
Positive Comments
Specifically designed to be used in motorhomes
Soft and suitable for people with sensitive skin
Absorb liquids well
Negative Comments
Rolls are much thinner and shorter than regular Thetford rolls
Pricey
Quickly disintegrate upon contact with water or other liquids
9.
Scott Rapid Dissolving Toilet Paper
CHECK PRICE on WALMART                          CHECK PRICE on AMAZON
With the Scott brand, You might end up paying a little more for a pack of 4 standard rolls of paper, however, the sheets disintegrate so well that you are definitely going to save money on getting your waste tank pumped when it gets clogged.
The sheets are imprinted with quilt markings, practically eliminating the tear points on the sheet making them more prone to wrinkling and folding without breaking apart.
Customers who bought Scott Rapid Dissolving toilet paper have reported having absolutely no trouble with clogging or issue with the sheets' absorbent properties.
Plus, the RV toilet rolls have a very light, barely-there lavender scent that you'll love.
Pros and Cons
Positive Comments
Lightly Fragranced
Good absorption
Soft and thick
Septic tank safe
Negative Comments
Long shipping
More expensive when compared to other products
Available only fragrance version
10.
Camco RV and Marine Yachts
CHECK PRICE on WALMART                          CHECK PRICE on AMAZON
Camco clog-resistant toilet paper is designed to be 100% biodegradable and safe to use with RVs and marine yachts.
The toilet paper itself is 1-ply soft and thick with a great absorbency level.
Customers have reported their septic tanks emptying very well without any clogging troubles while using this brand, however, you will need to regularly buy and dump expensive treatments into the septic tank to help break this paper down.
The tissue is made from recycled paper that has been bleached and sanitized therefore no trees are cut down to manufacture it.
Pros and Cons
Positive Comments
Biodegradable paper made from recyclable material
Does not clog septic tanks
Affordable
1-ply soft and thick
Negative Comments
Rolls are half the size of standard ones
Paper does not break with cheap septic treatments
Dyed using chemical inks
Few Helpful Tips
Choose a brand of toilet paper that is RV toilet friendly and will not clog your septic tank.
Check if the toilet paper is readily available in major supermarkets, convenience stores, or gas stations as this step will ensure you won't have to drive around looking for the brand you need when out on the open road.
Look for RV toilet paper that is comfortable to use and soft to the touch in order to avoid rashes or paper burns on your most sensitive body parts. Always look for and buy only chemical-free toilet paper as chemical ingredients such as dyes, inks, and fragrances can not only cause allergies but also seriously damage your waste tanks or septic systems.
Look out for bleached paper that might contain traces of chlorine, bleach, ammonia, as well as artificial dyes and fragrances. Dyed toilet tissue looks nice and you might be tempted to reach for it over simple white toilet rolls but remember that dyed paper needs twice the time to decompose as standard white sheets.
Final Verdict
Remember that finding and buying the best RV-friendly toilet paper you can afford is crucial to having headache-free camping trips. You will save a significant amount of money by cutting down on septic tank treatment as well as regular calls to your local plumber to fix those annoying septic clogs.
Regardless of the brand, make sure the toilet paper you choose is thick and absorbent. Your toilet tissue can be soft and smooth as well as RV-friendly.
Additionally, buying hypoallergenic toilet tissue will ensure that it can be used by different members of the family including children and the elderly.