Disclaimer:    We're supported by our readers. We earn a commission from product purchases using affiliate links on our site. Learn more about the affiliate program.
If you've been looking for a new toilet, you might have noticed that some models have an EPA WaterSense certification label.
Especially for those who care about the environment or simply want to cut down on monthly water expenses, selecting a WaterSense certified toilet makes all the difference.
Read on to discover what WaterSense is, how it works, and specifics to look for in your next toilet.
We also chose the 6 best to review, all right below!
WaterSense Explained
Sponsored by the US Environmental Protection Agency, or the EPA, WaterSense is a partnership program and a label for water efficient products.
This certification was introduced to help save water and preserve the environment.
Basically, the WaterSense label makes it effortless to find water efficient products since it marks appliances that meet specific EPA standards related to water efficiency and performance.
For example, these certified appliances use at  least 20% less water  compared to similar products without the label.
Want to learn more about water saving?
Our Top Picks
Editor's Choice:      TOTO Promenade
Review Champion:      TOTO Tresham
Best Price:      Kohler Gabrielle
Best Height:      Kohler Archer
Runner Up:      Kohler Karing
Best Bowl Coating:      American Standard Townsend
Comparison of the Top Rated WaterSense Labeled Toilets
Editor's Choice
Review Champion
Best Price
Best Height
Runner Up
Best Durable Finish
Review of the 6 Best WaterSense Toilets (Ranked & Rated)
Our team reviewed and listed water saving facts of the top rated WaterSense toilets on the market.
1. Editor's Choice
TOTO Promenade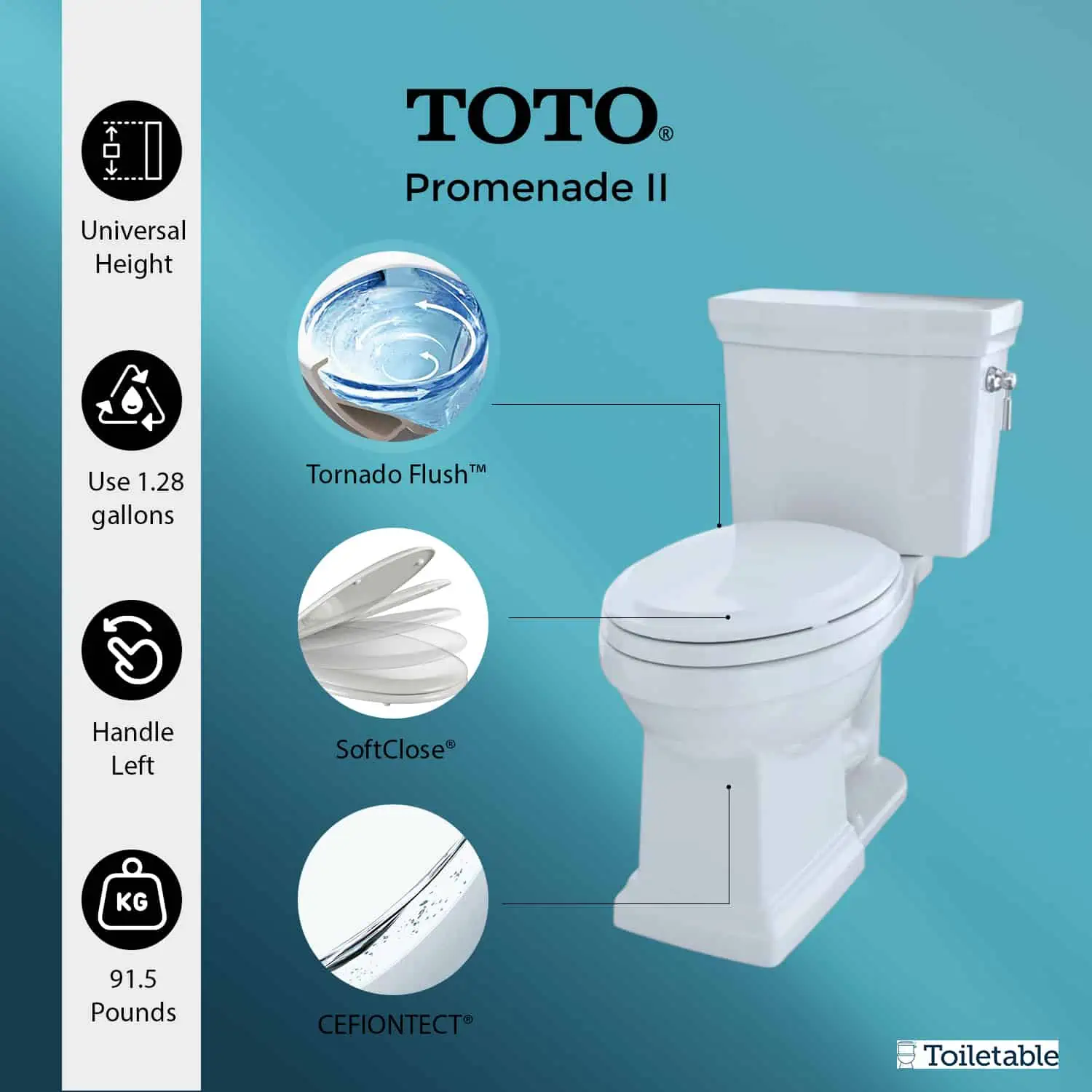 Key Features
| | | |
| --- | --- | --- |
| WaterSense Certified  ✅ | | |
| Bowl Coating: | CEFIONTECT glaze | |
| Flush Score: | | |
| Water Consumption: | 1.28 | |
| Bowl Shape: | | |
| Flushing System: |   | |
| Flush Type: | Single | |
| Style: | Two-Piece | |
Dimensions:
Toilet (28.5″ x 17.75″ x 31.25″)
(12″),
(2.12″),
(17.25″)
CHECK PRICE on BUILD                              CHECK PRICE on AMAZON
Let's review the top features of the Promenade II WaterSense certified toilet.

Water Conservation
Low water consumption of only 1.28 GPF makes this toilet environmentally friendly, eligible for EPA WaterSense certification.
Furthermore, the Promenade II has the CALGreen certification for water efficiency and is CEC-compliant.
Especially if you currently have an older toilet, upgrading to Promenade II would be a great choice to save on both your water consumption and water bills.
Comfortable And Beautiful Design
Firstly, the universal-height seat of this toilet is very comfortable and ADA-compliant, making it ideal for the elderly and those with limited mobility.
The elongated bowl adds extra comfort for users.
The TOTO Promenade II is made of durable, long-lasting vitreous china, making it a great investment for years to come.
The two-piece version comes in five colors: cotton, colonial white, sedona beige, ebony and bone, and unlike many competitor models, the TOTO Promenade II comes with soft-close seat technology which prevents the seat from slamming.
Powerful Flushing System
The TOTO Promenade II is among the most powerful toilets in its class.
Its Tornado Flush technology uses three jets that create a whirlpool effect.
Further, the centrifugal force created with each flush removes all waste in just one flush, leaving you with a perfectly clean bowl.

Simple Maintenance
Finally, due to the CEFIONTECT glaze, maintaining the Promenade II is a piece of cake.
This special glaze prevents dirt and bacteria from attaching to the toilet surface, minimizing how often you'll need to deep clean the toilet. Plus, the toilet always stays odor-free.
To realize minimize cleaning needs, we recommend selecting a one-piece option from those available.
One-piece toilets have no seam where bacteria can get trapped. Instead, they offer a seamless finish that's easy to clean.
Different Promenade Models
The Promenade II series includes both two-piece and one-piece models. The CST404CEFG#12 model offers a two-piece construction and weighs 91.5 pounds.
Aside from the seam, the two-piece and one-piece models look very similar. However, the MS814224CUFG#01 model is special as it consumes only 1 gallon-per-flush.
Another differentiator to note is that one-piece models weigh more than two-piece.
The Promenade II one-piece model weighs 103 pounds. Finally, the two-piece model, unfortunately, doesn't come with a seat.
Product Documentation
Pro and Cons
Magnificent design
Easy to maintain
EPA WaterSense certified
Easy to install
ADA certification
Summary of Reviews
Customers are raving about this one!  The Cefiontect glaze and powerful flush leave you with a clean toilet after each use.  Buyers state that this toilet resolved clogging issues experienced with their previous toilets, luckily due to the efficient flush.
Along with a strong performance, users liked the looks of this model and the easy installation.
Final Thought
Overall, the TOTO Promenade II offers great performance, comfort, and efficiency. This series of toilets offer both one-piece and two-piece models. Furthermore, the MS814224CUFG#01 model consumes only 1 gallon-per-flush for even greater water efficiency. This toilet is quite simple to keep clean due to the CEFIONTECT smooth glaze.
When it comes to certifications, the Promenade II is EPA WaterSense and CALGreen certified and is both ADA and CEC-compliant.
Ultimately, if you're looking for a water-efficient, comfortable, and effective toilet, the Promenade II could be a great option for you.
"The Tresham is a true classic, with its sturdy, sleek build and comfortable design." 
Key Features
| | |
| --- | --- |
| WaterSense Certified  ✅ | |
| Bowl Coating: | CEFIONTECT glaze |
| Flush Score: | |
| Flush System: | |
| Flush Type: | |
| Bowl Shape: | |
| Water Consumption: | 1.28 |
| Style: | |
Dimensions:
Toilet (29.17″ x 16.62″ x 31.25″),
(12″),
(2.12″),
(17.25″)
CHECK PRICE on BUILD                                  CHECK PRICE on AMAZON
Just like most Kohler collections, the Tresham collection comes in a variety of sizes, flushing types, and accessories. Most importantly it's WaterSense certified.
We take a closer look at one of the most decked-out models – the K-3981-RA!
Flushing Power
The Tresham K-3981-RA model has a precision-engineered tank that harnesses the power of gravity to maximize siphon strength.
Every flush removes waste in a matter of seconds without leaving streaks or stains behind.
The model is also equipped with an AquaPiston canister that increases flushing power by letting water flow in from a 360 degree angle.
The toilet's 3:2 flush valve ratio further optimizes flush performance thanks to a durable canister design that has 90% less exposed seal material than traditional three-inch flappers.
Reduced exposure means reduced chance of leakage.
The K-3981-RA's light-touch canister flush has a lower actuation force than traditional flappers, so every flush is effective and hassle-free.
The toilet uses 1.28 gallons per flush, a cost-saving and environmentally friendly water usage
Smart Design
The K-3981-RA is a one-piece unit that seamlessly blends its bowl and tank together. The model's angular structure and crown-like molding give the toilet a nice, chic feel.
Thanks to its skirted trapway, you'll only spend a minimal amount of time cleaning the toilet, as there's not much space for dirt and grime to hide.
The K-3981-RA has a Comfort Height of 16.5" and comes with an elongated bowl, making it ADA-compliant; a right-hand polished chrome trip lever is also included.
A Quiet-Close seat comes with the toilet, which retain the seat's quality by preventing unintentional slamming. The seat's quick-release hinges further simplify the cleaning process by being easily removable.
The K-3981-RA has a ReadyLock installation system that eliminates the need to drill into the floor for the traditional 12" rough-in – you won't even need professional help to complete the job!
The model only comes in white and biscuit. A right-hand polished chrome trip lever is included.
Comparison of the K-3981 vs. K-3950
In love with the K-3981's design but can't swing the price tag? The K-3950 is one of the Tresham collection's most budget-friendly models.
The model features the same cozy design as the K-3981 and many of its best features, such as the 1.28gpf, AquaPiston flushing system, and ADA-compliant design.
However, you'll need to purchase your own seat and supply line.
Other Tresham Models
Pros and Cons
1.28 GPF and AquaPiston canister
ADA-compliant
ReadyLock installation system
QuietSeat included
Seat Options
K-4636 Cachet Quiet-Close
K-5588 Purefresh
K-4108 C³ 230 bidet
Product Documentation
Summary
Users love the K-3981's comfortable design and elegant look. Users praise the toilet's reliable flushing system and are impressed by its clog-free performance.
There aren't many negative reviews available about the toilet's performance.
The most common complaint is about the toilet's price tag; although expensive, the immense amount of perks still make the toilet worth it.
3. Best Price
Kohler Gabrielle
Key Features
| | |
| --- | --- |
| WaterSense Certified  ✅ | |
| Flush Score: | |
| Flush System: | |
| Flush Type: | |
| Bowl Shape: | |
| Water Consumption: | 1.28 |
| Style: | |
Dimensions:
Toilet (28.37″ x 28″ x 18.75″),
(12″),
(2.12″),
(17.25″)
Let's have a look at the top 4 features of this WaterSense certified toilet.
One-Piece Design
This one-piece toilet is made from vitreous china and has a high-glazed finish in several colors, from biscuit and white to thunder grey, black, and more.
This quality toilet consists of an elongated bowl that only takes as much space as a round bowl, which makes it suitable for smaller rooms.
Additionally, it comes with a Quiet-Close seat that prevents loud slams after each toilet use. The height of the toilet seat is comfortable and offers chair-height seating.
this toilet features a standard left-hand trip lever and is ADA compliant.
Flushing Technology
The Kohler Gabrielle uses Class Five flushing technology with its single flush system.
Each flush uses the force of gravity to create a strong siphon to boost the efficiency of the flush. Additionally, it consumes 1.28 gallons per flush to get rid of the waste effectively and entirely.
Like the Kohler Memoirs, this toilet's low water usage makes it EPA WaterSense certified, which makes users eligible for rebates depending on their location. In addition, the glazed trap-way of the toilet adds to the efficiency of the flush.
Cleaning Surface
With its AquaPiston flush, water enters the bowl and clears the full surface. The 2-1/8-inch glazed trap-way allows for efficient and effective flushing even with a single flush.
Additionally, the smooth curves of the toilet prevent the debris from sticking in the corners and contours.
However, this toilet doesn't have a special clean finish, which means you can use any standard toilet cleaning agent you want for its cleaning.
Pros and Cons
ADA-compliant
EPA WaterSense certified
Chair-height seating
The elongated bowl takes as much space as a round bowl
Quiet-Close toilet seat
Class Five, AquaPiston flushing technology
Fully-glazed trapway
The lid of the toilet seat isn't very sturdy
4. Best Height
Kohler Archer
Key Features
| | |
| --- | --- |
| WaterSense Certified  ✅ | |
| Flush Score: | |
| Flush System: | |
| Flush Type: | |
| Bowl Shape: | |
| Water Consumption: | 1.28 |
| Style: | |
| Certifications: | ADA, |
Dimensions:
Toilet (29″ x 30″ x 17.87″),
(12″),
(2.12″),
(17.5″)
    CHECK PRICE on WALMART                              CHECK PRICE on AMAZON
We'll start by highlighting the standout features of the Kohler Archer Watersense certified toilet.
✓ Luxury Design
At first glance, this toilet looks modern and luxurious. Simple and minimalistic, the toilet features a compact flushing lever on the right side. What really helps this model stand out is the front base design, with nice, sharp edges - a total contrast to the smooth, round bowl.
Additionally, the toilet is available at a comfortable height (over 17 inches high), making it ADA-compliant. It's suitable for most people including the elderly, tall people, and people with disabilities.
With an elongated bowl, this toilet is two inches longer than a typical model. The elongated style elevates this toilet to a modern and stylish look.
However, this style may also make this toilet too large for small bathrooms, so be sure to take measurements before you buy.
Finally, the Kohler Archer is a two-piece model, meaning it may be more difficult to install and more prone to residue compared to a one-piece unit, which can lead to more frequent maintenance. On the other hand, it's much easier to transport a two-piece toilet to the installation location.
✓

Flushing System
We really like the fact that this toilet is able to perform such a powerful flush while minimizing water consumption.
With its unique AquaPiston technology, the unit provides a 360-degree flush that quietly but effectively removes waste.
Additionally, the unit provides a completely leak-free performance, since its seal material is only 10% exposed compared to toilets with 3-inch flappers.
Like most Kohler models, the Archer toilet is very efficient.
Compared to other units that use 1.6 gallons per flush or more, this model only uses 1.28 gallons.
Qualifying for EPA WaterSense, this model saves water and helps the environment while also cutting your water bills each month.
In total, you could save over 16,000 gallons of water each year by switching to a water-efficient toilet like the Kohler Archer.
✓

Ease of Installation
As we mentioned, two-piece toilets are more complicated to install than their one-piece counterparts. However, with the rise of technology, most modern units are very simple to install, and the same goes for the Kohler Archer toilet. Even if your DIY skills are limited, you shouldn't have any trouble if you check the manual first.
Two-piece units do have some benefits as well. First, you will find it easier to carry the unit to the desired location where you need to install it.
Some one-piece units can weigh over 100 pounds, which can be a real problem. By comparison, two-piece units split the toilet's weight in half and are much easier to transport. Second, this unit also features a DryLock system, which makes it much easier to install and prevents any possible leaks.
✓

Color Options

Another thing that we like about this unit is the variety of colors you can choose.

If you don't want a white toilet, there are several other color options like Biscuit, Dune, and a beautiful Black variant.

However, these options do cost a bit more, so be prepared for a change in price if selecting a different color.
Pro and Cons
Relatively quiet
Powerful flushing performance with less water consumption
Comfort seat base
No bolts or seat included
Comparisons -Kohler Archer vs. TOTO Drake II
The most similar unit to the Kohler Archer is the TOTO Drake II. To compare the two, we'll need to discuss several details. First, let's talk about the design.
As you may notice, both models look very similar. They have a square base and tank, and an elongated, comfortable bowl. The tank on the Drake II might look more elegant, but the final choice will depend on your personal style preference. Both units also have a toilet seat of over 17 inches in height, which makes them ADA-compliant and accessible for young children, elders, and people with disabilities.
Let's talk about flushing next. When it comes to the flushing system, these models vary slightly. The Archer uses AquaPiston technology which provides a 360-degree flush for a perfectly clean bowl. It features a leak-free performance and is amazing for a two-piece unit. On the other hand, Drake II uses a Tornado Flush system. It features three jets that create whirlpool-action, which is also very powerful. Of course, both units are WaterSense certified and use only 1.28 gallons of water per flush.
Finally, thinking about construction: both units are two-piece models, so when it comes to installation, you shouldn't have a problem carrying them. Even if you have no DIY skills, you should be able to install either of these units as long as you can lift the parts.
So, who is the winner? Well, it's a bit difficult to choose between two very similar models. However, the Kohler Archer is slightly cheaper and has a more modern look, which makes it a winner in our opinion.
Final Take
As you can see, buying the Kohler Archer toilet can be an excellent long-term investment. It's relatively affordable and offers some of the same great features that top-quality, expensive units offer.
If you still wish to shop on your own, be sure to check our buying tips for more recommendations.
5. Runner Up
Kohler Karing
"Every year we review hundreds of toilets to find the best ones for our audience. In our expert opinion, the Kohler Karing is one of the most high-quality smart toilets on the market."
Key Features
| | |
| --- | --- |
| WaterSense Certified  ✅ | |
|  Flush Score: | |
| Flush System: | |
| Flush Type: | |
| Bowl Shape: | |
| Water Consumption: | 1.08 |
| Style: | |
Dimensions:
Toilet – 27.75″ x 17.75″ x 20.93″
– 12″
– 2.87″
– 15.43″
CHECK PRICE on HOME DEPOT                              CHECK PRICE on AMAZON
On the outside, this Watersense certified toilet may look like it has no-frills - but you know what they say - it's the inside that counts!
Flushing Power
The Karing is equipped with a water-conserving flush that utilizes Power Lite technology.
With only 1.28 gallons per flush, the toilet saves you thousands of gallons and hundreds of dollars on your annual water bill.
Flushing is automated so you don't have to worry about lever-placement or required force.
Smart Design
You'll notice right away how modern the Karing looks. It features a sleek tankless design with a skirted trapway, eliminating any crevices for dirt and grime to stick around in.
The only cleaning required is the occasional wipe-down with water and mild soap.
It's important to keep in mind this one-piece toilet is not ADA-compliant.
Although it stands at a comfortable 15.5" height, some users may find this a little low for their preference.
One of the toilet's best features is its compact size. The Karing has many high-tech aspects but still manages to be the perfect size for small bathrooms.
The toilet's integrated bidet comes with a self-cleaning wand, precision air dryer, and deodorizer.
The best part of the Karing is that it is fully customizable. You can alter the heat seat, dryer, and water temperature to your liking. The toilet can also remember two user settings so multiple people in your household can craft their user experience to perfection.
The deodorizer utilizes a carbon filter that neutralizes nasty odors. The filter is good for about a year before a replacement is needed.
The toilet comes with an intuitive touch-screen remote. You'll be able to figure out the toilet without any instruction manual (though one will be included just in case!). The remote can be hand-held or wall-mounted.
The Karing is motion-activated which means hands-free opening and closing.
There is an LED light that illuminates the bowl so you don't have to turn on the overhead lights on your midnight bathroom trips.
The toilet uses a standard 12" rough-in and requires a standard GFCI circuit plug with 120V, 15A, or 60Hz.
A minimum of 20 psi static pressure is required as well. The Karing comes with a bowl, seat, power cord, supply line, and LCD remote control; it has a three year warranty.
The Karing is not a budget-friendly choice. As smart toilets go, the Karing's price tag is standard.
However, you don't need to break the bank to buy a durable toilet with a bidet.
Kohler offers plenty of standard, moderately priced toilets that can be purchased alongside a separate bidet seat, such as the Betello or Adair. You can save hundreds of dollars this way for a similar luxurious bathroom feel.
Pros and Cons
Built in self-cleaning bidet wand, precision air dryer, and deodorizer
1.08 gallons per flush
Motion-activated open/close and automated flush
Expensive
Not ADA-compliant
Seat is difficult to remove for thorough cleaning
Final Thought
The Amazon reviews for the Karing are mostly positive. They point out the toilet's technological reliability. Users are pleased with the bidet's force and the toilet's memory for user preferences. Some reviews boast about the toilet's modern look in their bathrooms.
The most common complaints are about how difficult it is to remove the toilet seat for thorough cleaning and how expensive the toilet is overall. Some find the price reasonable considering all the features while others wish they purchased a simpler unit with a removable bidet seat.
6. Best Bowl Coating
American Standard Townsend
Key Features
| | |
| --- | --- |
| WaterSense Certified  ✅ | |
| Bowl Coating: | Everclean glaze |
|  Flush Score: | |
| Flush System: | |
| Flush Type: | |
| Bowl Shape: | |
| Water Consumption: | 1.28 |
| Style: | |
Dimensions:
Toilet (30.2″ x 16.89″ x 29.75″),
(12″),
(2.06″),
(17.25″)
CHECK PRICE on BUILD                             CHECK PRICE on AMAZON
The Townsend has a number of attributes that we love. For one, it's a chair-height unit with an elongated bowl, for maximum comfort. American Standard includes their slow-close seat and lid with every purchase, so there is no need to buy one separately. Also, while the unit comes standard with a left-hand trip lever, you can easily customize the toilet to have a right-hand trip lever instead, at no extra cost!
It's also a beautiful appliance to look at and matches perfectly with the rest of the Townsend collection. If you need to throw together a bathroom quickly, the collection contains everything from showers and tubs to towel bars and sink handles, for a one-stop-shop.
VorMax Technology
By far, the most significant feature of the Townsend is American Standard's proprietary VorMax flush technology.
The VorMax still only uses 1.28 gallons of water per flush but directs the water flow in a completely different way than standard flushes to really make use of every drop.
The above image shows all of the mechanical and design elements that combine to make the VorMax flush so powerful.
These include two flush valves, a specially designed bowl shape, and a 2 1/16" siphon outlet.
EverClean Surface
Another American Standard innovation that you'll find on the Townsend is their EverClean antimicrobial surface.
This is a permanent coating that inhibits any growth of bacteria, mold, or mildew on any surface of the toilet (not including the seat).
The additive that makes this possible isn't just an exterior treatment; it's actually fired directly into the porcelain when it's being glazed, which allows for a truly durable finish.
Other Townsend Models
Product Documentation
Pros and Cons
American Standard's proprietary technologies, including VorMax flush and EverClean surface
Chair Height
Seat and cover included with purchase
Simple installation
Elegant design
Left or right hand trip lever option
Only one finish option for handle
Double flapper system enabling VorMax flush can be difficult to repair
The seat can be tricky to install or replace
Summary of Reviews
This is a no-fuss option toilet option.  While some users felt this model uses too much water, other users state it does a good job of flushing and cleaning the bowl.  Buyers like the look of this toilet and the fact that it comes with a toilet seat.
Final Verdict
In all, the American Standard Townsend is a great option for a high-quality toilet. It's not the most advanced unit on the market, so if you are looking for built-in cleaning features or luxury seat options, then this won't truly hit the mark. But by incorporating first-class materials ad innovative methods into the design, Townsend has elevated the basic toilet to a higher standard.
---
Buyers Guide & Resource for WaterSense Toilets 
Flush Performance Criteria
To test if a toilet meets EPA WaterSense standards without compromising on performance, engineers use a test substance that the toilet needs to flush in a single flush in four or five flush attempts. Only models that successfully flush the waste receive the WaterSense label.
The test substance consists of seven specimens made from soybean paste in a sausage shape, around 50 grams each. Note, the test only applies to single flush toilets and the full flush option of dual flush toilets.
How Does WaterSense Help?
At the base level, using less water both reduces your monthly water fees while helping preserve the environment. Let's look at some specific examples below.
Toilets
WaterSense certified toilets can decrease water consumption by 20% or more depending on your previous model.
Shower Heads
If you replace your existing shower head with one with the WaterSense label, you will save around 4 gallons of water every time you take a shower, which really adds up with a large family.
Faucets
Replacing old and inefficient faucets with WaterSense models, you can save up to 800 gallons of water each year. New WaterSense faucets will provide around 30% of efficiency while maintaining the right flow rate.
Irrigation
If you replace a clock-based controller with a WaterSense controller, you can save around 15,000 gallons of water each year.
Basically, WaterSense certified products are guaranteed to consume less water while still performing well, which is beneficial for your wallet and the planet.
Toilet Maintenance Checkups
Once you've decided to purchase a WaterSense toilet, we recommend some different maintenance tips based on the type of toilet. By properly maintaining your toilet, you help ensure a long lifespan and minimum repair fees in the long run.
Fill Valve Overflow Checkup
Every now and then, you should check your tank toilet's fill valve to ensure no water overflow.
To check the fill valve, simply take off the lid of the tank and check if the water is flowing over the top of the overflow tube. The refill water level should be below the top point of the overflow tube, so if the level is not right, you'll need to adjust the float. If this adjustment doesn't fix the problem, you will need to replace the fill valve.
It's important to watch out for fill valve overflow, if the valve runs constantly, it can waste up to 3 gallons of water each minute, which leads up to 4,000 gallons of water per day, or approximately $50 of the additional water cost.
Worn Flapper Checkup
You should also check for worn flappers, which you can do with what's known as a "dye test". Simply drop a few food coloring drops or dye into the tank. If the dye leaks into the bowl after 10 minutes, it means that you have a flapper leak. Make sure to flush the toilet after performing the test to avoid stains on the bowl.
If your toilet fails the dye taste, you can replace the worn flapper valve. If that doesn't solve the problem, you might need to replace the flapper seat or overflow tube.
Even a small leak from a worn toilet flapper can waste around 30 gallons of water each day, which leads to almost 1,000 gallons per month. Installing a new flapper will pay off in less than 60 days, and is well worth preserving your WaterSense water efficiency.
Flushometer Valve Checkup
For a flushometer toilet, the biggest issue to look out for is a worn valve. Basically, a worn valve allows more water to be used in a flush than it's needed. These toilets are specifically rated for a certain flush volume, and using more water than needed can result in lower performance.
If you think that the valve is worn, check the diaphragm or piston valves for wear. To determine if the valve needs to be replaced, check how long it takes to complete the full flush cycle. If your toilet uses 1.6 gallons per flush, it should take up to four seconds to perform the flush. When replacing the valve, you need to make sure that it has a flush volume consistent with the specifications of your toilet.
Dual Flush Checkup
For dual flush toilets, the most important maintenance step is actually education. These toilets can only achieve savings if used properly, so you should educate your family members on how a dual-flush toilet should be used. Especially if it's your first time with a dual-flush toilet, the controls can be confusing.
Overall, make sure everyone who uses the toilet knows to use a half flush for liquid waste and a full flush only for solid waste, and you'll maximize water savings with your dual flush toilet.
Flushometer Toilets with Smart Flush Technology
Looking for even better water efficiency? But what is exactly a flushometer toilet? Believe it or not, you have probably used this type of toilet many times in restaurants, schools, or offices.
Most residential toilets have a water tank and use gravity to work. However, they use pressure from the source of water to trigger their flush instead. You can find these toilets in many public places. It might seem like new technology, but the first flushometer toilet was invented back in 1906 by William Elvis Sloan when he created a Sloan Valve Company.
There are two main types:
Piston valves – molded cup known as a "piston" which is located between low and high-pressure chambers.
Diaphragm valves – instead of a piston, these toilets have a rubber diaphragm between chambers
Both types have these two chambers which are used to trigger the powerful flush without using too much water.
Why Use a Flushometer Toilet
A toilet with a flushometer valve can save you a decent amount of water. For example, some old toilets can use as much as 6 or 7 gallons per flush, which is way too much for today's standards. Flushometer toilets use only 1.6 gallons per flush or less.
To put these numbers in perspective, let's say that you have a 10-story office building, with 1,000 employees. By replacing old toilets with flushometer counterparts, you will save up to $10,000 and over a million gallons of water each year.
The main drawback of flushometer toilets is that they are not compatible with every plumbing system. Also, the piping needs to be able to provide water pressure of at least 20 PSI. However, if your plumbing system is set up to support these specifications, we recommend considering a WaterSense flushometer toilet for maximum water savings.
Our Final Thought
As you can see, a WaterSense labeled toilet or other appliance is essential if you want to preserve the environment and save money in the long run. Especially if you own a commercial property with a lot of toilet use, installing WaterSense toilets can save you thousands of dollars each year.
Even for the average family, WaterSense toilets are not expensive compared to other toilet options, which makes them a good investment in the long run for any family looking to save money and water.