A toilet rough-in is the distance between the wall behind the toilet and the center of the drainpipe – a standard rough-in is 12-inches.  Smaller bathrooms are often set up with a 10-inch rough-in, to maximize the limited space. A smaller rough in positions your toilet closer to the wall, allowing extra legroom in the front.
A smaller rough-in doesn't mean you have to compromise on efficiency and looks. We share some of our favorite 10-inch rough-in toilets to help you choose the best model for your home!
Our Top Picks
Rough-In Explained
The size of the rough-in for a toilet is quite important. Your plumber can only install toilets based on the existing rough-in for the main drain pipe. And, once your rough-in is set, it's very really difficult to change. Therefore, plan accordingly when designing and new bathroom space to ensure you build everything as you'd like.
Toilets most frequently come with a 14", 12", or 10" rough-in. The rough-in must be measured properly and precisely! If it is not, you may lack free space to install the toilet correctly. Be sure to know your bathroom's rough-in and pick a toilet that matches to avoid any installation issues.
Considerations
If you are thinking about whether you should get a 10-inch rough-in or not, there are a few details to consider:
Gaining Space
To start, going with a 10-inch rough-in allows you to gain only a few inches of free space. If these extra few inches will increase the usability of your bathroom, like allowing you to fully open a cabinet or shower door, then the 10-inch rough-in can make a big difference. If the extra inches won't significantly change how you use the bathroom however, it may not be worth the investment
Existing Rough-In
Another consideration is whether your bathroom already includes a 10-inch rough-in. Converting your existing rough-in to a 10-inch option is a complex process that can be very expensive. However, if your bathroom already has a 10-inch rough-in, you can make the most of it to maximize your bathroom space.
Take a look at our 24-inch toilet rough-in guide.
Toilet Models Available
Finally, is there a 10-inch rough-in toilet on the market that meets your needs? Compared to the more common 12-inch rough-in options, there are fewer buying choices for 10-inch rough-in toilets, so make sure you'll be able to find a toilet that fits your needs if you're going with a 10-inch rough-in
Top Comparisons of 10-Inch Rough-In Toilets
Fact Driven Reviews of the Best 10-Inch Rough-In Toilets
Let's compare 8 of the top 10-inch rough-in toilets available today.
1.

Toto CST744SF Drake

– Editor's Choice
Summary of Recent Reviews
Reviewers are raving over the quality flush of this toilet. It's consistently powerful, with some customers confirming that this continues to perform after years of use. "I am thrilled with this toilet that does not require double flushing!"
CHECK MORE REVIEWS
2.

American Standard Baby Devoro

– Most Water Efficient
Summary of Recent Reviews
"Aww it's a teensy weensy teeny toilet!" Don't let the size fool you, this petite toilet performs great for buyers.  This is a water-saving design but the flush is still effective.
CHECK MORE REVIEWS
3.

Kohler Highline

 – Strongest Flush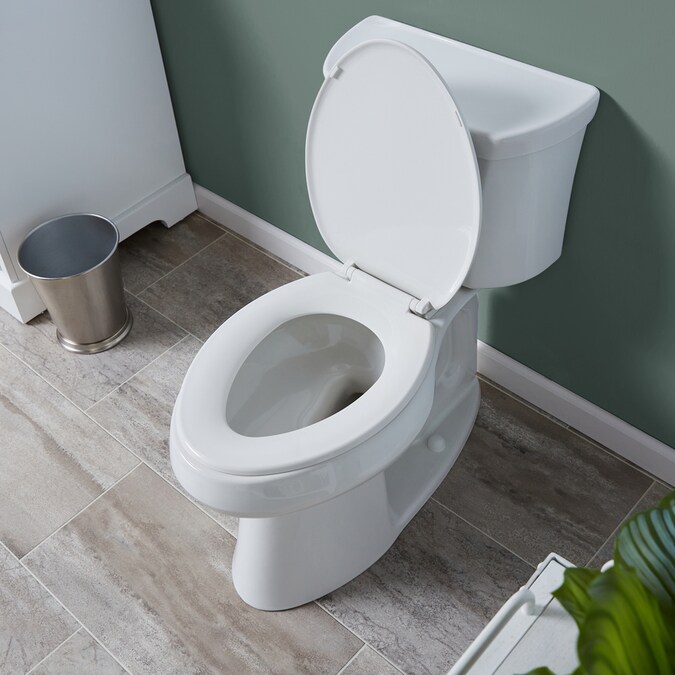 Summary of Recent Reviews
Buyers are pleased with the flush power of this low-flow toilet.  The tank is clean after use which lends itself to be cleaned easily.  "Great flush…the height is more comfortable than the standard toilet and the water usage is low."
CHECK MORE REVIEWS
4.

American Standard Edgemere

– Budget Friendly
Summary of Recent Reviews
Customers confirm that this toilet is great for their small spaces.  It is water efficient with a powerful flush that keeps the bowl clean.  Buyers also share that this one is easy to install.
CHECK MORE REVIEWS
5.

American Standard Cadet 3

– Runner Up
Summary of Recent Reviews
Buyers are pleased with the performance of this toilet.  The flush is quick and efficient, and several reviews mentioned that they no longer have clogging issues since they've installed this.  "The Cadet 3 seems to be flushing cleanly and efficiently."
CHECK MORE REVIEWS
6.

Kohler Cimarron
Summary of Recent Reviews
Customers are pleased with this water-efficient toilet.  Even using minimal water, the flush is efficient and powerful.  "This is actually the third one we've purchased! (3 bathrooms).  So pleased with its performance."
CHECK MORE REVIEWS
7.

Kohler K-3889-96 Highline
Summary of Recent Reviews
"Great flush…the height is more comfortable than the standard toilet and the water usage is low." This reviewer nicely sums up buyer feedback on this toilet.  It is compact but comfortable.  The low water usage doesn't impact the flushing power.
CHECK MORE REVIEWS
8.

Toto CST744EF.10#01 Drake
Summary of Recent Reviews
Some reviewers are repeat buyers for their additional bathrooms, which speaks volumes for the quality of this toilet.  Water usage is low but that doesn't impact the flushing power.  Note that it doesn't come with a seat or wax ring, so be sure to purchase these prior to installation.
CHECK MORE REVIEWS
Choosing Guide – 10 Factors to Consider
After you've decided whether a 10-inch rough-in toilet is right for you, there are other features to consider to select the specific best option:
Type of Toilet
There are two main types of toilets: one-piece and two-piece designs, which depend on whether the bowl and tank are fused together. Typically, one-piece toilets are smaller than their two-piece counterparts, and they're generally easier to maintain as they don't have hidden places between parts. On the other hand, two-piece models come with the bowl separate from the tank. Their biggest advantage is that they are much cheaper than their counterparts, and can be easier to install. However, you may experience shipping problems with two-piece models.
Water Consumption
Not a lot of people realize that their toilets can have a huge impact on their water bills every year. Now, different kinds of toilets offer different flushing capacities. According to the EPA, your toilet should not use more than 1.6 gallons of water per flush. Most water-saving toilets stick to this standard. Still, certain more effective models have a rating of 1.28 gallons per flush, which can come with added benefits like EPA WaterSense certification.
Right Height Selection
Most manufacturers often use terms such as comfort height, right height, and universal height. These different options can sometimes be very confusing to some people. Basically, these different terms refer to how far the toilet is from the ground. For example, the standard height for most toilets is around 16 inches. It's important to also note that adding a toilet seat can add additional inches to your toilet.
Exact Rough-in Measurements
As mentioned above, if your rough-in doesn't match the rough-in in your bathroom, you'll have major complications when installing a toilet. If you're even one inch off between both, you may not be able to install the toilet at all. Be sure to select a toilet that matches your bathroom's rough-in, whether that be a 10-inch rough-in or another size. 
Type of Flushing System
Flush technology is another factor to consider when buying a toilet, as it determines the overall efficiency and flushing power. In general, more powerful systems will keep your bowl cleaner and are less likely to clog even with one flush. Looking for a more powerful flushing system will help you save water and better maintain a clean toilet bowl surface.
Water Restrictions Standards
Don't forget to check for any water restriction standards in your state before purchasing a toilet as well. For example, some states such as Texas and California don't allow toilets that use more than 1.28 gallons per flush. Most other states are fine with 1.6 gallons per flush, however, you should always confirm before making your final toilet choice. 
Bowl Type
Another essential detail to consider is the type of bowl – you'll typically be able to select either a round or elongated bowl. Round-shaped bowls are better for those who want to save space. Elongated bowls, on the other hand, take up more space, but provide more room for your legs, making them more comfortable. Regardless of which option best fits your needs, you'll also want to see if the toilet comes with an anti-microbial finish or other additional helpful features.
Warranty and Certifications
One last factor to keep in mind is the type of warranty. Warranty is the best way for a company to ensure the quality of their toilets. The standard warranty for many toilets is about 1 – 3 years. However, if you're very worried about potential issues with the toilet, you can look for an extended warranty option, with warranties lasting up to 5 years or even longer.
Installation Process
Here are the main steps to follow when installing a new toilet:
Before even beginning installation, it is important to measure everything properly. Start by using a measuring tape to figure out the rough-in dimensions for your bathroom, if you haven't measured these already
After confirming measurements, gather necessary tools like wrenches, a hacksaw, a putty knife, and a wax ring. An empty bucket and a pair of rubber gloves will also come in handy
Then, start by disconnecting the water supply from the toilet you want to replace
After that, to make sure the tank is empty, flush the old toilet a few times until all water is gone from the bowl
Next, unscrew the bolts and carefully remove the seat cover and the old toilet
Take your new toilet, attach it with the provided bolts, and re0connect the water supply
Finally, flush a few times to fill the bowl and confirm there are no leaks
You may be interested in our how-to toilet installation guide.
Frequently Asked Questions
Bottom Line
With all the various features this model has to offer, these toilets makes great choices for everybody. They are designed sturdy and durable, yet fancy. They are also relatively affordable and offers magnificent performance.
Overall, we hope this article helped clearly show the benefits and details to consider for a 10-inch rough-in for your bathroom space.