The main issue with bathrooms nowadays is that they often come last in the blueprint design. In fact, they're usually made using leftover space, which is why many bathrooms are small and lack space. However, one way to maximize room in your small bathroom is to plan for a 10-inch rough-in for your toilet. With a 10-inch rough-in instead of the standard 12-inch rough-in, your toilet will be closer to the wall, freeing up some extra leg room in front. Even though it may not seem like a big deal, a few inches of free space can come in handy.
10-Inch Rough-In Toilet – Description
The size of the rough-in for a toilet is quite important. Your plumber can only install toilets based on the existing rough-in for the main drain pipe. And, once your rough-in is set, it's very really difficult to change. Therefore, plan accordingly when designing and new bathroom space to ensure you build everything as you'd like.
Toilets most frequently come with a 14", 12", or 10" rough-in. The rough-in must be measured properly and precisely! If it is not, you may lack free space to install the toilet correctly. Be sure to know your bathroom's rough-in and pick a toilet that matches to avoid any installation issues.
Consider Your Needs
If you are thinking about whether you should get a 10-inch rough-in or not, there are a few details to consider:
To start, going with a 10-inch rough-in allows you to gain only a few inches of free space. If these extra few inches will increase the usability of your bathroom, like allowing you to fully open a cabinet or shower door, then the 10-inch rough-in can make a big difference. If the extra inches won't significantly change how you use the bathroom however, it may not be worth the investment
Another consideration is whether your bathroom already includes a 10-inch rough-in. Converting your existing rough-in to a 10-inch option is a complex process that can be very expensive. However, if your bathroom already has a 10-inch rough-in, you can make the most of it to maximize your bathroom space.
Take a look at our 24 inch toilet rough-in guide.
Finally, is there a 10-inch rough-in toilet on the market that meets your needs? Compared to the more common 12-inch rough-in options, there are fewer buying choices for 10-inch rough-in toilets, so make sure you'll be able to find a toilet that fits your needs if you're going with a 10-inch rough-in
Comparison Table
Photo:
Photo:
Best Seller
Photo:
Photo:
 10-Inch Rough-In Toilets – 9 Fact Driven Reviews
Let's compare 9 of the top 10-inch rough-in toilets available today.
1. Kohler K-3889-0 Highline Toilet
| | |
| --- | --- |
| Manufacturer | Kohler |
| Item Weight | 93 pounds |
| Color | White |
| Material | China |
| Warranty | 1 Year |
| Flush Type | Gravity Flush |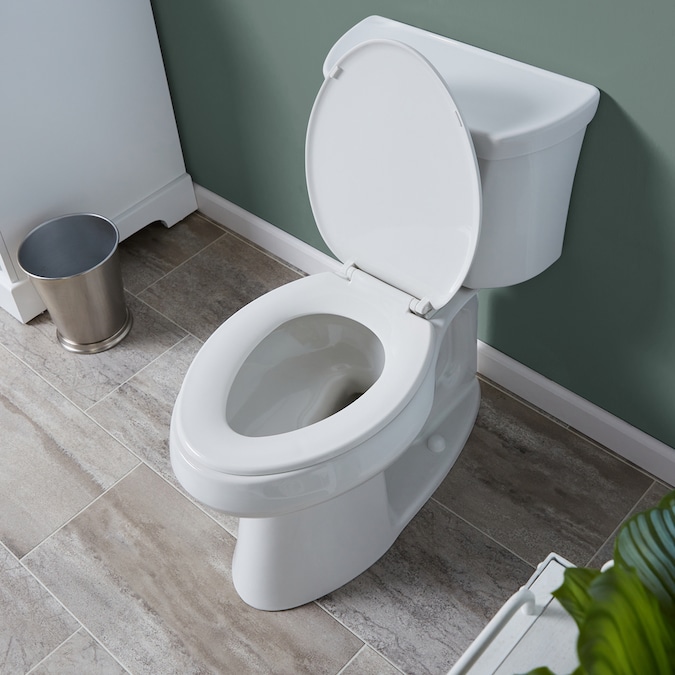 The Kohler Highline K-3889-0 is one of the best Kohler toilets. This particular model has an ultra-modern design with an elongated two-piece bowl that makes sitting way more comfortable. Especially for tall individuals and those that are differently-abled, this ADA-compliant toilet will be a great choice.
When it comes to performance, Kohler actually describes this particular model as a "Class Five Toilet," meaning it uses powerful flushes to clear waste and clean the bowl perfectly. Even though it only consumes 1.28 gallons per flush, the Highline won't clog thanks to the large trapway.
Additionally, installation of this product is extremely easy, particularly with the bolts preinstalled on the bottom of the toilet. The Kohler K-3889-0 Highline also comes with a 1-year limited warranty to offer protection for the entire first year of use.
Readthe full review of the Kohler Highline toilet.
Pros
✅ Powerful flushes
✅ Very efficient
✅ Super comfortable
2. American Standard Colony 
| | |
| --- | --- |
| Manufacturer | American Standard |
| Item Weight | 69 pounds |
| Color | White |
| Material | Vitreous China |
| Warranty | 2 Years |
| Flush Type | Gravity Flush |
If you are looking for a good-quality yet affordable toilet, this American Standard option makes a great choice. Similar to the other Colony option described above, the 221DB104.020 provides all the important features at a relatively affordable price. 
Overall, this Colony model offers powerful flushes with a low 1.28 gallons-per-flush consumption. This toilet is also EPA WaterSense certified, which ensures it to be even more effective than average water-saving toilets.
Finally, due to its powerful flushes, the bowl remains very clean almost all the time. Even though this model doesn't have the antimicrobial EverClean coating that some other toilets do, its PowerWash rim helps ensure a clean surface.
Overall, the 221DB104.020 Colony is a fancy, stylish option for your bathroom. The manufacturer also includes the 2-year limited warranty for additional confidence in this toilet.
You may be interested in our expert review of the American Standard Colony toilet.
Pros
✅ Relatively affordable
✅ Stylish
✅ Very durable
Cons
Doesn't include the antimicrobial EverClean coating
3. Kohler K-3851-0 Cimarron 
| | |
| --- | --- |
| Manufacturer | Kohler |
| Item Weight | 66.6 pounds |
| Color | White |
| Material | China |
| Warranty | 1 Year |
| Flush Type | Gravity Flush |
The Kohler Cimarron is a comfort height toilet ideal for the elderly thanks to its ergonomic design. It is also suitable for bathrooms that are designed for those with movement disabilities.
Even with the comfort height, this toilet is compact enough to easily fit in most bathrooms. It also comes with in both round and elongated shapes to select based on your personal preference and bathroom space. 
Some of the top features to consider for the Cimarron are the flush technology and additional certifications. To start, the Canister Flush Valve of the AquaPiston delivers a very powerful flush performance, eliminating the most common leakage problems while effectively removing all waste. The Cimarron also features the DryLock system. 
Secondly, thanks to its low water consumption, the Cimarron is EPA WaterSense certified, which can save up to 16000 gallons per year. With this toilet, you'll reduce your environmental impact without sacrificing on flush performance.
Learn more about the Kohler Cimarron reading our full review.
Pros
✅ Comfort height
✅ Simple to use
Cons
The round bowl is quite small
4. American Standard Cadet 3 
| | |
| --- | --- |
| Manufacturer | American Standard |
| Item Weight | 58.9 pounds |
| Color | White |
| Material | Vitreous China |
| Warranty | 1 Year |
| Flush Type | Gravity Flush |
The smart design of the American Standard Cadet 3 will not only provide high performance but fewer clogs as well. Further, with such an aesthetic design, this model is quite pleasing to the eyes.
Beyond design details, you'll also have a ton of flexibility with this model as American Standard offers a huge variety for the Cadet 3. For example, you can select between elongated and round bowl options, two-piece and one-piece versions, and even compact and right height models. There are also water-efficient options to consider as well, which consume only 1.28 gallons per flush instead of 1.6 gallons.
Overall, with so many features to choose from, the Cadet 3 is an affordable option that will fit your needs no matter what they are. You'll also benefit from the antimicrobial surface that increases cleanliness, and this particular model is ADA compliant, making it a perfect choice for those with lower mobility in the bathroom.
Take a peak at our ultimate American Standard Cadet 3 review.
Pros
✅ Large flush valve
✅ Antimicrobial surface
✅ ADA compliant model
Cons
The water level is quite low
5. Toto CST744SF.10#01 Drake

| | |
| --- | --- |
| Manufacturer | TOTO |
| Item Weight | 47.9 pounds |
| Color | Cotton |
| Material | Ceramic |
| Warranty | 1 Year |
| Flush Type | G-max technology |
TOTO is widely known for its high-quality 10-inch rough-in toilets. This two-piece option is quite sleek-looking and has various built-in features, along with a smooth look that helps streamline the cleaning process.
You'll also notice that TOTO toilets offers numerous models with different heights, so you can select the option that best optimizes the experience for everyone in your home.
Thanks to the G-max technology, regardless of toilet height, the flushes of the CST744SF.10#01 are very powerful even while consuming only 1.6 gallons per flush. Furthermore, pairing the forceful G-max flush technology with a large, fully glazed trapway, this toilet rarely clogs. 
One detail to be aware of however is that this toilet doesn't come with a seat included, so you'll need to purchase a separate seat for this model.
You may be interested in our reviews of other TOTO Drake toilets.
Pros
✅ G-max flushing technology
✅ Modern design
✅ Universal height
6. American Standard Edgemere
| | |
| --- | --- |
| Manufacturer | American Standard |
| Item Weight | 67.6 pounds |
| Color | White |
| Material | Vitreous China |
| Warranty | 5 Years |
| Flush Type | Siphon Jet |
The American Standard Edgemere is a right height toilets that offers maximum comfort. Further, the design of the Edgemere is quite remarkable and stands out from the crowd, even while taking up minimal space to fit any sized bathroom. 
One of the standout features for the Edgemere is its antimicrobial EverClean surface coating. This special glaze  prevents growth of germs on the toilet surface, minimizing stains and odors. Additionally, the Edgemere is highly efficient and uses only 1.28 gallons per flush, and benefits from a PowerWash rim to further increase hygiene.
One other top detail is that installation for this particular toilet is very straightforward. You can even install this toilet yourself with little trouble.
Unfortunately you will need to purchase a toilet seat separately for this model, but you can be confident in coverage from American Standard thanks to the 5-year limited warranty.
Read the full review of the American Standard Edgemere.
Pros
✅ High water efficiency
✅ Power wash rim
7. Kohler K-3889-96 Highline
| | |
| --- | --- |
| Manufacturer | KOHLER |
| Item Weight | 100 pounds |
| Color | Biscuit |
| Material | China |
| Warranty | 1 Year |
| Flush Type | Gravity Flush |
Kohler toilets are widely known for minimal yet quite modern design, and the Kohler Highline is no different. In particular, the Kohler's distinct biscuit color is a standout feature for this model. 
Thinking about design, the Highline's right height seat feels more like sitting on a chair than sitting on a toilet, making it much easier to both sit and stand from the toilet. This toilet also comes with both round and elongated bowl options to select based on your preference. 
In terms of efficiency, this model saves water by only consuming  1.28-gallons per flush. It also features the DryLock system which prevents any leaks during installation. 
While a bit more expensive that some other comparable toilets, the Highline offers many features to justify the price. It also comes with a 1 year limited warranty for added support during and after installation.
Pros
✅ High-quality construction
✅ Modern design
✅ DryLock system
8. Toto CST744EF.10#01 Drake
| | |
| --- | --- |
| Manufacturer | TOTO |
| Item Weight | 80 pounds |
| Color | Cotton |
| Material | Vitreous China |
| Warranty | 1 Year |
| Flush Type | Gravity Flush |
The TOTO Drake CST744EF is a very popular choice among users nowadays. With the highly-efficient and powerful flushing mechanism, this model makes a perfect choice.
This toilet also comes at a universal height with an elongated bowl for maximum comfort, making it an ideal fit for many different bathrooms. Additionally, you'll find a perfect fit for your bathroom thanks to the various colors available for this model. 
In terms of efficiency, this Drake model consumes 1.6 gallons per flush without compromising on a powerful flush. In particular, the G MAX flushing system featured in this model results in powerful flushes and less clogging with every use.
Check out the full reviews of powerful flushing toilet here
Unfortunately, the one downside to this toilet is that the toilet seat is not included with purchase.
Pros
✅ Beautiful design
✅ Low water consumption
✅ Powerful flush
Cons
You have to buy the seat separately 
9. American Standard 2315.228.020 Baby Devoro Flowise
| | |
| --- | --- |
| Manufacturer | American Standard |
| Item Weight | 52.6 pounds |
| Color | White |
| Material | Vitreous China |
| Warranty | 1 Year |
| Flush Type | Powerful Flush |
Unlike any other toilet on the list, this American Standard toilet was made especially for children. Therefore, this is a perfect choice for healthcare and education facilities.
The Baby Devoro is made out of vitreous china and is extremely durable and tough, designed to withstand use by children in particular. Furthermore, thanks to the bowl coupling system and the Speed Connect tank, installation for this toilet is very simple.
With a glazed trapway and strong flow rate, this toilet provides a very powerful flush while using only 1.28 gallons per flush. Because of its strong performance and durability, the Baby Devoro is the best choice available for your kids if they are not mature enough to use a normal height toilet.
One downside to note is that this toilet is a bit more expensive than other models, although it offers unique benefits and features that could be worth the price.
Pros
✅ Perfect height for small people and kids
✅ Quick and easy to install
✅ Fully glazed trapway
Choosing Guide – 10 Factors to Consider
After you've decided whether a 10-inch rough-in toilet is right for you, there are other features to consider to select the specific best option:
1. Type of Toilet
There are two main types of toilets: one-piece and two-piece designs, which depend on whether the bowl and tank are fused together. Typically, one-piece toilets are smaller than their two-piece counterparts, and they're generally easier to maintain as they don't have hidden places between parts. On the other hand, two-piece models come with the bowl separate from the tank. Their biggest advantage is that they are much cheaper than their counterparts, and can be easier to install. However, you may experience shipping problems with two-piece models.
2. Water Consumption
Not a lot of people realize that their toilets can have a huge impact on their water bills every year. Now, different kinds of toilets offer different flushing capacities. According to the EPA, your toilet should not use more than 1.6 gallons of water per flush. Most water-saving toilets stick to this standard. Still, certain more effective models have a rating of 1.28 gallons per flush, which can come with added benefits like EPA WaterSense certification.
3. Right Height Selection
Most manufacturers often use terms such as comfort height, right height, and universal height. These different options can sometimes be very confusing to some people. Basically, these different terms refer to how far the toilet is from the ground. For example, the standard height for most toilets is around 16 inches. It's important to also note that adding a toilet seat can add additional inches to your toilet.
4. Exact Rough-in Measurements
As mentioned above, if your rough-in doesn't match the rough-in in your bathroom, you'll have major complications when installing a toilet. If you're even one inch off between both, you may not be able to install the toilet at all. Be sure to select a toilet that matches your bathroom's rough-in, whether that be a 10-inch rough-in or another size. 
5. Type of Flushing System
Flush technology is another factor to consider when buying a toilet, as it  determines the overall efficiency and flushing power. In general, more powerful systems will keep your bowl cleaner and are less likely to clog even with one flush. Looking for a more powerful flushing system will help you save water and better maintain a clean toilet bowl surface.
6. Water Restrictions Standards
Don't forget to check for any water restriction standards in your state before purchasing a toilet as well. For example, some states such as Texas and California don't allow toilets that use more than 1.28 gallons per flush. Most other states are fine with 1.6 gallons per flush, however, you should always confirm before making your final toilet choice. 
7. Bowl Type
Another essential detail to consider is the type of bowl – you'll typically be able to select either a round or elongated bowl. Round-shaped bowls are better for those who want to save space. Elongated bowls, on the other hand, take up more space, but provide more room for your legs, making them more comfortable. Regardless of which option best fits your needs, you'll also want to see if the toilet comes with an anti-microbial finish or other additional helpful features.
8. Warranty and Certifications
One last factor to keep in mind is the type of warranty. Warranty is the best way for a company to ensure the quality of their toilets. The standard warranty for many toilets is about 1 – 3 years. However, if you're very worried about potential issues with the toilet, you can look for an extended warranty option, with warranties lasting up to 5 years or even longer.
Installation Process
Here are the main steps to follow when installing a new toilet:
Before even beginning installation, it is important to measure everything properly. Start by using a measuring tape to figure out the rough-in dimensions for your bathroom, if you haven't measured these already
After confirming measurements, gather necessary tools like wrenches, a hacksaw, a putty knife, and a wax ring. An empty bucket and a pair of rubber gloves will also come in handy
Then, start by disconnecting the water supply from the toilet you want to replace
After that, to make sure the tank is empty, flush the old toilet a few times until all water is gone from the bowl
Next, unscrew the bolts and carefully remove the seat cover and the old toilet
Take your new toilet, attach it with the provided bolts, and re0connect the water supply
Finally, flush a few times to fill the bowl and confirm there are no leaks
You may be interested in our how-to toilet installation guide.
Frequently Asked Questions
Is a 10-Inch Rough-in Toilet the Best Solution to Save Extra Space?
Long story short, while it can be an effective option, a 10-inch rough-in might not always be the best. Specifically, you should consider getting this kind of toilet only if saving a few inches will get you the space you need, particularly if your bathroom is already set up with a 10-inch rough-in. There are other options available as well that can save even more space, such as a corner or a wall-hung toilet.
What Are the Main Differences Between 10-Inch and 12-Inch Rough-ins?
There aren't many significant differences between the 12-inch and 10-inch rough-ins. In general, 10-inch rough-ins are more likely to be found in older houses. On the other hand, the 12-inch models are typical for modern bathrooms. Overall, 12-inch rough-ins are more common, so you may have more trouble finding a 10-inch toilet option if you do have a 10-inch rough-in.
Can I Replace Toilets With Bigger Rough-in Sizes with a 10-Inch Rough-in Toilet?
Unfortunately, if you have a toilet with a bigger rough-in size you can't install a 10-inch rough-in. You are going to have to measure the size of your rough-in and find a toilet that size, because otherwise the parts won't connect.
Should I Hire an Expert to Install a 10-Inch Rough-in Toilet?
Although the installation process on some toilets is quite easy, it can also be challenging, depending on the type of toilet and other details. Many people have managed to install their toilets without any help. But, accidents can happen. Particularly if you don't have as much DIY experience, we recommend hiring an expert to avoid any issues.
Bottom Line
If you've decided a new 10-inch rough-in toilet is the way to go, the American Standard 221DB104.020 Colony is today's winner. With all the various features this model has to offer, it makes a great choice for everybody. Its design is quite sturdy and durable, yet fancy. It is also relatively affordable and offers a magnificent performance. Plus, it also has the PowerWash, making sure the bowl remains clean all the time.
Overall, we hope this article helped clearly show the benefits and details to consider for a 10-inch rough-in for your bathroom space.