Although relatively new, bidet handheld sprayers are slowly gaining popularity. They make using the toilet a much more hygienic experience, but that's not all. Since you will no longer need to buy toilet paper, a bidet handheld sprayer will save you space, money, and time. Let's check out our top picks.
Our Top Picks
Comparison of the Best Handheld Bidet Sprayers in 2022
How Bidet Sprayers Work
Bidet sprayers are powered by water and consist of three parts.
The t-valve is attached to the water line and splits the water between the toilet tank and the sprayer. It actually adjusts the amount of pressure that gets into the bidet, so when it's closed, no water can reach the bidet sprayer. Note that if the valve is completely opened, it can cause very high pressure, so if you prefer lower pressures, you should turn the valve halfway.
When you finish using the bidet, according to most manufacturers, you should completely turn off the valve.
Main Features to Consider
Here's a list of six important factors when choosing the best bidet hand sprayer for your home.
✓ Materials
Usually, bidet sprayers are made from either ABS or stainless steel. Stainless steel is better since it's more durable and lasts longer. Also, it's usually rufst-proof.  ABS plastic heads tend to have a chrome finish, but they don't last as long.
Hoses are usually made from stainless steel, but more affordable models come with PVC hoses. The linings are made from rubber, while more expensive options will also have nylon for improved reinforcement.
When it comes to T-valves, every handheld bidet sprayer has a metal T-valve.
✓ Pressure Control Mechanism
The cheapest models only have the option to control pressure via the T-valve which can be inconvenient if different users prefer different pressure settings.
Other models have pressure controllers on the spray head that come in one of two primary forms. Some have a lever that you push down with your thumb. Others have a rotating switch. The first option can be quite sensitive and is not always easy to control, but allows you to quickly stop the flow of water if needed. In our opinion, it's better to buy a sprayer with a rotating switch, especially if you never used bidet handheld sprayers before.
✓ Construction
One of the most important things about these units is how they deal with pressure. It has a direct impact on how long the unit will last and the prevention of possible leaks.
Bidets with a thumb lever usually have a spring valve. They work well, but you need to turn them off after each use. They may break if under the strain of high pressure for too long.
On the other hand, if you buy a model with a rotating switch, it will come with a brass valve. These are fitted with ceramic seals that can withstand much higher pressure. For example, some brass valves can withstand 250 PSI and last for up to 15 years.
✓ Spray Pattern
Handheld bidet sprayers can have many different spray patterns. For example, the spray can be spread out for full coverage or can be thinner for a more powerful spray. Some sprayers also come with a rotating nozzle, which allows you to choose between various spray patterns.
✓ Installation Method
Most bidet handheld sprayers are very easy to install and require no tools. However, some units require a trickier installation, especially if they need to be attached to the sink or the shower. Yet, the added effort can be worth it as these units allow you to choose between hot and cold water.
✓ Warranty
Like any hardware, bidet handheld sprayers can have no warranty, or come with a lifetime warranty. You should always check the manufacturer's policy since sprayers wear out over time and you may need to replace parts.
Reviews of the Top 9 Bidet Handheld Sprayers (Hygienic)
#1

Brondell PS-90 Bidet Sprayer

– Editor's Choice
If you want a simple but effective bidet sprayer, Brondell PS-90 would be your best choice. It's easy to use and comes with a durable T-valve that allows you to control water pressure. Also, the hose is durable and reinforced with PVC.
The sprayer is very easy to install and comes with a plastic holder that you can mount on a wall or on a toilet tank. Also, all the parts that you need are included in the package, so you don't have to worry about having to buy additional parts.
Performance Ratings
Customer Reviews
Last gathered: June 18, 2022

Summary of Recent Reviews
Buyers are pleased with this affordable bidet option.  The adjustable water pressure provides a personalized experience.  Installation is straightforward and manageable for even those who are inexperienced.  "Does it work? Yep. Like a boss."
#2

TRUSTMI Concealed Bidet Sprayer

– Runner Up
One of the best things about this bidet is that it allows you to pick the precise temperature of the water. It's made of brass, and with a nice brushed nickel, it will fit any modern or traditional bathroom.
The bidet is very simple to use — just press the switch with your thumb and the water comes out. It also allows you to choose between jet and slow flow, which can be quite useful.
Performance Ratings
Customer Reviews
Last gathered: June 18, 2022

Summary of Recent Reviews
While some users mention a leaking issue, most buyers were happy with the performance of this product.  This looks nice when installed, and allows users to adjust the water temperature to fit their preferences. "The quality is nice and the faucet looks great for my intended needs."
#3

RinseWorks Aquaus 360 Bidet Sprayer

– Review Champion
This model comes with some interesting innovative features, such as a rotatable switch. You can turn it from either side, which definitely makes it easier to use. Also, the package contains everything that you need for installation including a brass T-connector, ball valve, two spray heads, 5-inch extension, and tank clip.
The sprayer is made in the USA and has various certifications including an NSF/UPC certification which allows it to be used in countries in which a specific plumbing code is required. It's made from durable, high-quality materials, and also comes with a 5-year warranty.
Performance Ratings
Customer Reviews
Last gathered: June 18, 2022

Summary of Recent Reviews
Installation is a breeze with this bidet option.  Buyers liked the extension option, so they could adjust to best fit their comfort.  Users are pleased with the water pressure, and like that it is adjustable.  A couple of buyers had to reach out to customer service for minor issues and were pleased with the service.
#4

AIFUSI Bidet Sprayer

– Budget Friendly
The Aifusi sprayer has both manual and automatic spray modes. Automatic mode provides a constant stream of water so that you don't need to constantly hold the button. It's an ideal choice for the elderly and people with reduced mobility.
Another great thing is that this sprayer comes with a portable version that you can carry with you wherever you go. You can also choose between an ABS and a stainless steel sprayer head, but only the ABS has the automatic mode.
Performance Ratings
Customer Reviews
Last gathered: June 18, 2022

Summary of Recent Reviews
While some customers were unsatisfied with the durability of this option, most were pleased with this affordable bidet. Buyers state that this is a great replacement for toilet paper. Installation is straightforward and the water pressure is efficient for cleaning.
#5

SonTiy Handheld Bidet Sprayer
This sprayer is made from solid brass and comes with a leak-free guarantee. You can choose from either 6.8-inch and 7.9-inch spray heads—both of which are long enough for both front and rear use.
Instead of a standard spring valve, this sprayer has ceramic disks inside, which provide better performance. According to the manufacturer, because of this design, the SonTiy sprayer can last up to 15 years. Also, unlike most bidets, this model has a T-valve that doesn't share a shut-off knob with the toilet tank. It means that you won't have to turn the valve off.
Performance Ratings
Customer Reviews
Last gathered: June 18, 2022

Summary of Recent Reviews
Some buyers were first-time bidet users and wish they hadn't waited so long!  Customers state that this one is worth the money as it feels like a durable, quality product.  Water pressure is adjustable to your preference.  You will need to be prepared with tools for installation so be sure to read the instructions before you start.  
#6

SmarterFresh Handheld Bidet Sprayer
SmarterFresh sprayer works like most traditional models. It comes with a self-controlled pressure lever that allows you to adjust the flow and comes with a long, 48-inch hose.
Since the company offers the option to order with minimal packaging, this is one of the most eco-friendly sprayers in the market.
You can also choose between three different versions: steel, brass, or chrome-plated. Also, the sprayer comes with all the necessary parts, and the manufacturer offers a 1-year warranty.
Performance Ratings
Customer Reviews
Last gathered: June 18, 2022

Summary of Recent Reviews
Be sure to carefully follow the installation directions, and you'll be pleased with this bidet.  One reviewer has owned this for over 3 years and shared that it still performing as good as new.  Many commented on how well this was designed.  "Thank you, SmarterFresh, for a well-designed product, thoughtfully packaged, that gives me something I really needed!"
#7

Aqua Nexis Handheld Bidet Sprayer
What sets this model apart from traditional models is that it comes with a 360-degree rotatable spray head. It makes this sprayer very easy to use since you can quickly point the sprayer head in any direction and you won't have to worry about tangling the hose. The sprayer is made from durable, high-quality materials and comes with Aqua Nexis no-leak seals.
The installation requires only about 5 minutes and you can do it even with minimal DIY experience. You don't need any tools, and everything is explained well in the user manual. However, if you have any questions, you can always call their VIP customer service.
Performance Ratings
Customer Reviews
Last gathered: June 18, 2022

Summary of Recent Reviews
Buyers used terms such as "life-changing" when describing this bidet, so it's safe to say that this is a quality product.  "this gives me the clean feeling that toilet paper alone can't give me."  Installation is straightforward, and there is a switch to easily adjust the water flow."
#8

JoyWay Handheld Bidet Sprayer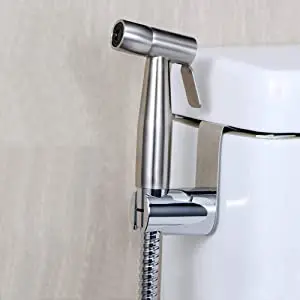 This sprayer comes with an angled sprayer head and closely spaced holes for maximum precision, allowing you to easily spray where you want, without getting everything else wet. It's one of the best cloth-diaper sprayers that you can find on the market.
It comes with an ABS, chrome-plated sprayer head, and an easy-to-use lever. Its push-switch control allows you to smoothly change the pressure. The valve is made with ceramic disks which ensure a completely leak-proof experience. It's an excellent choice if you prefer an ergonomic design.
Performance Ratings
Customer Reviews
Last gathered: June 18, 2022

Summary of Recent Reviews
Customers agree that this is a good bidet for the price.  Installation is easy with minimal tools required.  Users recommend reading the manual to understand how to extend the life of this bidet.  "Every household should have this. Impressive."
#9

SmarterFresh Faucet Bidet Sprayer
This model is one of the best warm water bidet sprayers currently on the market. Since it attaches to the sink, the sprayer is very easy to install and requires no tools. However, you will need a removable aerator for your sink to be able to attach the hose.
The hose is 86 inches long, meaning that you can easily reach anything in the bathroom. We also like that the sprayer comes with both soft and powerful spray modes. The manufacturer offers a lifetime guarantee, which is excellent.
Performance Ratings
Customer Reviews
Last gathered: June 18, 2022

Summary of Recent Reviews
Customers like the simplicity of this easy-to-install bidet. Water pressure and temperature are effective and are easy to control.  Users were also pleased with how this looked when installed in their bathrooms.
Benefits of Handheld Sprayers
Did you know that there are several types of bidets on the market today? You can choose between travel bidets, bidet seat attachments, toilet seat combos, or even a handheld bidet sprayer. Each of these bidets helps improve your hygiene and also saves you from buying toilet paper. So, why should you choose the handheld bidet sprayer over the other types that we mentioned?
Bidet sprayers combine the mobility of a portable bidet with the performance and efficiency of a bidet seat. Let's take a look at the advantages that a handheld spray head provides:
It allows you to clean yourself from different positions and angles, which makes it convenient for both males and females.
You can aim the spray precisely which allows a more efficient water usage.
Bidet sprayers are also good for rinsing cloth diapers, as well as for cleaning pets or dirty shoes.
You can also use it to rinse the toilet after use.
Yes, portable bidets are also maneuverable, but they lack the power of a handheld bidet. Handheld sprayers have special attachments for increased pressure. These sprayers are also non-electric, which is great if you have no open outlets in the bathroom.
How to Install Handheld Bidet Sprayer
Installing a handheld bidet sprayer is quite simple. You can do it in a few simple steps. However, be sure to have the following parts:
T-valve
Plumber's tape
Bidet spray
Spanner or Wrench
Scissors
Let's install your Bidet Sprayer!
Turn off the water supply. You will find the water supply valve next to the toilet. Be sure to turn it off all the way.
Locate the fill valve and unscrew the water supply hose. Most likely, you will need a spanner to do it.
Attach the T-valve to the fill valve, but note that the washer should be inside the T-valve. Wrap plumber's tape around the threads, since it will help lubricate the connection. You might even do it to all connections to prevent leaking in the future.
Screw the water hose to the T-valve.
Connect the bidet to the T-valve. Then, turn on the water supply and check for possible leaks.
The Sprayer Leaks…Why?
If your bidet sprayer is leaking, here are a few tips that you should check.
Although it sounds strange, tight connections can also cause leaking. If you notice that it's leaking near the T-valve, loosen the connections and see if the issue is solved.
Over time, parts of the bidet will wear and stop working properly. The same goes for the nozzle. If it's leaking from the spray head, you can take it apart and try to solve the problem. In the worst-case scenario, you will need to buy a new spray head.
A snapped hose should be very easy to spot. If that's the problem, simply buy a new hose. They are usually affordable and easy to find.
Frequently Asked Questions
Final Thoughts
Choosing the right bidet handheld sprayer can be tricky, especially if it's your first time. However, you can't go wrong by choosing any model from the list. They are all made from high-quality materials and offer a good quality-to-price ratio. If you still want to shop on your own, be sure to check out our buying guide.