There are many factors to consider when buying a brand new toilet, such as flush type, bowl shape, seat height, and price. Our 2023 Best Toilet guide takes all these features into consideration as we rank our favorite toilets currently on the market.
We put together our ultimate toilet buying guide to help you understand all these different features.  
The most common features buyers look for in a toilet are hygienic efficiency and water usage. Having a clean and capable commode helps promote good health and hygiene in your home; a well-kept toilet leaves a great impression on anyone who uses the bathroom as well. 
Given that our toilets account for around 24% of the world's daily water usage, picking an efficient toilet is a must. Today's modern and technically advanced models have features that ensure excellent water efficiency without compromising on performance. 
Check out our guide below to see our top toilet picks and their best features.
Top Toilet Picks
---
Reviews of the Best 12 Toilets on the Market
Our team of experts spent time reviewing and gathering facts about the best toilets in 2023.
American Standard Cadet 3
We love the American Standard Cadet 3 toilet because of its unbeatable flushing power, accessible design, and durable build.
Flushing Power
Nothing is uglier than debris marks on your toilet bowl. Ordinary flushing systems aren't powerful enough to deliver the flushing speed required to rinse tough stains in one flush.
However, the American Standard Cadet 3 FloWise is no ordinary "John", it's known for its efficient flushing system that wipes off stains and skid marks in an instant, leaving you with a perfectly clean toilet each time.
The toilet's flushing system consists of a chemical and distort-resistant 3-inch flush valve for accelerated water volume flow per flush. This translates to almost 80% faster water flow than regular 2-inch valves. The fully glazed 2 ⅛" trapway limits the occurrence of clogging and evacuates 1,000 grams of solid waste with every flush.
The American Standard Cadet 3 is a certified high-efficiency toilet, using 1.28 gallons per flush.
Other Features
The Cadet 3 is an ADA-compliant toilet, which is indicative of the optimum level of comfort it provides for users. With a seat height of 17.25 inches, people of any age can enjoy maximum knee support for a satisfactory experience. The Cadet 3 also has an elongated bowl shape, great for easy sitting.
The best bowl surfaces have the best quality vitreous china for long-lasting performance. Additionally, it is glazed with silver-ion additives to create an anti-bacterial EverClean surface for improved hygiene.
Other Cadet 3 Models
Our Take on the Reviews
Just like us, buyers love the toilet's quick-acting flushing system and accessible seating. Buyers also praise how little routine maintenance is required to keep the toilet in tip-top shape. The most common complaint is about the toilet's lid quality, which doesn't seem to be as sturdy as other similarly priced units.
TOTO Drake II
TODAY'S DEAL on AMAZON     TODAY'S DEAL on LOWES
The TOTO Drake II is a single flush toilet with enormous flushing power that deserves its fair share of the spotlight.
Flushing Power
Being a certified high-efficiency toilet (HET), the Drake II consumes only 1.28 gallons of water per flush. This amount is more than enough to erase solid waste material from the bowl with a flush rate power of 800 grams, the best in its class.
The Double Cyclone flushing system drives the entire action here. It activates a sizable centrifugal effect in the rim and bowl, thrusting the water through the rim nozzles and spinning it at a blazing speed to clear up the surface.
The TOTO Drake II is recommended to an average user because it is an ideal combination of quality, value, and effectiveness. Its user-friendliness, water-saving capacity, and comfortable elongated-shaped seating make it a better option compared to the other much pricier models. Regardless of its two-piece style, most households use it because of its durability.
The Drake II meets the standard federal water usage limit, and in fact, it is well under the limit. With its outstanding efficiency, it saves water without needing you to double flush, which is better than 1 gallon per flush or dual-flush latrine models.
The flush valve is almost three more inches than standard flush valves used in most flushing toilets. Another big plus is the larger, fully glazed 2-1/8 inch computer-designed trapway that directs large masses of waste material straight down to the drain hole. Given how it performs, this model is very reasonably priced. Its sleek design fits in perfectly with any bathroom décor.
More Features
The toilet has a seat height of 17.25" and an elongated bowl shape. When the trip lever is installed on the approach side, the toilet is ADA compliant as well, making it a fantastic choice for those in need of accessible accommodations.
Despite being everything that many other models are not, the Drake II doesn't come with a seat and you have to purchase it separately. Both TOTO commercial and soft close seats are compatible with the model.
Other Drake II Models
We Summarized the Reviews
Users like the accessible features of this model, such as the universal height and elongated bowl shape. The toilet's flushing power is impressive to most users and is cited frequently in positive reviews. The most common complaint is that the toilet seat, rough-in, and supply line are not included.
TOTO Nexus
TOTO is one of America's most famous toilet brands, with a reputation for high-quality units that last a long time. The Nexus is a fairly new unit on the market that exhibits the best TOTO has to offer, from strong flushing power to accessible features for all.
Flushing Capability
The Nexus features classic TOTO Tornado Flush technology. This design utilizes two nozzles to create an extra-strong centrifugal force that helps remove any pesky grime or bacterial buildup. At only 1.28 gallons per flush, the Nexus is a fantastic eco-and-budget-friendly pick.
Just as the name suggests, the Tornado Flush system is a force to be reckoned with. The toilet's cyclonic rinsing action brings more power in one flush than many other units do across multiple ones.
Design
The Nexus is a comfortable fit for most users thanks to its universal height and elongated front bowl. If users install the trip lever on the approach side, the toilet then is also fully ADA-compliant.
A SoftClose seat is available as well.
The toilet comes with a chrome-plated trip lever in three options – cotton, brushed nickel, and polished nickel.
There are four different Nexus combinations you can purchase as well: elongated bowl with CEFIONTECT, elongated bowl without CEFIONTECT, tank and cover only, or SeatClose included.
For models with the CEFIONTECT glaze, cotton, sedona beige, bone, and colonial white units are available. The only model without the CEFIONTECT glaze comes in black.
We love the CEFIONTECT glaze because it makes cleaning a true pleasure. You only need mild soap and water once in a while to make this unit glisten like it's brand new.
The toilet's skirted design also prevents bacterial buildup through the lack of nooks and crannies.
The Nexus is also compatible with the Toto Washlet+ bidet system. This optional addition is easy to install and features a quick release function. The electronic bidet is also smartly designed to eliminate debris through its seamless set up.
Other Nexus Models
Summary of Reviews
Because the Nexus is a new model, the toilet does not many in-depth user reviews. From the reviews available, users are pleased with the unit's flushing efficiency and sleek look. Users also like the CEFIONTECT glaze as it cuts down cleaning time. The most common complaints about the Nexus are its price, as the toilet sells in the high hundreds, without a built-in bidet.
American Standard Champion 4
TODAY'S DEAL on AMAZON     TODAY'S DEAL on WALMART
The Champion 4 from American Standard is one of those unique models that are capable of giving a tight contest to comparable TOTO models.
Flushing Power
The Champion 4 uses 1.6 gallons per flush and a MaP score of 1,000. This toilet can evacuate 70% more waste material than any other model in its league. It features a 4″ accelerator flush valve, which is two times wider than what we find in standard toilets.
The larger flushing valve allows the Champion 4 toilet to push a large amount of water through the nozzles, thereby racking up cyclonic speed to clear up the surface in less than a few seconds.  It is also geared with the largest trapway in the entire industry, arming it with extraordinary power for flushing any waste down the bowl.
One often overlooked feature of the Champion 4, is that it has a quick tank refill feature, which is convenient if multiple people are waiting in line. Also, the bowl's innovative EverClean surface prevents the growth of bacteria and molds.
Other Notable Features
A one-piece design means cleaning this model isn't the nastiest household chore anymore.
This toilet system is considered a luxurious model, due to its price point. The Champion 4 is suitable for spacious bathrooms in big houses and expensive hotels. People of all heights and body weights can experience optimal comfort on the Champion 4's ADA-height compliant seat, which stands at 16.5".
Since the Champion 4 is a one-piece combination of toilet and cistern, its weight is more substantial when compared to the individual parts of the two-piece models. This toilet requires a 12-inch rough-in for its installation. Even though installing it is a two-person job, installation is simple and straightforward.
The trip lever that can be chrome, white polished brass, or satin.
Other Champion 4 Models
Our team collected Champion model variations within this collection to better help you choose the right one.
Summary of Reviews
Users love the clean and sleek gloss of the CEFIONTECT in this unit as it reduces cleaning and maintenance time. Some users have noted that the seat quality isn't as comfortable and durable as other similarly priced units. These reviewers opted for a new toilet seat, with required an additional cost.
TOTO Drake
TODAY'S DEAL on AMAZON     TODAY'S DEAL on LOWES
This toilet is a no-frill unit that delivers straight-to-the-point high-quality performance.
Flushing
The TOTO Drake toilet consumes 1.6 gallons per flush. The toilet's trapway has been specifically designed and tested for efficient and clog-free use even when toilet paper is flushed down.
Customers have reported this model to work flawlessly with a healthy flush and bearable noise level.
More Features
The two-piece design eliminates the need for frequent cleaning, especially between the bowl and the tank.
The toilet also offers various trip lever finishes including polished nickel, brushed nickel and oil-rubbed bronze.
Other Drake Models
What Reviewers Say
Reviews are mostly positive for this toilet, focusing on the unit's color selection, consistent flushing power, and low noise level. Some complaints bring up the fact that the water level isn't sufficient in eliminating odors.
Kohler is known for their height-quality design that withstands time as well as wear and tear. The Kohler Highline is no different. This two-piece beauty is a real winner on both the design and aesthetic front.
Flushing Power
The Highline toilet utilizes Kohler's state-of-the-art Class Five flushing technology which perfects bulk flushing. The toilet's large flush valve, in addition to its direct fed jet, rapidly releases water in an efficient way that maximizes every flush.
Kohler toilets also use single-flush gravity and precision-engineering to equip every toilet with ultra siphon strength, which decreases clogging risk. 
The Highline toilet is EPA WaterSense certified, using only 1.28 gallons per flush, saving you up to 20% on your annual water bill compared to traditional toilets. 
Smart Design 
Like the name suggests, the Kohler Highline toilet is a Comfort Height toilet, standing at 16.5". The chair-like height makes standing up and sitting down more comfortable by alleviating pressure off the knees. 
The toilet is ADA-compliant, making it a great pick for those with disabilities or elderly individuals. The elongated bowl also adds an extra layer of support by distributing body weight. 
The Kohler Highline comes with the K-4467 tank and the K-4199 bowl. A left-handed polished chrome trip lever, bolt cap accessory pack, and tank cover are included. The seat and supply line needs to be purchased separately. 
For installation, a standard 12" rough-in is needed. The toilet's three-bolt quick connect design makes hooking up the toilet extra easy, with no professional help required. 
The Kohler Highline is available in white, biscuit, and black black. 
Compared to Other Models
The Kohler Highline is one of the most affordable options in the Kohler collection. The Kohler K-3979-RA-0 tends to retail at a similar price but uses 1.6 gallons per flush. With Kohler's great flushing technology, we feel that opting in for the Kohler Highline is a smarter choice, as you use less water without sacrificing suction strength. 
The Kohler Memoirs Classic also features similar perks to the Highline, but includes an insulated tank and a greater color selection, at a bit of a higher price. All in all, if you're looking for the best bang for your buck, the Highline is a solid choice. 
Other Highline Models
Summary of Reviews
Almost 80% of the Highline's reviews are five stars, an almost unheard of feat in the world of Internet reviews! People love the toilet's durable design and report having no clog or leaking issues. People also rave about the toilet's supportive Comfort Height. The most common complaint is the lack of a seat and supply line.
TODAY'S DEAL on AMAZON     TODAY'S DEAL on WALMART
The Santa Rosa series is one of the most successful Kohler toilet projects. So, what makes this toilet more than just eye candy?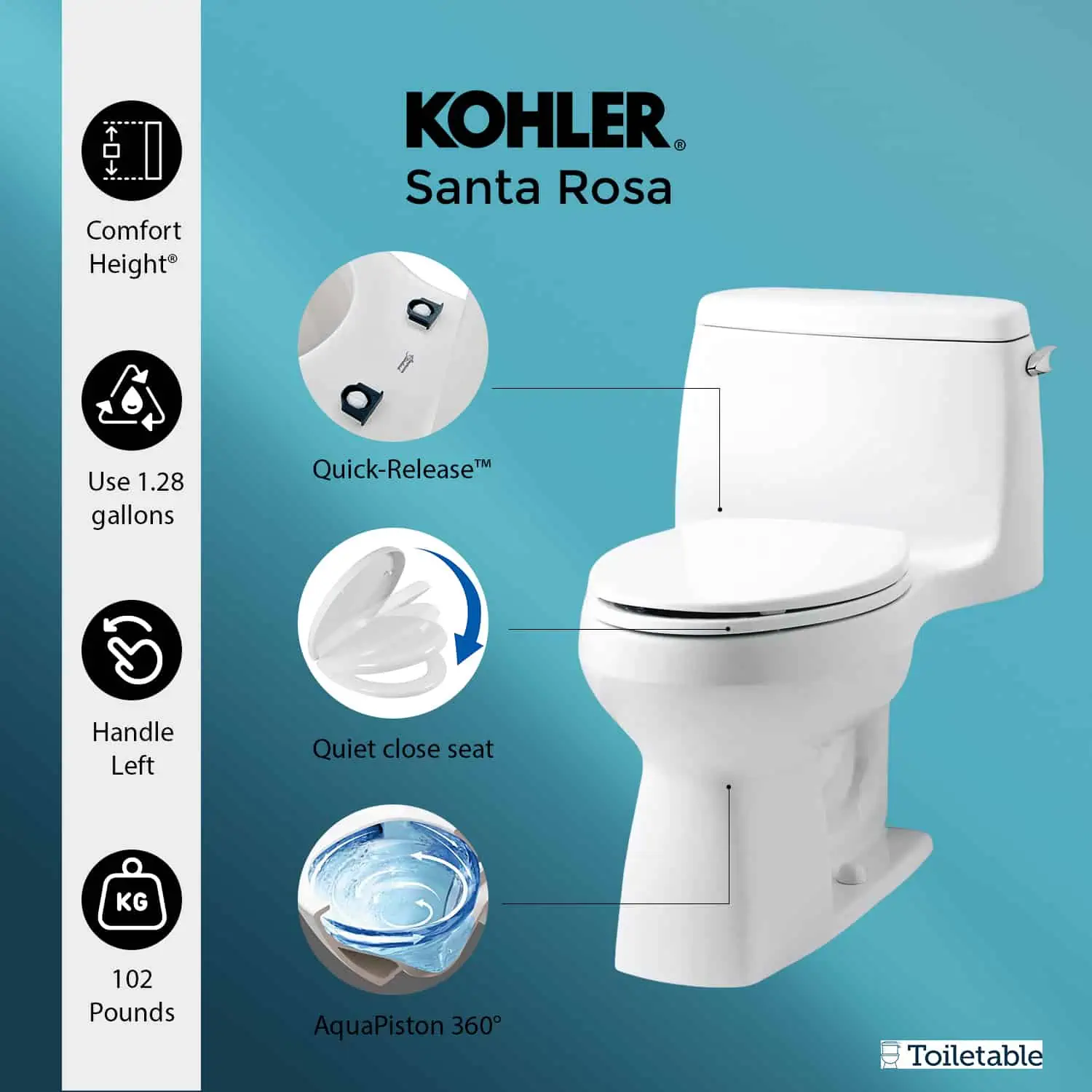 Flushing Power
This toilet consumes 1.28 gallons per flush. To help you calculate its yearly water consumption, manufacturers believe that the Santa Rosa toilet consumes up to sixteen and a half thousand gallons of water per year.
For aggressive flushing, the toilet uses AquaPiston Flushing technology that is aided by a 3-inch canister flush valve. The water jets out through the tank to the bowl in high volume to generate a high-velocity siphonic action. Large masses of waste are passed through the trapway with ease, leaving behind zero traces of stains on the bowl.
After each flush, the tank is refilled quickly to get ready for the next use. The inside-out glazed 2-1/8-inch trapway is specifically designed to handle large volumes of waste, reducing the risk of clogging, a prevalent problem with standard toilets.
More Features
The canister design in Kohler Santa Rosa toilets has 90% less exposed material compared to the 3-inch flapper models. This feature means that the customer can expect this unit to be incredibly durable and leak-free for a very long time.
Installation of the Santa Rosa toilet requires a 12" plumbing rough-in. Since it is a one-piece model, it is easy to install, and anyone with DIY skills can install this toilet without professional help.
This model comes in Comfort Height, standing at 16 ½". Unlike other models, this best toilet comes with a seat and a lid, saving you from the additional expense.
Other Santa Rosa Models
Customer Buzz
This unit's flushing power is its number one claim to fame among reviewers. Many reviews boast about how surprisingly efficient the model is in expelling waste. The most common complaint is about the toilet's state upon delivery. However, once users got in contact with Kohler customer service they were given a replacement for whatever was necessary.
TODAY'S DEAL on AMAZON     TODAY'S DEAL on LOWES
The sleek one piece design makes cleaning as easy as never before.
Flushing
The toilet's double cyclone flushing mechanism creates tremendous water pressure in the bowl, while only using 1.28 gallons of water. The entire operation is done silently, unlike cheaper toilets that produce growling noises while flushing.
The UltraMax II can come with a WaterSense rebate to reduce its cost if you live in a geographically desirable area. With that rebate, this lavatory can become one of the most reasonably priced luxurious toilets you can buy. The footprint of this TOTO model is slightly larger than some older models.
The quiet and quick water refill feature of the TOTO UltraMax II prevents any inconvenience when you have guests coming over. The bowl rim has no holes or inverted canal on its sides which makes it easier to clean. Since it is a one-piece model, there are no chances of water leaks from between the tank and bowl.
More Features
If you have a small bathroom, a one-piece toilet will save a lot of room. UltraMax II is one of the best high-efficiency toilet (HET) models on the market. The seamless bowl design helps reduce and inhibit mold and fungus growth, due to the absence of holes in the rim.
Unlike the cheaper lavatory models, the TOTO UltraMax II comes with a soft close seat and lid. This one-piece combination of toilet and cistern is more massive than the base of a two-piece john, which can make it harder to install. It uses 12-inch rough-in plumbing for its installation.
The seat surface features glazing called SanaGloss. It not only gives the seat a mirror-like shine but also prevents the build-up of odor-causing germs and bacteria around the toilet.
The toilet is ADA compliant, with a universal height of 17.25". 
The MS604114CEFG comes with CEFIONTECT ceramic glaze and a soft close seat; the MS604114CEFRG is the same except with a right-hand trip lever. The MS604114CEF unit comes without CEFIONTECT but with a soft close seat included.
Other UltraMax II Models
Summary of Reviews
Those with especially small bathrooms love this unit. Its compact size and comfortable design is a major selling point to most. Some complaints raise that the water splashes when waste load is relieved in the bowl.
TODAY'S DEAL on AMAZON      TODAY'S DEAL on WALMART
This trendy Kohler Cimarron toilet is one of the year's most effective and easy-to-use models on the market.
Flushing Strength
The toilet's extremely high water volume flow to the bowl, combined with a canister flush valve initiates thunderous flushing action using Kohler's proprietary Class Five flushing technology.
The toilet uses 1.28 gallons per flush and still manages to receive a MaP score of 1,000 grams. The model saves users about 3,000 gallons of water a year! The Aqua Piston canister flush valve requires only two pounds of force to use.
Installing this toilet is a breeze, as the credit goes to the exclusive DryLock System that eliminates the need for calling a professional plumber. All you need is a few basic tools in your toolbox. The DryLock prevents leaking during the standard installation process.
The 17" chair-seat height provides an enjoyable experience for every user. The two-piece construction comes with an elongated bowl with a standard 12-inch rough-in dimension, suitable for medium to large toilets.
Other Cimarron Models
Review Buzz
Reviews highlight the toilet's fantastic DryLock system that alleviates anxiety during the installation process. The toilet's efficient 1.28 gallons per flush and gravity flush system are other main points of praise. The toilet sometimes clogs – more so than the TOTO Dynamax Tornado system – but this still seems to be only an occasional occurrence.
This one piece toilet has a unique look while encompassing all the classic fantastic Woodbridge features.
Flushing Power
The Woodbridge T-0019 is a dual-flush model, meaning you can choose between 1 and 1.6 gallon per flush depending on your waste load. This WaterSense-certified toilet's water usage averages out to 1.28 gallons per flush, saving you roughly 20% on your annual water bill. The toilet also has the highest MaP score of 1,000 grams. 
Woodbridge's siphon design utilizes a fully glazed flushing system that equips every unit with a powerful, yet quiet siphon design. One of the T-0019's best features is its durable structure that reduces the likelihood of clogs or leaks.
Comfortable Design 
This unit has a Comfort Height design, coming in at 16.5". Comfort Height toilets are designed to be chair-height to make sitting and standing down easier. While the T-0019 is not ADA compliant, the Comfort Height design provides more support than traditional toilets. 
The toilet comes with a pre-installed soft-closing toilet seat, high-quality wax ring, floor bolts, and tools for easy installation. It's hard to find units in this price range that come with a seat, let alone a soft closing one. The seat is easily detachable thanks to its durable quick-release steel hinges, so you can swap the seat for a new one at any point. 
The T-0019 has a contemporaneous design, with a bulkier bottom and angular structure. Instead of a lever, a flushing button is located on the top of the tank. The one-piece, rectangular design, in addition to the glossy finish, makes cleaning the toilet super easy. There are no annoying nooks or crannies for grime to accumulate in, so all you need is a wipe down once in a while!
Woodbridge makes installation as beginner-friendly as possible with a professional installation instruction video and template for every model. Their customer support service also quickly addresses any issues that may occur.
Other Woodbridge T Models
Summary of Reviews
The T-0019 has a great array of reviews, with almost 75% five star ratings. Users love the toilet's eco-friendly dual flush system that takes away every waste load at the press of a button. Positive reviews also rave about the toilet's simple, modern look that cuts down on cleaning time. The most common complaint is installation process. Some users report having to bring in professional help to install the toilet after struggling with it themselves.
TODAY'S DEAL on AMAZON     TODAY'S DEAL on HOME DEPOT
This futuristic porcelain model is one of Woodbridge's most unique units due to its bidet and wireless features.
Flushing Power 
The B-0960S is a dual-flush toilet, giving you the option between 1 and 1.6 gallons per flush. The toilet averages around 1.28 gallons per flush, saving you about 20 percent on your annual water bill. Woodbridge's efficient fully glazed flushing system makes waste disappear in a matter of seconds, that's matched with an instantaneous refill rate. 
The B-0960S flushing mechanism is automated, cutting down on bacterial transmission. If the power goes out, have no fear. The toilet has two manual buttons on its side so you can keep using it during blackouts. 
The best part? The toilet comes with an automatic air deodorizer as well. After each flush, unpleasant air is sucked in through an ionized carbon filter to neutralize odor. 
Remote Control & Bidet Features
The intuitive touch-screen remote, which can be mounted or hand-held, controls your seat's temperature, bidet settings, and energy usage. Heated seats are great for cold mornings or chilly nights; this model has five different heat settings. Soon you'll forget the days you spent shivering in the bathroom with the luxurious, yet simple perk of a warm seat.

The toilet also comes with an LED cool blue night light so you don't have to startle yourself during your midnight bathroom trips. The toilet also automatically opens and closes when you approach or walk away from it. 
Possibly the most loved feature is the B-0960S's bidet. Bidets help you get a more hygienic clean while cutting down your costs on toilet paper. The B-0960's bidet has multiple wash features (posterior, feminine, and pulsating) as well as adjustable water pressure and filtered water. 
The bidet comes with a self-cleaning stainless steel spray wand so you don't have to worry about anything but yourself; additionally, a powerful warm air dryer is included. After using your bidet, the adjustable dryer helps you finish the job. 
This model is a Comfort Height toilet but is not ADA compliant. 
If you're interested in other Woodbridge smart toilets, check out the T-0737 and T-0022. The T-0737 also included advanced smart seat features with temperature controlled wash functions and dryer. The main difference is in the overall look. While the B-0906S is more box-like, the T-0737 has a curvature to its seat. 
The T-0022 comes with an advanced bidet seat, air dryer, and heated seat; it does not come with a deodorizer. All three units tend to be in the same price range.
Other Woodbridge B Models
Summary of Reviews
The B-0960S is a big hit amidst reviewers, with over 75% five star ratings. Users boast about the temperature-controlled seat, durable quality, and remote control features. Reviews also praise the easy-to-use bidet. Even with the expensive price, reviewers acknowledge that with the vast amount of amenities the B-0906S has to offer, its price is very competitive compared to similar units.
TODAY'S DEAL on AMAZON     TODAY'S DEAL on LOWES
The TOTO Eco Drake has low water consumption at just 1.28 gallons of water per flush. The toilet's E-max flushing system has an extra-large siphon jet that activates a consistent and ultra-powerful flush.
This beautiful toilet is glazed in Toto's patented SanaGloss finish that prevents mold, mildew, fungus, and debris from sticking to porous porcelain and ceramic surfaces.
The gloss finish works excellent because it seals the china with an ionized barrier that creates a super-smooth surface that is easy to clean with a flush. The catalyzed ion particles even repel debris and prevent rusting.
The Eco Drake CST743ER is a special order unit with a right-hand trip lever.
The toilet can be ordered with a left-hand trip lever, right-hand trip lever, or right-hand trip lever and bolt-down lid. A soft close seat is not included.
Other  Eco Drake Models
Summing Up Our Toilet Reviews​
Apart from the premium manufacturers like TOTO and Kohler, many other brands are devoted to bringing innovative technologies and improved designs to satisfy the demand of next-gen customers. There are numerous categories and sub-categories, technologies, and designs. To the general public, finding a toilet can be a pretty complicated job. The task becomes a bit less tiring if you have your specific requirement set in mind.
Price tags can never be an ultimate deciding factor, as long as a product meets all your demands successfully, it deserves a spot in your wishlist. Now, I have done my due diligence. The rest is reliant on your patience to research and the ability of judgment.
Last Year's 2022 Best Toilets
✓
Kohler Eir 2022 Model
"We strongly believe the Eir is most likely to impress your houseguests in 2022"
If you aim to be the talk of the neighborhood after the next HOA meeting, the Eir model just might be the throne for you. While several of the Kohler models come in several different colors, the Eir is the only one to have a "trim" feature (white, rose gold, or sunrise gold).
The one-piece design gives it a unique, sleek look that screams "innovative." If the look and style of this toilet isn't enough to pull you in, the features alone will make you excuse yourself from the party to use the toilet more frequently.
With the heated seat, customizable personal cleansing, night-light, hands-free opening/closing, automatic flush, and touchscreen remote, a necessary portion of your day will now quickly become your favorite part.
✓
Kohler Kathryn 2022 Model
"We labeled the Kathryn as a great value for the money in 2022" 
If you're looking for a "middle of the road" model that won't break the bank, but does not sacrifice comfort or flushing power, the Kathryn toilet is a solid choice.
While the height, bowl shape, and GPF are not customizable, it does come in several different colors (white, biscuit, dune, ice grey, thunder grey, and black. The location of the flush handle can also be selected.
It features AquaPiston technology, so you can enjoy an essentially clog-free flushing system. This porcelain god may not have any "wow" factor – but it gets the job done well and efficiently, without making your pockets hurt.
✓
Kohler Wellworth 2022 Model
"Yes the Wellworth is the most basic 2022 choice, but an overall well rounded toilet"
The Wellworth appears to be the most basic, bare-bones model option. It comes in white, biscuit, or black. You do have the option to customize the bowl shape – round or elongated – as well as the GPF – 1.28, 1.6, or dual-flush. The style and design is nothing to write home about.
It does not feature any remarkable technology, and the seat is not included. While it does not come with any bells or whistles, it does combine water savings with a powerful flush.
You won't be flushing any extra cash down the toilet with this purchase, but that does not mean you will be sacrificing performance.
✓ 
Kohler Reach 2022 Model
"You want to know our favorite toilet in 2022? The Reach is our best overall pick in 2022"
The Reach model is an excellent choice for anyone looking to make an upgrade in their current john without taking out a second mortgage. This one-piece design offers a modern design, without looking too out of place among your other decor and appliances.
It only comes in five colors, however, the bowl height and bowl shape are both customizable.
This model also features a bidet water inlet hose, as well as a design that conceals bidet seat cords. The bidet attachment itself is sold separately, however, you then have the option to add that on later, if you choose.
Best Toilet Brands On The Market
These well-recognized brands not only have the finest of lavatories in the market, but they also introduce new ideas without losing touch with their traditions. It could be hard to choose from the best of all toilet brands, but ultimately, you would have to choose one. TOTO and American Standard are undoubtedly the best choices, and the rest depends on you.
TOTO Toilets
TOTO With their innovative style, TOTO toilets surely knows how to try out new ideas. Drake II is TOTO's best model. It is a certified high-efficiency toilet (HET) and consumes only 1.28. gallons per flush This unit saves 20% of water per flush compared to traditional bathroom toilets.
TOTO maintains a strong reputation for maintaining and improving its product. Therefore, the higher you go up the line, the better and more durable loo features you get to experience. TOTO's models are reliable enough for customers to play favorites with the older original models. The product's satisfaction and durability brings about customer loyalty.
American Standard Toilets
American Standard is top of the line among companies that produce some of the top-rated toilets. The company is known for its traditional style and less likely to try out new ideas like TOTO.
Despite its traditional style, the American Standard toilet still has a wide range of models compared to any of its competitors, and this is one of the reasons why its customers rely on and value its products.
With its finely designed products, American Standard is the brand to opt for if you're going to buy more than one product. Its combination of new and old features in a product is what distinguishes it from other famous brands.
Kohler Toilets
Kohler prides itself on its stellar customer service reputation. With the best possible warranty for its products, Kohler toilets always resolves its customers' problems regarding their products and services.
If something ever goes wrong with your unit, their lightning-fast customer service is always a call away to resolve your issue, or you can visit their outlet to get help. Their toilets are easy to install, and they come with comprehensive and concise guidelines and manuals.
They have the fastest shipping service, no matter where you are across the world, and if you're looking for urgent delivery, Kohler is the answer.
Water Usage of Toilets
As the standards have gotten better over the years, manufacturing toilets in a way that they use the minimum amount of water to flush waste is the primary goal. Older models used four gallons of water per flush, while newer models use an average of 1.6 gallons of water per flush.
Newer designs have so much to offer compared to older models. These new features include better flushing power, less water usage, dual-action flushing handles, and so much more. If a toilet uses less amount of water, to prevent double flushing, it would need to compensate with other technology. Gravity technology along with jetted valves helps with full cleaning and flushing the waste completely out.
Some models use 1.28 gallons per flush, which prevents double flushing in extreme situations. These lavatories offer an ideal combination of power and savings. Toilets use one-third of a household's water usage, and with multiple bathrooms in the house, you would want to get newer models to help conserve water. When looking for an excellent new toilet, make sure that it offers a big difference in your ongoing savings and costs.
Try out water usage calculator to check your footprint.
Get The Right Toilet for Your Home
Flush Types
A flushing mechanism is the heart and soul of any flushing toilet. If the system fails to perform in its designated way, you are going to end up with some nasty stains. Flushing falls into one of the following categories:
Gravity Fed Flush
As the name implies, this kind of machine uses the force of gravity to push the waste material down the flushing channel or drainage pipe. Gravity-fed toilets can operate on the standard domestic water pressure of 10 psi.
These are the quietest flushing models, and it doesn't produce grunting noises while forcing the water through the rim holes using siphonic action. This flushing type is ideal for removing a large mass of waste efficiently.
Pressure Assisted Flush
Toilets with internally sealed tanks are capable of creating extreme water pressure in the bowl to help jet waste down the trapway. The pressurized water tank thrusts a high volume of water into the bowl with great velocity for super-quick cleaning.
According to most plumbers, pressure-assisted toilets are highly water-efficient, making it an excellent bargain for the money. The flushing system is way more effective than gravity-fed systems. However, there will be a good deal of noise to deal with during each flush.
Power-Assisted Flush
Instead of a tank holding water under pressure, this type of unit utilizes an electric motor to actuate air pressure into the fully sealed compression tank.
The combination of water and high air pressure sucks the waste through the flushing channel, cleaning the bowl with high precision in less than a couple of seconds.
Dual Flush
Dual flush units can save you up to a whopping 68% of water compared to a standard low-flush model. The double mechanism comprises two distinct options for removing the urine and solid waste.
While the lower water flush uses minimal amounts of water (around 0.8 gallons) to flush the liquid waste, switching to the full flush mode will wash away solid waste with one sweep using 1.6 gallons or less. Dual flush toilets are available in both pressure-assisted and gravity-fed options.
Low Water Consumption Toilets
Saving water as much as possible is a priority for people living in areas where water shortage is a huge concern. Even if you live in an apartment where water is supplied 24 hours, choosing a HET (High-Efficiency Toilet) would be a nice gesture towards natural resource conservation. The top toilet models from the best brands have 1.28-1.6 gallon flush tanks.
These low flow toilets go with any flushing action. The dual flush system, combined with water-saving technology is an ideal loo for every bathroom. The small water consumption models that comply with the California standard of 1.28 gallons per flush carry a WaterSense label.
Bowl Style
Think about what kind of bowl you want while browsing through the choices. Most modern bowls come in two basic shapes: elongated and round.
Elongated bowls are 2" inches wider than round bowls, providing better support to your posterior. Round bowls are more compact in dimension and typically designed to fit in small bathrooms.
Siphonic or wash down style models substitute air in the water channel with water. This action initiates a power vacuum action that spins away from the dirt through the drainage pipe without clogging it. Washout toilets, on the other hand, feature a large trapway that forces the water into the main bowl with high velocity and sucks the grime downwards.
Seat Height
While checking out the details, also take a glance at the seat height of the fixture, the taller, the better in this case. ADA compliant Comfort Height seats measure around 16.5" in length.
If you have children in your house, instead of buying a smaller lavatory, purchase a step stool separately as smaller systems won't be preferred as your children grow up. ADA compliant seats are in demand for people suffering from adverse physical conditions and elderly folks.
Flush Valve and Trapways
Extra-wide 3-4 inches flushing valves are rapidly altering the standard 2-inch valves used in the relatively older models. The more width it has, the more water will pass through the rim holes at a higher velocity to clean the bowl. Large trapways reduce the chances of clogging while concealed or skirted designs make cleaning the bottom of the unit less messy.
Rough-in Measurement
Without knowing the proper size of your bathroom, it's almost impossible to pick the right size. Measuring the rough-in size is no big deal. All you need is a measuring tape, stick one side of it at the center of the drainpipe and drag it up to the base of the wall.
If your existing toilet features four closet bolts, start measuring from either the center or rear bolts. The standard rough-in dimension is 12" in modern models.
Color Options
Although the traditional color of a regular toilet is white, many folks now go for more colorful ones. For example, many manufacturers offer many colors such as red, pink, yellow, black, and even blue. Loos with such colors become accent items in a bathroom, and they work to highlight otherwise white or grey plain walls.
However, you do not necessarily need to buy a red toilet to stand out. You could always go for more traditional colors but add a twist, for example, grey or ebony. They might not seem like they will make a considerable change in how your bathroom looks at first, but overall, they will work to create a very soft contrast.
However, remember that light-colored units tend to get dirty much faster and will need more thorough cleaning rituals. Dust on the tank and even the slightest rust marks on the bottom will spoil the overall shiny look of your bathroom. Let's be honest a toilet is the centerpiece of any bathroom.
One-piece vs. Two-piece Toilets
There is no fundamental difference between the operating method of single-piece and two-piece toilets. In one-piece toilets, the components are arranged together. Therefore, there is no separate tank. This kind of system has a carefully packaged design and is very easy to clean and maintain.
On the contrary, two-piece tanks are fixed on the top of the bowl. About four out of five lavatories purchased for homes are two piece, they cost almost 20 to 25% less than their one-piece counterparts.
On the downside, two-piece systems can be hard to clean. Look for a well-built sanitary bar if you're determined to buy one. It prevents the collection of any liquid under the tank, thus extending the lifespan of the equipment.
Benefits of Adding a Dual Flush Toilet to Your Home
The best flushing toilets in the market share use the least amount of water per flush. Premium range flushing systems are capable of cleaning the bowl surface with less than a gallon of water. Less water consumption not only means you save a considerable amount of money on your water bill but also positively contribute towards natural resource conservation. Thanks to the double cyclone flushing technology, modern flushing toilets are now blessed with a higher flushing force than ever before.
Fortunately, these thoughtfully designed models flush the waste immediately down the bowl, ensuring no residue is left over to cause a stink. Less cleaning means less stock on toilet bowl cleaners! The steady flushing system ensures the bowl remains clean and hygienic with every flush.
The next notable benefit of installing a well-designed loo is personal comfort. From rounded to elongated bowls, the best flushing toilet manufacturers efficiently cater to your varied needs. Chrome-plated models are primarily known for adding an extra layer of stability to the trip lever.
Lastly, we shouldn't forget to acknowledge the reduced expense on maintenance and repair. Quality plumbing fixtures don't pose the risk of clogging your pipe system. Therefore, you won't have to put the plumber's number on speed-dial anymore.
Plumbing a Steady Toilet System
Over the decades, the designs and mechanisms of toilets have gone through stark improvisations. The modern flushing toilets are exclusively designed to save water and reduce noise during flushing. With so much change in the design, it's evident that plumbing requisites for these systems have also changed remarkably. If your plumbing knowledge doesn't expand beyond measuring the rough-in, don't hesitate to call an expert plumber to the job.
Most toilets weigh more than 100 pounds. To have a safer and steadier experience, make sure to have stable anchors to fix the unit to the subfloor. Don't just stop at that. Use studs to provide proper support to the equipment on the floor. If you have chosen an ADA compliant system, the height of the bowl is going to be nearly 16.5 inches. In that case, the plumbing method might be a little complex.
Conclusion
We hope that this toilet buying guide helps you make up your mind. In addition to the tips mentioned above, we would like to remind you that it is always best to hire a professional plumber for the installation process. 
We not only do toilet reviews, but we focus our website on toilet how-to guides and resources for the average homeowner.
We care about our readers and most importantly about our reputation. We encourage our readers to leave feedback on our listing with the bbb.org. We also encourage you to read our About Us page and get to know our editors and content team. You are welcome to connect with us on our social media too! 
We hope this guide has helped you become a well informed toilet owner and buyer.
Before you leave, here are a few other toilets types for you to read about. 
Best Composting Toilet
Now that people have become more conscious about the environment, composting toilets are an excellent way to take part in saving the environment. Composting toilets are also considered an incredibly effective solution for campers that enjoy their adventures in the wilderness. When you are out on an adventure, a composting toilet can make things really convenient for you.
Additionally, these toilets don't require any water to flush the waste either, so it is pretty easy to use these toilets when you have no water. These toilets are also great for people who live in areas that don't have an adequate supply of water. 
Furthermore, disposing of the waste is quite easy with a composting toilet, and you can also dispose of the kitchen waste in a composting toilet. Composting toilets are also cheaper to run because they save you from water bills and they also help the environment. 
Best Flushing Toilets 
Flushing toilets have changed the game since the toilets were first invented. The most significant benefit of using a flushing toilet is the odor-free bathroom because a practical flushing system will ensure that your toilet bowl is cleaned thoroughly.
Furthermore, a powerful flushing system can enhance the performance of a toilet and keep your toilet free of bacteria buildup. Before purchasing the best toilet, make sure that its flushing system is robust enough to prevent clogging of the toilet because if the flushing system produces powerful flushes, it will make sure that the waste gets out of the drain without blocking the trap way. 
Additionally, a toilet with an exceptional flushing system will save you from worrying about the regular maintenance of the toilet, and one powerful flush will be competent enough to do its job and get rid of the waste entirely.
Read More: Best Flushing Toilets
Best Smart Toilets 
We live in a world where people prefer smart things, whether it is a phone or a toilet. Smart toilets have introduced us to a different level of convenience and comfort, and who doesn't enjoy that, right?
These smart toilets can do things on their own, and you just have to command them to do it. Furthermore, these toilets not only add to the décor of your bathroom, but they also provide you with a toilet seat at a temperature that you prefer. You can relax while sitting on the toilet seat, and the spray nozzle of the bidet seat will clean you without needing you to do anything.
Additionally, the built-in dryer of the seat will dry you so that you don't have to use toilet paper. Isn't that convenient? Another reason why smart toilets have been such a big hit is because of the hygiene they provide.
Also, because you don't have to touch anything while using the toilet, it is unlikely to get in contact with bacteria.
Best Comfort Height Toilets 
Some people need comfort more than the others, such as people with mobility issues, or diseases related to muscles and joints. Comfort height toilets are specifically designed to provide comfort to these people and make sure that they don't have to go through any inconvenience while accessing and using the toilet.
Furthermore, comfort height toilets are not just available for people with mobility issues; tall people and older people can also benefit from the comfort offered by comfort height toilets. 
ADA Water Sense Toilets
Buying a new toilet seems like a tough job when you don't know what you are looking for. If you are a tall person or have any disabled family members who live with you or visit you frequently, you need a toilet that is easily accessible by all people. The Americans with Disabilities Act (ADA) has set standards for all the specifications in bathrooms, and that includes toilet dimensions and their installation too.
Furthermore, these criteria set by the Americans with Disabilities Act ensure easy accessibility of toilets to people who need additional support or assistance while sitting on or getting up from a toilet.